BASEBALL | Shohei Ohtani Delivers Game-Opening Hit and Basks in Excitement of MLB All-Star Game
In the first inning, the Los Angeles Angels superstar was picked off first by NL starter Clayton Kershaw. He also walked in the third.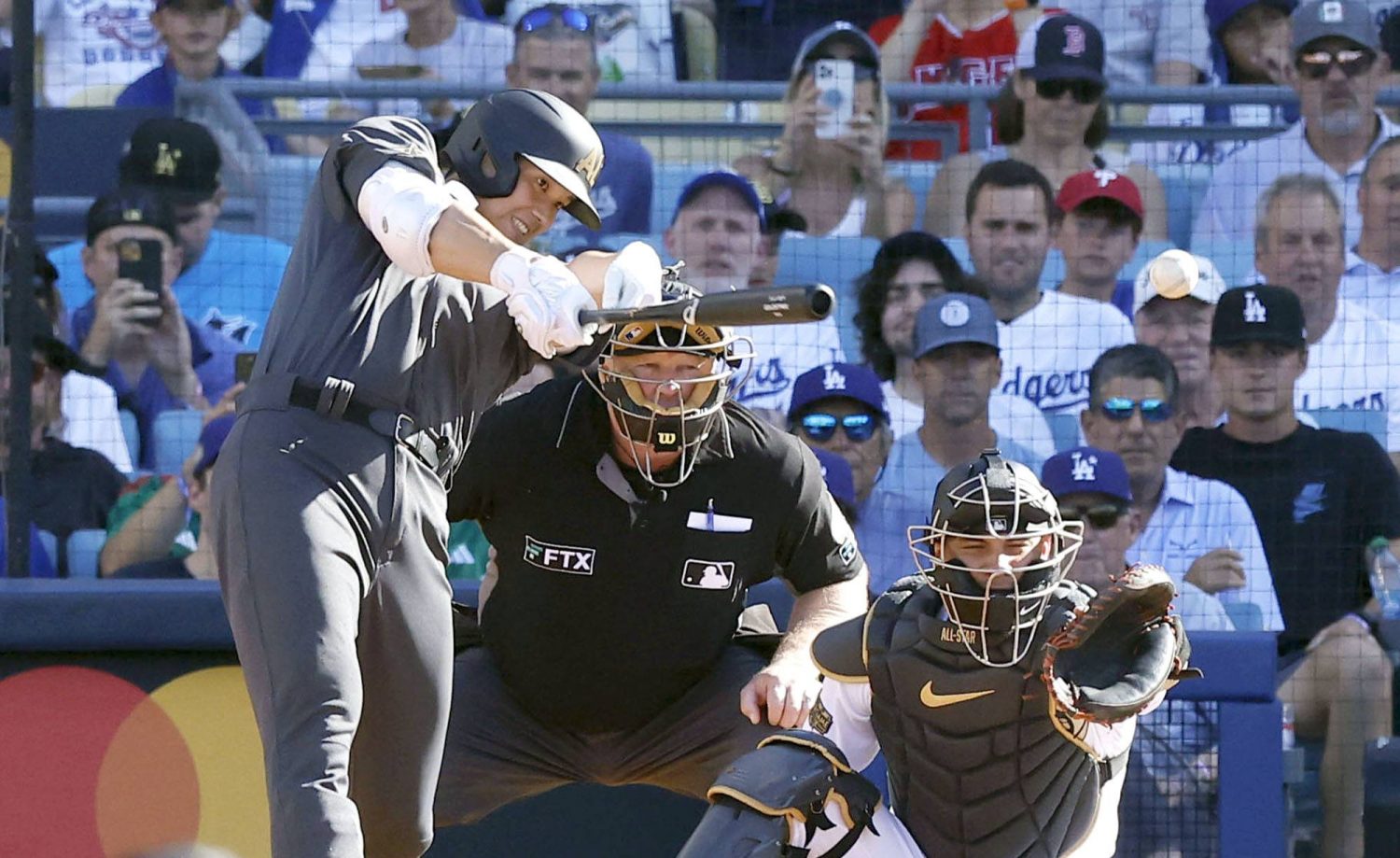 Shohei Ohtani wasted no time in getting the 2022 Major League Baseball All-Star Game started with a jolt of energy on Tuesday night in Los Angeles.

Ohtani, the American League leadoff hitter, smacked Clayton Kershaw's first pitch, a 90.9-mph (146.2-kph) fastball, to center for a game-opening single at Dodger Stadium on July 19.
With a 1-2 count on the next batter, New York Yankees star Aaron Judge, Ohtani was picked off first base by Kershaw, a three-time Cy Young Award winner and a Los Angeles Dodgers mainstay since 2008.
Kershaw possesses one of baseball's best pickoff moves, but he told reporters his throw to first baseman Paul Goldschmidt was merely a stalling tactic while dealing with the feared slugger Judge, who has an MLB-best 33 home runs this season.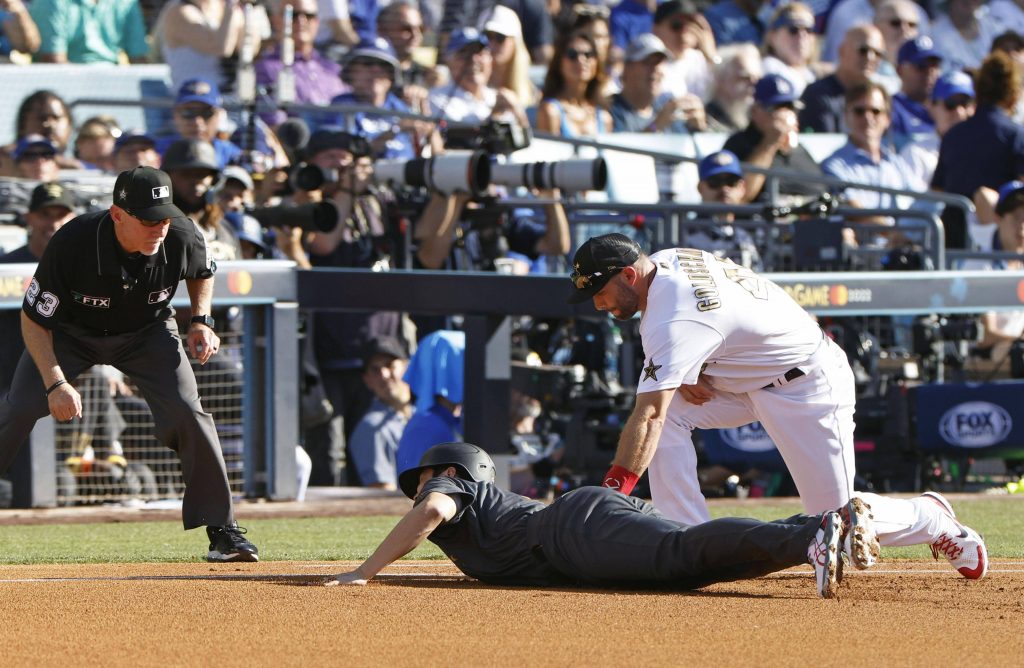 "I wasn't trying to pick him off," Kershaw said of Ohtani, the 2021 AL MVP. "I was trying to delay the game for a bit, but it worked out."
The American League got back-to-back home runs from Giancarlo Stanton and Byron Buxton (Minnesota Twins) off National League reliever Tony Gonsolin in the fourth inning in a 3-2 victory.

AL Extends All-Star Win Streak
It was the AL's ninth straight victory in the Midsummer Classic, and the first All-Star Game held at Dodger Stadium since 1980.

Stanton, a fixture in the New York Yankees' high-powered lineup who has 24 regular-season home runs, was named All-Star Game MVP. His two-run blast to left-center tied it at 2-2, before Buxton pounded a Gonsolin fastball over the wall in left.
Neither team scored again.
"I can't really explain how special this is," Stanton, a Southern California native, said of receiving the MVP award. "It's hard to put into words that this is reality right now. It's really cool. I'm soaking it all in."
Ohtani walked with two outs in the third inning, but was stranded at first base as Judge struck out to end the inning. Ohtani, the AL starting pitcher in the 2021 All-Star Game, was replaced by pinch hitter Miguel Cabrera in the fifth inning. Cabrera grounded out to short to lead off the inning.
The NL took a 2-0 lead in the first inning on a trio of timely hits. Ronald Acuna Jr. (Atlanta Braves) opened the home half of the inning with a ground-rule double to left off AL southpaw starter Shane McClanahan (Tampa Bay Rays). Mookie Betts (Dodgers) followed with a single to left to make it 1-0.
After Manny Machado (San Diego Padres) grounded into a double play, Goldschmidt (St. Louis Cardinals) belted a solo homer to left for the NL's second run of the inning.
The NL used nine pitchers in the game, with the AL sending 11 to the mound in the star-studded contest.
Gonsolin, who plays for the Dodgers, took the loss after giving up three runs in his one inning of work.
Framber Valdez, a Houston Astros All-Star, who worked a scoreless third inning, was the winning pitcher.
On the aforementioned pickoff play, Ohtani told reporters that he took a lead off first base while toying with the idea of stealing a base.
"I was seeing if there was a chance to run and he made a great move," Ohtani was quoted as saying by The Associated Press. "I was not expecting that, regardless, my name was going to be in the papers good or bad."

Ohtani became the first player picked off in an MLB All-Star Game since 2008.


Aggressive Mindset
Looking back at his game-opening hit, the two-time All-Star said he made up his mind to be aggressive from the get-go. He noted that Kershaw has a great command of his pitches.
"I was ready to swing at whatever ball came," he said, according to NHK.
On the field he relayed a similar message to FOX, telegraphing his plans to the American broadcaster in English: "First pitch, first swing. That's it."
Ohtani is the third player in All-Star Game history to get a hit on the first pitch of a game. The others: Kirby Puckett in 1986 and Mike Trout in 2013, according to baseball-reference.com.
Before his second at-bat, Ohtani signed autographs for fans before stepping into the on-deck circle.

He was also seen standing on the dugout steps smiling, chatting alongside his All-Star teammates.

All in all, it appeared to be an exciting experience for the 28-year-old, who has 19 home runs and 56 RBIs this season along with a 9-4 record, a 2.38 ERA and 123 strikeouts in 87 innings as a starting pitcher.

"No matter how many times I come [to the MLB All-Star Game], it's still interesting and fun," Ohtani told NHK. "I can make a lot of good memories. I think it will remind me of the second half of the [season] because I want to work harder."
RELATED:

Author: Ed Odeven
Follow Ed on JAPAN Forward's [Japan Sports Notebook] here on Sundays, in [Odds and Evens] here during the week, and Twitter @ed_odeven, and find him on JAPAN Forward's dedicated sports website, SportsLook.