BASKETBALL | Kawasaki, Ryukyu, Utsunomiya and Shimane Advance to B.League Playoff Semifinals
In the next postseason round, the Brave Thunders play host to the Brex and the Golden Kings face the visiting Susanoo Magic.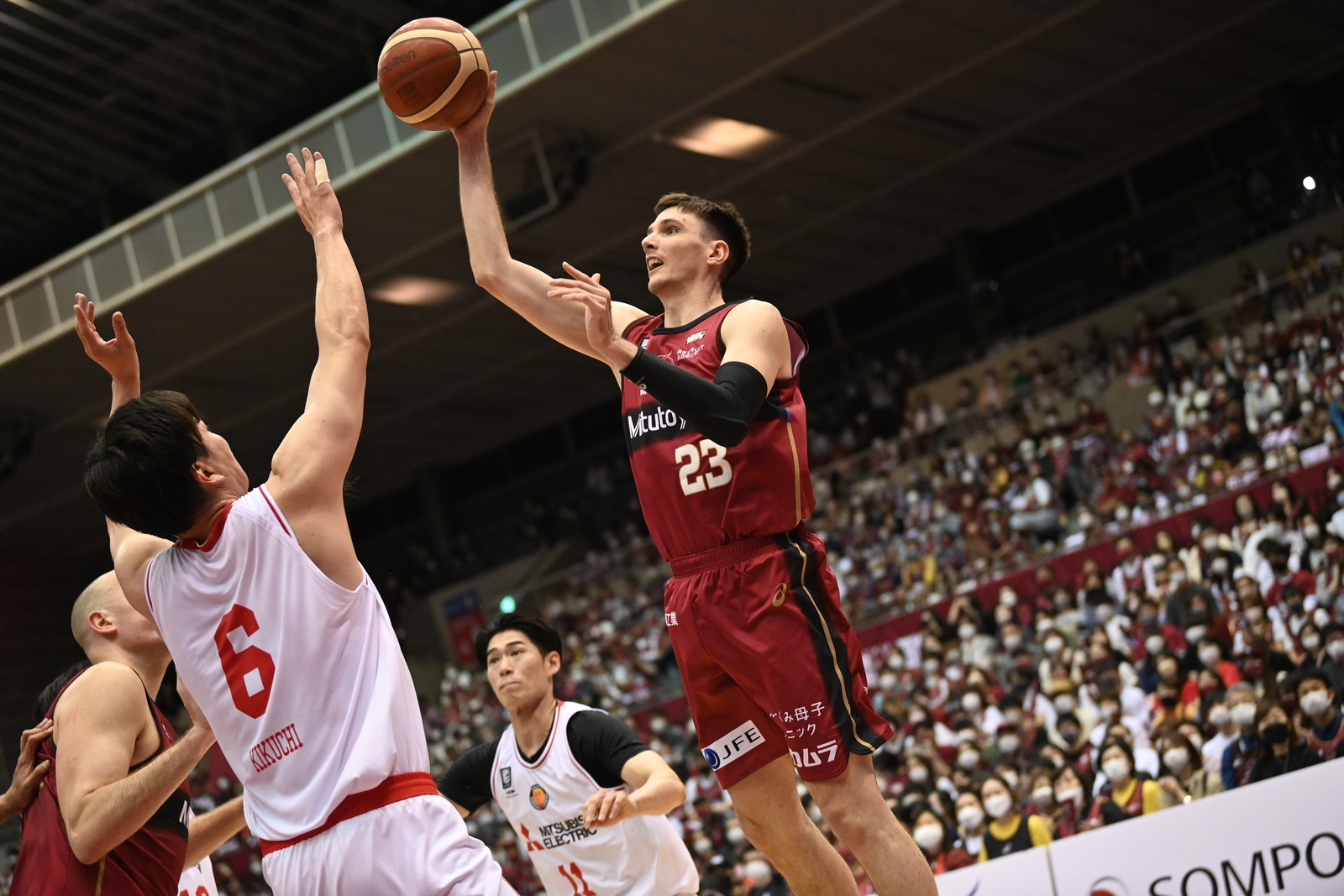 The Kawasaki Brave Thunders are the hottest team in the B.League first division. But three other clubs that reached the playoff semifinals (Ryukyu Golden Kings, Utsunomiya Brex and Shimane Susanoo Magic) are still in contention for the title, too.

Winners of nine straight games, the longest current winning streak, the Brave Thunders overwhelmed the visiting Nagoya Diamond Dolphins in the teams' series in the B.League quarterfinals at Todoroki Arena. The final scores ― 97-71 on Saturday, May 14 and 85-70 on Sunday, May 15 ― served notice that coach Kenji Sato's club is playing at a high level in all key facets of the game.

For starters, the Brave Thunders (42-13 in the regular season) outscored the Diamond Dolphins in all eight quarters last weekend. The biggest scoring margin in a 10-minute period over the two days was 31-20 in Saturday's third quarter. That gave Kawasaki a 73-50 advantage entering the fourth quarter.

The Brave Thunders chalked up 30 assists in the opener, with Yuma Fujii (seven), Matt Janning (six) and Nick Fazekas and Pablo Aguilar (five apiece) providing the bulk of the assists to their happy teammates.

Fujii was Kawasaki's top scorer (21 points) in Game 1. Small forward Naoya Kumagae netted 14 points, followed by Janning's 13 and Jordan Heath and Satoru Maeta with 10 apiece.

American big man Scott Eatherton paced Nagoya (34-15) with 19 points in Game 1. He sustained an injury in the second half that kept him out of action in Game 2.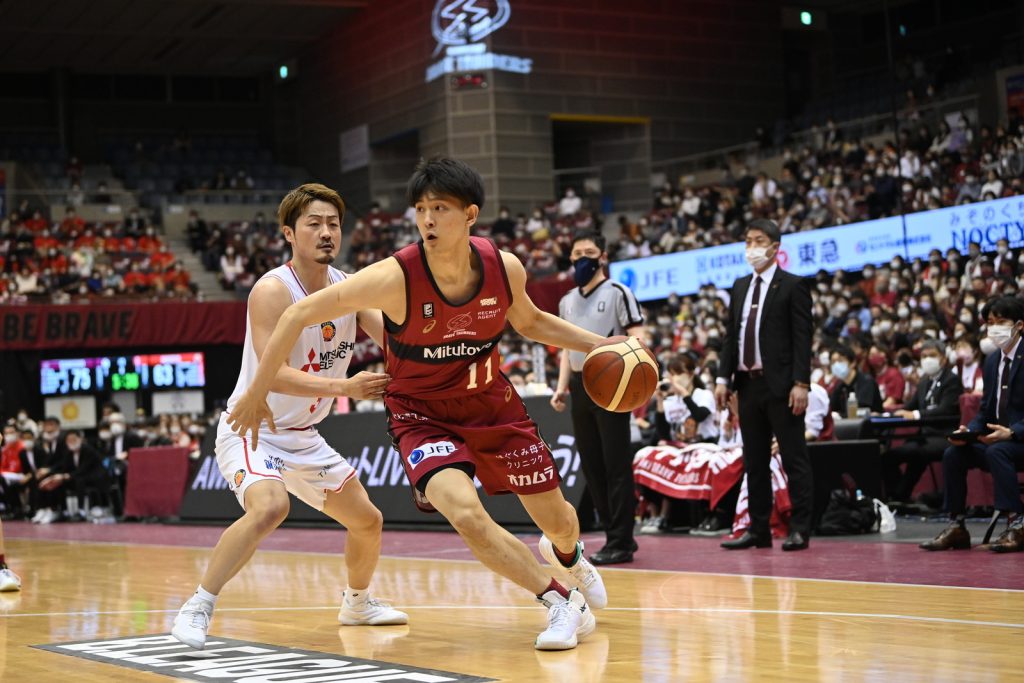 Entering the playoff series, the Diamond Dolphins were already missing import forwards Cody Clarke and Ovie Soko before Eatherton departed.

To their credit, the Diamond Dolphins played spirited ball in the opening quarter on Sunday. And despite the Brave Thunders starting a big lineup with 207-cm Nick Fazekas, 203-cm Pablo Aguilar and 208-cm Jordan Heath, the Diamond Dolphins kept it close, trailing 22-21 after the first period.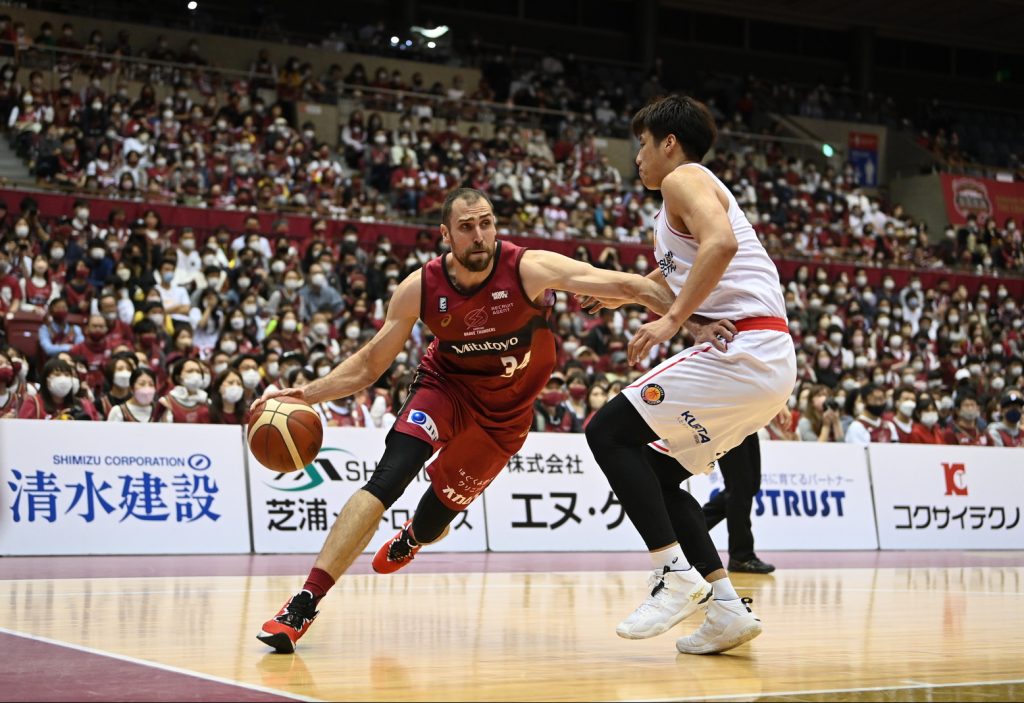 Maeta nailed a 3-pointer to pull the visitors within one with 48 seconds to play in the quarter.

Kawasaki pulled ahead by five (41-36) on Fazekas' buzzer-beating layup to close out the half before the Brave Thunders' depth and size wore down the Diamond Dolphins in the second half.

Nagoya, which never led in the second half, trailed by as many as 17 points over the final 20 minutes.
Northeastern University alum Janning helped the hosts extend their lead from 46-45 after a pair of Kikuchi free throws with 6:10 left in the third to 54-45 at the 4:55 mark.

In that quick span, Janning nailed two 3s and sank a jumper from the right corner. He finished with 11 points. Fazekas had 18 points, 11 rebounds and seven assists. Ryusei Shinoyama added 11 points and five assists. Aguilar contributed 14 points and 12 rebounds. Heath scored nine points and Maeta had eight.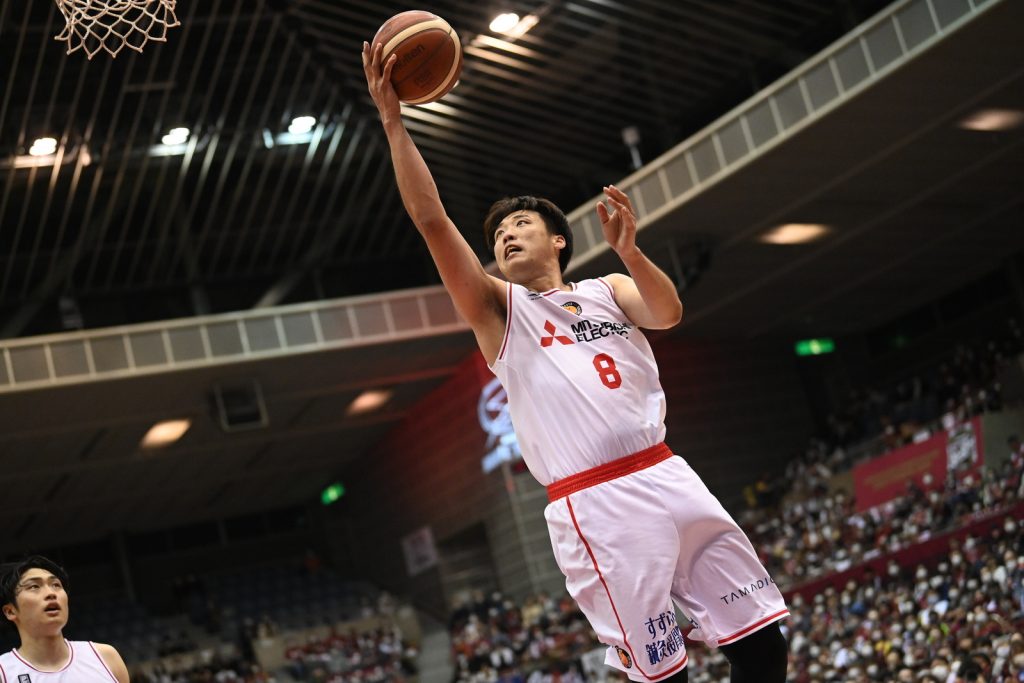 Tenketsu Harimoto led Nagoya with a season-high 22 points. Kikuchi scored 14 and Ray Parks Jr., who was born in the Philippines and fills the team's Asian import roster spot, added nine.

"I played good for about 90 seconds in the third quarter," Janning said. "Guys made shots and we made plays on defense. I think it was a complete game."

Janning shared game MVP honors with Shinoyama.
With Nagoya's season now over, coach Shawn Dennis looked back on his first year at the helm.
"Our season has come to an end," Dennis wrote in a statement posted on Twitter. "I want to thank all of the players and staff for their amazing hard support and work. We started this journey to make change and everybody committed to it. As a result, we had the best winning percent of any Dolphins team in over a decade. Even when pushed to their limits, everybody responded in a positive way."
Up next: Kawasaki vs. Utsunomiya: May 21, 22 and, if necessary, 23.

Golden Kings Sweep Northern Happinets
The title-chasing Ryukyu Golden Kings began their playoff campaign with a pair of impressive home victories over the Akita Northern Happinets, winning 74-60 on Friday, May 13 and 77-56 on Saturday, May 14 at Okinawa Arena.

In Game 1 of the quarterfinals, Dwayne Evans led Ryukyu with 15 points, Jack Cooley had 14 points and grabbed 16 rebounds. Three teammates also scored in double figures.

In Game 2, the Golden Kings knocked down 15 of 34 3-point shots. Shota Onodera, who was 4-for-5 from beyond the arc, had a team-high 14 points. Keita Imamura and Allen both scored 12 and Ryukyu again had five double-digit scorers.
Coach Daiki Oketani's club outscored Akita 29-9 in the second quarter to take a 45-27 lead into the break.

Takatoshi Furukawa led the Northern Happinets (31-23) with 15 points.
Up next: Ryukyu vs. Shimane: May 21, 22 and, if necessary 24.

Brex Eliminate Reigning Champion Jets
In a clash of East rivals, the Utsunomiya Brex ended the Chiba Jets' hopes of winning back-to-back titles.

Makoto Hiejima sparked the Brex with 21 points and seven assists in the series opener on Saturday in an 81-70 Utsunomiya triumph in Funabashi, Chiba Prefecture.
Yuki Togashi was the Jets' top scorer with 18 points.

The Brex dominated the opening quarter in Game 2, taking a 23-9 lead into the second quarter. Coach Ryuzo Anzai's club held on for a 77-70 win and advanced to the semifinals.

Seiji Ikaruga led Utsunomiya (40-16) with 18 points and fellow guards Kai Toews and Hiejima had 14 apiece.

Togashi was Chiba's top scorer, finishing with 17. The Jets (35-10 missed 17 of 23 3-point shots.

Reflecting on the outcome of the series and the end of their season, Jets swingman Takuma Sato tweeted, "I feel regretful and sorry. But I love [my teammates] and I'm proud to have fought together. Thank you for supporting us at any time this season."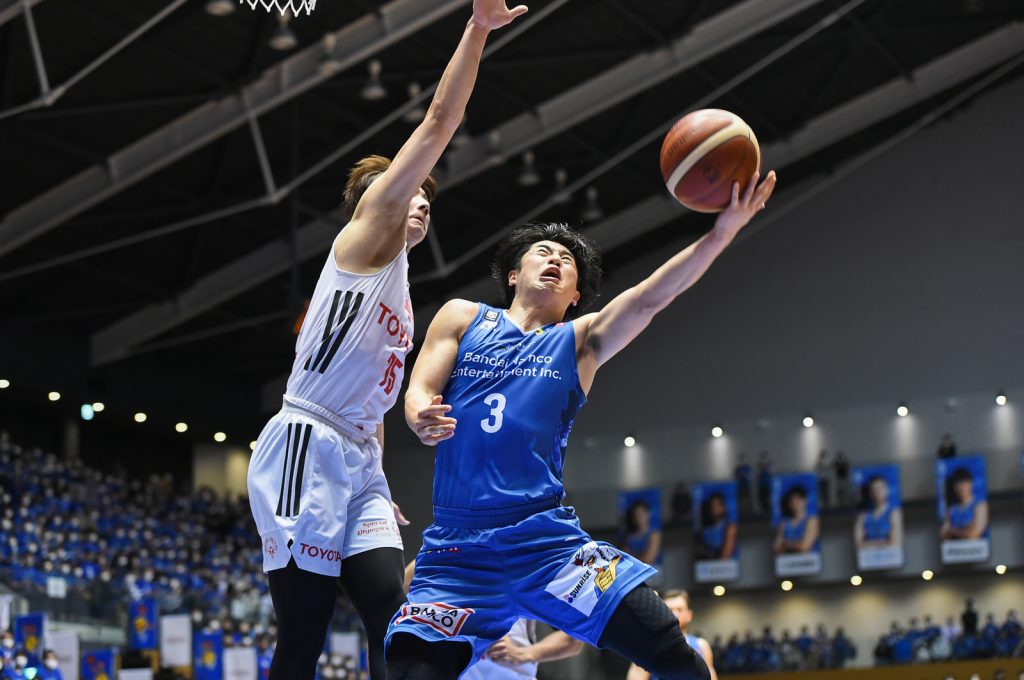 Susanoo Magic Outplay Alvark in Game 3
The Shimane Susanoo Magic rebounded from a lackluster performance on Sunday and knocked off the Alvark Tokyo 80-62 in Game 3 on Monday.

Former Alvark guard Seiya Ando, who's in his first season with Shimane (40-15), led the hosts with 20 points. Nick Kay added 17 points and 10 rebounds, Perrin Buford had 14 points and 10 assists and Rei Travis provided 15 points. Nyika Williams pulled down 10 rebounds.

First-year Susanoo Magic coach Paul Hanare's club shot 30-for-59 (50.8) percent from the floor.

Tokyo's Hirotaka Yoshii finished with 17 points on 6-for-6 shooting, including 3 of 3 from long range. Jordan Taylor had 13 points and eight assists for the Alvark (39-14), while Sebastian Saiz scored 11 before fouling out in the fourth quarter.

In Saturday's Game 1, Shimane beat Tokyo 80-63. Ando had 16 points and eight assists. Buford supplied 16 points and eight rebounds.

Taylor was the Alvark's top scorer with 19 points, followed by Saiz with 18.

On Sunday, in a must-win game, the Alvark hammered the Susanoo Magic 91-57 to extend the series another day.

Alex Kirk, the inside anchor of Tokyo's back-to-back B.League titles in 2018 and 2019, had 18 points.

The Alvark held the hosts to 28.1% shooting (18-for-64) from the floor. They outrebounded the Susanoo Magic 50-28.

B2 Playoff Update
Fighting Eagles, 89ers Advance to Finals
The Fighting Eagles Nagoya became the first B2 team to secure a spot in the second-flight finals later this month, sweeping the visiting Kumamoto Volters on Friday and Saturday, May 13 and 14 in the semifinals.

Nagoya's series-opening, 105-89 victory occurred on head coach Taizo Kawabe's 42nd birthday.

Five Fighting Eagles players scored in double figures in Game 1. Gonzaga University alum Jeremy Jones had a game-high 25 points on 9-for-12 shooting from the floor. Andrew "Scootie" Randall, a former Temple University player, chipped in with 22 points, eight rebounds and four assists. Luke Evans, a naturalized Japanese player whose name is listed in reverse order in the box score, notched a double-double (14 points, 10 rebounds). Taito Ishikawa had nine points and four assists.
The hosts, who had eight new players on the opening-day roster when the season tipped off in October, led 60-48 at halftime.

Hiroaki Isono paced the Volters with 19 points, while Ryusei Sasaki and Jordan Hamilton finished with 17 and 12 respectively. A former NBA player, Hamilton came one rebound shy of a triple-double (nine boards, 12 assists).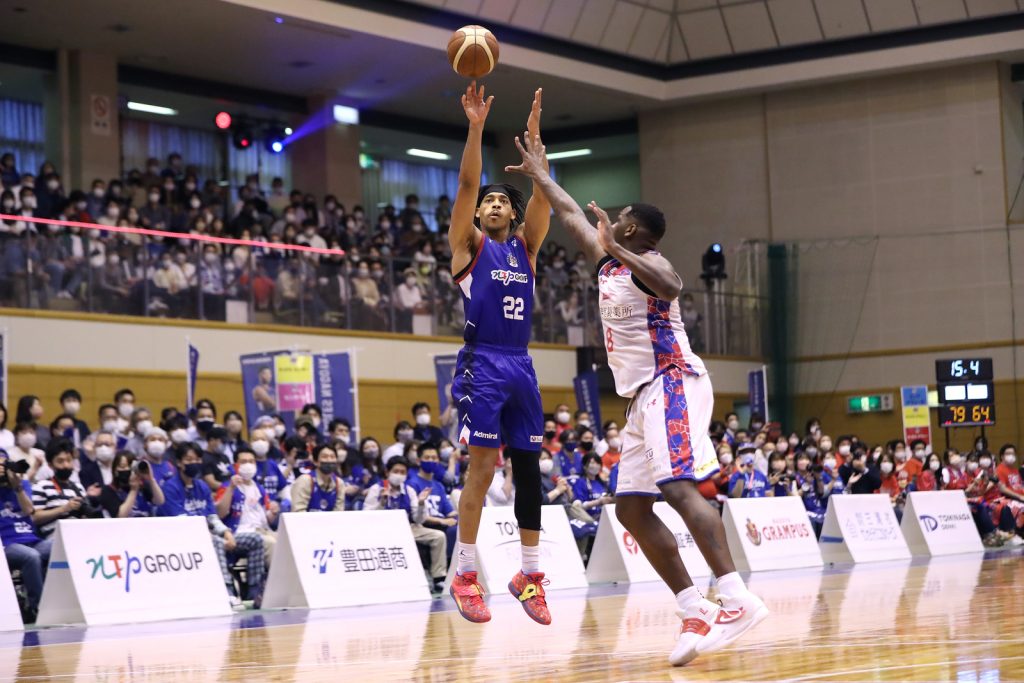 In Game 2, Nagoya outscored Kumamoto 45-33 in the second and third quarters en route to a 79-64 win.

Evans sparked the hosts with 18 points, eight rebounds and four assists. Jones poured in 17 points. Takaya Sasayama contributed 14 points and five assists. Randall dished out a team-best six assists.

Sasaki led the Volters (36-18 in the regular season) with 18 points.
"I am happy that we were able to achieve one of our goals, B2 victory and promotion to B1," Kawabe said after Game 2. "I think this [achievement] is also thanks to all the people who support us."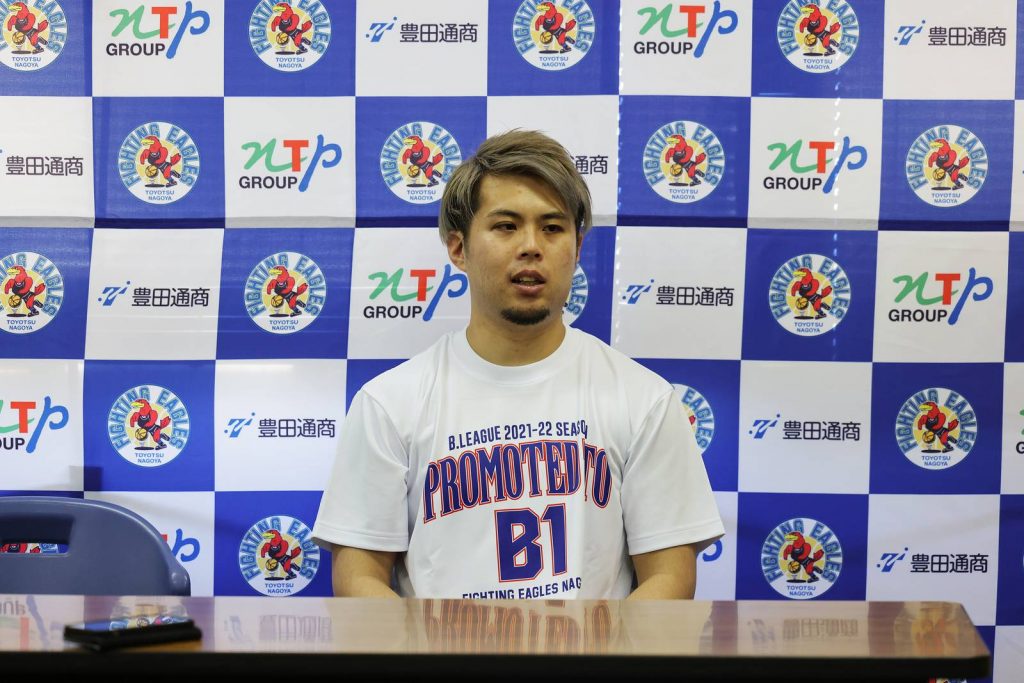 In punching their ticket to the B2 finals, the Fighting Eagles, who had a 42-8 regular-season-record (best in B2), secured promotion to B1 for the 2022-23 season. The top-two finishers in the second-division playoffs will move up to the top flight.
The Fighting Eagles have played in the second division since the B.League's inception in 2016.
The B2 finals, a best-of-three series, is set for May 20-22 in Nagoya.

89ers Rout Five Arrows in Game 3
After splitting the first two games of their series in Takamatsu, the Sendai 89ers trounced the Kagawa Five Arrows 83-69 in the decisive Game 3 on Monday, May 16.

The 89ers jumped out to a 56-30 lead by halftime.
Sendai's Justin Burrell scored 31 points on 11-for-16 shooting. Kagawa's Terrance Woodbury had a 24-point night.

Sendai (38-15 before the playoffs tipped off) won the opener 74-60 on Friday, May 13. Devin Oliver (16 points, 14 rebounds) and Jerome Meyinsse (18 points, 10 boards) had tone-setting performances for the 89ers. Burrell added 13 points and Shota Watanabe had eight.

Angus Brandt paced the Five Arrows with 15 points and 18 rebounds.
Kagawa, which had a 36-18 record in the regular season, bounced back with a 75-65 win the next day to force a Game 3 on Monday. Woodbury and Takayuki Kodama scored 19 points apiece for the winners.
The Five Arrows will meet the Volters in the best-of-three, third-place series on May 20, 21, and, if necessary, 22.


Author: Ed Odeven
Follow Ed on JAPAN Forward's [Japan Sports Notebook] here on Sundays, in [Odds and Evens] here during the week, and Twitter @ed_odeven. Find more reports on basketball, baseball, horse racing and other sports on JAPAN Forward's dedicated sports site, SportsLook.