Basketball | 'Mr. SeaHorses' Sakuragi Retires at 43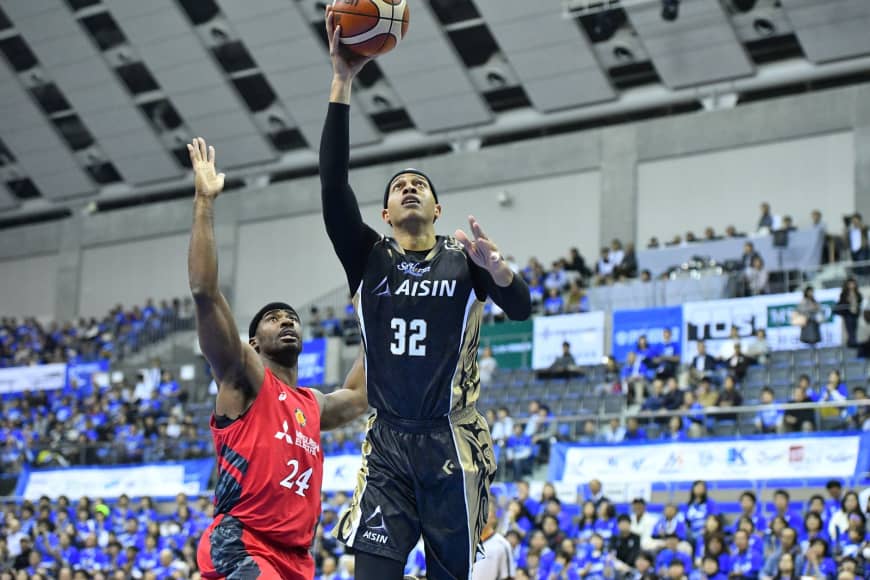 "Mr. SeaHorses" was an iconic figure for 19 seasons with one franchise in Japan's evolving pro basketball scene.
J.R. Sakuragi, now 43, retired on Wednesday after nearly half a lifetime as a SeaHorses player.
Sakuragi's longevity, consistency, leadership and basketball IQ were ever-present trademarks on the court for the Aisin SeaHorses in the JBL and NBL era. Then, as the B. League replaced the NBL and bj-league in 2016, a greater appreciation for Sakuragi's skill emerged, but against different foes from a disbanded circuit.
The 203-cm (6-foot-8) power forward won an NCAA title during his freshman season with the UCLA Bruins in 1995.
In 1998, he was selected in the second round (56th overall pick) of the NBA Draft by the Vancouver Grizzlies (now known as the Memphis Grizzlies) and spent one season in the NBA, appearing in 30 games. Center Michael Olowokandi was the top pick in that year's draft.
Sakuragi (nee Henderson) starred for two decades as a franchise cornerstone for the Aisin SeaHorses in the JBL and NBL eras. He continued playing at a high level in his 40s for the team, now known as the SeaHorses Mikawa, in the B. League. He averaged more than 5.0 assists per game ー a rare feat for a player at that age ー in the 2017-18 and 2018-19 B. League seasons.
With, in recent years, his ever-present headband and attack-the-basket mentality, Sakuragi displayed an old-school flair for the game in an era of rapid-fire 3-point shooting.
Sakuragi announced his retirement on Wednesday June 3 at age 43, after appearing in 710 regular-season games and scoring 10,991 points for the Aichi Prefecture-based team. He averaged a career-best 26.5 points in the 2005-06 season.
The California native, who made his SeaHorses debut in 2001, became a naturalized Japanese citizen in 2007.
Now he's preparing to begin the next chapter of his basketball life as a technical adviser for the Women's Japan Basketball League's Aisin AW Wings Anjo.
Remarkable Success
The SeaHorses captured six titles in the JBL/NBL years with Sakuragi's cerebral, all-around presence in the frontcourt. They were a perennial force in the All-Japan Basketball Championship, also called the Emperor's Cup, each winter, too, winning it nine times.
"I never expected that the season would end the way it did," the three-time JBL MVP said in a statement that was widely circulated on social media.
I never expected that a single virus would change the way we live. I never expected to play a game without fans. I never expected to play in Japan. I never expected to play with the SeaHorses for 19 years. I never expected to win so many championships. I never expected to connect with so many people in such a lasting way.
But I did expect to retire one day, and that time has come. I will always cherish every moment. The memories we have created together are ours for the rest of our lives. Hopefully, I have been able to help build a solid foundation for the future.
I will always be a SeaHorses in my heart. I love you all!
Longtime SeaHorses coach Kimikazu Suzuki, J.R.'s only bench boss during his years with the team, also reflected on No. 32's career this week.
"J.R., thank you very much for fighting together for a long time," Suzuki said. "Meeting with you has made my long coach life so immeasurable."
The SeaHorses have set up a page on their team website to commemorate J.R. Sakuragi's legendary career.
Distinctive Approach to the Game
Throughout his playing days, Sakuragi saw the game like a coach on the floor. It was a direct extension of his formative years. Sakuragi's father, longtime East Bakersfield High School basketball coach Milt Henderson Sr., gave his son a well-rounded education in the sport.
In a May 2017 interview, former UCLA head coach Steve Lavin told this reporter, then at The Japan Times, that his pupil was a remarkably talented player whose mental focus always shone through on the court.
"Even as a freshman at UCLA, J.R. exhibited exceptional poise, purpose and intelligence," Lavin said.
"He played at his own unique purposeful and deliberate pace — allowing him to see the game with clarity."
Sakuragi agreed with that assessment in an October 2017 interview with the Bakersfield Californian.
"My game has always been cerebral," he told the newspaper. "I always say 'I'm playing chess and a lot of the guys playing against me are playing checkers.' I'm still doing the same things and the same things are still working."
In an interview the same week as Lavin's, former NBA forward Marques Johnson spoke about J.R.'s beyond-his-years brilliance in the 1990s. Johnson, a former UCLA star, recalled Sakuragi's beyond-his-years talent as a 14-year-old.
"J.R. was probably 6-foot-5 (195 cm) then and moved fluidly for a guy his age and size," Johnson told me. "He could dribble, shoot and pass as well as anyone. He was extremely quiet and was not a trash talker at all. But I remember on those few occasions he did get tested, he never backed down. Actually, he had a mean streak I wasn't aware of."
Quite clearly though, what astute observers are now aware of is his lasting legacy: Sakuragi's all-around greatness as a player.
Author: Ed Odeven
Follow Ed on JAPAN Forward's [Japan Sports Notebook] here on Sundays, in [Odds and Evens] here during the week, and Twitter @itsjapanforward.