BASKETBALL | Niigata Albirex BB Seeking to Rebuild from Tough Times
First-year coach Fujitaka Hiraoka's team has lost 25 consecutive games, a B. League record.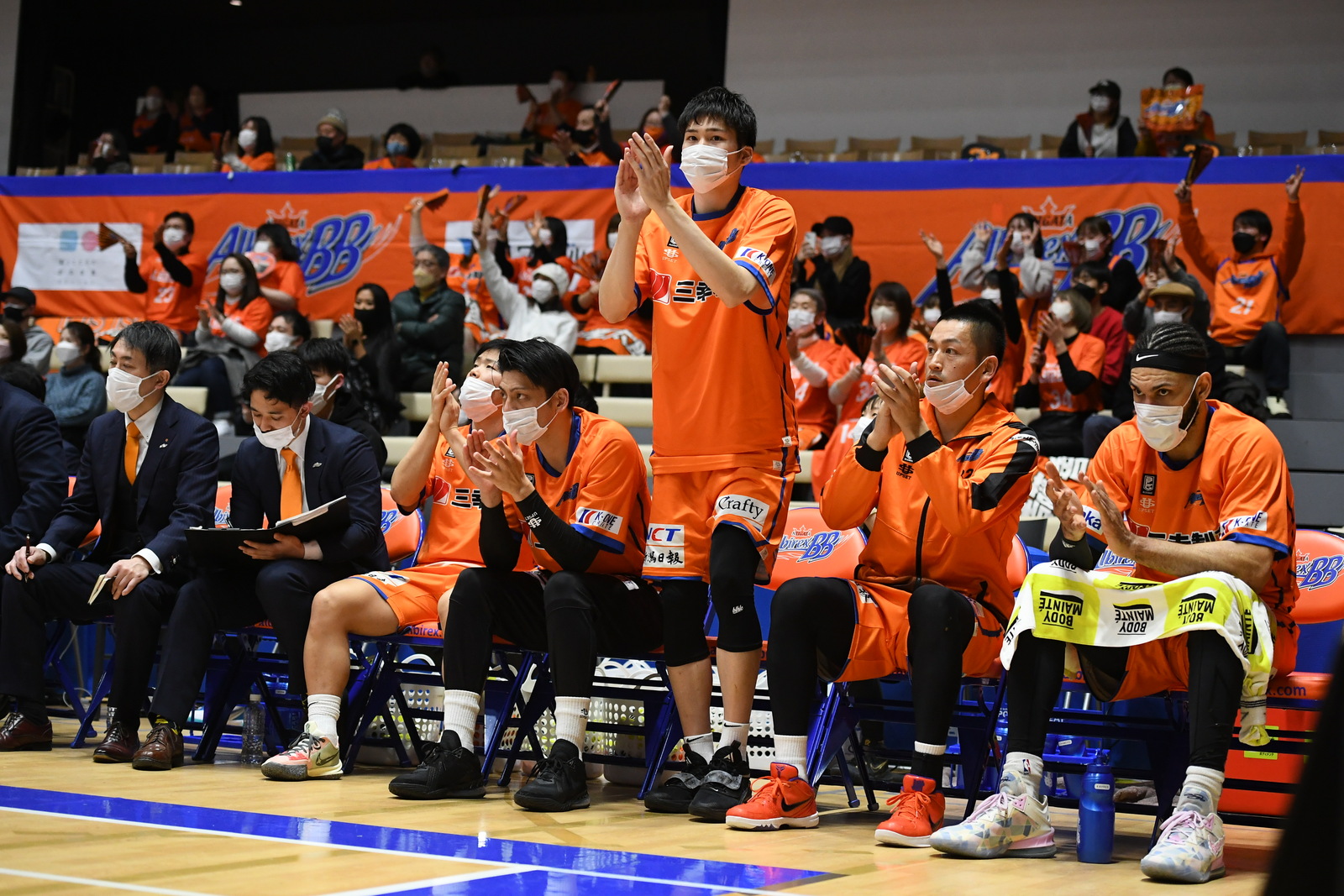 ~~
~
Good team defense is often predicated by hard work and synergy on the basketball court.
Similarly, effort is important for success on offense, but roster continuity may be an even bigger component of a team's ability to score enough points on a consistent basis to win games.
Only one Niigata Albirex BB player who averaged double digits in points in the 2020-21 season returned for 2021-22: Rosco Allen (18.1 points per game). The rebuilding squad's offense is last among the B. League's 22 teams in scoring (70.4 ppg) this season, and its most recent game is a vivid snapshot of its woes.
The Albirex (2-26) suffered their 25th straight loss on Sunday, January 23, an 89-59 setback against the visiting Shinshu Brave Warriors. They shot 31.8%, 31 of 66 from the field, in the blowout loss. Former NBA forward Jeff Ayres (17 points), Yuto Nomi (16, one fewer than his season-best output) and Allen (13) scored the majority of Niigata's points.

In 2020-21, then-Albirex coach Shogo Fukuda's squad went 16-38, the team's second straight losing season. In 2019-20, Niigata went 13-28 in his predecessor Kazuhiro Shoji's final season at the helm.
Three seasons ago, Shoji guided the Albirex to a 45-15 record and the Central Division title.
The impact of noteworthy veteran players and rising stars leaving the team in recent years, including scoring ace Davante Gardner to the SeaHorses Mikawa after the club's best season of the B. League era, sharpshooter Keita Imamura to the Ryukyu Golden Kings, and floor leader Kei Igarashi to the Gunma Crane Thunders, among others, has contributed to the Albirex's decline from title challenger to cellar dweller.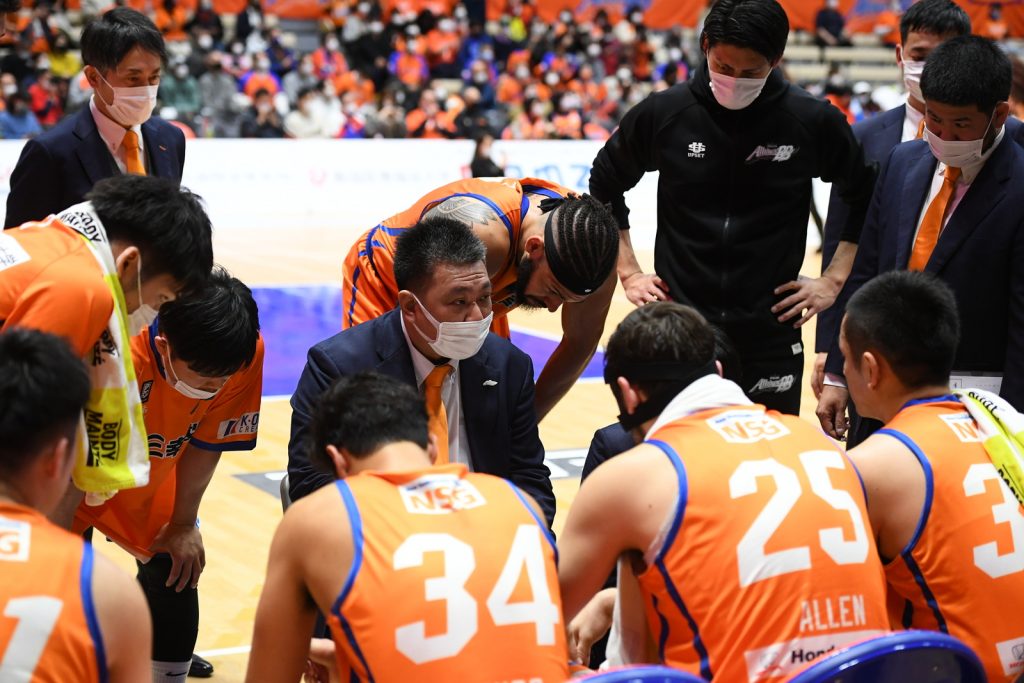 New Albirex coach Fujitaka Hiraoka is in his second stint at the helm. A longtime Niigata assistant during the bj-league era (2005-13), he ran the show from 2013-15. From 2016-21 he led the Crane Thunders.
Hiraoka presided over an epic 33-game win streak last season en route to a 52-5 overall mark in the B. League second division. Gunma capped its remarkable campaign with the B2 title and promotion to the top flight.
Instead of remaining with the Crane Thunders, Hiraoka accepted a job offer from Niigata.
The team's roster overhaul (seven newcomers on its 13-man roster at the start of the season) has clearly contributed to its struggles.
For Hiraoka, implementing his system and making his players familiar with his coaching tactics is taking time.
There was a positive jolt of energy surrounding the club early on. The Albirex won two of their first three games before an 85-82 road loss against the San-en NeoPhoenix began the losing streak on October 10.
Last weekend, Shinshu jumped out to a 16-4 lead by the end of the first quarter and recorded a 76-64 victory on Saturday, January 22.
A day later, Niigata was held to seven first-quarter points and trailed 38-26 at halftime. But starting guard Nomi gave the home fans a bit of excitement to close out the second quarter, nailing a long buzzer-beating 3-pointer.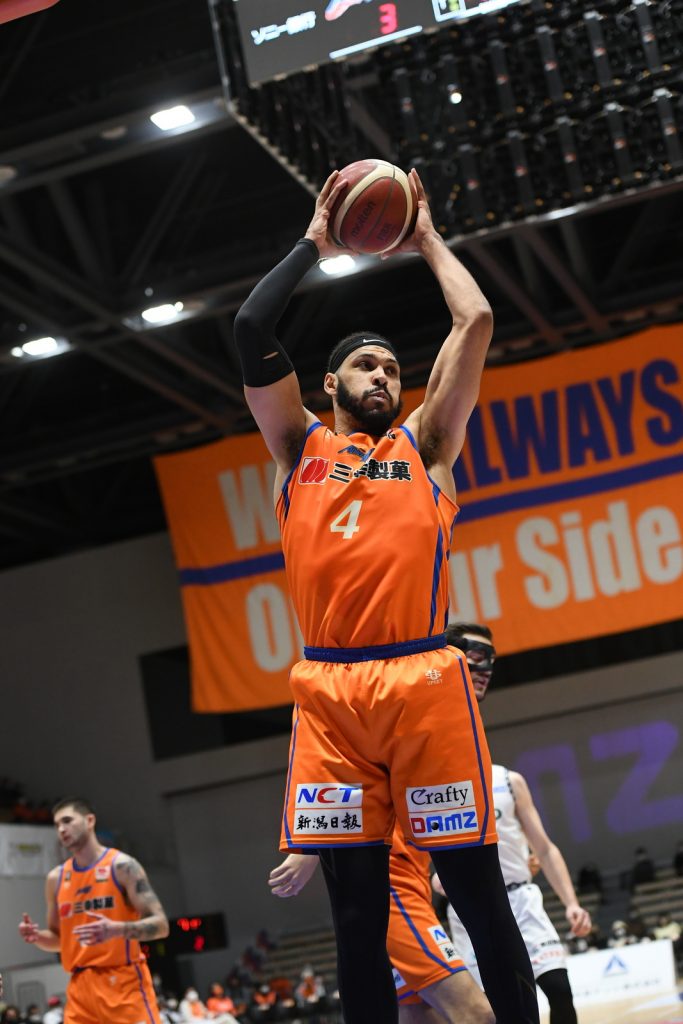 During the Albirex's 25 consecutive losses, they have dropped games by 20, 23, 26, 27, 30 and 31 (twice). They have also suffered some nail-biting defeats during the streak, including 77-75 against the SeaHorses on October 23, 79-78 on October 27 against the Alvark Tokyo, and 82-81 against the Kawasaki Brave Thunders on November 10.
Positive COVID-19 tests around the league have led to game cancellations, including four series last weekend.
The Albirex, meanwhile, had been sidelined since losing 84-83 to the Sunrockers Shibuya on January 3 before facing Shinshu last Saturday. (A COVID-19 outbreak among Osaka Evessa players and staff forced the cancellation of the team's January 8-9 series against Niigata. Then the B. League All-Star weekend, scheduled for January 14-15 in Okinawa City, was called off due to the pandemic.)
Before the month's end, Hiraoka's squad will look to slam the door on its run of defeats.

Up next: A Wednesday road game against the Levanga Hokkaido (11-17) and a January 29-30 home series against the Ibaraki Robots (5-23).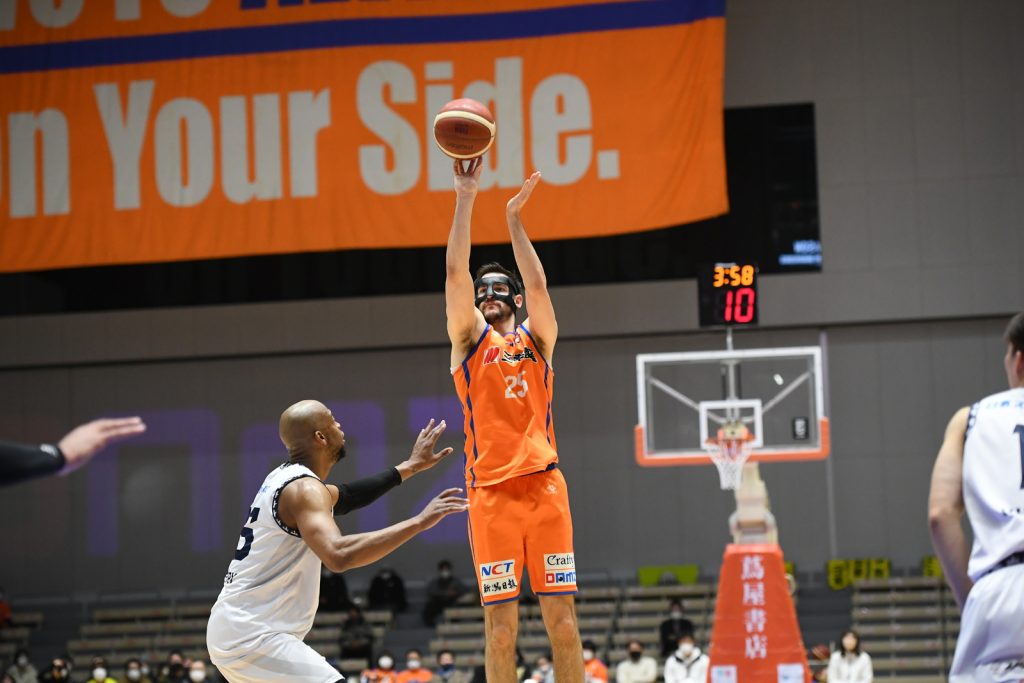 Despite his team's persistent struggles, Hiraoka remains grateful for the fans' continuous encouragement.
"We would like to thank all the boosters for their support even in this situation," Hiraoka told reporters after the January 23 game. "We will do our best so that we can win a match as soon as possible…"

The Albirex bench boss also acknowledged that his team must continue to make adjustments and focus on making improvements.
Against the Brave Warriors on Sunday, "We tried to make corrections for both offense and defense, but I felt that there were a lot of parts [of the game] that we couldn't make an easy shot and the strength of the defense was low," Hiraoka said.
Five Teams Vying for Supremacy
Heading into the final week of games in January, five teams have amassed 20 or more wins.
The Ryukyu Golden Kings (23-3, 13 straight wins) and Nagoya Diamond Dolphins (20-8) are the top clubs in the West Division.
In the East, the defending champion Chiba Jets (21-6) and the Brave Thunders and Alvark (both with 20-7 records) are leading the divisional title chase.

Alvark-Evessa Sunday Rewind
On Sunday, the Alvark extended their winning streak to 10 with a comprehensive 99-71 victory over the Osaka Evessa at Arena Tachikawa Tachihi.
Tokyo registered 11 assists against one turnover in the opening half and took a 51-33 advantage into the break.
Coach Luka Pavicevic's club utilized its deep bench to build a commanding lead. Ten Alvark players scored before halftime
Daiki Tanaka paced the offensive attack before intermission with 12 points, Sebastian Saiz poured in eight and Zack Baranski had six.
Guard Jordan Taylor's fallaway jumper and free throw accounted for the final points of the third quarter, giving the Alvark a 76-58 lead entering the final stanza.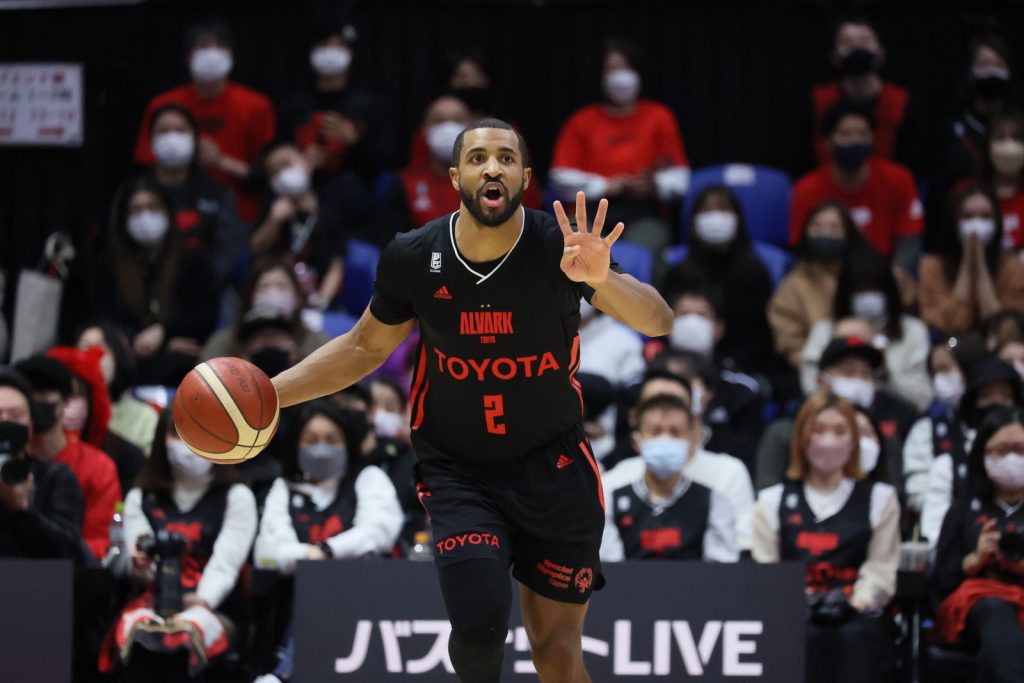 Saiz notched a double-double (18 points, 13 rebounds) to lead a balanced offensive attack. Tanaka poured in 14 points, Ryan Rossiter, Shuto Ando and Shohei Kikuchi added 11 apiece, and Taylor had 10 with six assists.
Led by Kikuchi's 3-for-3 from beyond the arc, the Alvark sank 10 of 21 3-pointers on an afternoon when their offense operated at a high level (20 assists, five turnovers).
D.J. Newbill scored a game-high 29 points for the Evessa (13-15) and Ira Brown finished with 13.
Asked about the Alvark's strong offensive performance, Pavicevic credited his players for "proper execution, good passes and good shots."
Pavicevic talked about his team's long layoff since its last game (on January 3) and noted that "physical, mental and tactical [aspects], all three areas, were affected by this."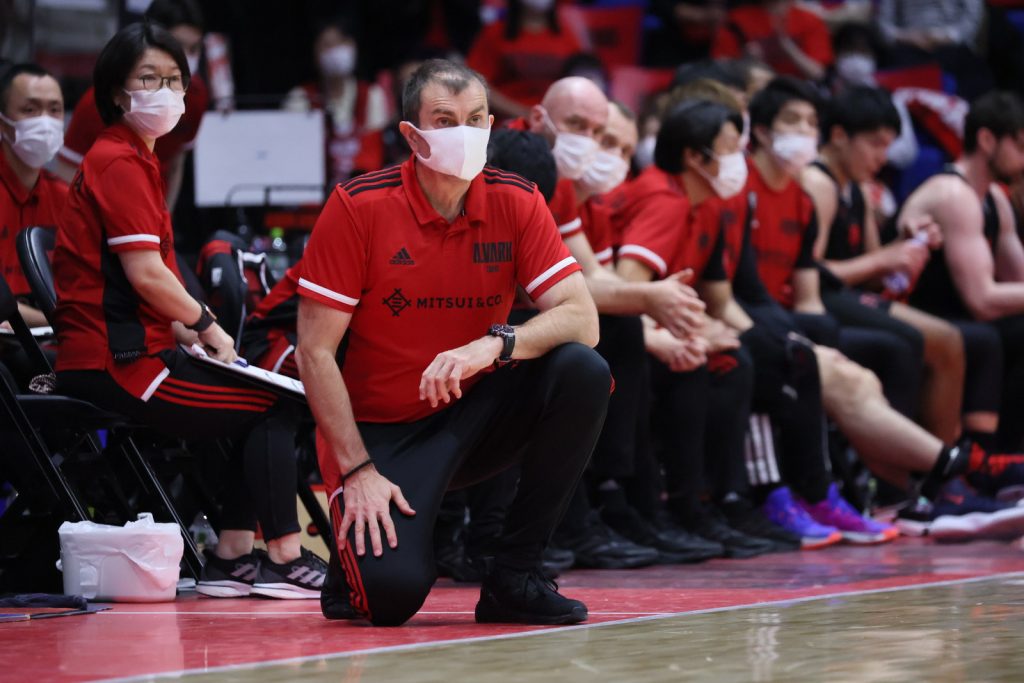 In the runaway victory, Pavicevic wasn't forced to use his key players for major minutes. Only Rossiter (25:04) logged more than 25 minutes.
"It took hard work to help give guys some rest," Pavicevic said, adding that COVID-19 absences have disrupted the normal practice and game-clock management he's accustomed to.

Looking ahead, he said it was important for the team to regain its rhythm before a busy stretch of upcoming games: Wednesday, January 26 vs. Nagoya, January 29-30 at Mikawa (15-13), February 2 at Hokkaido, and February 5-6 vs. Chiba.
Six games in 12 days, a pivotal stretch of the season for the Alvark.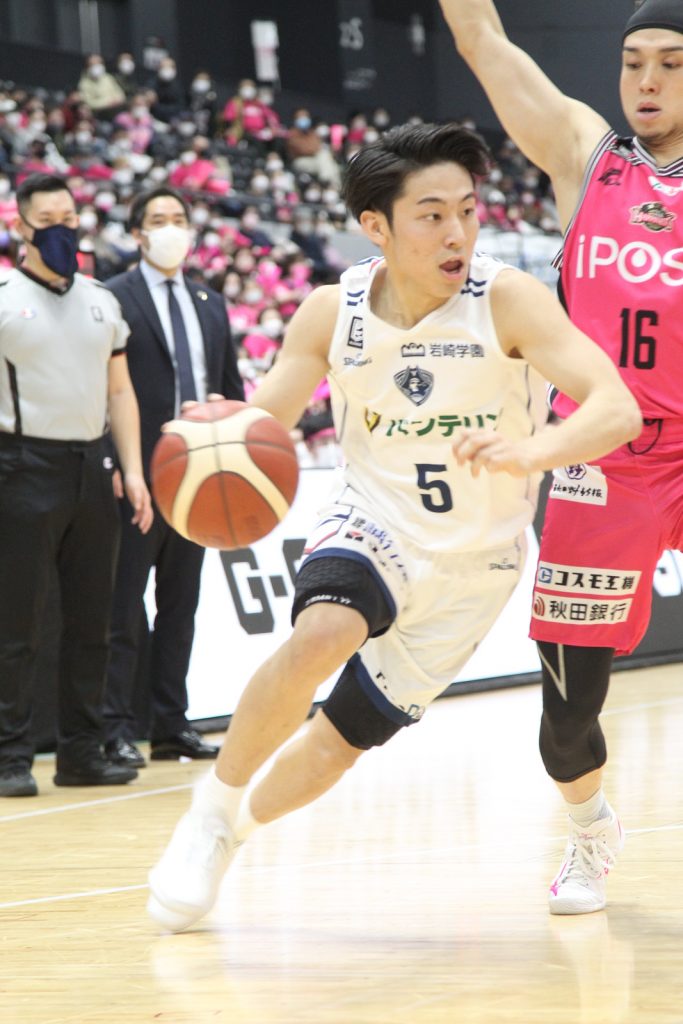 Noteworthy Performance
Up-and-coming guard Yuki Kawamura had 26 points and nine assists off the bench in the visiting Yokohama B-Corsairs' 102-97 overtime victory over the Akita Northern Happinets on Sunday. The 20-year-old canned 8 of 10 free throws and made two steals.
Yokohama improved to 10-18. Akita slipped to 19-11.


Author: Ed Odeven

Follow Ed on JAPAN Forward's [Japan Sports Notebook] here on Sundays, in [Odds and Evens] here during the week, and Twitter @ed_odeven.