BASKETBALL | Rui Machida Makes Solid Impact in Her First Season with Washington Mystics
The veteran guard was the team's second-leading passer in the regular season, helping the Mystics qualify for the WNBA playoffs.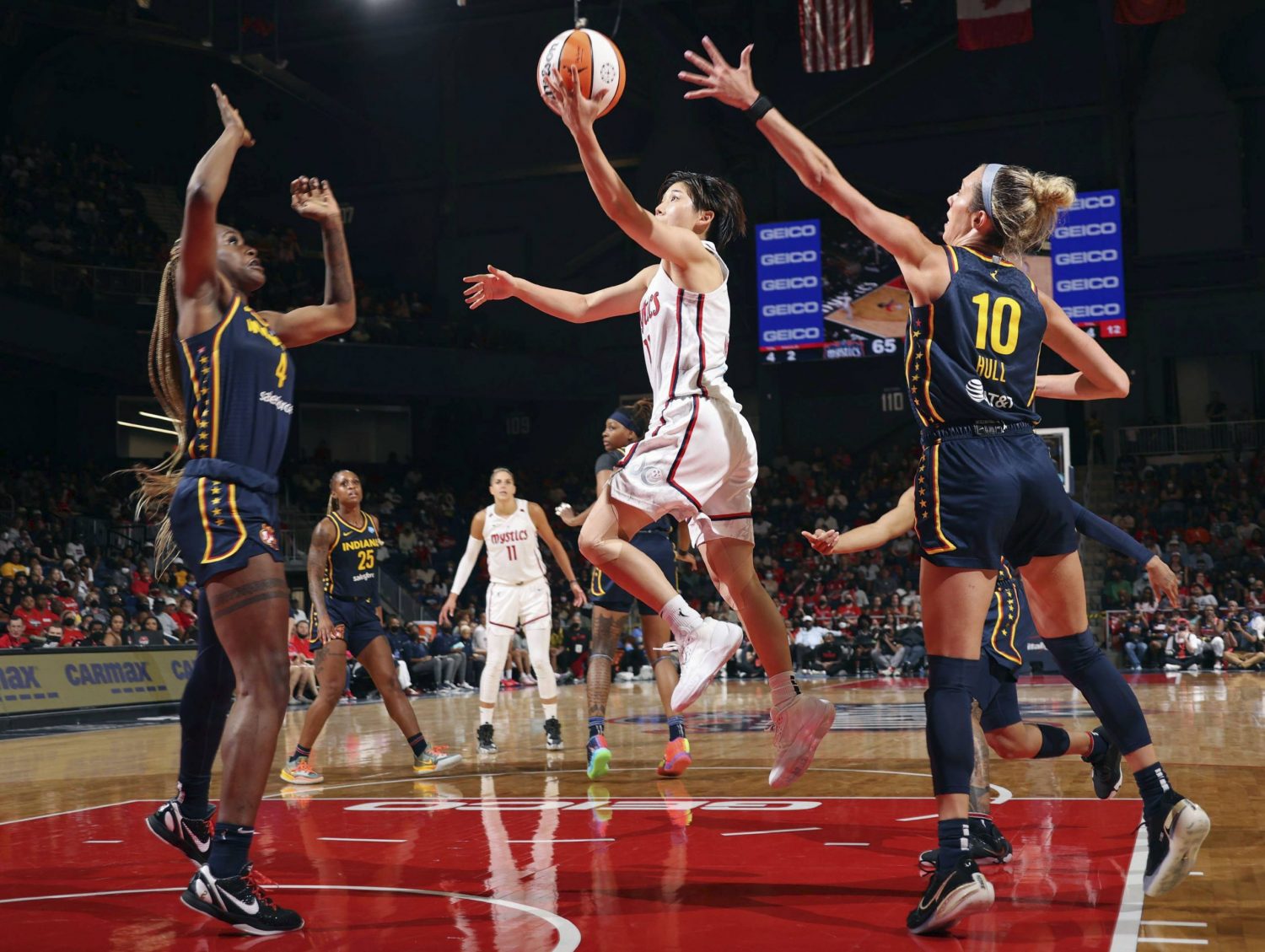 Rui Machida had a productive regular season for the WNBA's Washington Mystics as the team's backup point guard, earning a regular spot in the team's rotation and appearing in all 36 games.

For Machida and her teammates, the focus quickly shifted to the playoffs after the Mystics closed out the regular season with a 95-83 home win over the Indiana Fever on Sunday, August 14.
The Mystics (22-14 in the regular season, including seven wins in their last 10 games) will face the Seattle Storm (22-15) in a best-of-three first-round playoff series, starting on Thursday, August 18 (Friday, 2 PM JST) in the Pacific Northwest. Seattle won two out of three games against Washington in the regular season.

Before renewing their rivalry with the Storm, the Mystics' final regular-season game was marred by starting point guard Natasha Cloud's departure in the first half with a knee injury. She had scored 10 points in 14 minutes before her unscripted exit.

With Cloud out for the remainder of the game, the 29-year-old Machida stepped in and had a productive outing. She logged 21 minutes of court time (playing 20 or more minutes for just the sixth time this season) and contributed three points, six assists and four steals.
Productive Performer
Against Indiana, Machida's assist total was her third-best output of the season. She dished out seven assists on May 13 against the Dallas Wings and handed out nine on June 5 against the Chicago Sky.
Machida, who set an Olympic women's single-game record with 18 assists against France in the semifinals during the Tokyo Games and helped Japan earn a silver-medal finish in 2021, made a pair of starts in the regular season and averaged 12.9 minutes, 1.8 points, 1.1 rebounds and 2.6 assists. She was second on the Mystics in assists (93).
Cloud, who joined the Mystics in 2015, led the WNBA with a career-best 7.0 assists per game (239 in total).
On Monday, Cloud confirmed that she'll be ready to compete in the playoff opener.

Machida's Defensive Tenacity in Finale
Reporter Wayne Cole, who covers the Mystics, noted in one of his plethora of tweets after the team's regular-season finale that longtime Washington head coach and general manager Mike Thibault was impressed with Machida's defensive performance against Indiana.
Thibault said Machida's defense was like a "gnat," Cole wrote.
"She was everywhere," added Cole in the same tweet. "He (Thibault) raves about her confidence, and aggressiveness on both ends of the floor and says the Mystics will need it [in the playoffs]."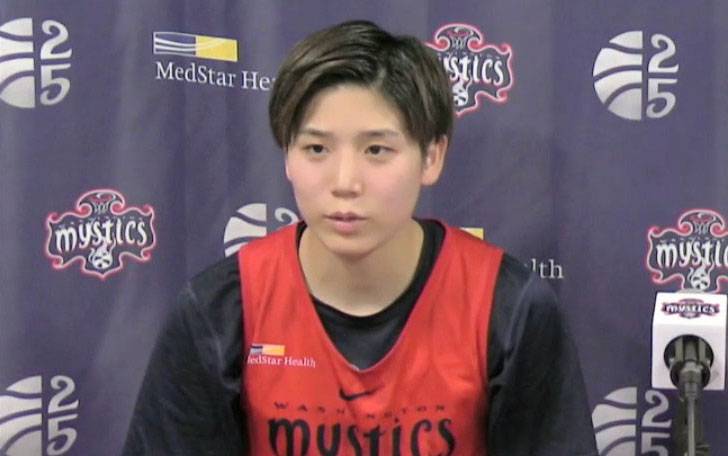 Insights from Teammates
In July, Mystics star Elena Delle Donne, a two-time WNBA MVP and the team's leading scorer in 2022 (17.2 points per game), said that Machida is a consummate professional, a delight to have as a teammate.
"Rui just shows up every single day," Delle Donne told reporters after a 70-57 win over the Minnesota Lynx on July 17. "She's here super early [for practice]. She's always here late working on her game. I can't imagine what it would feel like to not, you know, know the language and then have to play point guard, but she does it and does it so well.

Della Donne added, "She's just always smiling. She always wants to, like, work with you and talk to you afterwards, so … anytime I have one of those meetings with her she does everything and more. So she's a sponge [to soak up knowledge] for sure."
Veteran backup forward/center Elizabeth Williams also said she enjoys playing alongside Machida and teaming up with the Hokkaido native to spark the offense.
"Yeah, with Rui, I'm just always trying to be ready for the ball," Williams said in an interview posted on Cole's Twitter feed on August 12.
"I know Rui's the type to reward people that run or reward people that make the right cuts and reads and that kind of transcends the language barrier that she has with a lot of us. So I just try to do a good job of watching her eyes and being in the right spots, because she'll always make the right read."


'Be Ready When Your Name is Called'
One reason the Mystics qualified for the postseason is because of their productive bench.
It begins with a collective mindset.
For instance, backup forward Tianna Hawkins said she encourages fellow reserves to stay mentally tuned in at all times, even when they are sitting on the bench.

"Before every game I tell the bench mobs to be ready when your name is called," Hawkins was quoted as saying by SB Nation's Swish Appeal, a women's basketball website, in late July. "You've got a sub coming, so there's no reason to leave anything else on the court."
Before the WNBA season began, Machida admitted through an interpreter that competing in the Olympics was a defining moment in her career.
"Obviously, in the Olympics I had confidence playing against Team USA," Machida told reporters in May.
"I never thought I would play in the WNBA until I got the offer from the Mystics. This is going to be the best experience I've had, for sure."
Before joining the Mystics, Machida played for the WJBL's Fujitsu RedWave from 2011-22.

A WNBA Insider's Perspective
Jenn Hatfield is a Washington Mystics beat writer for The Next, a website that specializes in comprehensive women's basketball coverage. She also serves as the website's managing editor.

This week, Hatfield replied to this reporter's inquiry about Machida's impact for the Mystics, how she fits in her role on the team and what's the general perception among fans and the media about her.

"Rui Machida's statistics might not leap off the page for the Washington Mystics, but she's been crucial to the team's success as the backup point guard," Hatfield commented. "One of the most important things she does for the team is push the pace; starting point guard Natasha Cloud likes to run, too, but Machida might be the fastest player in the WNBA and isn't afraid to make a tough pass ahead. She gets assists on a full 30% of teammates' field goals when she's on the court, 10th-best in the league, and hasn't been too turnover-prone. She is also a pesky defender because her quickness helps her stay in front of attacking players and get steals."
What else sticks out about Machida's performance curve in 2022?

"Machida has also gotten better as the season has progressed," Hatfield said. "She has gotten more comfortable with her teammates and more used to the size of WNBA players, which changes what moves and passes she can make. She has committed fewer turnovers as well. The last thing that needs to develop is her shot-making; coaches and teammates have been urging her to shoot the ball all season, and they say her shot looks good in practice."

'A Favorite in the Locker Room'
From covering the team all season, Hatfield has seen Mystics fans' affection for Machida up close and personal.
"Machida became a fan favorite early on in Washington, in part due to her highlight-reel passing, and that hasn't wavered," Hatfield said. "Sometimes the crowd will chant, 'Rui! Rui! Rui!' when she makes something happen on the court, and the fans seemed to really enjoy celebrating Japanese Heritage Day with her in July.
"Moreover, she is a favorite in the locker room — her teammates love playing with such a talented, pass-first point guard and being around such an upbeat person every day."


A Coach's Thoughts
When the Mystics signed Machida, her passing ability, as exhibited in the Olympics, was recognized as her best offensive skill.
Thibault, the WNBA's all-time winningest coach (379 regular-season victories through August 14), has spoken about Machida's playmaking skills on many occasions this season. He's also encouraged her to be aggressive in attacking the basket when opportunities arise.
Machida struggled to make shots on a consistent basis. She shot 31% from the field and 20.6% from 3-point range.
But Thibault recognized from the get-go that Machida would be a capable contributor to his team's title-winning aspirations this season.
Or as he stated in May in the run-up to the season, referring to her global breakthrough role at the Tokyo Olympics: "She could perform on the big stage," Thibault was quoted as saying by The Associated Press.
The WNBA's biggest stage features eight playoff teams.


Author: Ed Odeven
Follow Ed on JAPAN Forward's [Japan Sports Notebook] here on Sundays, in [Odds and Evens] here during the week, and Twitter @ed_odeven, and find him on JAPAN Forward's dedicated sports website, SportsLook.