Prayers for Ukraine at Yasukuni Shrine on the 77th Anniversary of the End of World War II
August 15 — Despite sweltering weather, thousands of people flocked to the Yasukuni Shrine to commemorate peace and pay respect to those who died in past wars.
A large number of worshipers began queuing up in the scorching heat at Yasukuni Shrine in Tokyo's Kudan district, as cicadas chirped in the background. It was a weekday Monday morning on August 15.
Misting machines were used throughout the grounds and a tea station was set up near the entrance as heat countermeasures.
Visitors could be seen sitting on benches eating shaved ice. Others could be found leaving the worship queue to fetch iced tea for their families.
Just past noon, an elderly woman kneeled down after standing for so long in the heat of the day. The national anthem had just played across the grounds.
Growing interest in war-related issues was evident due to Russia's invasion of Ukraine. Patches of Ukrainian flags were being sold to collect donations for the ravaged country. There were some groups of visitors who were seen advocating against the invasion of both Ukraine and Taiwan.
"While Russia's invasion of Ukraine is a problem between those two countries, we cannot stand by and watch as innocent people get killed, claiming it's not relevant to Japan," a college student wearing a pro-Ukraine T-shirt told JAPAN Forward.


The Yasukuni Shrine
Yasukuni Shrine, which means Peaceful Country Shrine in Japanese, was founded by the Emperor Meiji in 1869. It is one of the most significant Shinto shrines in Japan.
The monument is dedicated to the 2.5 million men, women, and children whose lives have been lost in foreign and domestic wars fought by Japan.
While some find the shrine controversial, the worshippers seem to think otherwise.
An elementary school teacher who was visiting the shrine during her maternity leave said, "Regardless of what people in other countries think, I come here because it is an annual event and it is a good opportunity for the children to learn about history."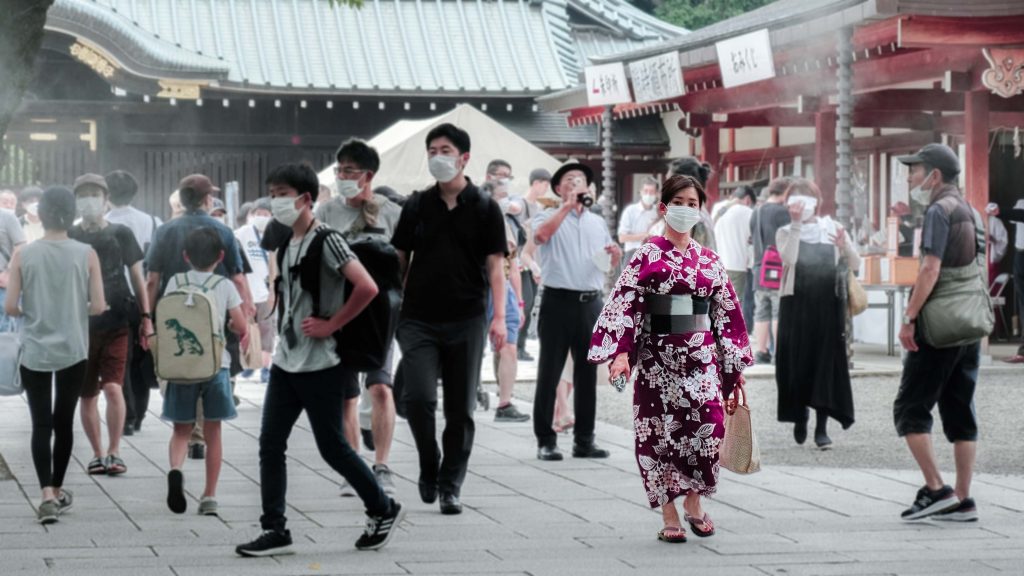 Three Events in Close Proximity
Yasukuni Shrine also has a long history of being visited by numerous politicians, including prime ministers.
This year, Prime Minister Fumio Kishida sent an offering to the shrine without visiting it. He did, however, go on to make an oblique reference to Japan's wartime actions. Nearby that day at the Nippon Budokan, at a secular gathering also attended by the Emperor, the Prime Minister said: "The lessons of history are engraved deeply on our hearts".
"Never again will we repeat the horrors of war," he added.
Kishida also presented flowers to the Chidorigafuchi National Cemetery, Japan's memorial for 352,297 unidentified war dead.
While the number of attendees at Yasukuni Shrine was not significantly different from last year, the security system was strengthened this year with many policemen present on site.
Since the assassination of Shinzo Abe on July 8, locations where national political figures might be found have seen a significant increase in policing. In this case, the Nippon Budokan and Chidorigafuchi National Cemetery, both with ceremonies attended by the Prime Minister, can be reached in only a few minutes walk from the Yasukuni Shrine.


Lawmakers Visit
The shrine was visited by two members of the Kishida Cabinet on the morning of August 15 — Economic Security Minister Sanae Takaichi and Reconstruction Minister Kenya Akiba.
Takaichi told reporters she had presented a private cash offering to the shrine.
She then went on to express her gratitude with respect for the souls of those who died in service to the country.
Additionally, she expressed her hope that no more innocent people would be killed in wars, pointing to the current crisis in Ukraine.
Reconstruction Minister Akiba said he wanted to make sure that such a tragic war never happens again.
It was the third consecutive year that incumbent Japanese Cabinet ministers have visited the shrine on this date.
Koichi Hagiuda, the chairperson of the Policy Research Council of the main ruling Liberal Democratic Party, visited the shrine earlier on the same day, as did LDP member Shinjiro Koizumi. Both are former Cabinet ministers.
"I have offered my sincere condolences to those who made the ultimate sacrifice during the war," Hagiuda told reporters following his visit.
Due to the spread of COVID-19, a group of nonpartisan Japanese lawmakers who regularly visit the shrine refrained from doing so on August 15.


Author: Shaun Fernando
Arielle Busetto contributed to this report.