Bicycling Through Japan: Kumamoto, Kagoshima and Miyazaki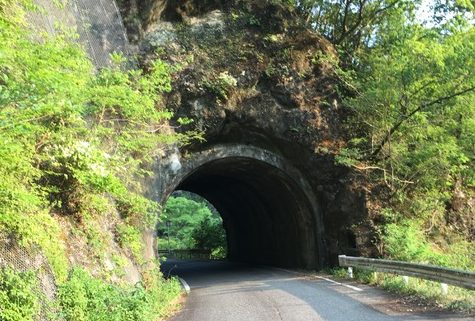 Part Two
The sun was shining and the waters were blue as I rode my bicycle on the next leg of my trip, across the strait of Ariake in Northwestern Kyushu. When I reached the far side, there was a great spot to sunbathe and take in the heat on a patch of hard, planted Japanese grass.
This was a solitary trip into the Japanese countryside to see for myself the impact of the COVID-19 in the Japanese countryside, beyond the boundaries of the great metropolises of Tokyo or Osaka. On an average day I was covering about 100kms on my Chinese-made LKLM crossbike, depending on wind conditions and elevation, stopping often for breaks, and to buy local foods that are hard to find in Tokyo.
One such food discovery was in the mountains of Yatsushiro, in Kumamoto prefecture, where I purchased crayfish tempura. This was a particularly delicious in-season delicacy as the crustaceans were filled with roe. It's like shrimp tempura, but better.
COVID-19 Impacts on Local Businesses
Talking to people in the areas I travel through is part of my mission. (My Japanese is native level, owing to my mother.) Villagers are bemused when I talk about COVID-19 and give my honest thoughts on the matter.
One interesting conversation I had was with a surfer from Aoshima in Miyazaki prefecture.
Miyazaki is slow-paced, quiet, and introspective. Apparently, Miyazaki citizens are known in Japan for their reticence. Aoshima is also somewhat of a surfing spot, although the waves aren't very strong. I stayed at the surfer's hostel. (He asked not to be identified.)
He told me his hostel's occupancy rate had fallen to nearly zero, as tourism is now dead in the water, thanks to COVID-19. He owned and operated a number of guesthouses in the area, using foreign WWOOFers as free labor (WWOOFers are travelers that barter miscellaneous labor in exchange for free food and lodging). While business was slow, he was keeping himself busy by holding discussions with accountants about how best to apply for financial aid to compensate for the fall in revenue.
Among other things, he told me that there is a nationwide surfing federation and that it had advised surfers to refrain from taking to the waves. He told me that the Association was strongly urging surfers to "stay home" and not travel outside their home area. Needless to say, he gestured his unhappiness with their advisory, which directly impacts his business.
Foreign Visitors Caught in the State of Emergency
At this guesthouse, I also met some international travelers― WWOOFers!
I spoke with a girl named Liza from Switzerland and a young lad Jan-Nicholas of Germany. Both were stranded in Japan and without significant funds, although in excellent spirits.
Liza is waiting for the emergency to be lifted so she can return home. In the meantime, she is enjoying her current stay in Japan due in part to the contrast with the drastic COVID situation in Europe. Her main worry is for her parents, who both work as nurses. Liza views her predicament much more favorably than her parents' situation.
Jan-Nicholas, a bubbly 20-year old German giant, is planning to roam through Japan for another 2 months. He is particularly enthused at the prospect of possibly receiving 100,000 JPY from the Japanese government. I am not sure non-tax residents would receive this payment, though I didn't want to burst his bubble. Check out the interview with him on my YouTube link―he's a very good lad.
Remote Village Takes the Emergency Seriously
My next stop was the mythologically significant hamlet of Takachiho, an eerie place deep in the interior mountains of Kyushu. Takachiho took the self-imposed "Jishuku" lockdown especially seriously.
Getting there was as scenic as one could hope. The river Gokase flows through towering canyons covered in lush vegetation. I enjoyed for myself a casual swim on an awesome, beautiful day of cycling.
But, when I reached Takachiho, I was refused at one international hostel and another AirBnB. It was getting dark and I was beginning to feel anxious because, although I had packed a tent, it gets pretty cold up there at night and I didn't bring a sleeping bag (though I brought exercise equipment with me, which I haven't used once). I realized I am very, very lazy about preparing for these trips.
Luckily for me, the kind owner of Guesthouse Shizuho, on hearing my knock at the door, let me in, albeit with some hesitation. His wife was visibly displeased about her husband conversing with me in close proximity, ignoring social distancing. However, we didn't want to shout and wake the neighbors!
Being rejected at two hotels and the complete lockdowns of all shops in Takachiho save for an Izakaya (a Japanese bar), gave me the impression that this was a town completely traumatized by the COVID-19 panic. Indeed, I was told the town had two cases of COVID-19 infection.
My experience in Takachiho was significant as it demonstrated to me just how seriously people take the threat of the invisible virus.
The true extent of the damage done to society by COVID-19 and the concomitant media and government response should become clearer in the coming 6 months, as Japan eases its emergency declaration and people emerge from their lockdowns. Given the atmosphere and degree of fear and trauma, I have begun to think people cannot shake this experience off so easily. Maybe it will take a generation, or even two.
Next up, Beppu, city of hot springs!
(To be continued)
Author: Julian Israel
Julian's videos of his trip are available on his own YouTube channel.