BOOK SERIES | Minority Shareholders, Chapter 13: Relative Value
How much are family shares worth? It may be much more than you think, as Shin Ushijima's characters explain in Chapter 13 of his novel, Minority Shareholders.
In this chapter of Minority Shareholders, I continue the story of Norio Takano. He is not a specific person; he is a character created for my book out of some high rollers who had existed during the bubble period.
As a young lawyer, I witnessed the generation of enormous wealth from scratch. A minority shareholder of a family company brought an action to the court and succeeded in taking hundreds and thousands of yen. I saw it firsthand. Ten years after the bubble popped, I started work related to corporate governance. In this book my fictional characters tell the story of problems that persist in joint-stock corporations. What is an organization called a company? What if Norio Takano were reborn in this era?
This story is a work of fiction. Any resemblance to actual characters or organizations is entirely coincidental and unintentional. ー Shin Ushijima
Read earlier chapters of the series.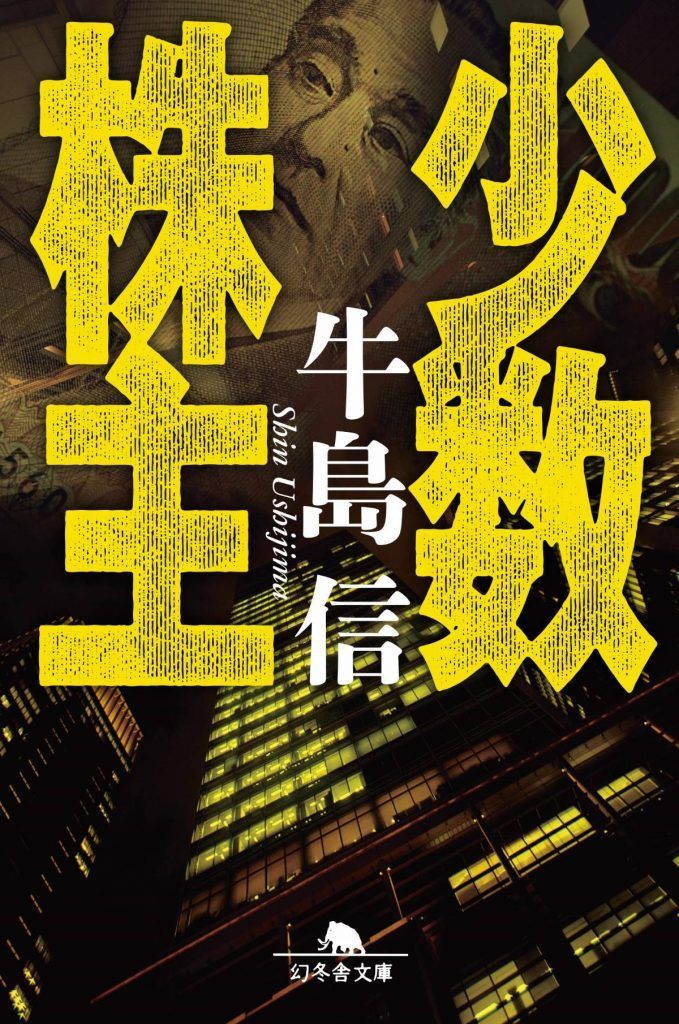 CHAPTER 13: Relative Value
Continuing from Chapter 12: The meeting with Auntie Sumida had ended. Auntie Sumida went home with the ¥5 million yen, and Norio Takano was still thinking about her past.
Takano was amused thinking about how things were going.
A week later, Takano was in a meeting with Sumiyo Kawano at Ooki's office. This time they sat side by side across from Ooki in the very same meeting room where Takano had talked with Ooki about the shares.
Ooki managed a smile while biting his tongue.
Takano, leaning forward a little, said, "I asked Mr Ooki to be with us today."
Ooki kept smiling and took out his business card and leaned forward to hand it to Sumiyo Kawano across the table.
"He's a lawyer. He is very reliable. I want him to be with us because we'll have to ask him to go about handling the troublesome procedures soon. We've known each other since high school."
So Takano explained, and Ooki glanced at both of them, carrying a smile.
"As I said before, I'm a candidate for purchaser at the moment. Nothing but a candidate. Auntie, you want to sell your shares to me and ask the company to approve it. Oh, yeah, all the procedures required for that will be taken care of by young lawyers at Mr Ooki's law firm, which has more than eighty lawyers."
Ooki gave Sumiyo Kawano a big nod and smiled again.
A Next to Impossible Request
It was only Takano's voice that drifted through the air.
"Auntie, we will demand that the company transfer your shares to me first. You can sell the shares to me only after you get approval of the company to that effect. If the company doesn't approve, we will demand that the company designate someone else or that the company itself buy the shares. Then the company is sure to respond. Whether your shares be sold to the company or to someone designated by the company, either is fine with us. If neither of these is accepted, Mr Ooki will take necessary actions for that.
"What is the fair price? The court is sure to determine it. It'll be done by a judge, so no problem. Trust me.
"If the company approves it, if it gives the green light to your plan to sell me your shares, Mr Ooki will make a formal stock purchase agreement. You have only to confirm that you have duly received ¥5 million as payment for the sale. Mr Ooki will produce necessary documents. That's all. You're done with it. Then, I will be a shareholder and demand that the company improve its management."
Ooki smiled wryly.
"Look at Mr Ooki. You can see him with a stern expression on his face carrying an awkward smile. What he is thinking now is that it's impossible for the company to give the go-ahead on our transaction.
"It's next to impossible for the company to approve our request for transfer. The company doesn't want a complete stranger to be a shareholder. And of all people, the complete stranger is the notorious Norio Takano. Seeing that, I understand they will balk at accepting me as a shareholder."
A Proper Transaction at a Fair Price
Ooki opened his mouth. "He was famous as a bubble gentleman and rose phoenix-like from the ashes."
Sumiyo Kawano, who was listening to Takano's explanation silently, gave a little chuckle at Ooki's words. But noticing a huffy look on Takano's face, she grimaced. Takano read through her eyes that no matter what, she would not pay back that five million yen. Takano relaxed his features, smiled back at her and continued speaking.
"Please don't be anxious. It'll be of no problem to us whether the purchaser is the company or a third party. In such a case, we'll have to haggle over the price and we can leave everything to Mr Ooki. Trust me, you are in great hands.
"We're not going to have backroom dealings with the company. We're going to have the court decide on the price. It's comforting to know that the price will be determined by the court, isn't it?"
"No matter what happens, I don't think I will be able to pay the money back."
It was Sumiyo Kawano's small but unfaltering voice.
"Of course, Auntie. You're sure to sell your shares. You can hold on to that five million yen as the payment. It's the payment for the sale of your shares. It's yours."
"So we are done with it, right?"
Sumiyo Kawano, somewhat disaffected, looked Ooki in the face.
"The tax office cannot help but admit that the shares have been properly transacted at a fair price.
Higher Value
"Pardon? You mean my shares are of higher value?"
Ooki replied, "They may be, but it depends on the purchaser…"
Takano took the words out of Ooki's mouth. "Auntie, even if the price to be determined by the court is less than five million yen, I will not demand any payment from you. If the price is higher than five million yen, I will pay you the difference. After deducting five million yen and the lawyer's fee from it, I will give you the remainder. You have my word."
Sumiyo Kawano opened her mouth. "But if that were the case, I would feel guilty. I've already received the money, so I'm not going to demand any more. You said you're going to give me the difference. I'm very grateful for that, but I must decline.
"You are mentioning the court or something, but things are too complicated for me to understand. If someone offers a higher price than this, you said the difference will be given to me. It's strange. The price should be determined between the seller and the purchaser---Norio-san and me, in this instance.
Gaining a Profit and Playing it Straight
"We agreed on five million yen at the beginning. I don't think the shares of that company have a higher value than that. As for the lawyer's fee, I know we should pay it. If we talk to a lawyer, I know it generates fees. But you're going to take care of it, aren't you?
"Even if the shares given to Norio-san turn out to be more valuable later, it doesn't make sense for me to get the difference, if any, because I've already received the money. I would feel uncomfortable receiving the difference. I know where I stand in this case. I've received ¥5 million for my shares, and it's done.
"If you gain a profit selling the shares to somebody else, more power to you! You deserve it. I myself was convinced to sell my shares to you, so I'm in no position to demand more, even one yen."
Apparently, Sumiyo Kawano seemed only to be worried about paying back the five million yen. Therefore, Takano once again assured her that there was nothing to worry about and that the transaction between them had been closed with the payment of ¥5 million.
"I understand your point. But if the court offers a higher price, will you give me a chance to talk to you again? Auntie, it may not be comprehensible for you, but I always want to play straight with you."
"So I've received the money first, and it's done. You've been playing straight with me all this time."
"That's not what I meant. So, Mr Ooki, please, you explain it. I think he can make it clearer."
A Can of Worms
Ooki broke into a smile again and spoke slowly and softly. "The shares of a family company can be a can of worms. The price varies depending on the relationship between the seller and the purchaser. If they are traded at a cheap price among non-related parties, the tax office ignores it. But if they are traded at a cheap price among kinsfolk, relatives, the tax office keeps tabs on it.
"It's quite natural. A parent wants to give his child the shares of his company at a cheap price. It's understandable, but it's not acceptable in society. I think you understand this, right?
"To be exact, what matters is whether he takes control of the management of the company or not. If he doesn't, even though he has a part of the shares, his shares mean nothing significant to him except that he is eligible to receive dividends on the shares. Dividend payments from unlisted companies are never a sure thing. So who wants to buy such shares?"
"Sensei (sir), it's too tricky for me to understand. But these shares are usually traded at ¥160 per share. I'm satisfied if my shares are sold at that price."
"Yes, I understand. But if the company has assets and even if it doesn't earn profits on the surface, when the company is dissolved, the assets of the company are to be allotted to its shareholders in proportion to their shareholding."
"Sensei, but this company won't be dissolved."
"Of course, it won't be. But if it were to be dissolved, the amount of money per share would be much higher than ¥160, and the shareholders would be able to receive more. This is clear to you, right?"
Continues in: Minority Shareholders, Chapter 14: Sumida Ironworks and the Quick Response
RELATED
Minority Shareholders is a work of fiction and any similarity to real characters, companies and cases is purely coincidental and unintentional. Sign up to join our mailing list and then look for the next chapter every Saturday on JAPAN Forward.
Author: Shin UshijimaThe founding partner of Ushijima & Partners, lawyer Shin Ushijima has an enormous wealth of experience in international transactions, merger and acquisition, dispute resolution, system development, anti-monopoly law, labor, and tax law. Concurrently, he heads an NPO called the "Japan Corporate Governance Network." And in his leisure moments, he writes fiction. Additional details on Shin Ushijima's career, awards, publications and more are available at his website: Ushijima & Partners, Attorneys-at-Law.