'Borderless': Sensory Overload at teamLab's New Exhibition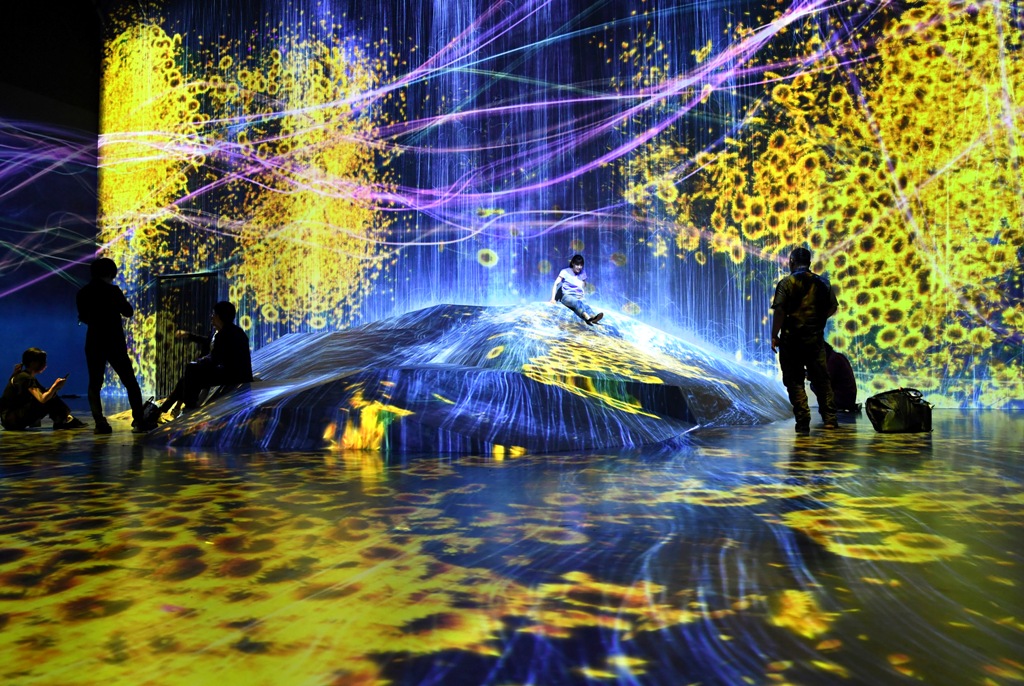 Alice Drake
Just a short journey over Tokyo's Rainbow Bridge brings you to Odaiba. It is an island popular among tourists and Japanese alike for its quirky sights, including a scale model of the Statue of Liberty.
There cannot be a better setting for teamLab's Borderless permanent exhibition. We are lucky to get tickets, as they usually sell out weeks in advance.
Our exploration begins in the "Flower Garden," and we are blown away as we first walk in. The entire room is filled with digital images of flowers displayed up the walls and all over the floors. It has such a calming effect, I feel that I am truly in a meadow of flowers.
Within this room, we happen upon another, smaller room, which displays a light show. It has mirrored floors and what must be at least 200 stage lights. It is hypnotic. Taking a seat on the floor, you can watch the lights dance dramatically around the room in synch with the music.
Such a simple idea has such a magnificent effect. Leaving that room, I certainly feel empowered.
On to the next one: the "Athletic Forest"! The first thing you see is a giant trampoline built into the floor, decorated with a galaxy and planets. The effect of bouncing on the galaxy gives the impression that it is rippling. It is very mesmerizing.
The rest of the room has steep hills and valleys with images of butterflies and crocodiles wandering across the floor. You would have to stop and stare for a while, just to take everything in.
The next part of this room is by far my favorite of the whole exhibition. It is an area with squishy balls, giving the appearance of soft, rounded stalactites and stalagmites that change colors, often starting with one ball and spreading to the others.
We are disappointed when we reach the climbable forest of poles to discover it is for ages 12 and under. However, the mini low ropes course—a series of foam steps hanging by ropes from the ceiling with no age limit—makes up for it! This is almost dizzying, and a few times I have to center myself by looking back at a fixed point! Only when you are on the steps do you realize the walls and floors give the impression you are high up, climbing through a flock of colourful birds.
Passing an area for babies where a child looked like she is having the time of her life, we make a beeline for some slides we have spotted. Four people can race to the bottom of the slide. This brings out our inner child, something this exhibition certainly encourages.
Having completed the athletic forest feeling like we've done a bit of a workout, we head on.
We next find ourselves in a room with the waterfall that is advertised on all the posters. It is even more breathtaking in person. There is so much to look at on the walls—and the visuals do not appear to repeat very often, meaning you can stand there for five minutes before you realize you are just looking at one wall!
From here, we lose track of where we are in the exhibition and just enjoyed exploring, not knowing what we might come upon next.
We visit a few more rooms, the first of which, called "Crystal World," is aptly named as it has thousands of LED strings hanging from the ceiling, with a walkway between them and the mirrored floor. It gives the impression of a space of infinite lights and generates a very peaceful feeling. The LEDs glitter and change color. At one point they flash blue, giving the impression of rain falling from the ceiling—with sounds that match. It feels as if a hot summer rain is suddenly pouring down from the sky—not what I would expect from a room of LEDs!
Another notable part is the "Forest of Lamps," a room full of lamps hanging from the ceiling, and more clever use of mirrors, covering the entire room this time.
Just as we think we have seen everything, we pass by a room called "Black Waves." This room is roughly an oval with beanbags in the middle. Images of crashing dark waves cover the walls and the sounds of the sea echoes through the room. As we take a seat on the beanbags, I realize how overwhelming the whole exhibition is—such a sensory overload. You feel so at one with nature, even inside in a dark room. teamLab has outdone themselves and certainly created a digital and sensory masterpiece.
While I can probably stay in that room all day, absorbing the sense of peace and reflection, it is time to leave. With one last trip through the "Crystal Maze," we headed out, satisfied and weary from all we have seen.
As in any normal art gallery, you are left to explore. But this is a much different experience and it feels more like going on an adventure than just wandering between rooms in a gallery.
For starters, the rooms can change. If you go back a few hours later, it may not be the same! It is more interactive than a normal art gallery as it invites you to become part of the artwork and help it come alive. It is more about how the different pieces of work interact with each other and flow from one to the next, achieving continuity throughout the exhibition.
I cannot recommend this exhibition enough. It is fantastic place for all ages. Be warned, though—you might never want to leave!
Tickets:
Child JPY 1,000
Adult JPY 3,200
Period: Jun 21, 2018 – permanent
Holidays: the second and fourth Tuesday of each month. (holidays depend on the season, so check website)
August Holidays: August 10 and August 28.
Monday-Thursday 11:00-19:00 (closing at 21:00)
Friday- day before holidays 11:00-21:00 (closing at 22:00)
Saturday 10:00- 21:00 (22:00)
Sunday and Holidays 10:00-19:00 (closing at 20:00)
E-ticket: https://ticket.teamlab.art/order (English)
Lawson ticket: http://l-tike.com/borderless-teamlab (Japanese)
7-11 ticket: http://7ticket.jp/g/001562 (Japanese)