Breaking the Chains of Poverty Through Fashion and Fair Trade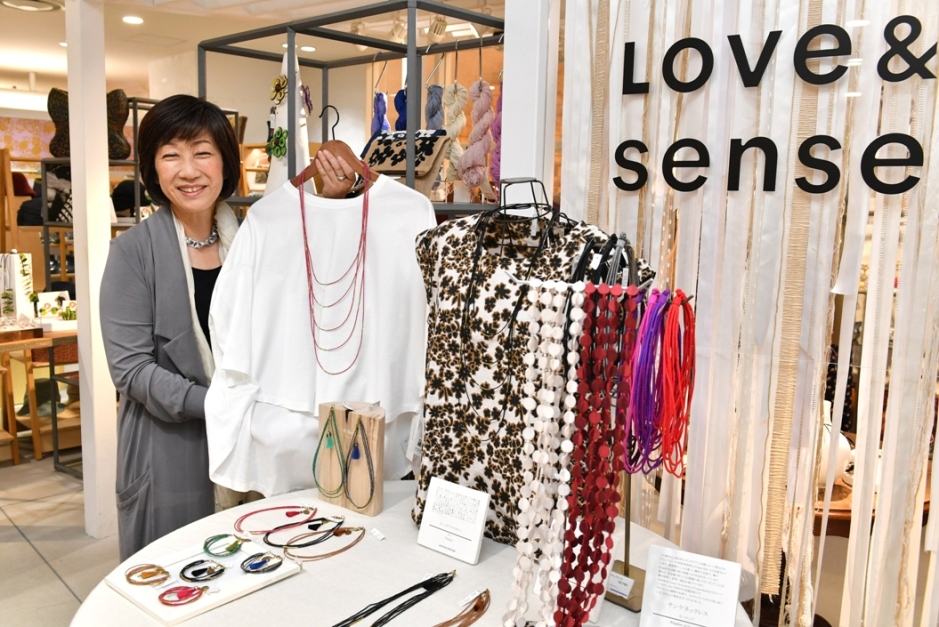 More women are supporting developing countries through fashion. In these countries, poverty is often the backdrop to problems, such as environmental degradation, war, human trafficking, and child labor.
Fair trade is one of the approaches being taken to tackle this poverty. It ensures that local producers are paid fairly, and prevents them from falling victim to unfair labor practices.
Another way to help the poor is to give them vocational training.
Make Fair Trade Attractive
Tamae Takatsu, 56, is the CEO of Love & Sense (Nishi-ku, Osaka). It is a fair trade boutique that sells pull-tab bags made from recycled aluminium cans, crafted by women in an impoverished region in Brazil.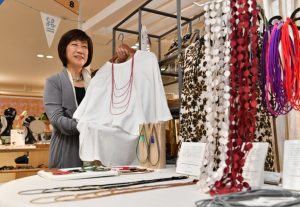 She was strongly inspired by the fair trade concept in 1998, when she was running a marketing firm. Deflation had been continuing for some time and prices kept going down, which meant cost reduction was the top priority for her company. Through this process, she realized that setting low prices had repercussions on the producers.
This realization led her to participate in a study tour organized by an NGO. She witnessed environmental degradation, huge amounts of agricultural chemicals used to increase harvest, and the tragic poverty in the depths of India.
Takatsu explained: "When I started my company, I thought that people only bought fair trade because they felt sorry for the producers. Even if I wanted to buy fair trade, I never actually did. I might have bought something once, but it never happened again. I realized that we needed to make fair trade products more easily accessible and create them so that people would pick them up and find them attractive."
Her store also offers Tagua accessories from Colombia, which were once used as buttons, silk bead necklaces from Vietnam, and heart brooches crafted in the disaster area of the Tōhoku earthquake and tsunami. She became partners with the producers she met through an NGO to open pop-up stores in department stores all over the country. She also runs an online store and retail store so that customers can buy the goods conveniently.
Takatsu also participates in a wide range of activities, such as giving a speech at the Asia Fair Trade Summit in Thailand, organized by the World Fair Trade Organization (WFTO). "To provide work is to empower people to live. Our role is to be the bridge between producers who are often placed in a difficult situation, and the purchasers who will buy the products," she said.
Train Future Producers
Masayo Kodama, 79, president of Reborn Kyoto (Nakagyō-ku, Kyoto), promotes the economic independence of women and young people in developing countries. She teaches workers how to develop dressmaking skills and how to apply those skills to kimonos donated from all over Japan.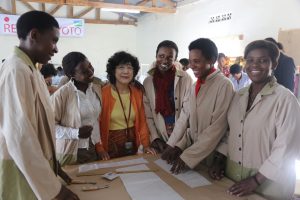 Masayo Kodama at Kigali, Rwanda.
It started when she conducted a field survey of how the money collected through street fundraising was being used for refugees in Cambodia. "They provide a lot of aid, such as medicine, food, books, and unhulled rice, but the consequence of becoming used to receiving is detrimental dependency," she said.
She now runs a business that develops economic independence by equipping workers with sewing skills. Kimonos are picked out from piles of second-hand clothes and transformed into beautiful new clothes.
Kodama assigns professional Japanese dressmakers to teach at vocational training schools in seven countries, including Cambodia, Vietnam, Jordan, and Rwanda. The trainees produce coat remakes, jackets, and dresses with kimono fabric, which are then sold at charity sales in Washington DC and Boston in the United States, and in traditional townhouses that have been converted into shops in Kyoto.
Last year, 150 students celebrated their graduation as they completed a three-year program in Rwanda. Kodama was told that one of the graduates even launched a company with a friend.
It is Kodama's conviction that "marketable skills provide local people with a stable lifestyle and the power to live."
According Takatsu, most of the top female diplomats and company representatives she met during training wore fair trade clothes and accessories.
Fashion is a powerful tool of communication—it connects people through products. It is now being used to promote compassion and understanding, because each fair trade product has an important story to tell.
(Click here for the original article in Japanese.)