British Artist Dave White collabs with atmos for Nike Air Max 1 'Animal Pack 3.0'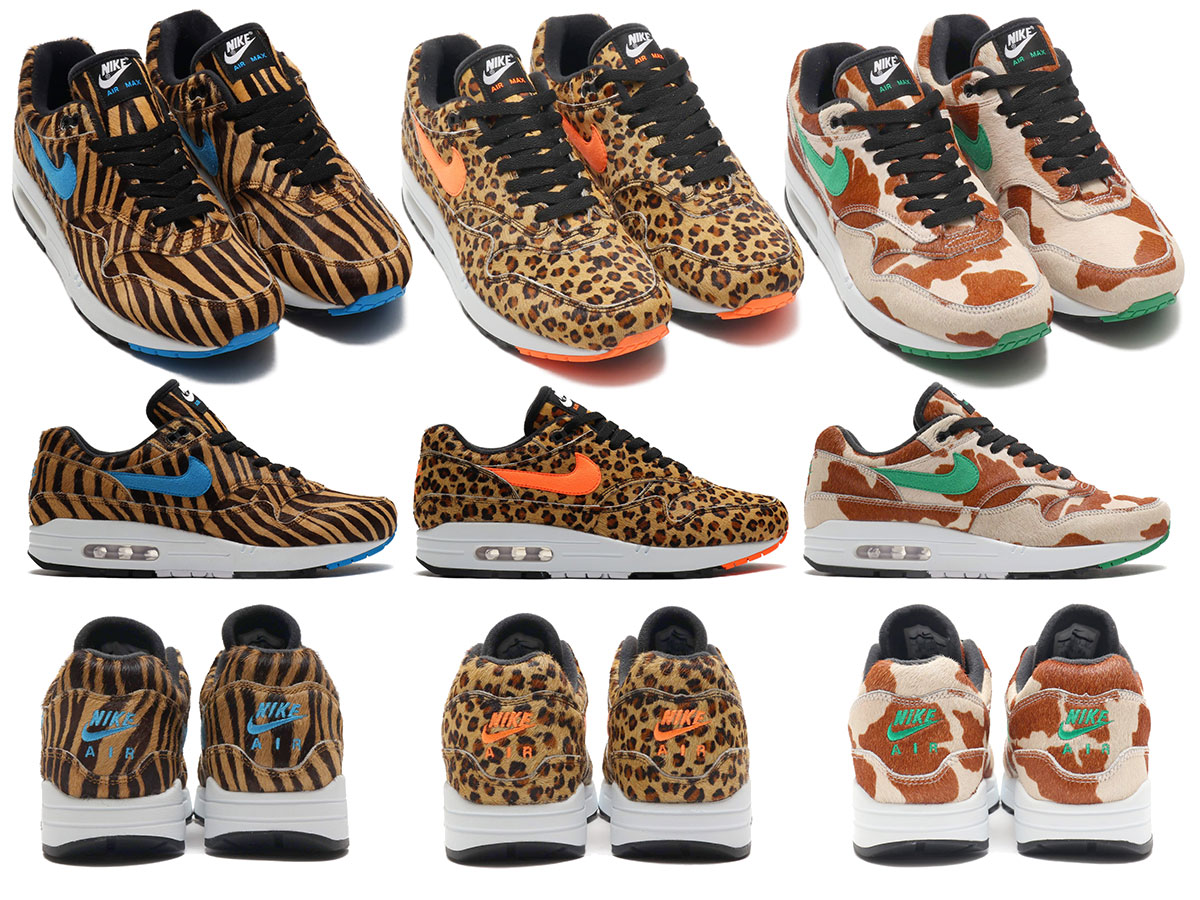 In commemoration of the exclusive collaboration drop, atmos hosted an exhibition and workshop at its Sendagaya flagship store on July 12 for 'atmos Jam Vol. 8' with special guest Dave White.
The evening started with contemporary the British artist sharing details about his creative process and career, and some teasers for future works.
The press and select atmos members were invited to the exclusive event on the eve of the Animal Pack public release on July 13.
White's paintings were exhibited in the space, also supplemented with digital photo slideshows that provided guests an insight of the artist's career.
The Animal Pack 3.0 retains the characteristics of the vivid animal motif, and the atmos collab featured a Tiger, Leopard, and newly joining the pack is the Giraffe. Alongside the release of the three Air Max 1 kicks are t-shirts, shorts, tote bags, and two different-sized water bottles to complete the full Animal Pack 3.0 set. The price for each pair is ¥25,000 JPY, and guests invited to the exhibition were given an opportunity to make a pre-release purchase.
Where Did It All Start?
Among the invited guests were a lot of young people who are enthusiastic sneaker collectors, as well as aspiring artists. White has previously worked with Nike and Jordan on bespoke projects, and so he encouraged guests to follow their dreams: "You never know if you're going to make it or do anything successful, but if you're an artist and you love what you do, it's incredibly important to follow you heart." What a fitting statement as it is very similar to Nike's uplifting slogan — just do it.
White said he focussed his energy on his passions, and developed his creativity: "When I was in school, I was really interested in art. Drawing is what I was interested in. It was always my dream to become a painter, I've always loved drawing, ever since I was a little kid I always drew things that I was interested in."
White's interests took more into form later in life, as he graduated with a BA (Hons) Fine Art (Painting) at Liverpool John Moores University, and selected to exhibit at the Royal College of Art in 1994, while also debuting at Sotheby's London, and numerous international art fairs.
White's young career was influenced by a similar daring painter from the 1870-1890s and describes him as someone "who found his own style, who loved life, who loved nature, and did it his own way. I have a lot of resonance with that." Van Gogh used a combination of imagination, memory, emotion, and observation to capture motion in his works, and this could be evident in many of White's paintings.
Sneaker Art Movement
White pioneered the Sneaker Art movement in 2002, and recalls how it all began in his studio: "I was looking at the Air Max 95, the original grey and green model, and I just thought, do you know what, that's one of the most incredible things I've seen, the most incredible thing that's ever been designed."
His thoughts turned into actions. "I started painting one, then I painted another one, and it just started becoming a series. I painted them, basically [because] I just love sneakers," he said.
On display at the exhibition were a lot of the works that inspired Animal Pack 3.0. White's paintings feature a lot of animals, especially rare or endangered species, where he brings their features to life. White describes it as "an organic process, the most important thing is to try to get these things to look alive. So the movement and dynamism of how I paint is some kind of extra energy."
Many eyes from the audience could be seen reinspecting the paintings once again, as White gave his personal commentary: "I view the animals as best as I can at wild parks and safaris, and have a look. It's very important to study so I get to know them and capture their character and energy."
This could not be any more true, as the large paintings in the room, dimly lit, emitted a raw aura of force, as White's paint strokes and drips evoked the motion from the animals.
Nike took notice of White's work and, in 2016, the first collab opportunity, Size? x Nike AM 95 x DM, came, resulting in a realization of White's signature style, and elements of his rabbit and fox works materialized in the Air Max 95s he once admired in his studio.
White reminisces on the journey: "Twenty years ago I made some paintings of sneakers and I ended up doing a collaboration with Nike based on two paintings of a fox and a rabbit, and it's interesting that it kind of went full circle — I was making paintings of sneakers, then I worked with Nike, and then we were making sneakers of my paintings."
Road Map Ahead
White was delighted to share some of his upcoming projects to finish up 2019 with the audience. The new works involve more animals, and paintings on a larger scale.
"In November this year I'm going to Rwanda to see gorillas in the wild. I'm going on a trip there to observe them." White mentioned that the paintings would be at least 7-feet tall and requires a ladder to accomplish the work.
When asked why White chose to work on the new series, he replied, "I'm focusing on large apes at the moment because I find when you look into their eyes, it's very personal, it's very human, it's all about their soul."
This has already been representative of White's existing catalogue of works. The eyes depicted in the animals are often very dramatic, and communicate a sense of fragile existence juxtaposed with their powerful and dominant reputation.
White rounded up the talk event portion of the evening by giving the audience another possible teaser for a future work. Though White didn't explicitly say he's currently working on it or plans to paint it at all, it was very engaging to hear him talk about a potential piece.
"I'd be very interested in pursuing something based on great white sharks," he said. "I'm very fascinated by them, I love their color, and the fact that they're apex predators, they're on top of the food chain, they're incredible-looking things, and it'd be interesting to explore that."
The event moved onto the next segment, where the invited guests got the opportunity to use White's designs and screen print them on a t-shirt. The lucky guests also received personal autographs from White himself.
For more information on future atmos collaborations check out their website here, and Dave White's website.
Tiger
Leopard
Giraffe
T-shirts, bags, water bottles
Author: Galileo Ferrari