Can Ward Off Pestilence? Supernatural Monster 'Amabie' Goes Viral in the Face of Pandemic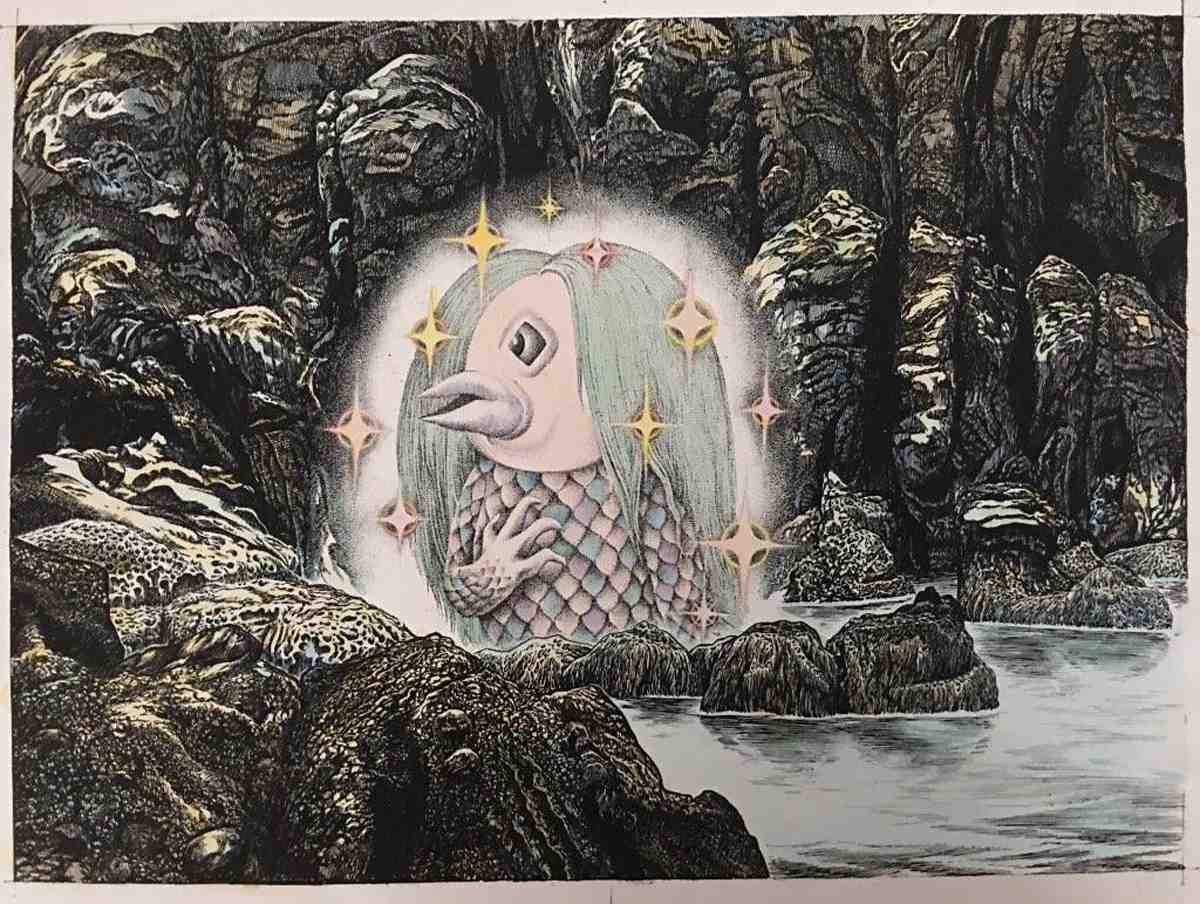 Amid the coronavirus outbreak, "Amabie" is going viral. The yokai (supernatural monster) believed to ward off pestilence became an instant sensation, with a number of original illustrations of the monster being posted on SNS.
Famed Japanese manga artist Shigeru Mizuki, known for works such as GeGeGe no Kitarō, sparked the social media frenzy with the release of an original image of an Amabie drawing in the midst of the coronavirus-targeted "Stay Home" campaign.
Will the online prayers and hopes for an end to the pandemic be answered?
Duck-billed with long hair and a body covered in scales like a mermaid, the Amabie creature stands on its three webbed feet. A peculiar image of a yokai is depicted on a tile block print owned by the Kyoto University Library.
According to the library, Amabie is a monster that appeared from the sea in Higonokuni (now Kumamoto prefecture) in 1846, during the end of the Edo period. The creature, believed to have powers to ward off pestilence, is said to have introduced itself as, "Amabie" and declared, "When there is an epidemic, draw pictures of me and show it to people," before vanishing back into the sea.
Back in February, when the novel coronavirus began to spread across the globe, a trend in posting self-created Amabie images on SNS platforms such as Twitter, kicked off, with hopes of the outbreak coming to an end.
According to Yahoo!'s real-time search, the number of "Amabie" tweets per day remained at only a few towards the end of February. However, on March 4, more than 1,000 tweets were recorded, and on March 15 the number skyrocketed to around 46,000 tweets.
Besides illustrations, postings of Amabie-motif stuffed animals and homemade bento lunches have been popping up on social media sites.
On March 6, when Kyoto University Library posted a drawing of the tile block print on its Twitter account, the post immediately went viral. Kyoto University Library's Nobuko Kajiyama commented, "I hope the block print image can be a sample for people when creating their own depictions of Amabie as prayers to end the epidemic."
On March 17, with the words "May the modern epidemic disappear," Shigeru Mizuki's original pen-and-black-ink drawing of Amabie, as well as a colored version, were posted on the official Twitter account of his production company, Mizuki Productions. By March 19, the posts had been retweeted over 100,000 times (around 120,000 times by April 22), along with hopeful messages, such as: "How divine!" and "Please let the epidemic end soon."
In Kumamoto where Amabie originated, a local design firm, Nest Graphics, started a service to create keychains from people's original Amabie drawings. Inundated with 280 orders in a span of four days from March 12 to 15, the service was so popular that the company had to temporarily suspend taking new orders.
The company also sold 500 of their own originally-designed Amabie keychains in several local restaurants that had been deeply affected by the spread of COVID-19. Nobuhiko Kawakita, representative of Nest Graphics, contemplated that, "During this time when we are being overwhelmed with dismal news, I am hoping that Amabie will spread as positive news to people."
(Click here to read the original article in Japanese.)
Author: Dai Kuwamura