Carlos Ghosn Released on Bail Once More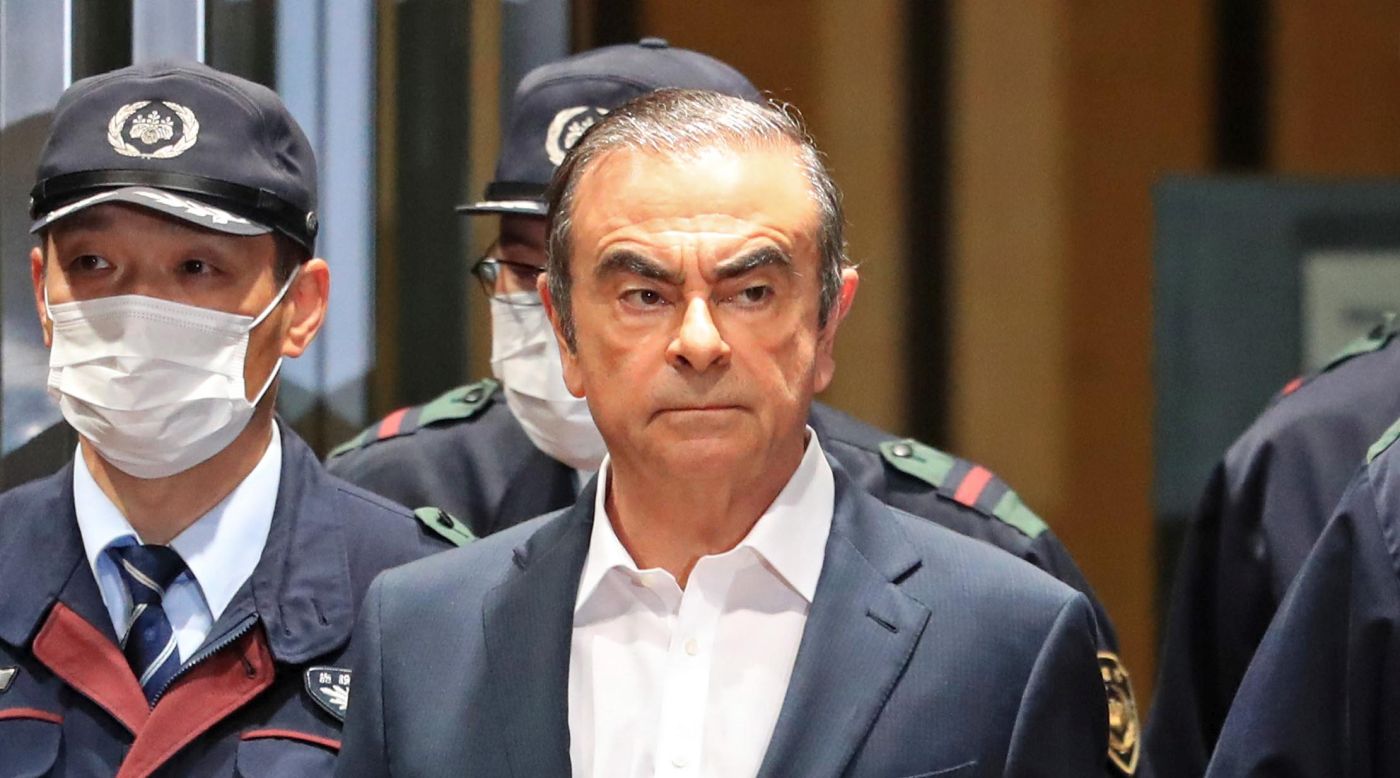 At 10:23 P.M. on Thursday, April 25, former Nissan chief Carlos Ghosn once again walked freely out of the Tokyo detention facility, where he had been held since April 4.
His freedom came just hours after the Tokyo District Court issued an order setting bail and conditions for the release of the once-revered financial magician.
The 65-year-old former head of Renault, Mitsubishi, and Nissan Motors was indicted on April 22 on what appear to be the most serious charges yet: redirecting Nissan funds through a dealership in Oman, and siphoning off around $5 million USD for personal use.
The charges came after his re-arrest by Tokyo prosecutors on April 4, marking the fourth time they had brought charges against Ghosn in connection with the Nissan Motors case.
Ghosn was initially arrested on November 19, 2018. He was thereafter detained for 108 days, despite his lawyers' pleas for his earlier release. He was finally released by order of the Tokyo court on March 25, with bail set at approximately $9 million USD and harsh conditions, such as being unable to use a computer or to travel. It was considered to be an unusual verdict in Japan.
The bail on Thursday was set at ¥500 million JPY (approximately $4.5 million USD), which will be on top of the ¥1 billion JPY ($9 million USD) for his March 25 bail.
The court took this decision despite concerns raised by prosecutors that Ghosn could possibly destroy evidence. Deputy Chief Prosecutor Shin Kukimoto expressed his dissatisfaction with the court decision: "Despite the fact that there is suspicion of the destruction of evidence, the fact that he was allowed on bail is regrettable. This is a contradictory decision."
Among the conditions for bail this time are that Ghosn cannot contact his wife Carole without the court's permission. The concerns are based on Carole Ghosn's role in the allegations under investigation as the head of Good Faith Investment, a company based in Lebanon through which Carlos Ghosn is suspected of syphoning off company funds for his personal use.
The Tokyo prosecutor's office has been considering appealing the decision, but has not done so as of the time of Ghosn's release on the evening of April 25.
Countering the prosecutors' allegations against Carole Ghosn, Hironaka Junichiro, Carlos Ghosn's defense lawyer, said on April 23, "There is no proof either in the meetings or in the emails that she (Carole) contacted people involved in the incident."
Previous conditions of Ghosn's March 25 bail continue to apply, such as limitation of movement to his apartment in Tokyo, a security camera in the entrance of the apartment, and no permission to travel abroad.
New conditions also apply to the second release. He will need the court's approval to see his wife Carole, as well as the court's permission for more than three days of travel, or to participate in Nissan executive meetings. The order also limits his internet use to a computer in his defense team's office during working hours, among other things.
The last time Carlos Ghosn was released on bail, he appeared wearing a hat, a mask, and a workers suit, perhaps in an attempt to conceal his identity. The stunt was thought out by defense lawyer Takashi Takano, who later apologized for "tainting" Ghosn's reputation, as he normally wears smart suits.
Author: JAPAN Forward