Flowers and Folding Screens: Nezu Museum Showcases Ogata Korin's 'Irises'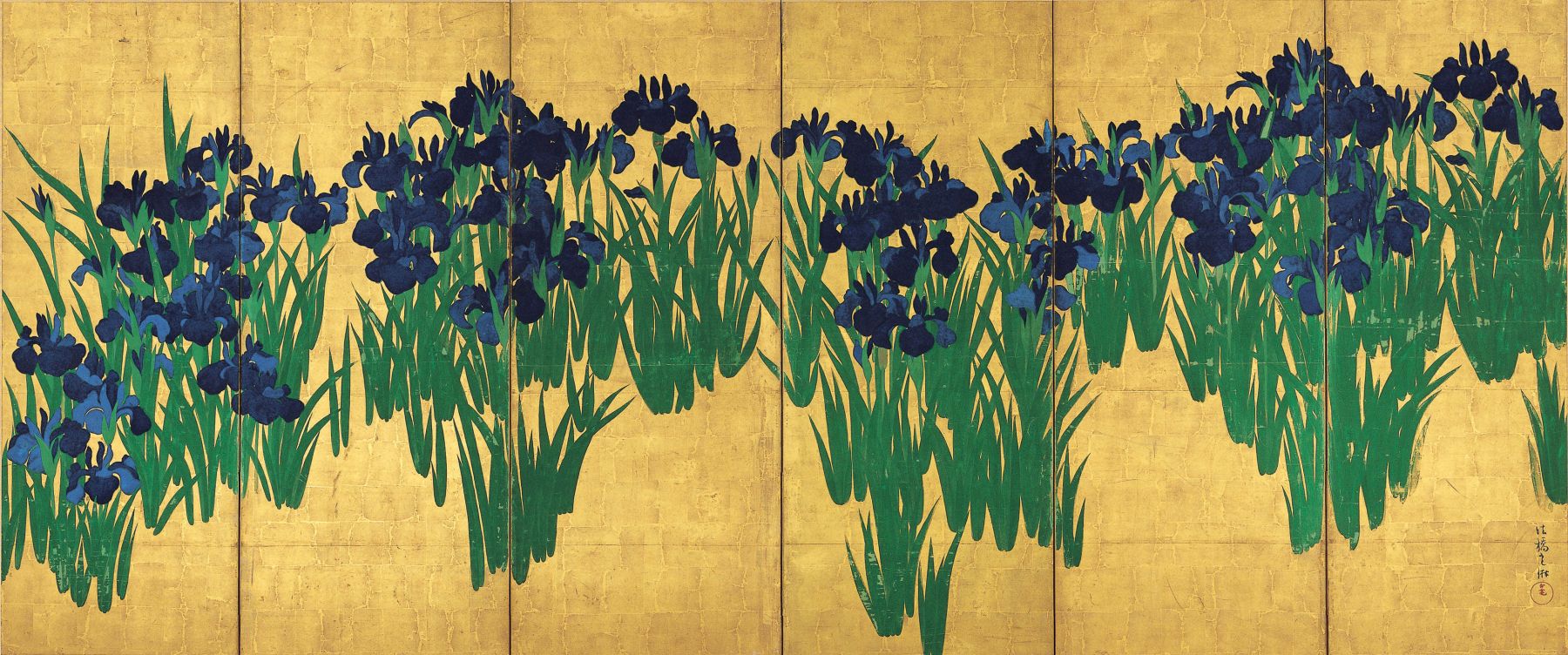 A springtime exhibition at the Nezu Museum, Ogata Korin's "Irises" (Kakitsubata-zu), is on view now, showcasing a national treasure.
Only when actually viewing the screens in person will you understand their breathtaking beauty. You will encounter this art not merely on a plain surface, but in the form of folding panel screens.
Japan has four distinct seasons, and with each season one can experience the essence of Japanese elegance, as appreciation is shown for the seasons through various cultural elements. "Food" is of course one of the cultures, as are "flowers," which are read in Japanese poetry, such as waka and haiku, narratives, and music. However, "pictorial artworks" are perhaps the easiest for foreigners to connect with.
Irises bloom just a short time after the sakura petals fall. Ogata Korin's masterpiece, the Kakitsubata-zu, is based on the "Yatsuhashi" — "the eight bridges" scene in the Tales of Ise, a collection of short tales with waka poems created in the Heian period. It is a set of folding screens, which were painted with an abundant amount of the finest quality pigments on a gold background. It is a national treasure!
Please go see the screens in person while they are still on display, as their immense beauty cannot be understood through photographs alone.
The Japanese garden, which adjoins the museum, is always a pleasure to visit in any season. However, you will be in luck if you visit the museum at the beginning of May, when the irises are in bloom in the garden's pond. In one venue, you can encounter the real flowers, together with Ogata Korin's Kakitsubata-zu in the gallery.
During this season, the museum shop is also full of goods based on the theme of irises.
Also well worth seeing is the museum's display of an array of stunningly delicate boxes, part of a concurrent exhibition: Boxes Decorating Elegant Studies. According to the curator of the Nezu Museum, "Japanese people adore boxes." However, the reality is that there are many Japanese who do not realize this until being told so.
Above all, I highly recommend a visit to see Ogata Korin's "Irises." But please do hurry, because the exhibition only runs until May 12.
Please follow this link for more information on the Nezu Museum's Irises exhibition and for other information about the museum.
Author: Yukihiro Watanabe
(Click here to read the article in Japanese.)