Change the World with…A Rice Ball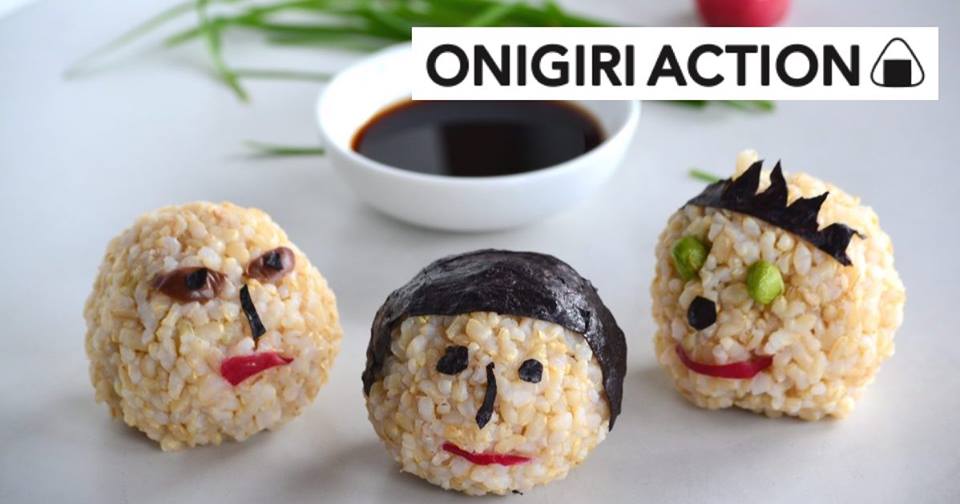 Rice balls (onigiri in Japanese) might not be as flashy as trolley track sushi or a steaming bowl of ramen.
Unlike light fluffy tempura, rice balls are sturdy and able to withstand being tossed into a backpack or stuffed in a pocket.
Rice balls might appear to be mere convenience foods, eaten on the go, for a snack or even breakfast on the train platform. Indeed, rice balls are simple, typically made from rice, seaweed, and traditional fillings of kelp, bonito flakes, or pickled plum.
So you might be wondering: how could this humble food help to change the world?
The answer is the innovative Onigiri Action campaign organized every year by the Japanese nonprofit organization Table for Two USA.
The campaign commemorates World Food Day, which celebrates the founding of the Food and Agriculture Organization by the United Nations. This year, the campaign will run from October 10 to November 20.
During the month-long campaign, every photo posted to social media with #OnigiriAction (or to the campaign website) helps feed five children in need. Table for Two USA is aiming to gather enough photographs this year to provide one million meals to children in need around the world.
Onigiri Action Campaign Website
For more information and to upload your onigiri photos, go here: https://onigiri-action.com/en/
How Can You Join?
All you need to do is snap a picture of an onigiri and post it with the hashtag #OnigiriAction from now until November 20.
If you do not know how to make onigiri, no worries. You can try out this recipe from Nami at Just One Cookbook. Or you can buy an onigiri, draw an onigiri, make an onigiri-shaped costume — pretty much anything! Be creative.
You are welcome to post multiple times. Every photo helps feed 5 children.
Why Rice Balls?
Onigiri might not seem like an obvious choice as a symbol of Table for Two USA's ambitious mission to tackle worldwide food insecurity. However, the choice actually is quite fitting.
The choice of onigiri reflects the organization's roots in Japan. More importantly, onigiri as a Japanese comfort food serves as a symbol of love in Japan.
Making onigiri is an act of extending love and care to those around us, even to those halfway around the world.
Finally, the simplicity of onigiri means that each person can express their creativity in terms of shape, ingredients and flavor. And, importantly, rice is available nearly everywhere around the world.
Spirit of Japan
As a staple of Japanese cuisine, onigiri symbolically reflects the history and roots of the nonprofit Table for Two USA, the organization behind Onigiri Action.
Mayumi Uejima-Carr, president of Table for Two USA, was born in Japan and became involved in the organization in 2012, when she relocated from Kobe to California. The move inspired her to became involved in social entrepreneurship, particularly focused on health and working to bridge her home culture in Japan and new home in the United States.
She found her way to Table for Two, which was working to launch outside Japan. Since then, Mayumi has risen from volunteer to president, helping the organization spread its activities to over 14 countries, including Germany and Australia.
The activity of Table for Two is truly remarkable, especially within the context of Japan. While the number of nonprofit organizations in Japan is on the rise, especially after the Tohoku earthquake and tsunami disaster, the number still pales in comparison to the United States. According to recent data, there are just over 51,000 nonprofit organizations in Japan compared to nearly 1.5 million in the United States.
Donations to nonprofit organizations in the United States (1.44% of GDP) are 10 times greater than donations in Japan (.14% of GDP). Despite that, Table for Two has been successful in Japan and has even branched out internationally.
Anyone who has ever visited Japan or studied Japanese culture know that rice, one of the country's most important agricultural products, is an indispensable part of everyday life. A heaping bowl of freshly steamed rice is traditionally eaten with every meal in Japan — breakfast, lunch, and dinner. In addition, rice is an important component in many other foods in Japan, from sticky mochi sweets to sake to savory miso.
The importance of rice as a staple of the Japanese diet is reflected in the enormous number of tons of rice produced every year in Japan. In 2015, the agricultural industry in Japan produced nearly 8 million tons of rice — or over 120 pounds of rice for every citizen.
Symbol of Love
In Japan, onigiri are also an important comfort food.
Like comfort foods around the world, onigiri evoke nostalgic memories of childhood. For me — as a half-Japanese American raised on the East Coast of the United States — I remember my mother packing onigiri for Fourth of July picnics. The rice balls would be still warm, made from freshly-steamed rice, and sprinkled with salt for an instantly satisfying first bite.
Like a freshly-made peanut butter sandwich or a warm plate of chocolate chip cookies, onigiri are often made for those we love as a gesture of care. By making onigiri and contributing to the Onigiri Action campaign, we can spread the love of onigiri to those around the world.
Today, more than 821 million people around the world suffer chronic undernourishment. The act of making a warm onigiri is the act of helping to provide a meal to someone elsewhere in the world who might be going to bed with an empty stomach.
Many have become disconnected to the fact that millions of people are hungry. This campaign offers a chance to show respect for the people that give us food, the resources that go into producing food, and the millions of people that have no food.
Endlessly Flexible!
Although onigiri are traditionally filled with a few simple ingredients, including pickled plum and kelp, they offer endless room for creativity. Rice is available in nearly every country around the world, making it an accessible food for any to try making.
Plus, onigiri can be filled with a wide variety of ingredients from fresh veggies to nuts to beans to chicken. These gorgeous vegan onigiri from Green Evi demonstrate just how much onigiri can be adapted to your taste.
There is no "right" way to make onigiri! If you think it tastes good, it's a successful onigiri. So roll up your sleeves and get cooking!
Who Has Participated in Onigiri Action?
In 2018, Table for Two USA held Onigiri Action events across the United States, from New York to Los Angeles. Here are highlights from just three of those exciting venues, where people got to learn about rice balls while also making a difference around the world!
October 4–7: Anime Fest @ NYCC x Anime Expo
Pier 94, New York
Table for Two USA set up a booth inviting people to enjoy onigiri and also snap a photograph in their costumes. The creativity of the costumes was a perfect match for onigiri, which also offers the opportunity for endless flavor experimentation.
October 23: Palos Verdes Peninsula High School
Rolling Hills, California
High schoolers in Southern California got to help right the global food imbalance by providing warm meals to children in need. The event was generously sponsored by MUFG Union Bank, N.A., which even provided employee volunteers to help staff the event.
October 27: Hello Kitty Workshop
Japan House Los Angeles, Los Angeles, California
The Japan Foundation Los Angeles once again teamed up with Table for Two USA for an onigiri-making workshop. This year, thanks to support from Sanrio Inc., participants had a chance to make one-of-a-kind Hello Kitty onigiri. In addition, all workshop participants received a small Halloween-themed gift from Sanrio.
Author: Jessy LeClair