Chvrches, Wednesday Campanella Share the Stage for Special Tokyo and Osaka Shows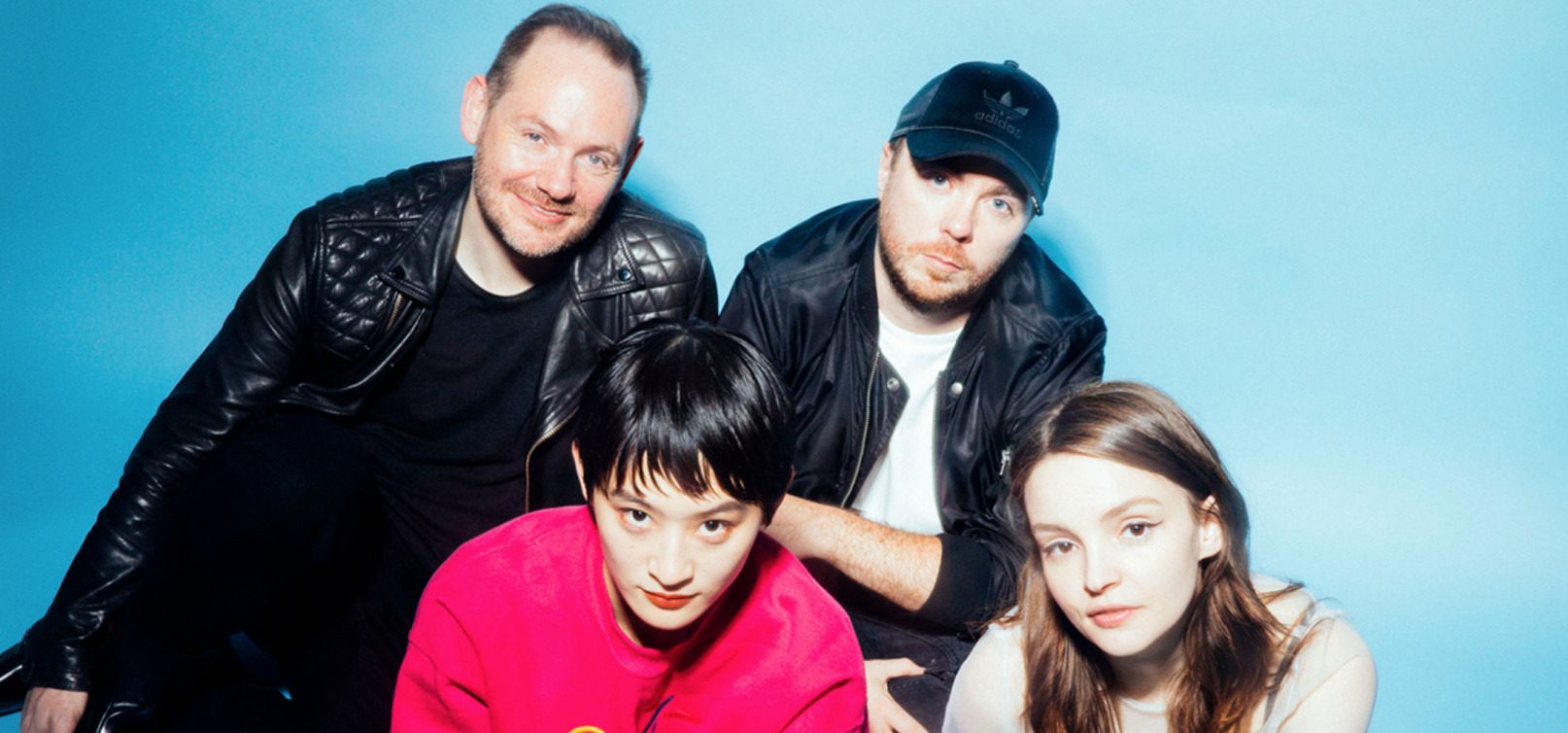 Shortly after their triumphant appearance at Fuji Rock Festival in July 2018, Scottish band Chvrches surprised fans in Japan and everywhere else by recording a single with electro-pop act Wednesday Campanella. And next week, this collaboration goes full circle when the two artists play live together in Osaka and Tokyo.
Their joint single "Out Of My Head" was released in August 2018, featuring Chvrches's massive synth-pop sound and Wednesday Campanella vocalist KOM_I's ice-cool half-rapping-half-singing style. The single was accompanied by an anime video directed by Junichi Yamamoto of Batman Ninja fame.
When Chvrches play at Zepp Osaka Bayside on February 26 and at Toyosu Pit in Tokyo on March 1, KOM_I will join them for a special performance of "Out Of My Head."
Chvrches will also play at Toyosu Pit on February 28, with Wednesday Campanella (known in Japan as Suiyoubi No Campanella) as the opening act. This will be an unmissable chance to see firsthand the compelling chemistry that binds these two unique bands together.
Wednesday Campanella — made up of vocalist KOM_I, songwriter Kenmochi Hidefumi and overall director Dir.F. — have been rising in popularity since the release of breakthrough indie album Cinema Jack in 2014, before signing up with major label Warner Music Japan in 2017.
Their music has continued to evolve in interesting ways, from the bedroom electronica of their early releases to the warped grooves of 2017 album Superman and the hushed bliss of 2018's Galapagos, using wordplay and tongue-in-cheek humor to offset their deep, leftfield EDM sound.
KOM_I is hot property here, walking the catwalk for Dolce&Gabbana and being named Woman of the Year 2017 by Vogue Japan. She is usually the only member who appears on stage at Wednesday Campanella shows, busting out peculiar dance moves and interacting with fans to create an intimate atmosphere at venues large and small.
Their reputation has spread around the world, with a performance at South By Southwest in Austin in 2016 and an upcoming show in May at Primavera Sound music festival in Spain. They had worked with a plethora of underground Western artists, from France's Moodoïd to Germany's Brandt Brauer Frick, before joining forces with Chvrches for Out Of My Head in 2018.
Chvrches rose to prominence in the U.K. after taking fifth place in the BBC's Sound of 2013 poll, later opening for bands like Depeche Mode (surely an influence they share with Wednesday Campanella) and Two Door Cinema Club. Their 2018 album Love Is Dead took them to their widest audience yet, debuting on the U.K. album chart at No.7, while the larger-than-life lead single "Get Out" entered the U.S. Billboard Hot Rock Songs Top 20. The album, produced together with Greg Kurstin (Adele, Beck), has a refreshingly triumphant, positive sound, drenched in sunshine-washed melodies, dancefloor beats, and massive synth hooks.
They have performed in Japan several times since their first appearance here in 2014 at the Hostess Club Weekender, culminating in a storming set on the White Stage at 2018's Fuji Rock Festival.
"Japan has always been a really special places for Chvrches," the band's vocalist Lauren Mayberry told Pitchfork last August, before going on to gush about her love for Wednesday Campanella. "KOM_I has such a strong, individual voice in her music and how she conducts herself as a person — something that I really admire."
High-profile collaborations between Japanese and Western artists are rare, though not unheard of. In January 2019 the videogame "Kingdom Hearts III" featured a song by J-pop megastar Utada Hikaru and American dubstep master Skrillex; Japanese electro-pop group Perfume has collaborated several times with U.S. rock band OK Go; and, back in the late 1990s, the supergroup NiNa featured Yuki from Judy And Mary and members from seminal Japanese electro group Plastics alongside B-52's singer Kate Pierson and Japan bassist Mick Karn.
Chvrches play Tuesday, February 26, at Zepp Osaka Bayside, and Thursday, February 28, and Friday, March 1, at Toyosu Pit in Tokyo. KOM_I will join them for a rendition of "Out Of My Head" at the shows on February 26 and March 1, while Wednesday Campanella will perform an opening set on February 28.
Tickets for each show are ¥7,500 JPY plus one drink; each show opens at 6 P.M. and starts at 7 P.M. For tickets and further information, visit www.creativeman.co.jp/event/chvrches2018/
Author: Daniel Robson