[Corona ni Makeruna] 91 Year Old Last Samurai Slices Open Apple Online
The energetic nonagenerian samurai remains a positive thinker. "[Coronavirus shutdown] is the hardest experience I've ever had, but I'm sure I'll overcome it," he says.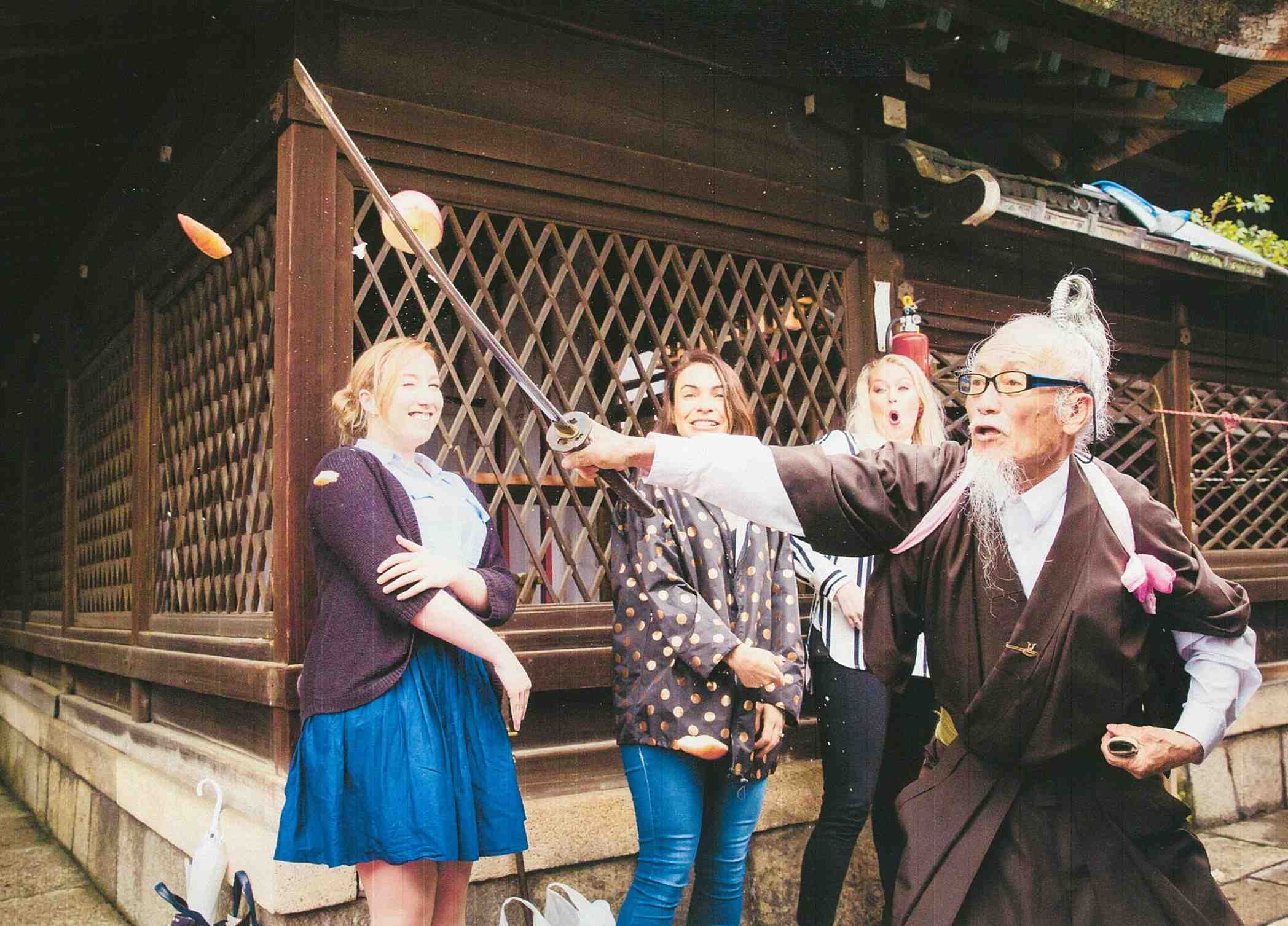 ~~


It was a snowy day in late December 2020 in Maizuru, Kyoto when a samurai with a white beard and chonmage (top knot) on his head, dressed in the formal attire of haori jacket and hakama trousers, stood in front of a personal computer in his house. Suddenly, he raised his voice and slit an apple in two with a single stroke​ of his knife.
The students, staring through the screen, applaudedーstunned by the unexpected spectacle. The samurai continued his lecture in English, giving tips on how to talk to foreign visitors. The two hour online course was relaxed and amicable throughout the lesson.
"It's never too late to learn, even at the age of 90. But the concept of an "internet samurai" isn't bad, is it?" The 91-year-old Joe Okada laughs, referring to his "last samurai" act.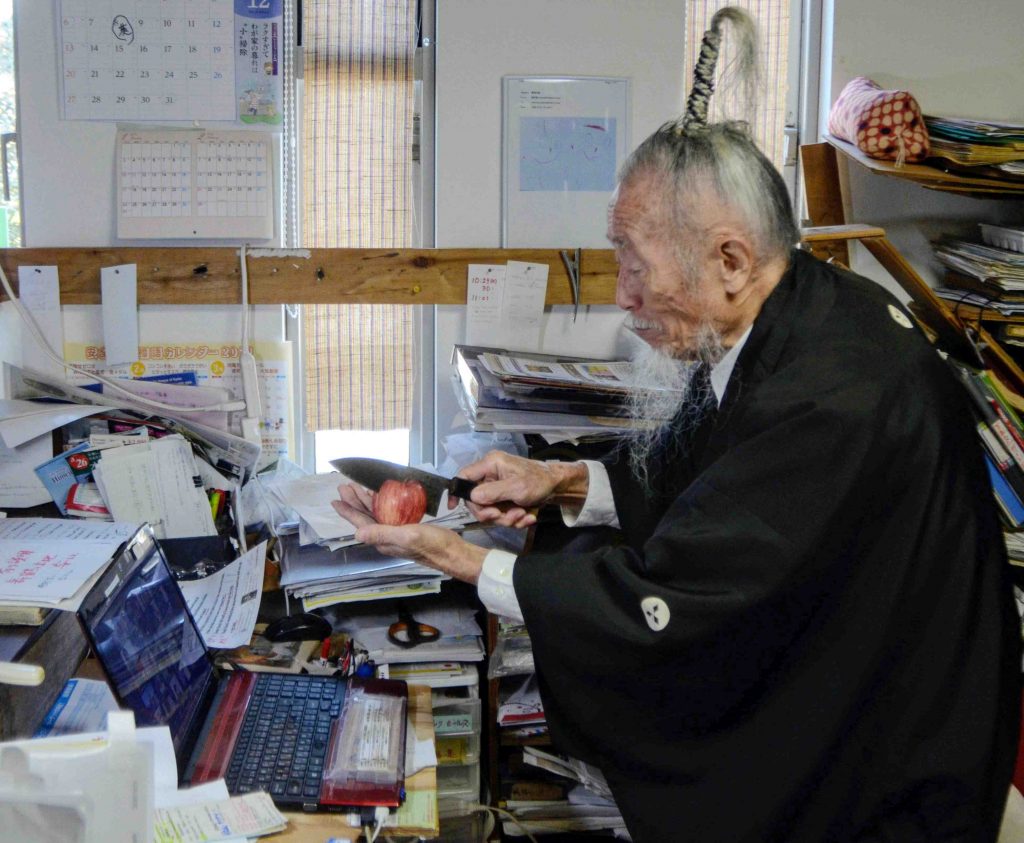 New Skills at Any Age
The nonagenarian Okada had been a popular tour guide for foreign visitors in Kyoto. Then, when the COVID-19 pandemic hit, the Japanese Government restricted visitors from entering Japan and his income fell by 90%.
In response, he started instructing younger tour guides via online courses, but continued to rack his brain for new ideas. In doing so, he reached further into his past, which led him to become a "Net (internet) Samurai".
As a first step to overcoming the economic devastation of the pandemic, he began an online course using zoom. The video conferencing system has been adopted by tourism organizations to train guides for foreign visitors.
He had never used zoom before, but he asked someone to teach him. Nearly 200 people have taken his 10-lesson online course in the first three months starting October 2010. He has also contacted travel agencies and participants who have planned tours in the past to explore new ways of conducting guided tours in the post covid pandemic phase.
"I interact with people from all over the world, and I have been interviewed by YouTubers. The response to my activities on the Internet has been wonderful."he says.


Starting Point: When the Bubble Burst
He was born in Osaka city in 1929. In postwar Japan when people were moving from one job to another, he worked as a driver, taking around foreign customers and their Japanese guides. This experience prompted him to study English and move to the United States, where he worked at a travel agency. Eventually, he started his own business in 1968.
Back in Japan, he became a tour guide. Calling himself Joe Okada, he organized special samurai performances carrying real swords and drew crowds at Fushimi Momoyama Castle in Kyoto City. His "cool Kyoto walk with the last samurai" has been popular among foreign visitors, and he was doing more than 100 tours a year.
In 2020, they dwindled to almost zero. His income also decreased sharply to the point he even had to give up his favorite extra special whisky for a cheaper substitute.
Still, Okada remains a positive thinker. "It's the hardest experience I've ever had, but I'm sure I'll overcome it," he says.
His resilient attitude goes back to the time Japan's economic bubble burst and the yen became stronger in the 1990's. His samurai act, which had attracted as many as 130,000 visitors over 14 years, was suspended when the number of tourists fell dramatically due to the strong yen. Okada was forced to move out of his house in Kyoto. The situation became bleaker with the earthquake in Fukushima in 2011.
However, old Joe kept his enthusiasm, and when visitors began to return to Japan in 2012, the then-80 year-old tour guide invented a samurai show which became immensely popular with tourists. "There have been many other crises, but if you are prepared to work hard, something will always come of it. That's why I have been single-minded in carrying on."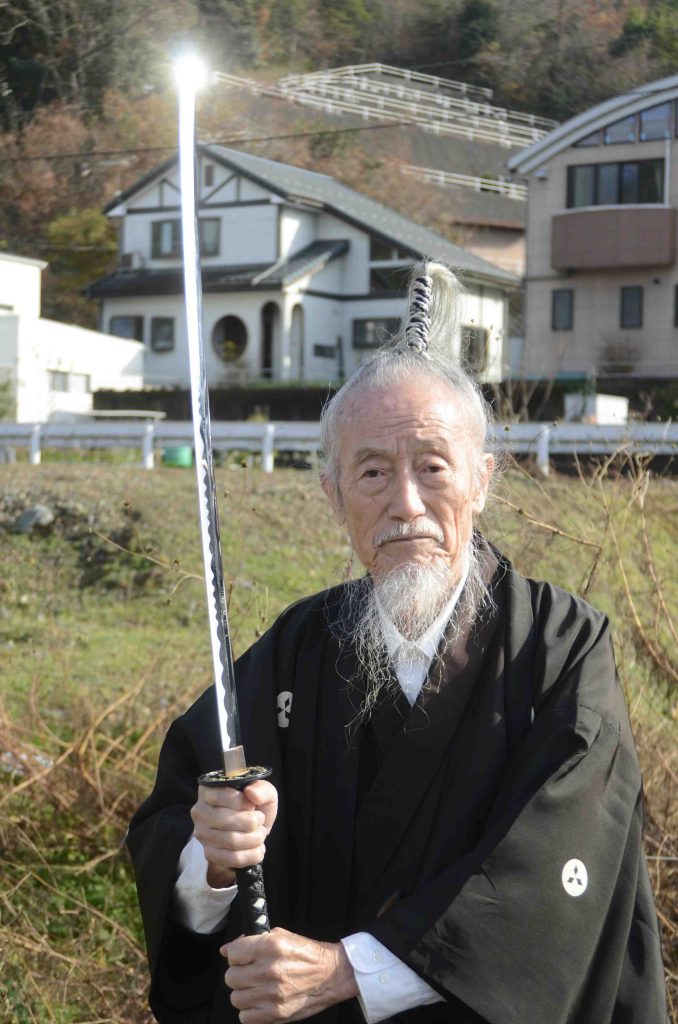 Plans to Work Until the Osaka Expo
Okada plans to continue working until the 2025 Osaka Expo, but with the difficulty of predicting the future, he isn't stopping there. "I'm thinking of making a "Joe DVD" with a collection of jokes that can be used by tour guides," he says. "There are many who are good, but most of them lack a sense of humor. If I can compile a manual that gives tips to make people laugh, I think it will sell."
Even past his 90th birthday in the midst of a pandemic, the last samurai's eyes continue to twinkle.


(Read the article in Japanese at this link.)


Author: Norihiro Akiyama