[Corona ni Makeruna] International Artistic Exchange Thriving during COVID Pandemic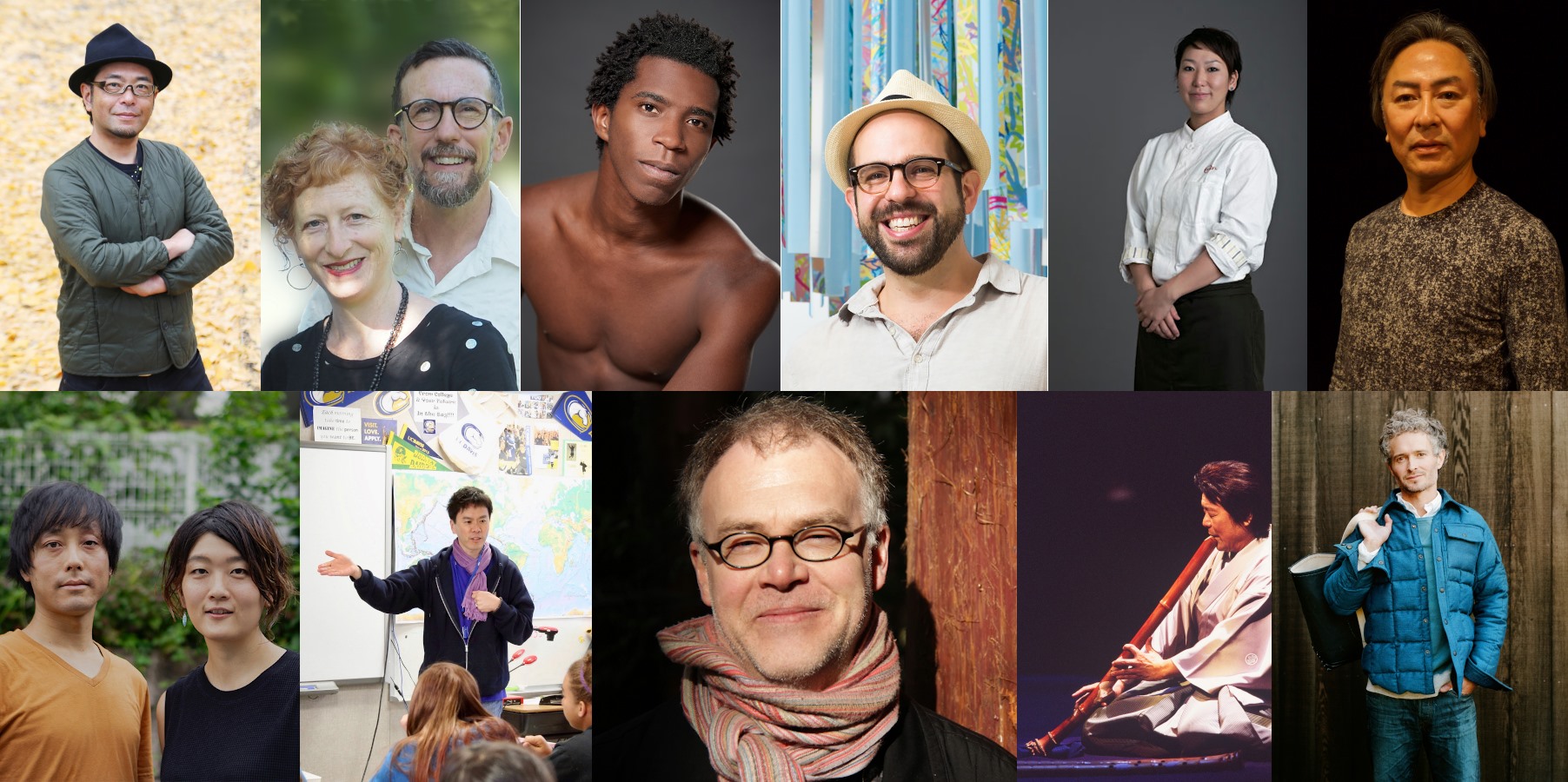 The COVID-19 pandemic has wreaked havoc with the world's economy. Schools, supply chains, and transportation networks have all been thrown into disarray. Even sports teams are locked in bubbles or are playing exhibition games for empty stadiums.
The world is going through a serious test to the virtually unlimited interpersonal communication which we all took for granted just a half a year ago. But there is one area of life in which people are not only beating the virus, but are positively thriving, despite the challenges presented by 2020.
One of the best examples of this is the ongoing cultural and artistic collaboration being facilitated by the Japan-United States Friendship Commission (JUSFC) and the National Endowment for the Arts (Arts Endowment).
In a recent exchange with JAPAN Forward, Paige Cottingham-Streater, JUSFC's Executive Director, emphasized the organization's role in sustaining creative interaction between Japan and the United States.
"The Olympics may be postponed until next year due to the ongoing pandemic," Ms. Cottingham-Streater tells JAPAN Forward, "but five teams of creative artists from the United States and Japan continue working together on innovative projects that reflect the themes of the Games: unity, collaboration, and the long-time friendship between the United States and Japan."
Challenges Create New Opportunities for Cooperation
The Tokyo Olympics were to be the backdrop for five collaborative artistic projects underwritten by the JUSFC and the Arts Endowment. But even though the Olympics have been postponed, the spirit that animates human interaction is winning through.
One example of this is the poetic project of Sue Mark and Bruce Douglas, interdisciplinary artists known as "marksearch" from Oakland, California. Mark and Douglas traveled to Tokyo in March of 2020 as a capstone to their "Journey Itself Home" work on the triple disaster in Fukushima in 2011.
The JUSFC website describes "Journey Itself Home" (Tabi wa Sumika) as a "U.S.-Japan collaborative poetic exploration honoring survivors of the 2011 Fukushima disaster." Mark and Douglas, embracing what they call "radical caring," are partnering with multimedia artist Hiroyuki Abe and painter Natsuka Endo, whose extended family are survivors of the Great East Japan Earthquake.
Caring a Hallmark of Japan-U.S. Cooperation
Mark and Douglas reflect that it is fortuitous, in a way, that the virus ended up delaying their project by a year. "The postponement of our project to 2021 is very significant," Mark relates. "We will realize the work during the ten-year anniversary of the enormous tragedy of Fukushima."
If anything, the virus has created even more opportunities for collaboration at the person-to-person level. For example, Mark and Douglas are quick to give credit to many in the U.S. and Japan, including Manami Maeda and Risa Nikaido at JUSFC's longtime partner, International House of Japan in Tokyo, for going the extra mile to help make the artistic project a reality, despite the challenges of the current difficulties.
Also, because of the social distancing requirements now in place in Japan and around the world, the original plan for "Journey Itself Home" had to be modified—which led to the artists' receiving help from Hino, a major manufacturer of trucks in Japan.
"Hino Truck Corporation continues to be a strong project partner," JUSFC points out. "They are generously donating a 2-ton truck along with structural construction" to facilitate "Journey Itself Home."
"Instead of a mobile meeting space, we will now incorporate elements such as kinetic sculptures and audio to engage viewers, while still allowing for social distancing," Douglas explains. "We plan to drive it slowly through the streets of Tokyo next summer."
The support from Hino is thus making possible the realization of an artistic dream for Mark and Douglas. "Inspired by the ethos of haiku and the journeys of Matsuo Bashō," the artists write, "we will develop a participatory process to generate a sonic haiku. Engaging with this singular 'parade' will empower individuals as creators of a mobile, ephemeral tribute. Working together one by one, we will collectively create a unique way to acknowledge grief and access hope."
Arts + Sports = 'The Power to Change the World'
This theme of interaction at the deeply personal level is also carried forward by Ben Volta, a muralist and sculptor who is working with Japanese arts educators Cho Kuwakado and Yasuyuki Sakura. They are teaching students about the powerful possibilities of using art to represent great achievements by distinguished Japanese and Americans in sports, science, and education.
Volta says that the completed artwork, which will be on display in Tokyo in the summer of 2021, will "express how art, innovation, and sport have the power to change the world."
Gene Coleman, a composer and musician based in Philadelphia, will also turn to the world of sports—in this case, karate—to produce a soundscape born digitally of the movements used by karate practitioners. The Tokyo Olympics will include karate for the first time in Olympic history, and Coleman emphasizes that his project, dubbed KATA, is a celebration of this historic moment.
"I think there is tremendous interest in Japan for karate being featured in the Olympics, as well as among the ten million members of the World Karate Federation," Coleman says. "I really want to connect with this audience, which is very different from my normal contemporary music and art audience."
For KATA, musicians Akikazu Nakamura (shakuhachi flute) and Sansuzu Tsuruzawa (shamisen) will work with Director of Arts Technology Adam Vidiksis to layer music over an "auralized" soundscape produced by the movements of karate practitioners.
In addition to motion, Coleman explains, KATA uses innovations in brain wave scanning to explore the mind-body connection, which is central to an understanding of the martial artsーas well as Zen Buddhism. The karate movement and brain wave data will become an audio-visual landscape complemented by Coleman's music as performed by his collaborators and members of his group Ensemble N_JP.
This will produce a truly unique performance piece bringing together the cutting edge of art and technology from both Japan and the United States.
Art and the Environment
San Francisco-based designer and artist Jesse Schlesinger is focusing his project on the intersection between arts and the environment. This is made possible in part by a prior JUSFC fellowship, in 2018, which allowed Schlesinger to travel from Hokkaido to Nagano to work with "the remarkable husband and wife team of Mizuho and Katsu Hira," proprietors of Studio Prepa.
The Hiras "have built a most beautiful life for themselves," Schlesinger says. The artist team lives "in an energy efficient home they helped design a short walk across the yard from their glass studio, which they also helped build. All this is tucked up against the mountains overlooking a beautiful valley."
During Schlesinger's time at Prepa, he lived with the Hiras in their house, integrating into their daily life and routines. "We visited an amazing kind of junk shop where I found some old, but good, carpenters' tools," Schlesinger recalls. "My first days were spent replacing the hammer handle and honing the plane blade so that I could continue working on the wood sculptures I had begun in Hokkaido."
This time Schlesinger will be working with Masayo Funakoshi—the chef-owner of the ANA-featured art-inspired restaurant Farmoon in Kyoto—to create an installation and performance-based work exploring sustainability in the context of food, agriculture, architecture, and the fine arts.
"The focus on sustainability, agriculture, and food systems in tandem with a continuing dialogue with craft has great potential and feels as relevant and urgent as ever," Schlesinger says of his project with Funakoshi. "This is an exciting opportunity to draw attention to these important issues."
Artistic Communicator Cameron McKinney Leads the Way
It is especially fitting that these artists and their work were introduced by Cameron McKinney at a reception held earlier this year at the U.S. Ambassador's residence in Tokyo.
JAPAN Forward readers will know McKinney as the founder and leader of Kizuna Dance, a dance troupe collaborating with world-famous choreographer Toru Shimazaki. Their project brings the beauty and power of dance into the lives of people in the United States and Japan, helping to advance the ever-developing and deepening artistic relationship between the two countries.
RELATED STORY: INTERVIEW | 'Bonds Between People': American Dancer Puts Kizuna Centerstage
"Performing alongside Say Homma (Toru Shimazaki's principal dancer) at the U.S. Ambassador's residence in Tokyo in February was a first glimpse of the power and excitement behind my collaboration with Mr. Shimazaki," McKinney shares. "I can't wait to continue."
"The work I do with Kizuna Dance is about sharing my love for Japanese culture," McKinney adds. "When I first heard about the JUSFC-Arts Endowment fellowship, I thought it was the perfect way to promote cultural ambassadorship between our two countries."
It is in this spirit of sharing culture and overcoming barriers to communication that McKinney and fellow artists are bringing the beauty and mystery of the arts across the Pacific to share with the people of Japan.
"Even though the pandemic continues to take its toll on the art world," McKinney closes, "the strength and resiliency of the JUSFC collaborations born out of this crisis will be hard-fought and life-long because now, more than ever, artists are baring every part of their soul."
Author: Jason Morgan