[Corona ni Makeruna] NGO Unveils 156 Crowdsourced Posters for COVID-19 Prevention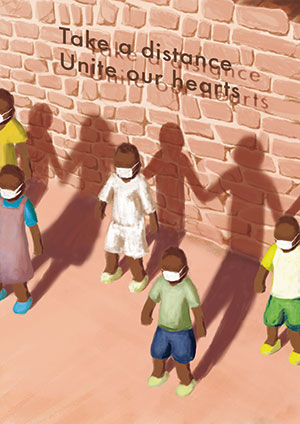 We wrote before about the Association for Aid and Relief, Japan (AAR Japan), an international NGO born in Japan.
This year AAR Japan released a poster design callout between August and October.
The organization asked the public to "Save with Art" and send poster proposals that could help spread messages of COVID-19 prevention in countries such as Uganda, Bangladesh, and Turkey. The aim was to help by sharing correct prevention information among the many thousands of people in particularly dire living conditions, such refugee camps.
In an email interview with JAPAN Forward on December 9, the chairperson of AAR Japan, Fusako Yanase, explained the reasoning behind the project:
"For many years, helping refugees has been digging wells as a measure against infectious diseases, health and hygiene activities, and as a supply of clean water. We thought we needed to take some action against the corona disasterーas a way to do something useful that would pull people together. That is how the idea of the posters came about."
Since then, the campaign has become a huge success, gathering more than 156 submissions from Japan and five other countries.
The submissions include basic messages such as "wash your hands" and "wear a mask". But those are often intertwined with a creative, warm and empathetic stroke.
The pieces seek to communicate across differences of language, culture and age, using a variety of mediums including collages of patterns, graphics, drawing and painting-like textures.
Some examples of the variety of content include drawings of cute animals wearing a mask, or colorful depictions of bacteria and viruses running away from hands being washed with soap.
Following a strict selection process, a panel of seven respected judges narrowed down the posters. The judges are:
Yasuo Kobayashi, Professor Emeritus in Contemporary Philosophy at Tokyo University;

Yasuo Onuki, former NHK Europe Director;

Keiko Ueda, Takarazuka Review Director;

Shomei Yoh, picture book author, painter and poet;

Kashiwa Sato, graphic designer;

Vu Dang Khoi,

Doctor, former Vietnamese refugee; and, of course,

Fusako Yanase, Chairperson of the Association for Aid and Relief Japan.
The seven judges finally chose a poster designed by Erika Bando as the winning entry. The poster shows children wearing masks standing staggered over two rows, half in the front and half in the back, so as to demonstrate social distance. Cleverly showing the children physically distanced, it also shows their shadows forming one united row in the background. The slogan reads, "Take a distance, Unite our hearts."
"The idea that while being distanced, the shadows are linked, is a wonderful and surprising idea. The composition is also valid. It sends a message to all children wearing masks that they will overcome this period", said the spokesperson of the AAR Japan in an email interview with JAPAN Forward on December 8.
The winning poster, together with nine honorable mention posters, and ten posters recognized for their collaboration, can be viewed on the AAR Japan website.
To further celebrate the creative efforts of everyone who sent in their submissions, AAR Japan is also organizing an exhibition at Gallery TEN, Eight Floor of the Shinbashi Mae Building 1 in Shinbashi, Minato Ward. Visitors can see up close how the creativity of so many has sought to deliver a message of hope, despite the continuous spread of COVID-19 around the world. There is no entry fee.
Ms. Yanase also took the time to thank those who participated in the competition, saying "I would like to thank the many people who have sent us posters. I hope that this project can be an impetus for people to become interested in international cooperation and the refugee problem."
The exhibition runs from December 1 to December 26.
AAR Japan was started in 1979 for the purpose of aiding Indochinese (Vietnamese) refugees. With the unwavering aim to "help one another in times of trouble," AAR Japan has worked tirelessly since 1979 to support refugees in camps around the world, as well as populations facing difficult situations due to war or conflict, natural disaster, or poverty.
It is not affiliated with any political organization, ideology, or religion. In 1998, the United Nations recognized the association as an NGO for its relief work.
For more information on how to help AAR Japan, visit the website here.
Exhibition Information
Where: Gallery TEN, Eight Floor, Shinbashi Mae Building 1, Shinbashi 2-20-15, Minato Ward, Tokyo.
Contact: Email: info@gallery-ten.tokyo; Phone 0335722231
Opening Hours: 10 A.M. to 6 P.M Monday to Friday, Saturday and Holidays Noon to 6 P.M. (Sundays are a holiday)
Author: Arielle Busetto