Dewi Sukarno to Japan:  Step Up on Human Rights and Help the Rohingya Refugees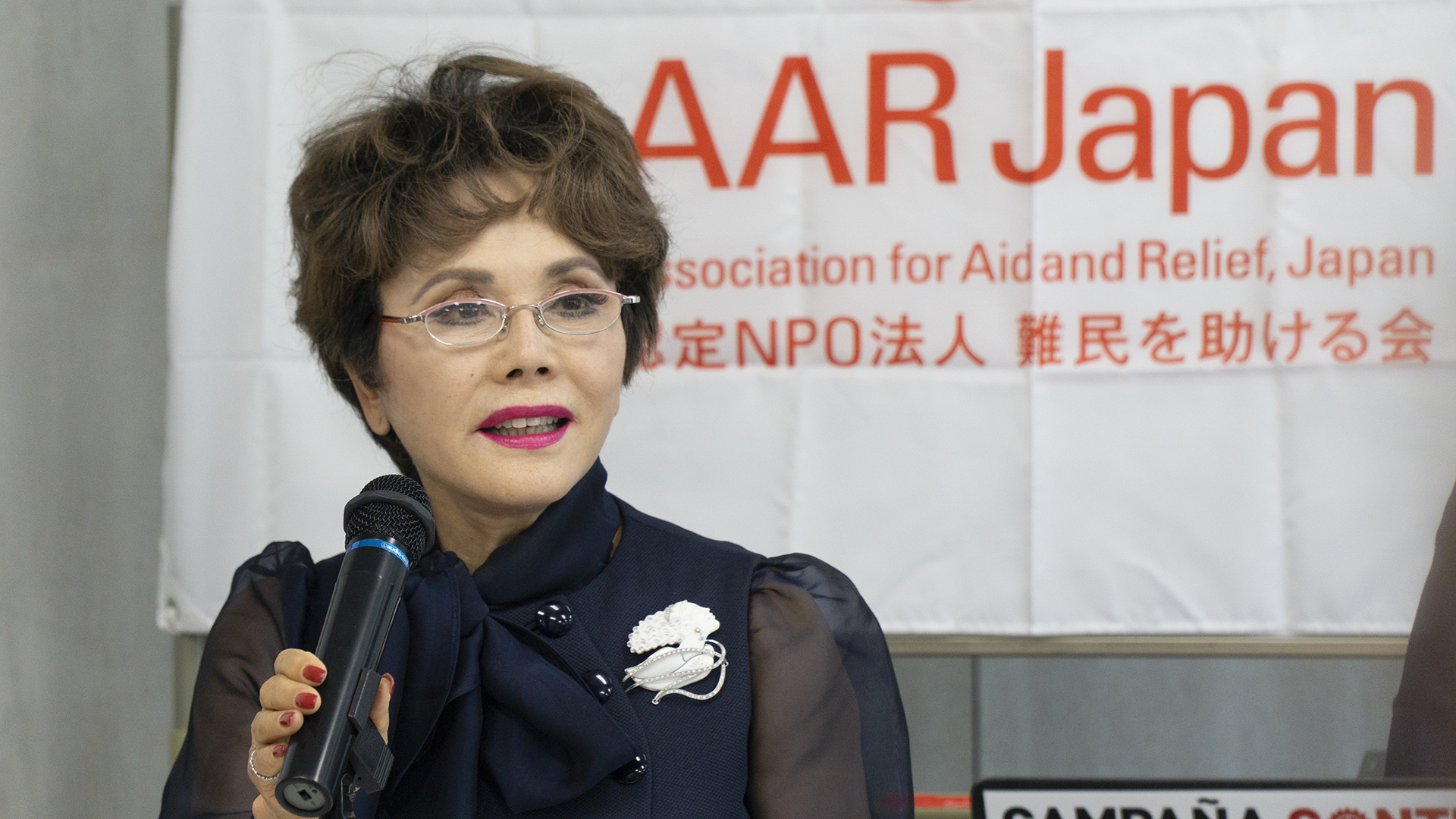 Dewi Sukarno, the former first lady of Indonesia, pushed Japan for more support for the Rohingya minority refugee crisis at a press conference in Tokyo on September 25.
Recently returned from a visit to the Rohingya minority refugee camp in Bangladesh on behalf of the NGO Aid and Relief Japan (AAR), Sukarno appeared determined to broaden Japanese support to ease the plight of the Rohingya minority of Myanmar.
Commonly known in Japan as Dewi Fujin (Madame Dewi), the former first lady is originally Japanese. As an active philanthropist, Dewi has traveled widely to show her support for the victims of disasters, such as Northeast Japan after the March 2011 earthquake and Pakistan following the 2005 earthquake in Kashmir.
During the press conference, Dewi, together with AAR Programme Coordinator Kensuke Ninomiya, explained the current situation of the Rohingya, what AAR is doing to help, and what Japan should do to aid the situation.
The View from the Ground
One of more than 130 ethnic groups in Myanmar, the Rohingya have suffered discrimination over the years due to their Islamic faith. A violent state crackdown again the community has led more than 740,000 people to flee from Rakhine region to Bangladesh since August 2017. Japan has provided $165.8 million in aid to help refugee aid.
Madame Dewi visited the Teknaf refugee camp, one of 25 in Bangladesh, which hosts more than 30,000 refugees alone. There she received a briefing on the many problems facing the refugees from the Japanese Embassy, the UNHCR committee and the AAR staff on the ground. Speaking to a full house on September 25, she recounted hearing about the enormous problem of simply registering the refugees from the Indonesia representative of the UNHCR .
Many of the Rohingya people are illiterate. They might know how to pronounce their name but not how to spell it. Some don't know their birthday and therefore just choose January 1 for convenience. Because of that, some of them don't know how old they are.
The AAR itself aims to address issues of running water, lack of toilets and wells, structures made out of bamboo and plastic, the lack of common safe spaces especially for women and children, and the lack of support for women and children who have suffered deaths of their family members, among other issues. The two latter points are especially critical in a community where there are 26,000 new births each year and more than 55 percent of the camp population is under 18.
Dewi enumerated how the AAR has been present on the ground helping the refugees since November 2017. To date, it has helped an estimated 33,000 people in total. Just from June 2018 to the time of posting, the NGO has helped build 450 toilets, 226 showers, 5,752 houses and dig 92 wells used by a total of 27,040 people.
Speaking to the Japanese audience, it was clear Dewi's aim was to raise awareness of the issue among her fellow Japanese – many of whom, she recognized, have no interest in the issue.
"In Japan we are lucky that we live in peace. We lead a prosperous life. But we are not interested in what goes on in other places in the world… Is that not wrong?"
Madame Dewi went on to accuse the media of not sufficiently broadcasting the visits of Foreign Affairs Minister Taro Kono, who visited Myanmar and the Cox's Bazar refugee camp as recently as July 2019. He also met with Aung Sang Suu Kyi in July.
Ultimately, after calling on the media to pay more attention to the issue and on politicians to put pressure on Myanmar, she called upon Japanese people to support AAR in their efforts.
But What Next?
Even if one agrees the Rohingya need to be helped, one key issue is finding agreement on the next step. Because of the ethnic characteristics of the Rohingya, argued Madam Dewi, the short term aim might be to have them settle indefinitely in Bangladesh.
On the other hand, as Dewi herself pointed out, most Rohingya refugees and especially the adults are deeply attached to Myanmar. They would like to go back if there was an assurance of peace.
Their ability to return home, however, is complicated by the fact that Myanmar's Burma Citizenship Act of 1982, which defines who has a right to citizenship. It excludes the Rohingya minority, effectively making them stateless, creating obstacles in the procurement of things for everyday life including access to hospitals and schools, and imposing limitations on their movement.
It's not surprising therefore that as Dewi was speaking, Haroon Rashid, the founder of the Burmese Rohingya association in Japan, raised his hand and asked that first and foremost "Rohingya be given their ID as Myanmar citizens." He continued, appealing for the Rohingya to be recognized with the "same human rights."
Rashid's daughter, Rurika Hasegawa, is part of the steering committee of Stateless Network, an NPO which aims to help people who are stateless, also commented on the need for acknowledgement of their identity, as with Myanmar being such a diverse country, one couldn't base a decision on where an ethnicity should live based on their ethnic characteristics.
"Before you said that we are very close in appearance to the Bangladeshi. But Myanmar is multiethnic originally, with at some point having 145 different ethnicities... It might be the case that we are close in appearance to people from Bangladesh, but there are other ethnicities that are very similar to Chinese. You end up connecting to a lot of different countries, in the same way that for example some people from Okinawa look like they could come from other parts of Asia."
She continued arguing that staying in Bangladesh was not a permanent solution, "Even if Bangladesh does accept us now, it doesn't preclude the fact that we might become refugees again in the future, be it 10 or 15 years."
She went on to explain why she hoped that Japan would limit business with Myanmar in order to put economic pressure on the regime.
Ultimately the press conference highlighted the need for Japan to become more involved as the international community seeks solutions to the continuing humanitarian problem if the Rohingya.
Author: Arielle Busetto