Don't Lose Interest in Rescuing Japanese Abductees. That's What North Korea Wants
Abducted and missing people's photo list

"There is absolutely no sense of urgency. The Parliament isn't even discussing how to rescue victims."
In the afternoon of December 9, 2016, Teruaki Masumoto, brother of a kidnapping victim, made this comment at a seminar after listening to parliamentarians making speeches regarding the abduction issue at the House of Councillors office building.
His sister, Rumiko Masumoto, was 24 at the time of abduction, and was among the many other Japanese young people who were kidnapped by North Korean agents right inside Japan decades ago.
Relatives of the victims have become disgruntled, while the rest of the Japan cannot get clues to how the victims would be rescued. There is concern that the public is losing interest in the matter. This winding down of interest is just what North Korea is expecting.
Shigeru and Sakie Yokota, parents of Megumi Yokota who was 13 at the time of abduction, have had a bitter experience.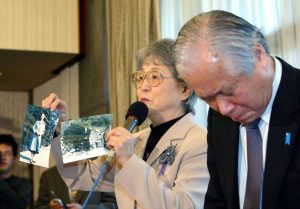 Around the time when their family association was set up in 1997, they met with indifference when they made appearances in which they called for the rescue of the abductees. This made them realize the importance of mobilizing public opinion.
However, in last summer's House of Councillors election, they were shocked to discover how little the issue of abduction was referred to on television and in open air speeches; this dashed their hopes.
"It's evident that the number of participants who attend victim relief meetings is dropping." Weighing in on this issue is Kazuhiro Araki, representative of the Unidentified Persons Issue Investigation Committee.
Araki doesn't feel that basic public interest has been lost, but he does think the government has a role to play in stimulating interest. "We must work on the situation to heighten people's interest. Even if it's trivial information, the government should keep public interest aroused."
■  ■  ■
Within victims' families, there is the deeply-rooted view that school education does not adequately take up the abduction issues. Megumi Yokota's parents speak say, "We must resolve the abduction issue to avoid this happening again; it's important to teach children these harsh realities."
It's been 15 years since North Korea officially admitted to acts of abduction. It returned five abductees in 2002. The year Megumi was abducted, 13-year-old junior high school students were not yet born.
The government currently transmits information regarding the abduction issue through the promotion of human rights for citizens and by teaching the topic in schools. But it's questionable whether this stream of information is shared and produces an awareness of the potential threat.
Because the government treats abduction as an "individual human rights issue," the Ministry of Education, Culture, Sports, Science and Technology (MEXT) encourages prefectural boards of education to teach elementary, middle, and high school students about it. At present this is limited to providing materials, such as an animated film that revolves around Megumi Yokota.
Abduction, however, is not just a matter of individual human rights; it is an infringement of national sovereignty. It should not be trivialized.
Tsutomu Nishioka—chairman of the National Association for the Rescue of Japanese Kidnapped by North Korea (NARKN) or "Sukuu Kai"—notes that North Korea approaches Japanese public opinion with keen interest, and keeps a close eye on the assembly's movements. "In order to resolve the abduction issue, Japan must show legitimate anger, raise its voice and say, 'Bring them home!' It's an essential task to extend the abduction issue through education, too," he said
Akira Shinoda, who is mayor of Niigata City where Megumi Yokota was abducted, put together a piece in the Niigata Daily, where he worked at the time, reporting Megumi's disappearance in November 1977.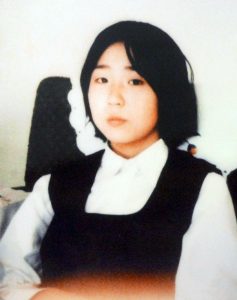 "The police knew quite a bit [before the abduction news broke]. I can't help but feel disappointed that there was a chance that perhaps if those of us in media conveyed [the information], it might have been prevented."
If we had made good use of the information we had, we might have been able to prevent the life of a Japanese citizen from being placed in jeopardy. Shinoda's regret should be a lesson for Japan.
■  ■  ■
At the beginning of last year's parliamentary seminar, Teruaki Masumoto noted the difficulties under the current Constitution, but asked the audience then and there: "Are we not in a situation where we must have rescue missions carried out by the Self-Defense Forces as an alternative?"
Japan has not been able to reclaim Takeshima from Korea, which has illegally occupied it for far too long, which has been illegally occupied for far too long, and Teruaki has been unable to rescue his sister. He feels that the territorial and abduction issues are somehow connected. Reclaiming what is once taken away is far from easy; there's no method for resolution without expending a substantial amount of energy. His passion shows his anger.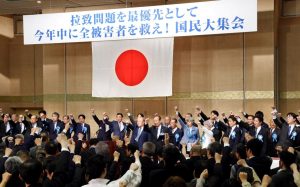 "Japan has not seriously considered assured security for a long time. Those who seriously consider it get criticized by those who say they are 'inciting nationalism,' but that is a misunderstanding of their true intent." This is the call for understanding made by Teruaki.
Whether it's the Northern Territories or the Senkaku Islands, Japan has allowed foreign countries to infringe upon its sovereignty and stage military provocations. Information regarding abduction and a sense of impending crisis have not been adequately disseminated among citizens. Abduction is an issue that has intruded into the gap left by this failure.
(Click here to read the original article in Japanese.)