'e-ZONe': Japan's First Esports Hotel Opens in Osaka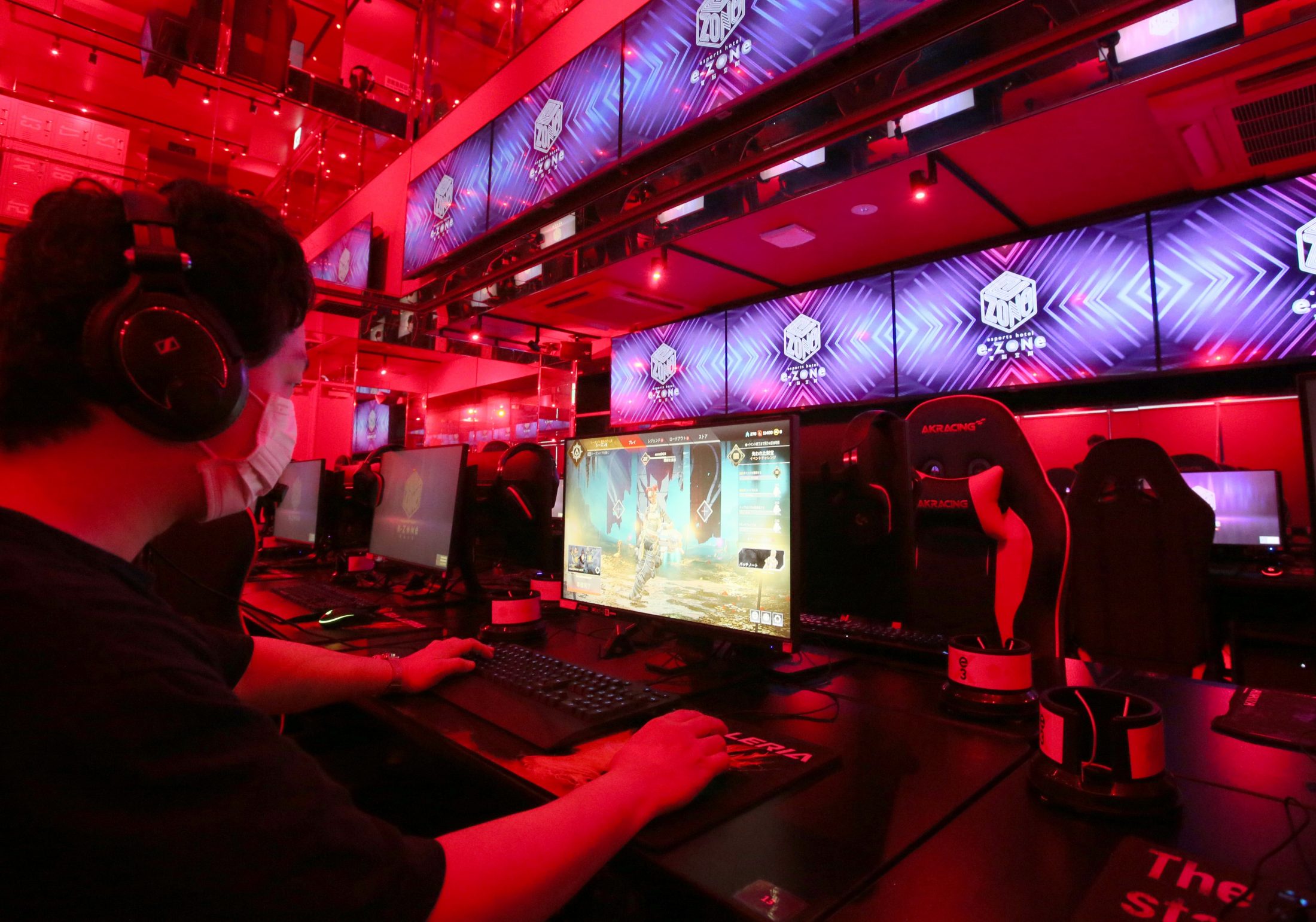 On July 3, the first esports hotel in Japan opened its doors to guests. Called "e-ZONe — 電脳空間," which translates as "cyberspace," it promises to be an innovative venue for game enthusiasts.
Once you walk into the Nipponbashi, Osaka, neighborhood where it's located, it's not hard to figure out why the theme was picked for the hotel.
Takahiro Shimamoto, in charge of public relations at e-ZONe, explained to JAPAN Forward how the fortuitous choice of making it into an esports hotel came about.
"Initially, we just wanted to open a hotel in Nipponbashi. But then we looked at the location, and we wanted to differentiate ourselves a little from our competitors. Given that the area is known for otaku culture, we thought we would make the link with esports," he said.
And it certainly seems a suitable choice, with the futuristic dark exterior, which fits neatly with the surrounding atmosphere.
So what exactly does an esports hotel entail? Over nine floors, the establishment caters to a variety of the preferences of those wanting to enjoy esports and meet like-minded fans in a comfortable setting.
Want to attend an esports event? The hotel's first to third floors, with 72 computers split between them, play host to esports-related events. Here, computers can be used for up to 18 hours.
From the fourth to the eight floor, the hotel offers accommodations. Capsule-style rooms are available for men between the fourth and sixth floor, and for women on the eighth floor.
For those who wish to have some privacy and perhaps play games online with other people, there is also a private room plan, with a computer conveniently located in your room. Rent one of these and you can enjoy video games to your heart's content around the clock.
What makes this establishment innovative is that it appeals to a relatively emerging sector of esports that, until now, had only a limited choice of places to gather. This hotel would allow for esport teams to organize, gather, and practice together in what Japanese often call a gasshuku, a term traditionally used for sport teams going on retreat to practice together.
Shimamoto explained: "When talking to those interested in esports, many expressed the idea that the most natural thing to do is just to meet with your teammates and talk face to face. We wanted to create a place where they could do that."
Of course, in this time of COVID-19, the hotel was hard hit from the start, pushing organizers to delay opening by three months, following the declaration of a state of emergency in Japan.
Currently, the hotel is also taking precautions to prevent the spread of infection, such as using disinfectant and measuring customers' temperatures.
Osaka has introduced a contact tracing system since June, using a QR code that allows venues to register visitors. It is currently in use in many public institutions in the city. The customer provides their email address, and should a positive case be confirmed, they will be notified.
e-ZONe is also participating in this voluntary scheme. In addition, Shimamoto specified that, although the hotel is already receiving reservations, "we are only working on less than half of capacity" as a precaution towards COVID-19.
During the state of emergency, many people spent a lot of time online. Perhaps some of those were trying their hand at esports for the first time.
Shimamoto explained how this hotel tries to appeal to such a clientele: "For those who practice esports, and for those who are just trying esports for the first time, we have people among our staff who are experts, who can advise and teach. So we encourage you to visit us!"
The hotel is currently running a promotion campaign until the end of July, with room plans starting from ¥1,500 JPY per person per night. The prices in the future are expected to change, but, for more information, make sure to check the hotel information here.
Author: Arielle Busetto