EXCLUSIVE INTERVIEW | Taiwan's President Tsai Ing-wen Seeks Security Talks with Japanese Government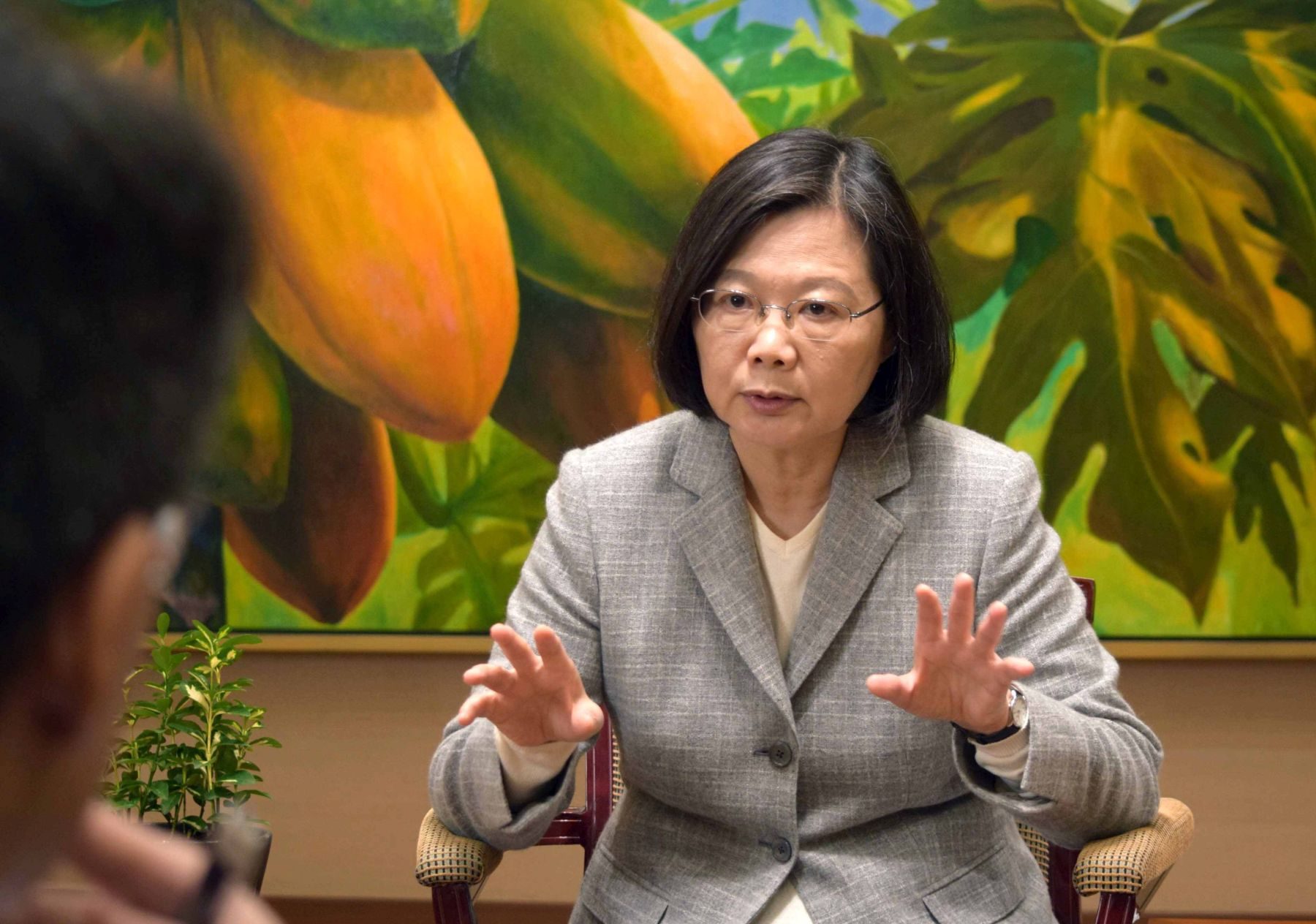 Taiwanese President Tsai Ing-wen has asked for direct talks with the Japanese government on cooperation in the areas of cybersecurity and other national security issues, as she expressed concern over the increasing threat that the People's Republic of China poses to Taiwan.
Ms. Tsai openly declared for the first time her intent to hold talks directly with the government of Japan, in an exclusive interview with The Sankei Shimbun and JAPAN Forward on Thursday, February 28.
Japan has no diplomatic relations with Taiwan and current discussions on peace and security issues are limited to private and academic channels.
In an interview in the Office of the President in Taipei, Ms. Tsai said while she "respects Japan's thinking" regarding security talks, she has a strong desire to collaborate with Japan on security matters, including immediate information sharing on the movements of China's People's Liberation Army.
Ms. Tsai stressed that "Taiwan and Japan are confronted with the same threats in the East Asian region." She called for talks between Japan and Taiwanese authorities, saying, "It is vital that talks be raised to the level of security cooperation."
"Prime Minister [Shinzo] Abe has been extremely friendly with Taiwan, and, after his inauguration, has made dramatic decisions [for Japan-Taiwan relations]. For the next step, it is necessary to strengthen our security discussions," said Ms. Tsai.
Declaring that she places high hopes in Prime Minister Abe's leadership abilities, she noted that it is "vital" to have immediate information sharing regarding the movements of the Chinese Navy near Taiwanese and Okinawan waters into the West Pacific.
She expressed her hope for a positive response from the Japanese side that overcomes the current state of diplomatic relations."Japan should get over the legal obstacles," she said.
"I would like to have an exchange of opinions about new kinds of threats besides traditional military affairs, such as cyberwarfare," the Taiwanese President added.
Ms. Tsai also referenced fake news originating from China. After the Kansai International Airport was flooded in September 2018 following Typhoon Jebi, rumors spread on the Internet that "the Chinese embassy has arranged buses and is prioritizing the rescue of Chinese citizens." The rumor led to online criticism of Ms. Tsai for her response to the emergency. She observed that "a single fake story caused much confusion in Taiwan."
Ms. Tsai brought up reports that China's so-called Net Army (cyber warfare units) "collaborated" with the pro-China opposition in the November 2018 Taiwanese local elections. She said her government is carefully monitoring China's election meddling.
Furthermore, she warned that "there is a possibility that the problems Taiwan faces today will be faced by other countries in the near future."
Asserting that collaboration with the international community will be necessary, she added, "Many people are taking note of Taiwan's experiences, but it is necessary for Taiwan to collaborate with other countries to put a damper on the [Chinese] Net Army's effectiveness."
"Geopolitically, Taiwan is in a strategic position for China's access to the Pacific Ocean," she stressed.
She said that "Taiwan's security is an important issue for the whole world," and called on the support of the international community to help maintain Taiwan's security.
This is Ms. Tsai's first exclusive interview after she announced her intent to run for reelection in the January 2020. The interview was conducted by Fumihiko Iguchi, managing editor of The Sankei Shimbun (Tokyo headquarters). Taiwan's Minister of Foreign Affairs Joseph Wu was also present during the interview.
Tsai Ing-wen,
born in Taipei in 1956, is a graduate of Taiwan University. She also holds a master's degree in law from Cornell University and a Ph.D. in law from the University of London. In addition to working as a university professor, and as a trade negotiator for former Taiwan President Lee Teng-hui, in 2000 she was selected to become Minister of the Mainland Affairs Council. She joined the Democratic Progressive Party (DPP) in 2004 and became head of the party in 2008, following an election victory. In 2012 she lost the legislative election to the Kuomintang's Ma Ying-jeou and resigned as head of her party, but was reelected in 2014. In January 2016 she was elected President of Taiwan and assumed her post in May of the same year. In November 2018, the DPP suffered a substantial loss in local elections, and Tsai resigned as head of the party. She is 62 years old.
(Click here to read the original interview article in Japanese.)
Author: Yasuhito Tanaka, Taiwan Bureau Chief, The Sankei Shimbun