Find 500 Years of History in Okayama's Picturesque Kurashiki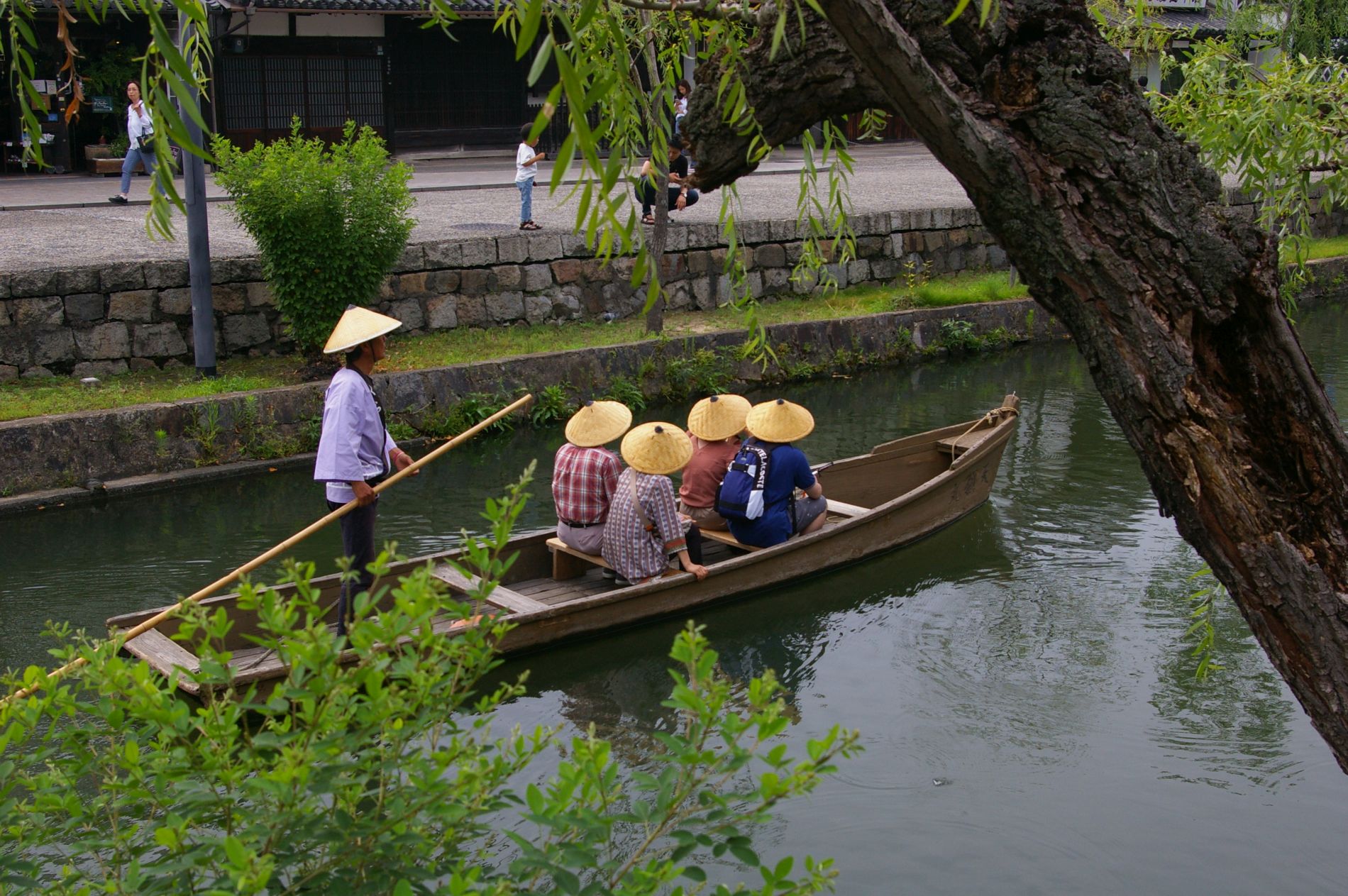 It is a somewhat curious experience walking through the streets of the Bikan old merchant district in Kurashiki, the second largest city in Okayama Prefecture.
Surrounded by black-and-white storehouses and other buildings dating back to the Tokugawa and early Meiji periods, you get the feeling of having just hopped off a time machine. But that in itself is not so unusual, since several Japanese towns have sought to recreate the past in order to attract the tourist yen.
Never Bombed, Historic Buildings Are Originals
What sets Kurashiki apart is that many of the buildings you see are not reproductions — they are the actual buildings of the past, although they have of course been renovated.
Kurashiki largely escaped the fire bombings of World War II that leveled nearly all of Japan's cities, even though it was home to several plants producing war material. Although no one knows for sure why it was so fortunate, one widely accepted story involves El Greco and a prodigal native son-turned-cultural benefactor.
Kurashiki flourished during the Edo era, for most of that period as part of the tenryo or territory directly administered by the Tokugawa Shogunate. Its location near the Inland Sea made it a transport hub for many kinds of products, including rice and sugar, carried to and fro via canals. After the Meiji Restoration it became a major textile production center.
Stucco-finished machiya townhouses with black tile roofs and white-walled kura-zukuri storehouses sprang up along the Kurashiki River and its vicinity, stringing out along a line at the foot of low-lying hills on top of which is perched 1,700-year-old Achi Shrine. Many of these machiya with their unique Kurashiki-style latticework have been converted into guest houses.
The area has the feel of China's Jiangnan region, an area rich in the natural beauty of water, greenery, and bright skies, with a cultured population. The prevailing mood is laidback, even a bit sleepy.
The primarily black-and-white colors of the houses and businesses in Bikan and the adjoining Honmachi/Higashimachi artisan district create an aesthetically pleasing and far-from-stark atmosphere, making them collectively perhaps the most picturesque merchant quarter in all of Japan.
Local residents still live in these buildings, although businesses of all kinds — ranging from art galleries, dance studios, tea shops. and even izakaya and jazz coffee shops — front the streets.
Ohara Museum of Art
All of this is, however, merely an appetizer. The main dish of any trip to the Bikan district is a visit to the Ohara Museum of Art, easily recognizable by its Parthenon-inspired facade.
Facing the willow-lined Bikan Canal, this — Japan's oldest museum of modern art — houses an astonishing collection, including works by Renoir, Gauguin, Modigliani, Picasso, Degas, Rodin, Munch, Miro, Chagall, Jackson Pollock, Andy Warhol…the list goes on.
I found especially intriguing, and disturbing, the gigantic religious oil painting, All Things Die, But All Will Be Resurrected through God's Love by Belgian artist Leon Frederic (1983-1918), which took 25 years to complete.
The Asian Gallery houses some beautiful Buddhist sculptures from the Northern Wei Dynasty as well as Silk Road pieces in the Gandara style.
Another collection devoted to the mingei folk art movement contains some interesting works by Soetsu Yanagi and Bernard Leach, among others.
Be sure to take a close look at Monet's Water Lilies. Then go outside the main building to view the pond filled with water lilies sent from the original site that inspired the painting in France.
How An El Greco Saved the Town
That brings us back to El Greco and the story of the firm friendship between a culturally-inclined local entrepreneur, Magosaburo Ohara (1880-1943), and a dedicated artist named Torajiro Kojima (1881-1929), who studied in Europe and became well-acquainted with the latest trends there, including impressionism and fauvism.
In fact, Ohara had early on been struck by the talent of the young painter and sponsored his studies. (He was hardly the only promising young artist or scholar helped out by Ohara.)
Although they were the same age, Ohara did not hesitate to provide Kojima with huge sums of money to take several trips to purchase works for his private collection, trusting totally in Kojima's honesty and taste in art. When Kojima died in 1929, Ohara built the museum to house the many art works that Kojima had acquired for him.
One of those pieces was El Greco's Annunciation, which Kojima persuaded Ohara to buy sight unseen for a princely price.
Members of the Lytton Commission, which had been appointed by the League of Nations to investigate the Mukden Incident of 1931 that led to Japan's takeover of Manchuria, visited Japan in connection with their mission. During their sojourn, they expressly headed to Kurashiki to visit the museum and view this painting among others.
They supposedly brought back word of how rich the collection was, and this high opinion eventually influenced Allied leaders to spare the city from among the targets for the bombing campaign on the Japanese homeland during World War II. Or so the story goes.
Business Success Behind Ohara's Philanthropy
In some ways Kurashiki might be said to be a living monument to one man, Magosaburo Ohara. Born the third son of a wealthy local landowner, he became the clan heir after his two older brothers died young. While still a university student in Tokyo, the bright but libertine Magosaburo ran up debts the equivalent of one hundred million yen in today's money. Dragged home in disgrace, he applied himself to business but never lost his taste for the finer things in life.
Eventually, Ohara built up a business empire based on textiles, fibers, and chemicals: Kurashiki Boseki (today's Kurabo) and Kurashiki Kenshoku (today's Kuraray). But he also branched out, founding Chugoku Bank, the Kitada securities firm, and an electric company.
After making the acquaintance of a charismatic Protestant minister named Juji Ishii, Magosaburo converted to Christianity and became a committed philanthropist. He supported Ishii's orphanage in Okayama, founded one of the best hospitals in East Asia, financed university-level agricultural research, and, of course, became a patron of the arts.
In fact, the Ohara clan had long been known in the area for its progressive attitude in how it treated its workers and the community in general.
The Kurashiki Sunday Seminars
Magosaburo was also distressed by the confrontational tone of capital-labor relations in Japan, especially in the mining industry.
To try to find new models that would balance the interests of both employers and employees, he founded the Ohara Institute for Social Research and the Kurashiki Institute for the Science of Labor. In fact, he founded eight research centers, and all of these social initiatives of Ohara survive today in one form or another.
Ohara's efforts even gained begrudging admiration from Marxist economists. Magosaburo was no starry-eyed do-gooder, however, and his main focus was on successfully managing his companies.
He disdained paternalism, arguing that harmonious labor relations made for good business. At the same time, he wanted to extend knowledge to his neighbors.
He, therefore, started the Kurashiki Sunday Seminars, which brought famous speakers — such as Inazo Nitobe, the author of Bushido: The Soul of Japan, and former prime minister Shigenobu Okuma — to his hometown.
The series of 76 seminars attracted up to 3,000 participants each time, and the attendees included future political leaders, such as postwar prime minister Nobusuke Kishi when he was still a junior high school student.
Ohara's credo was, "Later generations should not brag about what their ancestors did; their duty is to correct the mistakes of their ancestors."
Exploring the Neighborhood
Adjoining the museum is the placid Shinkei-en garden. Be sure to go to the other side of the canal to visit the Ohara House, which is a Nationally Designated Important Cultural Property, and get a feel of how a wealthy merchant family in premodern Japan lived. The library has been turned into an inviting coffee shop.
Directly across the lane is the richly-hued Yurinso Villa or "Green Palace" that Magosaburo built for his wife. It is usually only open to the public on special occasions.
There are many other places to explore in the Bikan historical district, including the Kurashiki Museum of Folklore, the Japanese Folk Toys Museum, the Kurashiki Craft Work Village, and the Ivy Square shopping mall (built on the site of one of Ohara's former textile mills), which houses the Kurabo Memorial Hall and Torajiro Kojima Memorial Hall.
Getting There
Kurashiki is located about half an hour outside of the city of Okayama, which is a major stop on the Shinkansen. Kurashiki's own train station is accessible by local train from Okayama and by other rail and bus routes.
Author: John Carroll
John Carroll is a Kyoto-based freelance writer.