Get Ready to Laugh as JAPAN Forward Streams Japanese Comedy Rakugo Otemachi 2020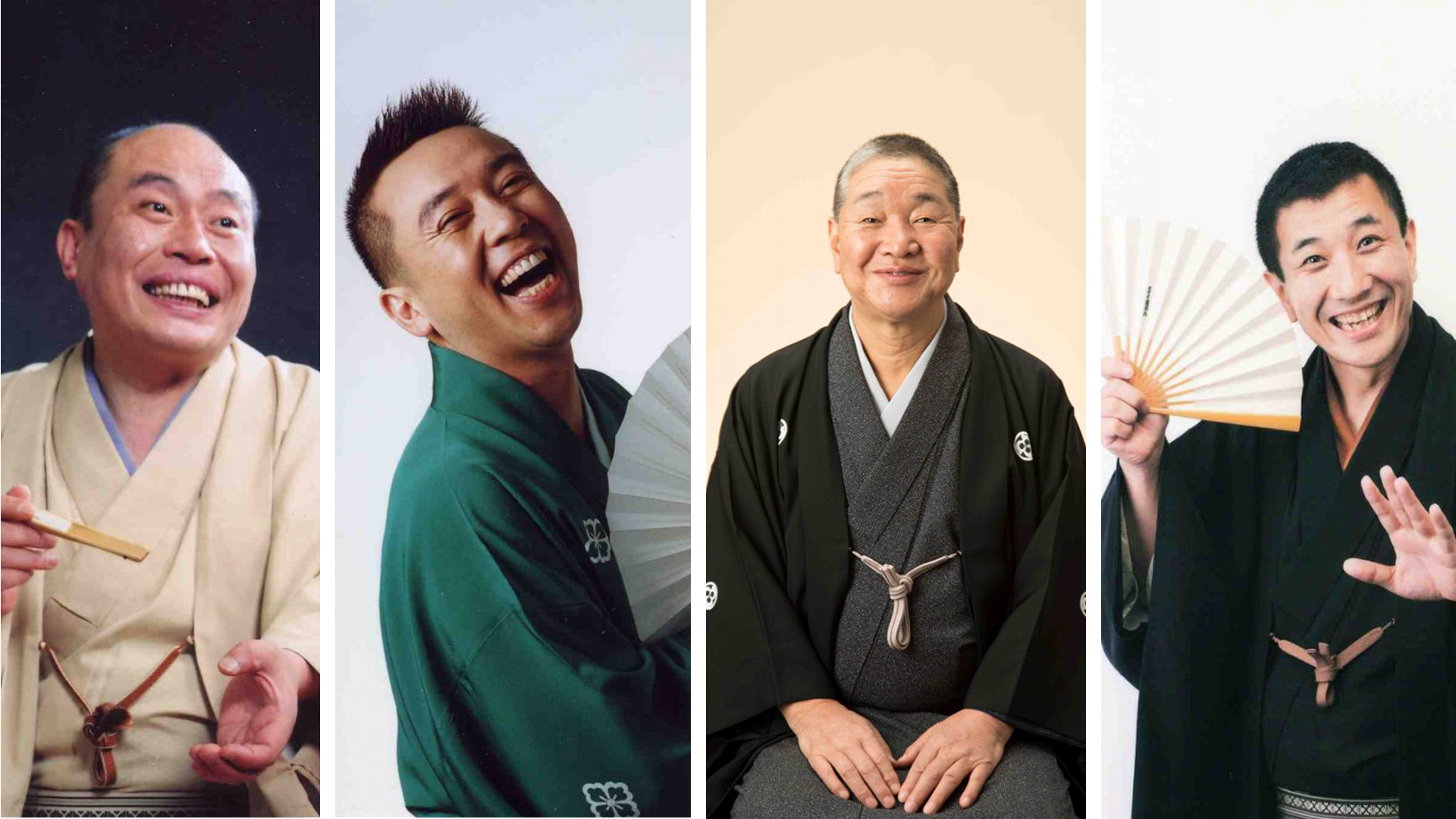 (First Part)
Find Part 2 here: Touch Humor as JAPAN Forward Streams Japanese Comedy Rakugo Otemachi 2020.
It's easy to feel a little gloomy when every day is punctuated by the numbers of COVID-19 infections and new restrictions to stop the virus. Getting out to enjoy fun and laughter with friends is among the casualties of the pandemic.
But some exponents of the Japanese art of traditional comedy sketches, Rakugo, have taken their talents to help out.
In July 2020, Rakugo Otemachi 2020, produced by Sanyutei Enraku, and organized by The Sankei Shimbun and Yomiuri Shimbun, pulled together eight rakugo performers with norms of social distancing to bring laughter back to live audiences in Japan's capital city.
From November 1, this art can be appreciated all over the world at no charge on JAPAN Forward's YouTube channel. Each performance is aided by English subtitles and explanations to enhance enjoyment even if you don't speak Japanese. Check out the videos, described below with their storylines, and laugh as these performers put a smile on your face.
An introduction to the topics of videos 1 through 4 follows.
1. Thousand-ryo Mikan
By Hayashiya Taihei
In the height of summer, the young master of a wealthy merchant family falls mysteriously ill. When the head clerk asks what the matter is, he replies that he craves mikan, a Japanese variety of orange. Although the clerk makes a rash promise to fetch some mikan, no store in Edo could be expected to carry the winter fruit in the scorching summer heat. After being told by his master that "if my son dies, you will be crucified and your head put on display for murdering your master", the clerk runs around the city in search of the fruit.
At long last, the clerk finds a single mikan at a wholesaler in the Kanda Tacho district of Edo. He is stunned to be told that "the price is a thousand ryo (a predecessor to Japanese yen) apiece, as we have kept the fruit in the store at the risk of losing money." But the master readily prepares the sum, which he says is a bargain if it will save his son's life. When the clerk delivers the mikan to the bedridden young master, the color returns to his face, and he immediately recovers.
The young master eats seven segments with relish, then hands the remaining three to the clerk, saying they are for his own parents and the clerk. This gets the clerk thinking: "When I strike out on my own, the most I can expect to receive from the master is fifty ryo. If this mikan costs a hundred ryo per segment, then three segments would come to three hundred ryo. I'm sorry, but to hell with it", the clerk runs off with the three mikan segments.
About Rakugo Artist Hayashiya Taihei:
Born in Saitama Prefecture, 1964, he became an apprentice of Hayashiya Konpei in 1988 as "Taihei." His professional debut was in 1992, and he finished his apprenticeship eight years later. He received the Golden Award of the "Hanagata Engei Award" twice, in 2004 and 2008, also the "New Face Award of Minister of Education Award for Fine Arts" the same year.
2. Tsubozan (The Price of a Jar)
By Sanyutei Kenko
A shopping-savvy man is told by his unreliable younger brother that he needs help buying a two-ka water jar, ka being a unit of weight. They go to a shop where the man pulls out all his tricks to haggle with the manager. Having bought a one-ka jar priced at 3.5 yen for 3 yen, the pair walks around the neighborhood before returning to the store: "My pal now tells me that he really wanted a two-ka jar", the man says "we'd like to purchase a two-ka jar instead."
Asked the price of the larger jar, the manager replies: "It costs twice the price of a one-ka jar, so 3.5 times two comes to 7 yen," only to remember that he had sold a one-ka jar to the shrewd shopper for 3 yen. He realizes his mistake, but all too late. He reluctantly sells the two-ka jar for 6 yen.
The man then asks the manager to buy back the smaller jar that they bought first. "We've already paid 3 yen" "yes" "you're taking back the one-ka jar for 3 yen" "yes" that's 6 yen in total, so we can take this two-ka jar, right?", "Yes..?"
Although the manager is briefly convinced by the smooth talk, he shortly realizes that there is something wrong. He beckons the pair to come back inside and check his calculations, but try as he might, he cannot figure out the error. In the height of the confusion, the manager reaches an absurd conclusion.
About Rakugo Artist Sanyutei Kenko
Born in Fukushima Prefecture, 1970, he became an apprentice of Sanyutei Koraku as "Kosaku" in 1988. His professional debut came as "Koujiro" in 2002. In 2008, he finished his apprenticeship and became "Kenko." He has received awards such as the golden "Hanagata Engei Award" in 2012, and "Sai-no-Kuni Rakugo Award" in 2016.
3. Chihaya Furu
By Takigawa Risho
Kin-san is at a loss for an answer when his daughter asks him the meaning of a classic poem by Ariwara no Narihira. It goes roughly, "Not even in ancient days of the gods has something like this been heard before: the water of the Tatsuta River dyed crimson with the autumn leaves". (Chihaya furu/ kamiyo mo kikazu / Tatsugawa /Kara-kurenai ni /mizu kukuro to wa.)
He asks for the help of a self-professed wise man who lives down the alley. The man, who is actually clueless, starts giving a ridiculous interpretation off the top of his head:
Tatsutagwa, a Mongolia-born sumo wrestler, who has devoted himself to training without seeing any women, becomes a high-ranking wrestler. As if to lift the ban on women, Tatsutagawa accompanies a patron to a Russian bar in the Minami-Senju district of Tokyo. But the number-one hostess, Chihaya Nikowa, refuses to entertain him on the grounds that she does not like sumo wrestlers, and he is shunned again by Kamiya Sukaya, the number two. Utterly shocked, Tatsutagawa retires and returns to Mongolia.
Back home, his parent's tofu shop is practically in ruins. Tatsugawa takes over and in three years it grows into a thriving business. One evening, a shabby-looking woman appears at the shop and begs. "I haven't eaten in days. Would you please give me some unohana [tofu lees]?" The woman is in fact Chihaya Nikowa, if only a shadow of her former self. Her husband's miso store in Ulan Bator had gone under, and she had been thrown out.
Remembering how the woman had turned him down, the spiteful Tatsutagawa shoves her in the shoulder lightly, whereupon she being light as a feather due to starvation – flies off, over Mt. Everest, and away to Nepal.
"Then what?" "That's it. He was rejected by Chihaya, so it's chihaya furu, you see?" (Furu means to reject or dump someone.) "Wait, that was about the poem?"
It was the wildest interpretation of a classic Japanese poem, will it convince Kin-san's daughter?
About Rakugo Artist Takigawa Risho:
Born in Shizuoka Prefecture, 1953, heo became an apprentice of Shunputei Koryushi in 1975 as "Ryujutaku." Five years later, he professionally debuted as "Aikyo." In 1990, he finished his apprenticeship as "Risho." He received the "Honor Award for Artists of Hamamatsu'' in 2002. In 2005, he became "Takigawa Risho."
4. The Eel and the Jester
By Yanagiya Gontaro
Early one midsummer afternoon, Ippachi, a nodaiko (freelance jester who is not affiliated with a geisha call office), sets out to secure himself a lunch by fawning over a patron. He gets hold of a man dressed in a yukata who looks familiar but whose identity he cannot remember. Ippachi accompanies the man to an eel restaurant, but the place is old and filthy, and when they go upstairs they find Yoshio-chan, a little schoolboy playing menko (a kind of card game) in the parlor. It turns out to be the worst possible restaurant, with terrible customer service and poorly cooked eel.
As the two have sake and eel together, Ippachi repeatedly asks the man where he lives but keeps getting dodged with a "You know, that place down that way." When the man goes off to the restroom and does not return, Ippachi asks the waitress about him. "He left," she replies. He is pleased by what he takes to be the patron's thoughtful consideration, so that he, the entertainer, can eat and drink at ease. But Ippachi soon discovers that the man not only is a first-time customer, but has not paid the bill.
Having been given the slip by his patron and charged the restaurant bill, Ippachi resigns himself by paying out of his own pocket. He pours out his grievances on the restaurant staff: "Don't hang diapers to dry in the parlor," "The eel is impossible to bit through," "It says ' Kaneko Funeral Home' on the sake cup," "Stop displaying Yoshio-chan's calligraphy in the alcove," and so forth.
Still, he finds the bill too expensive, which he learns is because the man ordered three servings of eel to take home. Learning further that the man has run off in his favorite sandals, the man gives in to his faith.
About Rakugo Artist Yanagiya Gontaro:
Born in Tokyo in 1947, he became an apprentice of Yanagiya Tsubame in 1970 as "Hotaru." Four years later, he joined the house of Yanagiya Kosan, and professionally debuted as "Sanko" in 1975. He finished his apprenticeship and became "Yanagiya Gontaro III" in 1982. In 2013, he received the national honor of the Medal with Purple Ribbon.
This article is published in cooperation with the Rakugo Otemachi 2020 Organizing Committee.
Author: JAPAN Forward