Touch Humor as JAPAN Forward Streams Japanese Comedy Rakugo Otemachi 2020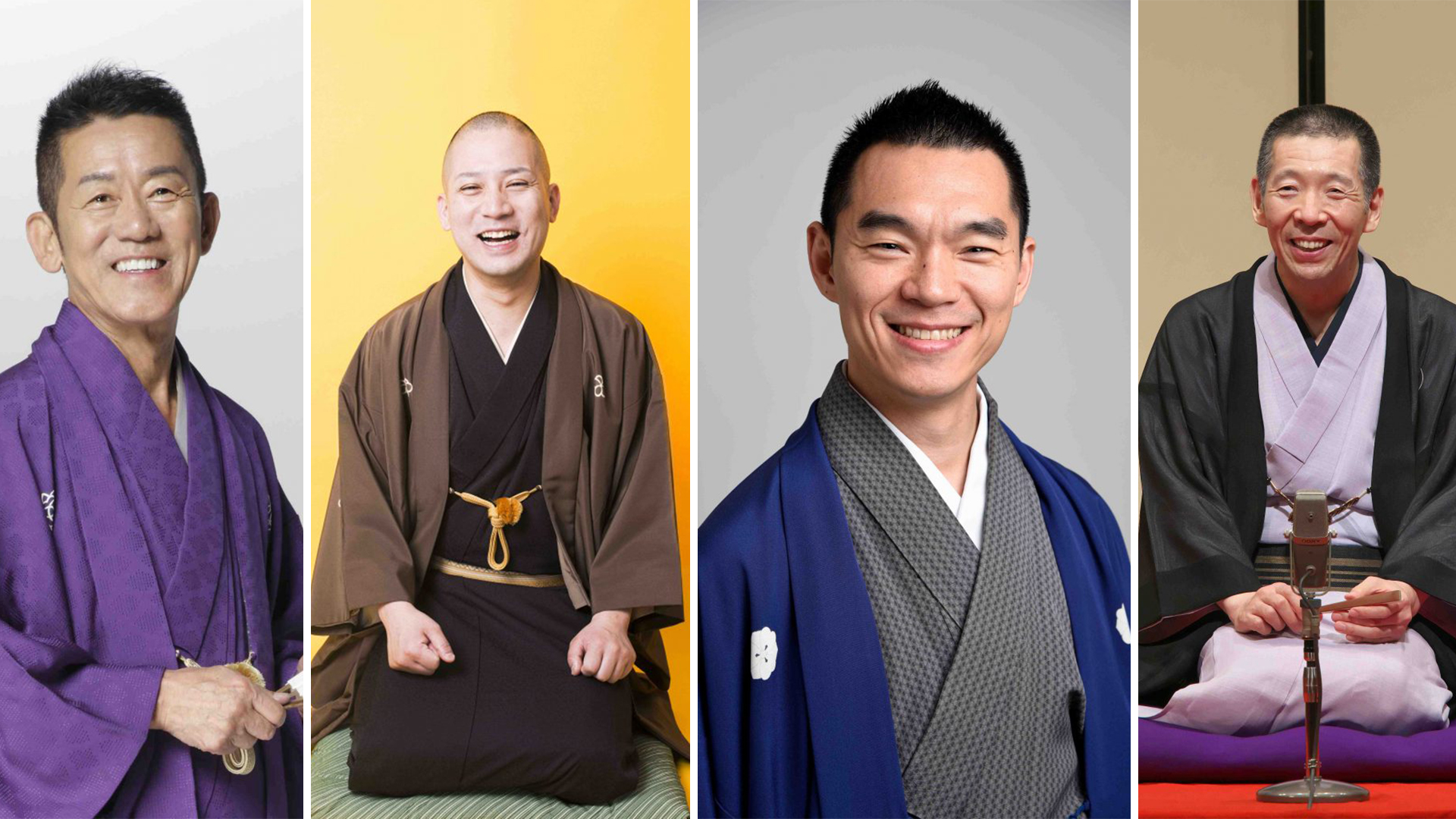 (Last Part)
Find Part 1 here: Get Ready to Laugh as JAPAN Forward Streams Japanese Comedy Rakugo Otemachi 2020.
Delve into the world of Japanese humor as Rakugo Otemachi 2020 streams for free on JAPAN Forward.
Artists of the Japanese art of traditional comedy sketches, Rakugo, have teamed up to bring you this special treat.
In July 2020, Rakugo Otemachi 2020, produced by Sanyutei Enraku, and organized by The Sankei Shimbun and Yomiuri Shimbun, pulled together eight rakugo performers with norms of social distancing to bring laughter back to live audiences in Japan's capital city.
From November 1, this art can be appreciated all over the world at no charge on JAPAN Forward's YouTube channel. Each performance is aided by English subtitles and explanations to enhance enjoyment even if you don't speak Japanese. Check out the videos, described below with their storylines, and laugh as these performers put a smile on your face.
An introduction to the topics of videos 5 through 8 follows.
5. Kasago (A Game of Go under a Sedge Hat)
By Yanagiya Karoku
The masters of two merchant families are old friends and rivals in the game of Go. On this day, they have promised to play without calling matte ("wait", to take back a move). But no sooner have they warmed to the match that they start saying, "Wait, on that move", "No waiting." Soon this develops into an argument about money owed from years ago, and eventually, they part ways in a huff. After days of rain, though, both men are bored out of their minds and are craving to play Go.
One sets out to check how the other is doing, donning a large kasa (sedge) hat in the absence of an umbrella, but his pride prevents him from entering his friend's store. The store owner, meanwhile, notices his Go rival lurking about in front of the store in an odd disguise, but cannot get himself to invite his friend in.
After a brief standoff, the man in the store finally calls on the other:"Hey, doofus," "What, you nitwit?", "You want to play a game to see who's the doofus and who's the nitwit?" "You bet!"
About Rakugo Artist Yanagiya Karoku:
Born in Tokyo in 1971, he became an apprentice of Yanagiya Kosan V in 1987 as "Kyutaro." Two years later, he professionally debuted as "Koroku." In 1994, he finished his apprenticeship as the youngest to do so in the postwar, and became "Karoku." He received the Grand Prize of "Hanagata Engei Award" in 1997. He also established the Rakugo unit Roku-nin-no-kai in 2003.
6. The Haunted Row House
By Sanyutei Enraku
There is one vacant house in a nagaya, a line of row houses. The long-time residents want to use it for storage, so they come up with a plan to keep anyone from moving in. Mokubei, a pioneer of the nagaya who is known by the nickname Furudanuki ("old raccoon dog," equivalent to "old fox"), would pretend to be the row house manager and scare off prospective tenants with a story about the house having bad karma.
Ever since a widow living there was murdered by a burglar who broke in on a rainy night, the ghost of a woman would appear in the house on drizzly nights, so no one would stick around for very long. When Mokubei delivers this tale like a professional storyteller to a would-be tenant and strokes the man's face with a damp cloth, the poor man scampers off with a shriek, leaving behind his wallet.
The next man to come along, however, is a tough match. Bold and swaggering, the man is unfazed by Mokubei's attempts at frightening him. Having mocked Mokubei's story at every turn, he snatches the damp cloth and rubs the old man's face with it instead. "I'll be moving in right away, so make sure to clean the place," he says, before leaving. "He's a lost cause and just can't be spooked," a flabbergasted Mokubei grumbles. The next moment he realizes that the man has taken off with the wallet left behind by the first man.
About Rakugo Artist Sanyutei Enraku:
Born in Tokyo 1950, he became an apprentice of Sanyutei Enraku V, and received the name of "Rakutaro" in 1970. He was selected as a member of the long-running TV show "Shoten" in 1977. In 1981, he finished his apprenticeship, and adopted the name "Enraku" the sixth in 2010. He produces Rakugo festivals continuously all around Japan.
7. Stable Fire
By Ryutei Ichiba
Osaki is a kamiyui (hairdresser), a career woman of the Edo period. Following a quarrel with her husband, Osaki visits the man who served as the couple's matchmaker. "My husband is eight years my junior and a player," she says. "I don't mind earning the bread and his drinking money, but will he cherish me for the rest of his life? I don't know how he really feels." The man advises her to split up with her husband, but Osaki still has feelings for him and will not say yes.
The man reasons with Osaki by using allegory,
A scholar in Morokoshi [China] by the name of Confucius loses his favorite white horse in a stable fire that breaks out while he is out. Upon returning home, he inquires after the safety of the servants but asks nothing about the horse. Meanwhile, when the wife of a certain gentleman in the Kojimachi district district of Edo falls down the stairs while holding some treasured china, the husband is only worried about the china and fails to ask if his wife is all right.
Your husband likes china, too, so try and break something. If he doesn't show concern for you, you should leave him.
Thus persuaded, Osaki resolves to test her husband. Is my husband a Morokoshi or a Kojimachi monkey? She wonders. (She has mistaken the man's words saru danna, meaning "a certain gentleman" to mean "monkey gentleman," saru ["certain"] being a homonym of the word for "monkey.") When Osaki gathers her courage and shatters a bowl, her husband asks if she is okay, "You care so deeply, about my health do you?" "Well, of course. If you get injured, I won't be able to play around and drink all I want."
About Rakugo Artist Ryutei Ichiba:
Born in Oita Prefecture in 1961, he became an apprentice of Yanagiya Kosan V as "Koyuki" in 1980. Four years later, he debuted professionally as "Sanko." In 1993, he finished his apprenticeship and adopted the stage name "Ichiba" the fourth. After receiving the Grand Prize of "Hanagata Engei Award" in 1995, his continuous activity led to his induction as chairman of the official RAKUGO Association.
8. Momokawa
By Shunputei Ichinosuke
In a parlor on the second floor of Momokawa, a high-class restaurant in the Ukiyokoji neighborhood of Nihonbashi in Edo (Tokyo), young men from the fish market are drinking in broad daylight. When they clap their hands to order more food and drinks, an unfamiliar-looking man comes up the stairs. The man is Hyakubei, a country bumpkin who has just been employed that day as a servant of the restaurant. But his accent is so heavy that the young Edo natives cannot understand a word he says.
When Hyakubei explains that he is a "kakeinin [servant] of the shujinke [employer]," the young man mistakes him for a "kakeanin [negotiator] for the shinjinken [a set of four banners featured in many festivals in Edo]." After the previous year's festival, the men had feasted with the money they made by pawning the shinjinken, which are vital to the festivities, and they had not yet redeemed the banners. They thus assume that a negotiator for the sacred banners has come from the next town over, which is in charge of the festival this year.
The young men offer kuwai no kinton (a snack of arrowhead tuber in mashed sweet potatoes) to Hyakubei, saying, "Please swallow this kuwai and go home for today." It is a riddle, where kuwai is a pun on guai, meaning "conditions." A bewildered Hyakubei swallows the tuber whole, just as he is told. Later, after the men realize that he is a servant of the restaurant, Hyakubei is sent on an errand to fetch Kamemoji, a master shamisen player of the Tokiwazu school who lives in the nearby Shinmachi neighborhood. Instead he goes to the house of Kamoji Genrin, a surgeon.
"Four or five young men of the fish market came this morning.." Hyakubei begins. Again, his accent is incomprehensible, and the doctor rushes to Momokawa, thinking that "young men of the fish market had been cut diagonally with a sword," as Hyakubei's pronunciation of the word for "came" sounds just like kirareta, "cut with a sword," and his pronunciation of "this morning" is the same as kesagake ni, "diagonally from one shoulder." The young men are furious at Hyakubei for his blunders. "You screw up!" "My name is Hyakubei" "I'm saying you're missing all your screws." "Ka-me-mo-ji, Ka-mo-jiーnot all, I've missed only one!
About Rakugo Artist Shunputei Ichinosuke:
Born in Chiba Prefecture, 1978, he became an apprentice of Shunputei Iccho in 2001 as "Chosaku." In 2004, he professionally debuted as "Ichinosuke," and finished his apprenticeship eight years later. He received the Grand Prize of "Hanagata Engei Award" two years in both 2012 and 2013, and the "New Face Award of Asakusa Geino Award" in 2015.
This article is published in cooperation with the
Rakugo Otemachi 2020 Organizing Committe
e.
Author: JAPAN Forward