GOLF | 1980 U.S. Open was Memorable Snapshot of Isao Aoki's Great Career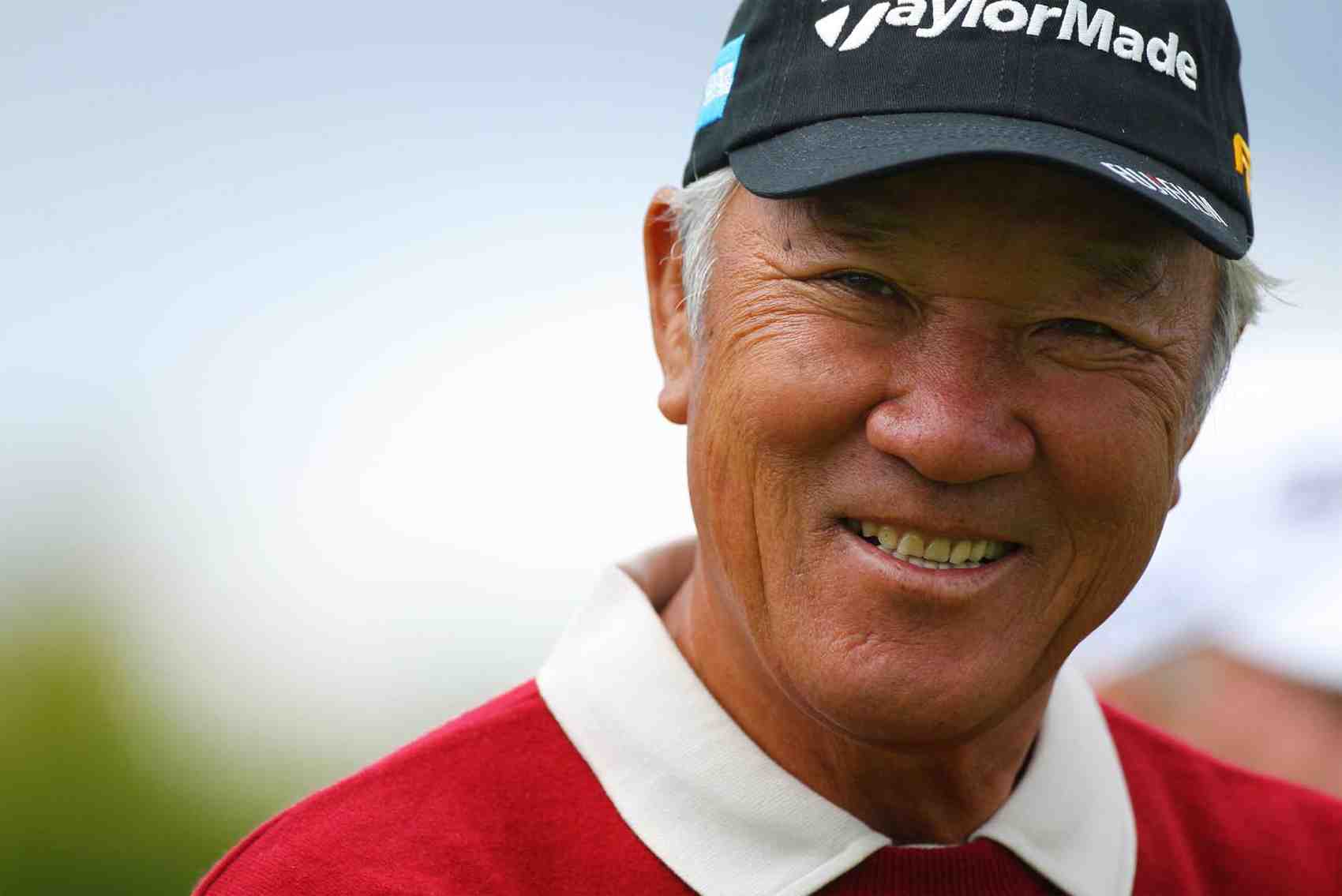 Forty years ago, legendary Miami Herald sports columnist Edwin Pope devoted one of his columns to introduce golfer Isao Aoki to a broader audience.
Pope's syndicated column was published in newspapers around the United States several days after Aoki finished runner-up to golf great Jack Nicklaus in the 1980 U.S. Open at Baltusrol Golf Club in Springfield, New Jersey. The 80th U.S. Open was held from June 12-15.
Nicklaus placed first with an 8-under 272, earning $55,000 for his work en route to a U.S. Open record. He shot rounds of 63, 71, 70 and 68 in succession. The Golden Bear became a four-time champion of the marquee event, joining Bobby Jones, Ben Hogan and Willie Anderson as the only men to do so.
Aoki, then 37, carded a 6-under 274. He collected $29,500. He shot three consecutive rounds of 68, then finished with a 70 in the final round.
"I kept telling myself no matter how perfect he is, he will make a mistake in 72 holes in four days," Aoki reflected. "But I was wrong. Jack did not make any errors until the end of the tournament."
Talking to reporters days later, Aoki said: "It has been a very good lesson. "I learned a lot for my future play."
It was Aoki's best-ever finish in a major championship.
And it was a reminder that he was a golfer to keep an eye on for years to come.
A Distinguished Career
The 1980 U.S. Open provided a big showcase for Aoki's talents and hinted at many more big things still to come on the golf course.
In 2004, the Abiko, Chiba Prefecture, native was the first Japanese man inducted into the World Golf Hall of Fame. Greg Norman introduced Aoki at the special ceremony. (Watch the induction ceremony here.)
His biography on the World Golf Hall of Fame website includes poignant remarks from fellow Hall of Famers Chi Chi Rodriguez and Jack Nicklaus about his exceptional putting skills.
"I've never seen a putting stroke like his in my life," Rodriguez declared, calling him "the king of the jabbers."
Said Nicklaus: "What a touch. What a putter."
Aoki's putting skills and overall acumen with a golf club in his hands provided a good living for decades. He collected 78 victories over the years, with 51 Japan Golf Tour titles and nine apiece on the Champions Tour and Japan Senior Page Tour (his 2008 Kinojo Senior Open triumph the most recent) among his top feats. He also claimed the 1978 World Match Play Championship title in England.
Starting in 1974, Aoki appeared in 165 events on the PGA Tour spanning a quarter century. In 1983, Aoki took home the top prize in the Hawaiian Open, becoming the first Japanese to win a PGA Tour event.
Pope Gives Insightful Look at Aoki
In showcasing Aoki's attention-grabbing performance at the 1980 U.S. Open, Pope described the steady golfer's maturation on and off the course.
''The night before Nicklaus finally shot him down," Pope wrote, "Aoki played blackjack with his wife in their hotel room until 2 a.m. This alone constituted a titanic turnaround. In younger days, as columnist Jerry Izenberg put it, 'Aoki used to blend the night and day into a single-neon time-span, swinging through one giant marathon of a party where the glass was never empty and no matter how often the face at his face changed, it always belonged to the prettiest girl.' "
The keen observer of the sporting scene well into the 21st century then pointed out that Aoki's efficient putting stood out
"When pros called Baltusrol 'the fairest U.S. Open test,' they meant it was the easiest," Pope wrote. "Greens stayed soft as a spaniel's eye for two days and the rough was smooth compared with last year at Toledo's Inverness, where Lee Trevino said, 'I'd take Ray Charles against the field out of that stuff.'
"Aoki putted only 112 times at Baltusrol. A 125 total would have been considered phenomenal."
As a young man, the former Abiko Golf Club caddie, who started that job at age 15, developed his distinct style of putting. Pope called it his "wondrous clubtoe-up, clubheel-down putting style."
And how did he develop that style?
"He was just 17 years old and had just turned pro two decades ago when American occupation forces invited him to play an exhibition," the longtime columnist wrote. "He promptly fell in love with a U.S. putter. Because it was so long, and he was then several inches shorter than the 5 feet 11 inches he now stands, Aoki was forced to stand so far back from the ball that the putter's toe jutted up sharply.
"This curious style evokes little curiosity in Japan for a perfectly logical reason."
Why?
Before the exponential growth in the game as a participatory sport in Japan in the years that followed, golf didn't have as great a following in the first few decades after World War II. Indeed, economics played a part.
Wrote Pope: "Two hundred million Americans spread over 3.6 million square miles will find it hard to understand how 105 million Japanese can be sardined into 142,000 square miles. 'In the country' in Japan means any place you can turn a Toyota around. It follows that golf course fees are exorbitant -- $200,000 mere initiation fee at Kogenei Country Club."
Sure, Aoki was ー and still is ー a source of national pride for his accomplishments on the golf course since turning pro in 1964. In his heyday, he earned victories in more than 50 events on the Japan Golf Tour between 1972 and 1990. (Only fellow World Golf Hall of Famer Masashi "Jumbo" Ozaki, who notched 94 victories, won more events.) By doing so, Aoki topped the JGT money list in 1976, 1978, 1979, 1980 and 1981.
"Aoki is something of a Japanese treasure for all that," Pope proclaimed. "He even endorses Gatorade. But where only the upper crust plays golf, baseball in Japan approaches the status of religion.
To enhance his point, Pope asked a Tokyo-based Associated Press journalist "if Aoki was threatening the heroic stature of Sadaharu Oh, who is working on his billionth or so home run."
The Associated Press reporter shot down that notion as methodically as Isao Aoki flicked his wrist while putting.
"No!" Pope quoted him as saying.
In a 2017 interview, Aoki, who serves as the Japan Golf Tour Organization chairman, commented on his fierce competitive spirit.
''One successful putt can change your life,'' Aoki told interliteracy.com. "Then again, a failed putt can change your life, too. When you're frustrated by failure, do you shrug your shoulders and give up, or do you practice until you can put the ball in the hole every time? Nowadays you hear young athletes in post-game interviews say that they had a lot of fun even when they lose. But our generation would have never said something like that. We were full of frustration and would tell ourselves that we would never lose to anyone ever again. That's why I'd always squeeze the winner's hand as hard as I could. Other golfers my age like Masashi Ozaki and Teruo Sugihara were the same way. We were all hellbent on winning."
Author: Ed Odeven
Follow Ed on JAPAN Forward's [Japan Sports Notebook] here on Sundays, in [Odds and Evens] here during the week, and Twitter @itsjapanforward.