[JAPAN SPORTS NOTEBOOK] MLB Impasse, COVID-19 Pandemic Raise Doubts about 2020 Season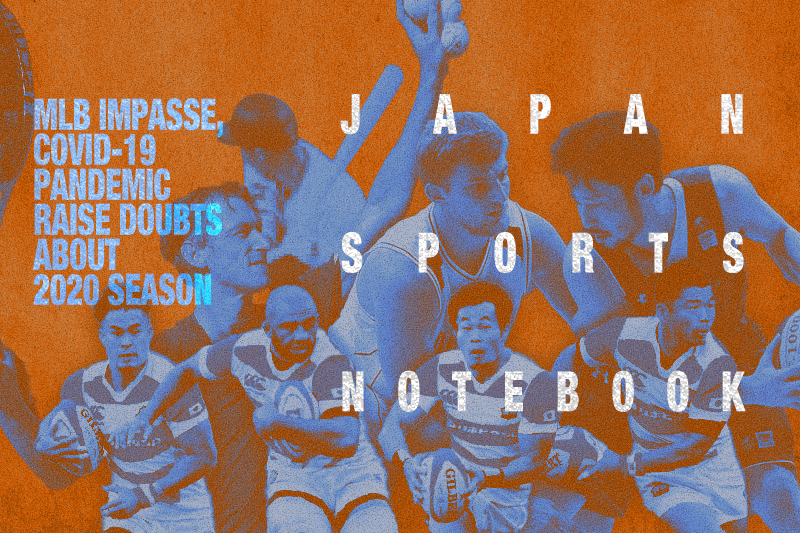 (Feature Photo: Baseball: the 2020 Nippon pro baseball season has started.)
The clock is ticking.
MLB owners and the Major League Baseball Players Association are engaged in an acrimonious exchange of ideas over finances and scheduling plans for an abbreviated 2020 season.
No 2020 season remains a possibility. Thus, the nine Japanese players currently on MLB rosters might not step on the field again for a real game until 2021.
The COVID-19 pandemic has exposed friction between the sides over labor-related issues, especially the billions of dollars at stake.
New proposals — a 60-game season (by the owners) and 70 (by the players) — emerged in recent days. Previous proposals for a 76-, 82- and 89-game season didn't produce an agreement.
The owners rejected the latest MLBPA offer, union executive director Tony Clark confirmed on Friday.
"MLB has informed the Association that it will not respond to our last proposal and will not play more than 60 games," Clark said in a statement. "Our Executive Board will convene in the near future to determine next steps. Importantly, players remain committed to getting back to work as soon as possible." The executive board was set to meet on Saturday, but the meeting was postponed.
In short, another week has passed without a deal in place.
Clark met with MLB Commissioner Rob Manfred on Tuesday at The Westin Kierland Resort & Spa in Scottsdale, Arizona, for nearly five hours, but no agreement was hammered out.
Manfred called it a "jointly developed framework that we agreed could form the basis of an agreement."
The MLBPA issued a tweet to point out that "reports of an agreement are false."
The players are seeking 43% of their prorated salaries (a grand total of $1.73 billion USD) along with 70 games. The MLBPA also wants a 16-team playoff plan this year, an increase of six teams. This, of course, would increase playoff revenue due to expanded TV coverage.
The owners are calling for a 37% salary payout of the original $4 billion allocated for player salaries for 2020.
"We want to play. We want to reach an agreement," Manfred insisted. "We're committed to doing whatever is necessary to find a way to play, hopefully by agreement."
Manfred also criticized Clark's plan.
"I told him 70 games was simply impossible given the calendar and the public health situation, and he went ahead and made that proposal anyway," Manfred said, according to published reports.
View from Japan
Baseball fans in Japan and elsewhere, of course, aren't interested in a war of words. They want to hear an emphatic "play ball!" shouted at ballparks across North America, even if the season isn't a normal 162-game schedule.
Among the Japanese contingent in the majors, Chicago Cubs hurler Yu Darvish has the longest tenure there. He joined the Texas Rangers in 2012.
Fan favorite Masahiro Tanaka has pitched for the New York Yankees since 2014.
Noting that the shortened NPB season began on Friday in his homeland, Tanaka tweeted: "Professional baseball starts from today. What will happen to the major leagues?"
Veteran right-hander Kenta Maeda, who donned a Los Angeles Dodgers uniform for four years, moved to the Minnesota Twins in the offseason. Southpaw starter Yusei Kikuchi is waiting to begin his second season with the Seattle Mariners. Reliever Yoshihisa Hirano signed a one-year deal with the Mariners in January after two seasons with the Arizona Diamondbacks.
Designated hitter/pitcher Shohei Ohtani, meanwhile, is in limbo after having a solid season at DH (.286 batting average and 18 home runs) a year after undergoing Tommy John surgery. During the baseball hiatus, the popular Los Angeles Angels player has put in plenty of time in the weight room, as seen on this video , where he deadlifts almost 500 pounds (about 227 kg).
MLB newcomers this year include Tampa Bay Rays outfielder Yoshitomo Tsutsugo, formerly of the Yokohama BayStars, Cincinnati Reds outfielder Shogo Akiyama, who left the Saitama Seibu Lions, and Toronto Blue Jays pitcher Shun Yamaguchi, who last toed the mound for the Yomiuri Giants. Yamaguchi led the NPB's Central League in strikeouts (188) last season and went 15-4 with a 2.91 ERA. (RELATED STORY at JAPAN SPORTS NOTEBOOK] MLB Rookie Shogo Akiyama Prepares for Season Despite Unknown)
Tsutsugo bashed the Rays' first homer of spring training, a two-run blast, on February 24, which now seems like light years ago.
Manfred still has the ultimate authority. He has the power to force players to show up for work. He could impose a 48-game season, as agreed upon on March 26.
Spring training, which was suspended on March 12 due to the COVID-19 outbreak, could begin again on June 26. July 19 is the target date to start the regular season.
The MLBPA's target date to end the regular season is Sept. 30.
Dr. Anthony Fauci, the National Institute of Allergy and Infectious Diseases director, has recommended that the league shouldn't end the season in the late fall, citing forecasts for a second wave of COVID-19 cases.
MLB's return plan would begin with games played behind closed doors.
But even with a deal in place, the COVID-19 pandemic could force MLB to scrap its plans. On Friday, MLB said it would shutter all 30 teams' spring training facilities in Florida and Arizona for sanitizing after a COVID-19 outbreak at the Philadelphia Phillies camp in Clearwater, Florida, where five players and three team personnel tested positive for the virus.
Rugby
Fukuoka Shifts Focus to Future in Medicine
At a time when genuine appreciation for health care workers is on the rise due to the COVID-19 pandemic, Kenki Fukuoka is focused on his future.
Instead of preparing to play for Japan's rugby sevens national team at the Tokyo Olympics, the Panasonic Wild Knights player is busy studying for his medical school entrance exam. He wants to become a doctor. He has extra time to study because the Japan Rugby Top League season was canceled.
On Sunday, Fukuoka said he has left the rugby sevens squad. Previously, the 28-year-old had planned to play for Japan in the Olympics.
"I have been able to accept this kind of fate," Fukuoka said, according to Kyodo News. "My greatest desire is to live a life without regret. For me, I can see this decision as the cleanest way to do it.
"I can take the time I would spend at training camp and put it toward studying and preparing for my next career."
He added: "Health care will always be needed, regardless of whatever changes take place in the world," he said. "Yet, I feel my desire to be needed in that capacity has only grown stronger."
Fukuoka competed for the Brave Blossoms at the 2019 Rugby World Cup, scoring four tries.
Basketball
Brex Leader Tabuse Returning in 2020-21 Season
Now-retired stars Takehiko Orimo and J.R. Sakuragi of the Levanga Hokkaido and SeaHorses Mikawa, respectively, played their final B. League games in March. (RELATED COVERAGE: Odds and Evens] Celebrating Hoop Legend Takehiko Orimo's Career, 50th Birthday and Basketball | 'Mr. SeaHorses' Sakuragi Retires at 43)
On the other hand, Utsunomiya Brex veteran point guard Yuta Tabuse, a fan favorite, isn't ready to step away.
Tabuse, who turns 40 on Oct. 5, is returning to the Brex for the 2020-21 campaign, it was announced on Wednesday.
The former Phoenix Suns player joined the Brex in 2008, four years after he became the first Japanese to appear in an NBA game.
New Bench Boss in Ibaraki
The Ibaraki Robots, a B. League second-division club, have hired Richard Glesmann as their new head coach.
Glesmann, 42, spent the past three seasons leading the Ehime Orange Vikings, another B2 club. The American compiled a 90-77 overall record at Ehime, including 24-23 this past season.
The Robots finished with a 26-21 record last season.
Before guiding the Orange Vikings, Glesmann was an assistant coach for NCAA Division I school Duquesne University for five years (2012-17).
Now, he's ready for a fresh start in Ibaraki.
"I am extremely excited and humbled to become the next head coach of the Ibaraki Robots," Glesmann said. "The Robots are a first-class organization with proven leadership and support. On the court, our boosters can anticipate an up-tempo brand of basketball. Through a positive culture our players will be inspired toward making the entire Ibaraki community proud. My family is very excited to relocate to Mito and meet the wonderful people of Ibaraki."
Tennis
Rakuten Japan Open Canceled
The 2020 Rakuten Japan Open was canceled on Thursday due to fears of a second wave of COVID-19 cases.
Novak Djokovic won the singles title at the ATP Tour event last October.
"Given concerns about a second wave of the infection both in Japan and overseas, we came to the anguished conclusion that we had to cancel," tournament organizers said in a statement.
This year's tournament was scheduled to be held from Oct. 5-11 at Ariake Colosseum in Tokyo.
Horse Racing
JRA Chief Criticizes Australian Betting Exchange
Japan Racing Association President and CEO Masayuki Goto took exception to Betfair.au's policy of letting people wager on horses to lose here.
The JRA had issued a threat to the betting exchange to bar broadcast feeds of its races to Australia and, possibly, keep Japanese horses from competing in Austria, casino.org reported.
As a result, Betfair.au broke ties with the JRA.
This week, the JRA website posted a letter from Goto discussing the issue.
"From a viewpoint of horse racing as a sport, it is necessary to determine the summit," Goto wrote. "That is why the winner, and not the loser, should be praised. It does not mean that the losers are miserable. This is because without losers there would be no winner and no competition. Competition encourages improvement. In terms of betting, it may be possible to (play) horses to lose, which is the majority, but it does not make sense from a sporting perspective."
For full details see Casino.org's post on this issue.
Editor's note: Interested in submitting a news item for possible inclusion in the Japan Sports Notebook? Send an email with relevant information to odevened@gmail.com, or JAPAN Forward's comment's page or Facebook page and look for future editions of Japan Sports Notebook on our website.
Author: Ed Odeven
Follow Ed on JAPAN Forward's [Japan Sports Notebook] here on Sundays, in [Odds and Evens] here during the week, and Twitter @itsjapanforward.