Hana Kimura, Professional Wrestler, 1997-2020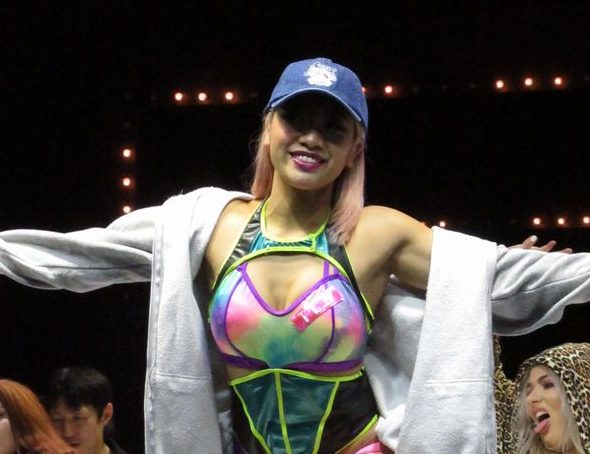 Professional wrestler Hana Kimura, who also starred on the popular Netflix reality TV program "Terrace House Tokyo 2019-2020," has died of an apparent suicide at her home in Tokyo. Kimura was 22.
Her death was confirmed on Saturday by women's wrestling circuit World Wonder Ring Stardom, also known as Stardom.
"Stardom fans, We are very sorry to report that our Hana Kimura has passed away," World Wonder Ring Stardom said in a statement. "Please be respectful and allow some time for things to process, and keep your thoughts and prayers with her family and friends. We appreciate your support during this difficult time."
Kimura became the target of scores of nasty tweets on a daily basis.
On Friday, Kimura posted a photo on Instagram of her and her cat and a single word, "sayonara" (goodbye).
Preceding the ominous Instagram post, were a series of tweets earlier in the day, including some with images that indicated self-harm. She tweeted, "I don't want to be a human anymore. It was a life I wanted to be loved. Thank you everyone, I love you. Bye."
In earlier tweets, she wrote: "Nearly 100 frank opinions every day. I couldn't deny they hurt me. 'Die,' 'you are disgusting,' 'you should disappear.' I believed these things about myself more than they did."
And this: "Thank you, Mother, for the gift of life. My whole life I wanted to be loved. Thank you to everyone who supported me. I love you all. I'm sorry for being weak."
According to wrestlingdata.com, Kimura's most recent match occurred on March 24 at Korakuen Hall in Tokyo in the Stardom Cinderella Tournament. Kimura vs. Mayu Iwatani was declared a no contest after 7 minutes, 65 seconds. The website reported that Kimura, whose moniker was "Sexy and Dangerous," fought in 308 matches.
Sixteen days earlier, Kimura and Jungle Kyona teamed up to beat Giulia and Maika at the 13:10 mark of a Stardom No People Gate match at the same venue.
Kimura, who was born on Sept. 3, 1997, in Yokohama, competed in Wrestle-1 from 2016-19 after training, then joined Stardom. She received a pair of Artist of Stardom championships and a Goddess of Stardom title.
In 2016, she captured her first JWP Junior Championship title. In 2017, she garnered the Best Tag Team Award with Kagetsu.
Her acting career also included appearances on "Tokyo Talk Show" (2017) and "Lost Decade" (2020).
The 165-cm (5-foot-5), 58-kg (128-pound) wrestler received Stardom's 2019 Fighting Spirit Award. Her mother, Kyoko Kimura, a star in her own right, also wrestled professionally, and they competed with and against one another in one-on-one duels and tag-team matches. Her stepfather, Isao Kobayashi, was a former wrestler and mixed martial arts fighter.
As a 7-year-old, Kimura wrestled in the DDT Ironman Heavymetalweight Championship in Tokyo, providing a glimpse into what her life would become years later.
Pro Wrestling Illustrated, an American magazine, ranked Kimura No. 60 in its top 100 female wrestlers list in the world for 2018, then put her at No. 61 in 2019.
Journalist Dave Meltzer of the Wrestling Observer Newsletter tweeted this on Saturday: "Hana Kimura just passed away. There are no other details at the moment but this is a death that can be blamed on the cruelty of social media and it's a subject that really needs addressing."
One person reacted to Meltzer's tweet by writing the following reply: "I understand I'm contradicting myself by using this platform. But social media is the worst thing to happen to this generation. The amount of trolls who have nothing good to say, ruining people's lives. Now another person is lost because of social media bullying. Disgusting. RIP."
Fellow wrestling journalist Adam Pacitti took to Twitter to voice his wish that Kimura's death will serve as a bold reminder of the dangers of social media.
"I hope this serves as a reminder that interactions on social media can have a serious effect on the mental health of anyone, no matter who they are," Pacitti wrote.
Moving Tribute
Ronda Rousey, a former Raw Women's champion, also paid tribute to Kimura over the weekend.
Rousey posted a tribute to Hana Kimura, the 22-year-old Japanese star who was found dead yesterday after a suspected suicide stemming from cyber bullying.
"To Hana Kimura and her family, I am so incredibly sorry for your loss. .. There are no words that could possibly heal this wound… Rest In Peace Hana Kimura," Rousey said in a written post via social media.
Rousey added: "Cyber bullying is a very real and growing threat to us all as a society. Succumbing isn't weakness, it's human. We have evolved to feel as if our lives depend on social acceptance because the majority of human history our survival has depended on our social groups and standing within them."
Additional Reactions
Countless people mourned Kimura's death on social media and demanded an end to cyberbullying.
Retired wrestler Mick Foley tweeted, "Hana Kimura was 22. Please let that sink in...22. She had her whole life in front of her. Online bullying should not be part of life. It damn sure should not be part of death. Hana Kimura was 22. #RIPHanaKimura."
Among countless other tweets, here are a few that really resonated:
https://twitter.com/sabrinaaxoxo2/status/1264511805058985985
https://twitter.com/NoelleFoley/status/1264290134511497216
Cultaholic Wrestling, meanwhile, announced it is organizing a fundraiser for Mind Charity, a United Kingdom-based organization, saying it would donate all proceeds from the weekend's All Elite Wrestling Double Or Nothing event to the charity.
Videos of Kimura's Wrestling Career
See footage of Hana Kimura's promising wrestling career here. There are other links offering good footage of her career, including these two, here and here.
Author: Ed Odeven