[JAPAN SPORTS NOTEBOOK] Almond Eye Obliterates Competition in Victoria Mile, Ties G1 Turf Record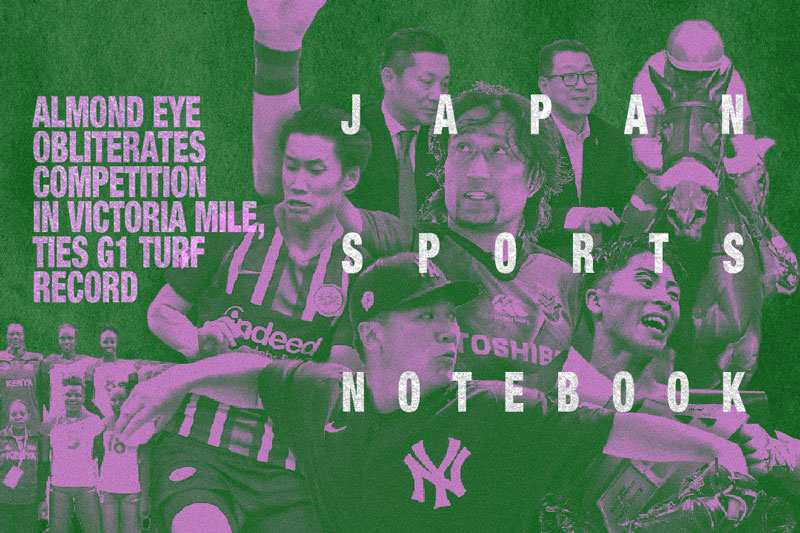 French jockey Christophe Lemaire rode Almond Eye to an impressive victory in the 15th Victoria Mile last Sunday at Tokyo Racecourse.
The 5-year-old mare collected her seventh career Grade 1 triumph on turf in 1 minute, 30.6 seconds. Runner-up Sound Chiara, ridden by Kohei Matsuyama, finished four lengths back in 1:31.3.
Trainer Sakae Kunieda's winning team received ¥108,822,000 JPY (about 1.013 million USD) for its successful efforts.
Sunday's triumph put Almond Eye, the huge favorite, in elite company, joining a sextet with seven turf G1 titles apiece: Symboli Rudolf, T.M. Opera O, Deep Impact, Vodka, Gentildonna, and Kitasan Black.
Racenet.com.au described the winning performance this way: "The mare loomed ominously over her opposition at the 400m (400-meter marker) before smoothly cruising to the line without any pressure from Lemaire."
What's more, Almond Eye's headline-grabbing gallop, which commenced with the 3:40 p.m. post time, was 0.1 seconds off the course record.
Videos posted on social media capture Almond Eye's explosive speed to close the race. Such as the one at this link.
"I think she's matured well, as she was relaxed from the paddock to the start of the race," Lemaire said of the 2018 Japan Horse of the Year after the race. "I was able to position her in good position behind Sound Chiara and race her in her own rhythm without getting any pressure from the outside. She felt good during the race and displayed her powerful strides at the end. She's a legend horse and will surely win more G1 races going forward."
In March, Almond Eye was ready to race in the Dubai Turf, but the event was called off because of the COVID-19 pandemic. Almond Eye won the 2019 Dubai Turf.
Almond Eye's fame skyrocketed in 2018 when she won the Japanese fillies' Triple Crown, becoming the fifth filly to do so. The most recent? Gentildonna in 2012.
Victories in the Oka Sho on April 8 and Yushun Himba (Japanese Oaks) on May 20 set the tone. Then, on October 14, Almond Eye and Lemaire completed the difficult feat for 3-year-old fillies at Kyoto Racecourse, in the 2,000-meter Shuka Sho.
In 12 career starts, Almond Eye has posted nine victories. She had been idle since placing ninth at the 2,500-meter Arima Kinen, another G1 race, in December at Nakayama Racecourse.
Further Almond Eye details can be found here.
Sunday, May 24's showcase equine event is the 81st running of the Japanese Oaks at Tokyo Racecourse. Daring Tact will attempt to become the first undefeated horse to win the race since Miss Onward in 1957. The 3-year-old has won all three of her career starts.
RUGBY
Ono Hangs Up Shoes at Age 42
Former Japan rugby national team lock Hitoshi Ono, 42, is retiring from the sport, the Japan Rugby Top League's Toshiba Brave Lupus announced on Monday.
The Fukushima Prefecture native, who has played for Toshiba for 19 years, has more international caps (98) than any other Brave Blossoms player.
Ono participated in the 2007, 2011 and 2015 Rugby World Cups.
He competed for the last time for the national team in a June 2016 test match versus Scotland.
The Top League season was canceled in March due to the coronavirus outbreak.
BOXING
One of the World's Best Fighters
Naoya Inoue is listed No. 3 on The Ring Magazine's latest pound-for-pound rankings. The list, which was posted online in March, rates boxers for all weight classes. Due to the COVID-19 pandemic and the sport's inactivity, ranking updates haven't happened in recent weeks.
The IBA and WBA bantamweight champion (19-0, 16 knockouts) previously captured world titles at 108 and 115 pounds. Inoue turned 27 on April 10.
Ukrainian lightweight Vasily Lomachenko (14-1) is No. 2, while The Ring's No. 1 pound-for-pound pugilist is Mexican middleweight Canelo Alvarez (53-1-2).
Meanwhile, John Riel Casimero's handlers have proposed July 25 for a bantamweight title unification bout with Inoue in Las Vegas. The Filipino (29-4, 20 KOs) holds the WBO title belt. (Additional details here.)
Their April 25 fight was called off due to the coronavirus outbreak.
Here's a recent exclusive interview with Inoue: INTERVIEW | Naoya Inoue Pursues the 'American Dream' to Make Boxing Popular in Japan
SOCCER
Disappointing Results for Japanese Players
The German Bundesliga returned after weeks of inactivity on May 16 without fans in the stands, and Borussia Monchengladbach handed Eintracht Frankurt a 3-1 defeat.
Frankfurt's Daichi Kamada started the match and left the pitch in the 78th minute. Veteran teammate Makoto Hasebe came on as a substitute in the 74th minute.
On Monday, Bayer Leverkusen, the fifth-place club, walloped next-to-last Werder Bremen 4-1. Birthday boy Yuya Osako, who turned 30 on the same day, didn't score in the loss.
VOLLEYBALL
Japan's Long Ties with Kenya
Shota Katagiri, an assistant coach for the Kenya women's volleyball national team, is the latest in a line of Japanese to work for the East African nation's national program in recent decades. A relationship was established in 1979, when a Japanese coach began working in Kenya, and that planted the seeds for future involvement.
The Japan International Cooperation Agency has sent members of its Japan Overseas Cooperation Volunteers to Kenya as volleyball coaches on an annual basis since 1992, according to this report on the JICA website.
As a result, Katagiri, a Yamagata Prefecture native, became the 15th Japanese to serve as a coach for the Kenya Volleyball Federation, whose women's squad, the Malkia Strikers, qualified for the 2020 Tokyo Olympics.
Read more on Katagiri's coaching experiences in this related story: Remote Training During COVID-19: Japanese Coach Instructs Kenya Women's National Volleyball Team
BASKETBALL
League Chairman to Retire
Masaaki Okawa, who has served as B. League chairman since the league's inception in 2016, is stepping down from his leadership post.
The league's Board of Governors meeting is scheduled for Tuesday to discuss the matter.
Okawa turns 62 on May 31, and a change at the top would mark a generational shift in leadership for the fledgling league.
Shinji Shimada, the well-respected, 49-year-old chief executive of the Chiba Jets Funabashi, will be named the next chairman. Shimada worked under Okawa as the league's vice chairman since 2017.
New Head Coaches in Niigata, Yokohama
Former Yokohama B-Corsairs bench boss Shogo Fukuda, who previously served as an assistant coach for Yokohama, the Shimane Susanoo Magic and Sendai 89ers, is the Niigata Albirex BB's new head coach. The hiring announcement was made on Tuesday.
Fukuda, 36, replaces Kazuhiro Shoji, who served as bench boss the past four seasons. Niigata went 13-28 this season.
Kyle Milling is Fukuda's successor in Yokohama. The 45-year-old American's most recent coaching post: leading the France ProA circuit's Limoges CSP Elite from 2017-19.
BASEBALL
Lofty Praise for Tanaka
New York Yankees pitcher Gerrit Cole, whose new $324 million USD, nine-year contract is the richest in MLB history, is impressed with teammate Masahiro Tanaka's sustained success in the Big Apple.
"He's been the quintessential professional here in New York for his entire stay," Cole told reporters this spring, according to the New York Post. "He's dealt with a lot of challenges coming from Japan in the middle of his career to a completely different side of the world. There's probably some perspective to be gained there."
Since 2014, Tanaka has compiled a 75-43 won-loss record for the Bronx Bombers.
Editor's note: Interested in submitting a news item for possible inclusion in the Japan Sports Notebook? Send an email with relevant information to odevened@gmail.com, or JAPAN Forward's comment's page or Facebook page and look for future editions of Japan Sports Notebook on our website.
Author: Ed Odeven