'Healthy Soul Food' Hokkaido's Soup Curry Creates a Frenzy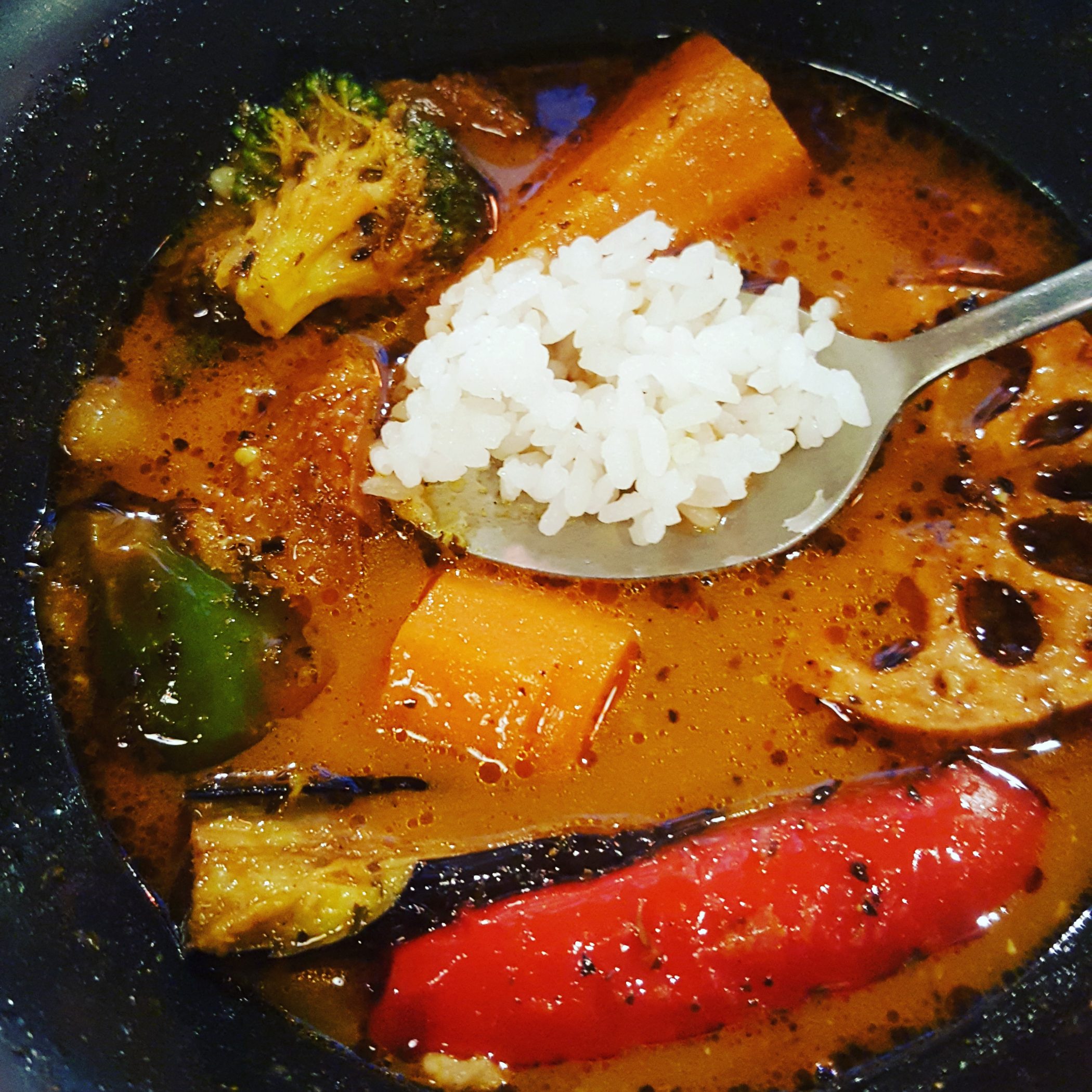 Soup curry is a Hokkaido favorite. But reports that Japan's new Prime Minister Yoshihide Suga lost 14 kilo by eating "a morning soup curry diet" has residents and aficionados in this northern part of Japan scratching their heads.
"This is surprising," says Genta Shimizu, the owner of "Soul Store" in Tanukikoji, in the centre of Sapporo, while he stands behind the counter of his soup curry shop.
Reports that Japan's new Prime Minister Yoshihide Suga has lost 14 kilo thanks to a "morning soup curry diet" have not fully reached Japan's soup curry capital, Sapporo. Shimizu is not sure what to make of it. He is also not sure about soup curry for breakfast. "In Hokkaido, we don't eat soup curry in the morning," he remarks.
"I did not know!" says the waiter at Suage 3, slightly startled. The soup curry shop already has four outlets in Sapporo, and is regarded as a classic and reliable destination for soup curry fans.
"But one thing is for sure, soup curry is healthy," he says.
"Suga likes sweets", observes Naoto Onose, who runs Rakkyo, a soup curry shop inside Sapporo station. "Surely, soup curry will help you lose weight".
Others wonder about the logistics. "Where does Suga get his soup curry from in Tokyo"? Surely, he is not cooking it himself," asks Hirohito, a university lecturer in Sapporo. "There are soup curry shops in the capital, but not really in Nagatacho, where Suga is presently living".
His girlfriend Nanaho chimes in: "Maybe his wife cooks soup curry for him every day and takes it to him from their house in Yokohama?" "But in the morning? Well, in Hokkaido nobody eats soup curry for breakfast!"
The Home of Soup Curry
Sapporo is the birthplace of soup curry. Despite its slightly off-putting name, soup curry is a delicious culinary invention.
Its origins are shrouded in mystery. Legend has it that, sometime in the 1970s, Ajantaーan Indian restaurant in Sapporoーserved a chicken broth cooked with spices according to traditional Chinese medicine. It turned out to be popular. The shop also served Indian curry dishes. Somehow, the two things got mixed together into one dish.
Years later, another shop called "Magic Spice", coined the name soup curry for the fusion food. From there the dish evolved into a myriad of different styles. Sapporo now has about 200 soup curry shops and counting. Each shop has its own take on soup curry.
Summer or Winter, it's Soul Food
What is soup curry?
Soup curry has a liquid, soup-like base — usually a chicken bone stock or a pork bone stock. Then the base is flavored by adding ingredients like onions, tomato paste, squid ink, bacon, carrots, bonito flakes, kelp, milk and many kinds of different pot herbs and spices.
Every shop has its own secret recipe. Added to the soup are meat, eggs and vegetables. The type of meat used varies from chicken to pork, beef or lamb. The vegetables depend a bit on the season, but potatoes, carrots, pumpkins, mushrooms, eggplants, green peppers and lotus roots are common throughout the year.
While the Indian inspired Japanese curry uses a rich, roux-thickened sauce, soup curry uses a light, liquid base. It is a highly customizable dish. Guests can choose the spice level, the amount of rice and soup, the soup base and also the toppings that range from agemochi (fried mochi rice cakes) to quails egg and fried burdock roots.
Soup curry is a soul food. It is warming during Hokkaido´s cold winter season and refreshing in summer. The natural sweetness of the vegetables complements the rich spices for a taste sensation. The soft pieces of meat such as chicken, pork belly or lamb add another dimension to the flavor of the soup.
Soup Curry Yellow uses pork and chicken bone and pot herbs that are cooked for hours, and then blended with a seafood broth and 13 different spices to create a beautiful, yellow soup color.
Okushiba Shoten soup curry located in a residential area in Maruyama (Sapporo) is revered for its ebi (shrimp) based soup.
Piccante, near Hokkaido University, is famous for its spiciness, as the shop uses real habanero peppers. Spice level 4 out of 100 already creates watery eyes and a runny nose. Piccante's signature soup curry dish is the crispy chicken and vegetables. There is also grilled garlic soft lamb, a stewed Hokkaido beef, and in autumn a maitake mushroom dish.
Over time, new varieties have been drawing in new customers. Suage's braised lavender pork soup curry and its shabu shabu dish that uses thinly sliced beef, are very popular and very tasty.
Rakkyo has a very cute version where the rice comes in the shape of the island of Hokkaido. In autumn the shop serves a seasonal sweet potato soup curry, and there is also a soup curry served with puff pastry on top that looks a bit like Paul Bocuse´s legendary truffle soup.
There is little doubt that soup curry is the perfect fusion food.
At Soul Store, a popular dish is soup curry with chicken dumplings and fried burdock roots. Only 15 servings are made per day to keep it special. Shimizu, the owner, is also a great vegetable fan. Soup curry, he says, is a dish that unites people.
"There is no typical customer. Everyone is eating soup curry, students, old people, rich and poor". Now, it seems, Shimizu can also count Japan's prime minister in.
Author: Agnes Tandler, Reporting from Sapporo