[Hidden Wonders of Japan] Kyoto Shop Helps Fight Epidemic with Cute Omens on Paper Fans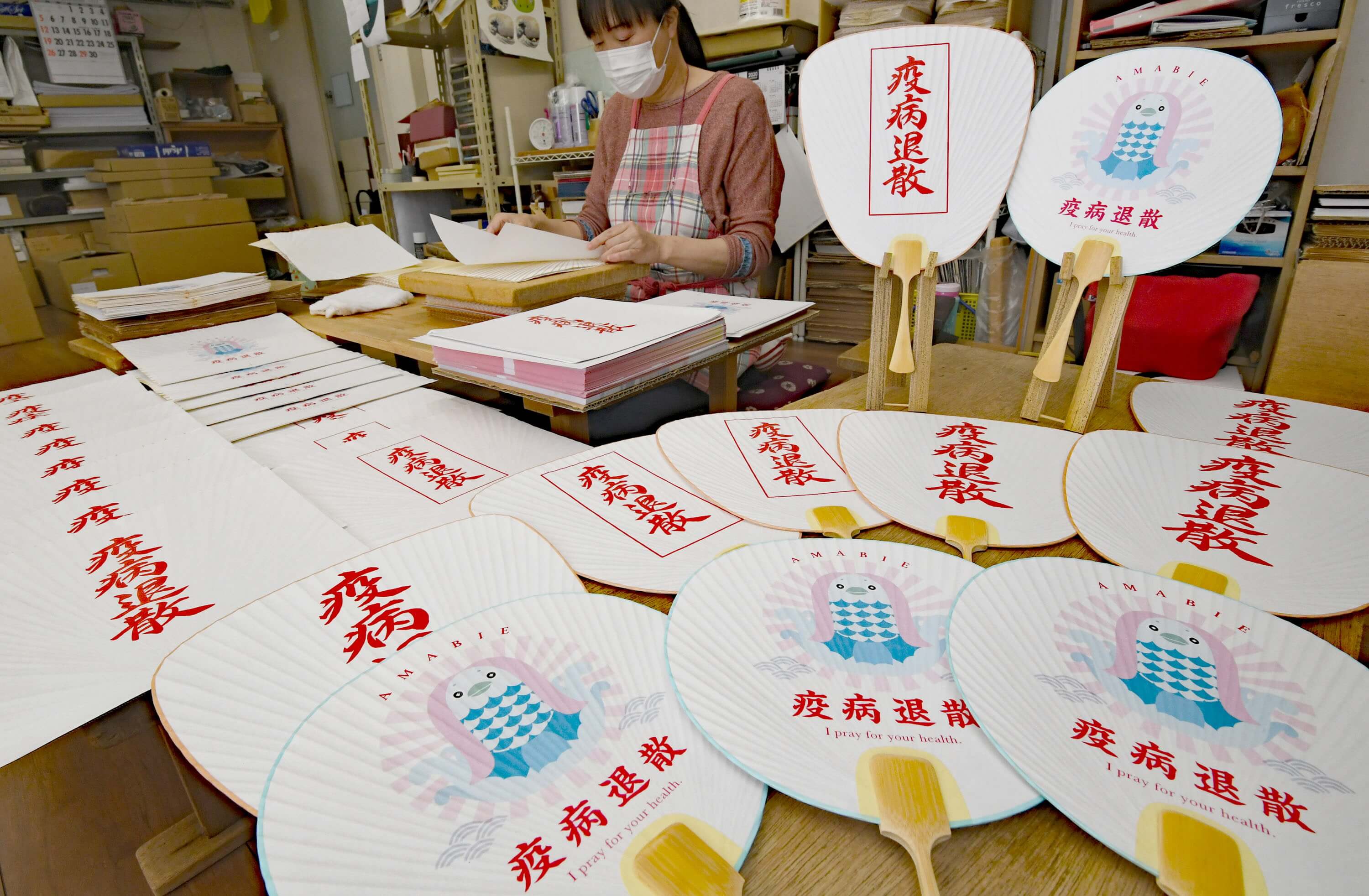 In a time of COVID-19, when many feel helpless towards the invisible enemy, it can be tempting to just throw caution to the winds. Sometimes we become a little superstitious.
It's fortuitous that in Japan, there is a folklore character specifically associated with fighting epidemics: Amabie.
A sea monster which looks like it could be part mermaid, allegedly Amabie can be traced back to 19th century folklore drawings of a monster, or yokai, that predicted there would be 6 years of good harvests, and one year of disease.
The motif has since resurfaced in these epidemic fear-filled times. Indeed, now Amabie is being used in illustrations, manga, and ーwhat do you knowーeven paper fans, which is where our story begins.
There is a little shop in Kyoto, Kyo Uchiwa", which sells traditional fans made out of bamboo and paper (uchiwa). This establishment is finding new ways of staying in business, using the latest Amabie trend.
Uchiwa are frequently used extensively in festivals and traditional folk celebrations for the practical reason of fanning away the stifling summer heat. But they are also used as a folk decoration, tucked into the back of the obi belt of a summer kimono.
However, with the recent COVID-19 measures, many of the signature festivals that Japan is most famous for have been cancelled. Among them are the Kyoto Gion Matsuri, and Nebuta Festival in Aomori. This development significantly impacts niche businesses, such as Kyo Uchiwa.
Not everyone will allow themselves to be beaten by the virus however. Presented with such an extraordinary situation, the owner of this shop in Kyoto began to wonder, "Is there anything that we can do?"
An idea struck, and since the beginning of the month the shop started producing Amabie themed uchiwa, aiming to lift the mood of people in the time of this pandemic.
There are three variations of the epidemic-fighting character. All are crafted by hand out of bamboo and washi paper, decorated with a pastel colored design of Amabie, as well as the writing "疫病退散" and "I pray for your health" in large red characters in Japanese and English.
Company director Yoshikatsu Akita (57) commented, "It's a situation where we can't see the way out. In this uncertainty I hope that the uchiwa can at least help a little with the health of everyone."
What is your hidden wonder of Japan? Upload your photo here.
(Click here to read a related article in Japanese.)
Author: JAPAN Forward