[Hidden Wonders of Japan] Meiji Shrine Centennial Comes Alive with Dance and Fireworks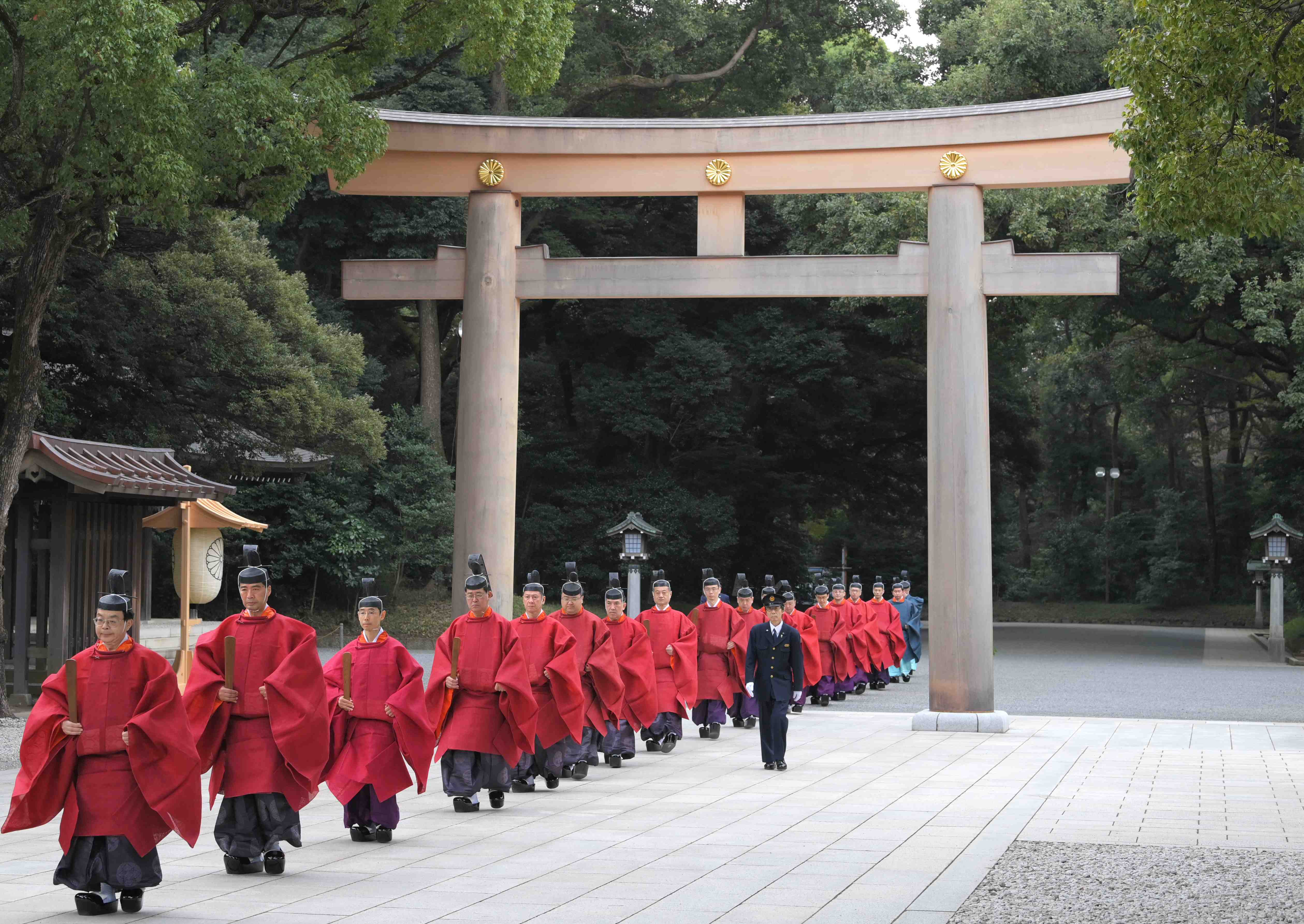 November 1, 1920
Meji Shrine celebrates it's 100th Year in November 2020
November 1, 2020
November 1, 2020
The popular Meiji Shrine (Meiji Jingu) celebrated its centennial on November 1 as its inner precinct filled with pomp, circumstance, and plenty of festivities. The shrine, situated in Tokyo's popular Shibuya ward, is dedicated to the Emperor Meiji and Empress Shoken. At night, fireworks were lit in both the inner and outer precincts to mark the milestone.
Four hundred participants took part in the festival, which began at 10 a.m. His Majesty the Emperor presented an offering to the deities, while the shrine's priest, Seitaro Nakajima, recited a liturgy that included a prayer for an end to the coronavirus pandemic.
Emperor Naruhito
Empress Masako
Emperor Emeritus Akihito
Empress Emeritus Michiko
Princesses Kako and Mako
Crown Prince Akishino and Princess Kiko
After an elegant performance of the Japanese ceremonial azuma asobi dance, a new kagura dance called tokoshie no mai was performed for the first time at the festival by four shrine maidens, or miko, holding flowers. The piece was choreographed based on a written work by the Emperor Meiji. Participants worshipped by offering tamagushi, branches of a sacred tree used in Shinto rituals.



A commemorative fireworks display was launched at 7:30 p.m. from the back of the main Meiji Shrine, to the cheers of visitors who had come for the special night worship. Fireworks were also launched from the rubber turf baseball ground in the Shrine's outer precinct.
The Meiji Shrine was consecrated on November 1, 1920. Emperor Naruhito and Empress Masako came to pay their respects on October 28, just before the shrine's centennial anniversary. It was their first visit since the Emperor's enthronement. Emperor Emeritus Akihito and Empress Emeritus Michiko, as well as Crown Prince Akishino, Princess Kiko, and their daughters paid their respects on the same day.
The centennial festival was held until November 4.



What is your hidden wonder of Japan? Upload your picture here.
(Click here to read the related article in Japanese)
Author: The Sankei Shimbun