INTERVIEW | Governor Yuriko Koike Promotes Prosperous Metropolis Beyond Tokyo Olympics and Paralympics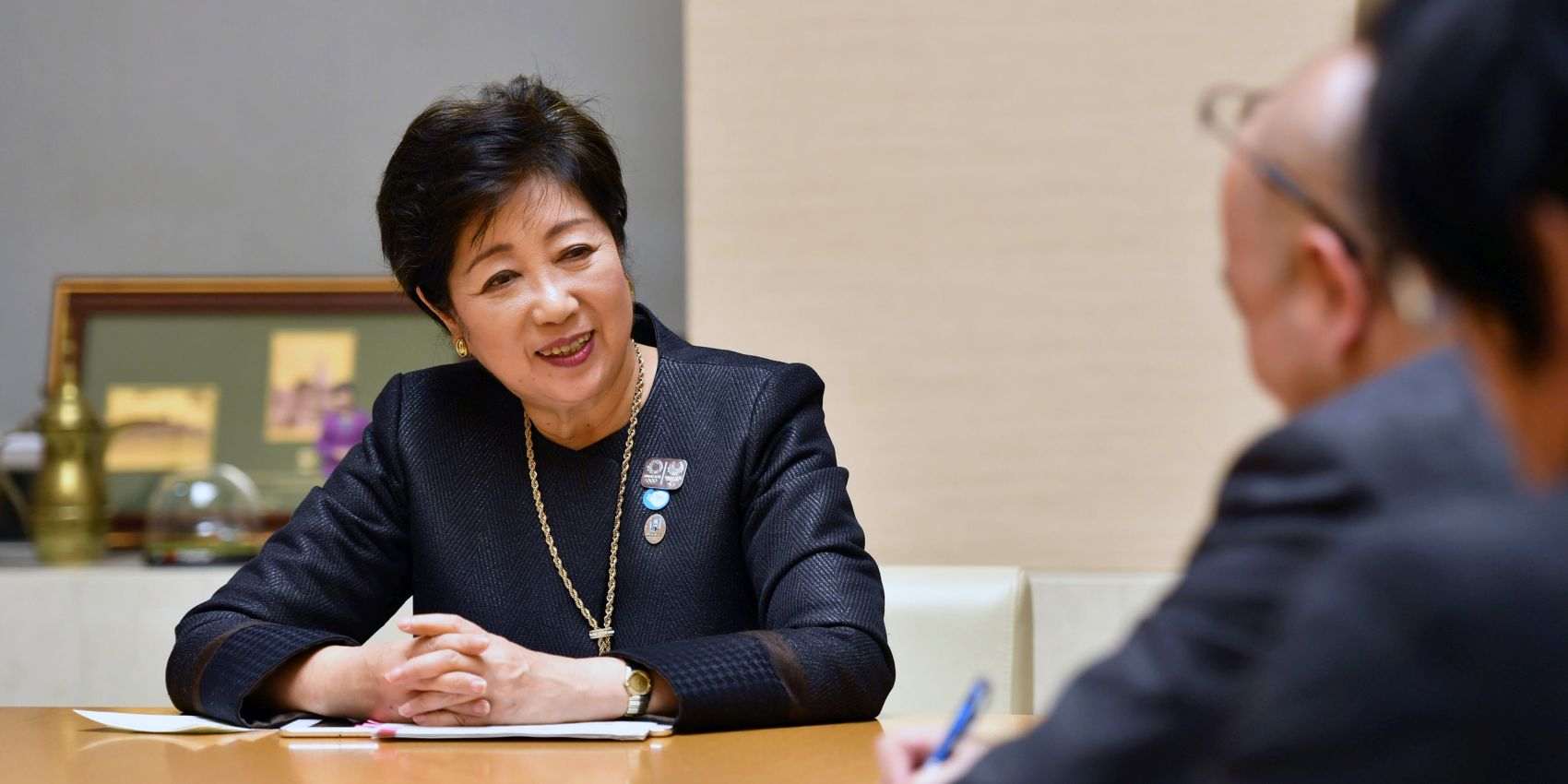 Governor Yuriko Koike is set on her plans for a prosperous Tokyo leading up to and beyond the 2020 Tokyo Olympic and Paralympic Games.
In an exclusive interview with The Sankei Shimbun City News Editor Katsushi Nakamura in late December 2018, the Tokyo governor explained the policies she would promote in 2019. These include staggered commuting times and telecommuting for Tokyo workers.
She will also hold discussions with the national government on infrastructure improvements in the metropolitan area, aimed at securing Tokyo's prosperity even after the Olympics.
Here are excerpts from the interview.
As the New Year begins, it is only one year until the 2020 Tokyo Olympic and Paralympic Games. The Rugby World Cup is coming up as well. How do you plan to display Tokyo's charms?
The Tokyo Games will most definitely be a showcase for Tokyo. ICT (information and communications technology), multilingualization, and AI (artificial intelligence) will become the legacies of 2020.
The 2012 London Games are considered a model case because tourists continued to increase, and the economy continued to grow, even after the Olympics were over.
While we might consider Tokyo Tower or Tokyo Sky Tree to be the icons of the city, foreigners think of the Shibuya Scramble crossing — a place we take for granted. I think that 2020 will give Japanese people a chance to rediscover their own country.
Are measures against the fierce heat going to be a key for the Tokyo Games?
This past summer we ran some tests to see what would work against the heat. We found heat-blocking pavement insulation to be effective — but it's very expensive. When it comes to mist-spraying, nano-particle-sized mists don't get you wet — but they are also expensive.
Surprisingly, the most impressive approaches are low-tech, like fans, parasols, and hats. Sprinkling water from hoses, like those used in farming — that's cheap. High-tech options will serve as show windows. I think low-tech solutions will become the fashion and the message. Scheduling events early in the day is also a major point.
What about the transportation plan, which has also attracted attention?
We launched the 2020 TDM (Transportation Demand Management) Project to devise ways to utilize public transportation for events that start early in the morning and manage traffic volume during the games.
There's also what we're calling "Jisa Biz," which is staggered commuting hours, and we're encouraging telecommuting. Rather than going to offices in the city, people would be encouraged to work at home or in other available spaces during the games. We will promote a combination of such measures, in cooperation with the companies.
While bearing the costs of the Tokyo Games, the capital city is facing decreasing revenue due to tax reform. Is more money from the national government needed?
Metropolitan Tokyo will continue on long after the Tokyo Games are over. We will tighten our budgets and economize as necessary.
Meanwhile, there's a lot of opportunity for investment. Consultative bodies for discussions between the national government and capital city have been created because we must work together. For instance, there's enhancements to Haneda Airport, upgrades to the Tokyo Outer Ring Road, as well as the railway lines. Collaboration with the national government is necessary for these works and we're looking at them as opportunities to expand Tokyo's earning power.
The recent tax system reform was based on the aspiration of maintaining stability in a shrinking economy. From the viewpoint of government administration, I can only say it's unfortunate. Tokyo will engage the national government in negotiations so that we can continue to prosper into the future.
Japan's system for local taxation is in need of drastic revision and we will cooperate with other local governments that share our ambitions.
What do you plan to work on in the New Year?
I want to focus more on metropolitan parks and do some thorough reorganization. With the recent revisions of the Metropolitan Parks Act, I'd like to transform our parks into more interactive and fun places. We're calling this "Revolutionizing Tokyo's Metropolitan Parks." We want to speed up and upgrade the reforms, including promoting the utilization of private sector funds and know-how in park management.
(Click here to read the interview article in Japanese.)
Author: Katsushi Nakamura