[Hidden Wonders of Japan] There's an Apple-shaped Boulder Off the Coast of Nagasaki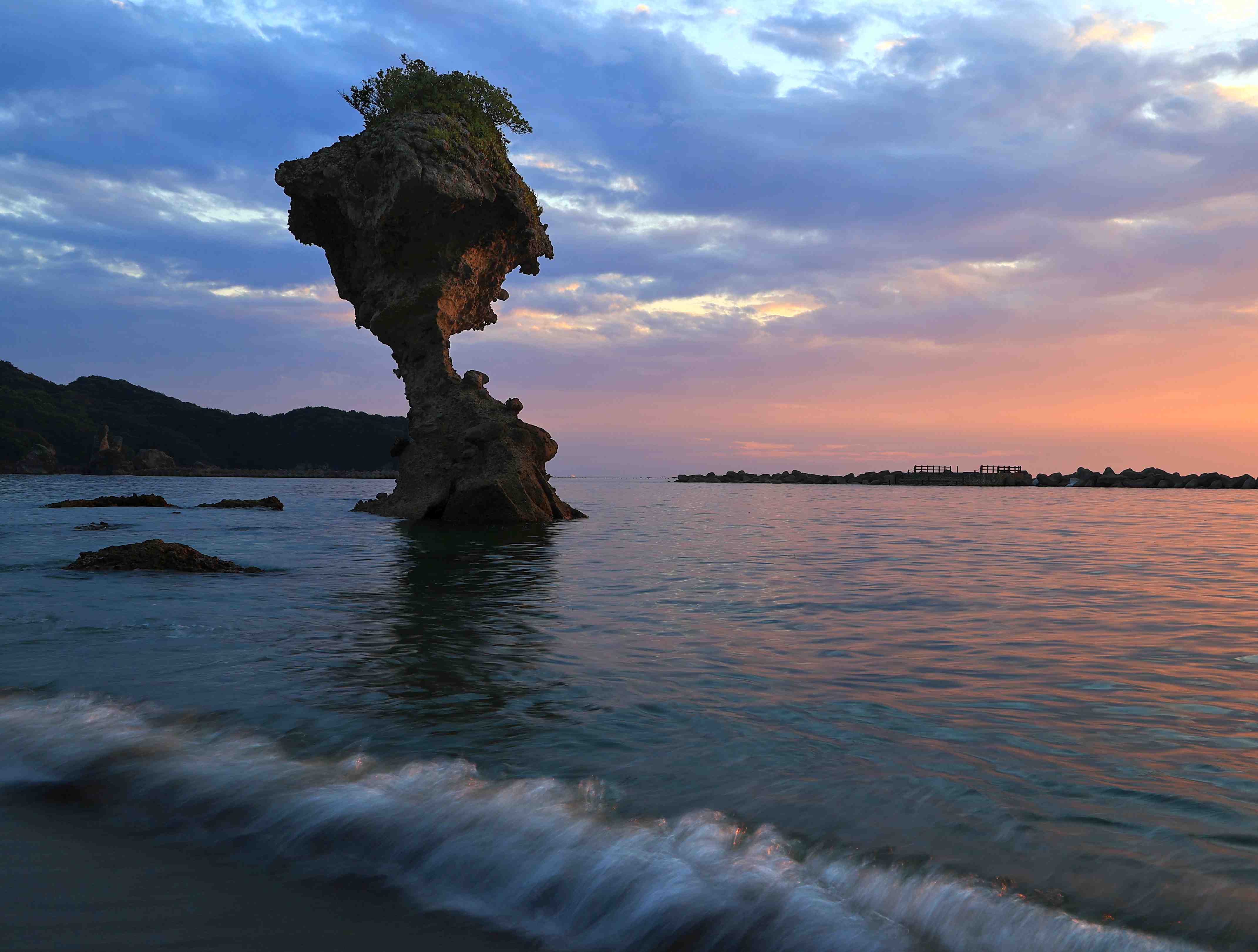 It might sound strange, but picture this.
A boulder the shape of an apple with a big bite taken out of it stands in stark contrast against the sunset sky off the coastline. Depending on the angle from which you're looking, the equilibrium point looks so precarious, as if the "apple" might just fall down.
There is such a boulder ー just 30 minutes by car from the city of Nagasaki. At Kakidomari Shirahama, a beach located in Kakidomari-machi, Nagasaki Prefecture, one can witness this strange natural formation lying in the sea. Recently, the term "apple rock" has been trending on SNS.
The boulder is 15 meters high. Waves have eroded the middle section and caused the shape to evolve into what we see today.
The spot used to be a popular beach location, but it was officially closed in 2015 due to a decrease in popularity. Recently, however, the location has gathered renewed favor among the younger generation and local families who come to enjoy the beach and take pictures of the glorious sunsets.
While it is now being called "apple rock," for a while it was called "umbrella rock" by locals, because of its particular shape. A self-employed local in his fifties, Kazuhiro Nishimura reminisced about coming to this same beach when he was young.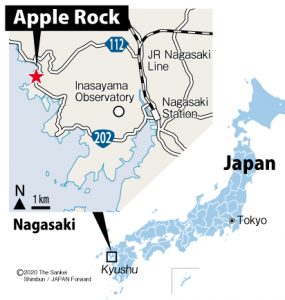 "When I was a child, I would often swim around that rock. It had that shape then as well, and despite what one might think, it still hasn't collapsed. In a way, it's the symbol of Kakidomari-machi, isn't it?" he said.
In fact, a first-time visitor might think the rock is about one inch from falling down. But the past years have not seen a significant change in the weathering of the boulder.
A worker from the municipality of Nagasaki's Fukuda regional center, Hiroki Tahira, 43, pointed out: "Without forcing it, we want to monitor future movements [of the boulder]. The location is a photo spot. We would like it to become an excuse to visit Nagasaki!"
What is your hidden wonder of Japan? Submit your photo here.
Author: Ko Notomi, Sankei Photojournalism Section
(Click here to read the related article in Japanese).