BASEBALL | Remembering Nomomania: Agent Don Nomura Looks Back at Trailblazing Client's Historic Career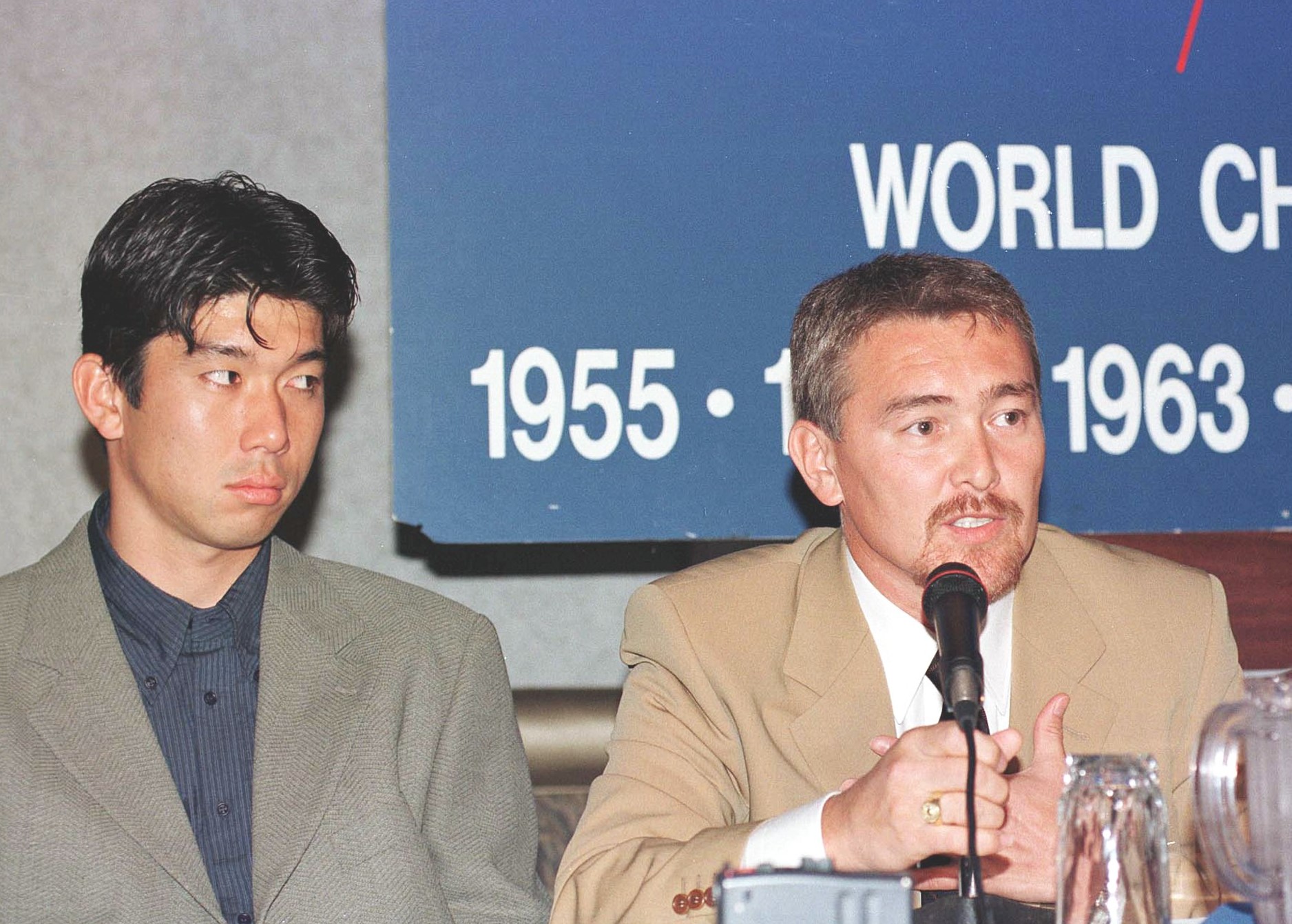 Second in a series
Hideo Nomo possessed a famous stubbornness during his playing days.
There were times when the power of persuasion had no chance with him. It was impossible.
If he made up his mind, you weren't going to change it.
Case in point: When then-Prime Minister Tomiichi Murayama wanted to speak to Nomo on the telephone after he was selected to be the National League starting pitcher for the 1995 All-Star Game on July 11 in Arlington, Texas.
The ESPN "30 for 30" audio documentary The Loophole recounted that tale in 2018. The project retraced Nomo's career from his early days with the Pacific League's Kintetsu Buffaloes, his decision to leave Japan, his move to the Los Angeles Dodgers, Nomomania in the 1995, and his huge influence on the relationship between Major League Baseball and Nippon Professional Baseball.
Before Nomo, there had only been one Japanese player in the majors: a southpaw pitcher named Masanori Murakami. In 1964, the Yamanashi Prefecture native and two teammates were sent by the NPB's Nankai Hawks to the Single-A Fresno Giants of the California League, with the goal of them acquiring experience playing American baseball. Murakami then went on to pitch in 54 games for the San Francisco Giants in 1964-65 before he was pressured to return to the Hawks. In short, NPB teams controlled their players -- it's been described as a feudalistic system -- and no Japanese players after Murakami tried to leave for the majors until Nomo, a dynamic strikeout artist in his prime. Basically, MLB and NPB had no working relations in terms of Japanese players after Murakami's return -- that is, until Nomo.
The documentary refers to Don Nomura as a "renegade agent," and he was. He and Nomo shook up the status quo. And the rest is history.
RELATED STORY: [Odds and Evens] Trailblazer Hideo Nomo 25 Years Later
"The Tornado" was treated like a pariah for leaving the Buffaloes, "retiring" and moving on to the Dodgers. The amount of negative publicity he received in the national media was massive.
By the way, Nomo rejected Murayama's request to speak on the telephone.
And how many other Japanese athletes would've done the same thing?
Zero.
In The Loophole, Nomura described Nomo's rejection of the prime minister this way: "I got a call from the Foreign Ministry and (they) said, 'Our prime minister wants to congratulate Mr. Hideo. Will he be available on the phone?' So I talked to Hideo and he says, 'I don't want to talk to him.' I called the foreign minister back and I said, 'He does not want to talk to the prime minister.' He says, 'Why?' He just don't want to, because when he left Japan, you know, they talked so much (negatively), and now they're, you know, kissing his ass.' "
Instead of a phone call, Murayama reportedly sent him a fax, according to news accounts at the time. The prime minister's message? "We Japanese people are proud of your splendid achievement. Nomo, hang in there!"
The Perfect Storm
Indeed, Nomo possessed a singular mindset and a fierce individualism that helped pave the way for his success on both sides of the Pacific Ocean, first with the Kintetsu Buffaloes and then with the Los Angeles Dodgers before bouncing around and having mixed success for the rest of his career with several MLB teams before retiring in 2008.
In a recent phone interview with JAPAN Forward, Nomura reminisced about Nomo's move to the Dodgers, the pitcher's intense focus on his job during the 1995 season, and much more.
Asked what made the Osaka native the ideal guy to be a trailblazer, Nomura responded by saying, "I think it was just like a perfect storm and things just happened and his way of thinking is not to look back and to move forward. And I think that kind of matched what I was into, and we just moved on. And when you're riding a horse, you kind of don't understand. But as I got off the horse and looked back, I think his character really pushed him to be successful amid all the negative waves hitting at him, and coming through I'm sure it was very tough. But I think that really helped him in a way to turn that negativity into a positive performance."
Did Nomo exceed Nomura's expectations in his first season with the Dodgers, when he went 13-6 and was named National League Rookie of the Year and led the league in strikeouts (236)?
"Well, I think it's above and beyond everybody's imagination," Nomura commented. "I thought he would do OK, and it was a difficult situation for him because there was a (labor) strike (in 1994), a lot of negative media, and he was really in a very tough position coming out. ... I thought it would be a struggle in the beginning, but knowing the O'Malley family (which owned the Dodgers). (Owner) Peter O'Malley really cared for him ... and he wanted Hideo to succeed on the field and off the field. He made sure that (Hideo) was happy with what he was doing, how he was treated, how the environment was for him.
"So those are very important issues that helped him succeed, and then (perform) well above what he'd done or what people expected of him."
As for Nomo's success while relying on a fastball and a forkball en route to 13 wins, "That, I think, was awesome," the agent said.
Nomo's Fame Soared to a New Level
After one of the best individual pitching months in baseball history in June 1995, when he went 6-0 with a sparkling 0.89 ERA and 60 strikeouts in 50 1/3 innings and closed the month with back-to-back shutouts, Nomo earned a once-in-a-lifetime honor: An All-Star Game start at The Ballpark in Arlington, pitching against the Seattle Mariners' menacing ace, Randy Johnson, and it propelled his fame to a new level.
In two scoreless innings, Nomo allowed one hit and fanned three batters, all swinging. An estimated 200 Japanese journalists attended the game, which the NL won, 3-2.
It was a daytime extravaganza in Japan.
"Millions of Japanese tuned in for the game ー aired live starting at 9 a.m. Japan time ー watching at home, in bars, at offices and on billboard-sized screens on buildings," The Associated Press reported. "At a plaza in Tokyo's bustling Shinjuku district, a light drizzle didn't dampen the enthusiasm of fans watching on a giant screen. A collective 'Ooh!' rose when the Los Angeles Dodgers right-hander struck out Cleveland's Kenny Lofton, the first batter he faced."
And SportsCenter anchor Charley Steiner commented on Nomo's skyrocketing fame during one segment on the popular ESPN program.
"About once a decade a pitching phenom makes his mark on Major League Baseball," Steiner told TV viewers. "Now in the '90s it's Nomo whose windup, delivery and finished product is turning heads on both sides of the Pacific."
The game was held on a Tuesday night at the year-old ballpark. All-time strikeout king Nolan Ryan threw out the ceremonial first pitch and served as the American League's honorary captain.
"Being picked to be in this game is beyond my wildest expectations," Nomo was quoted as saying by the Daily Herald, a suburban Chicago newspaper.
Elaborating on that point, he also spoke to reporters in Texas: "When I came from Japan to start spring training camp, I had the same doubts about myself. "But now I know this is the same as Japan, and I feel I'm up to the task."
For NL skipper Felipe Alou of the Montreal Expos, it was a no-brainer to name Nomo his starter after Atlanta Braves star Greg Maddux became unavailable due to an injury.
"Nomo has dominated this league," Alou said. "I can't wait to watch him pitch. It's going to be like when I played with Willie Mays. I played right field, but I spent a lot of time watching him, like a fan."
Nomura traveled to Arlington, Texas, for that historic game. Nomo's wife, Kikuko, and 3-year-old son, Takahiro, sat in the ballpark, too.
"I had a really good time there," Nomura remembered. "But it was really chaotic because it was really the first time the Japanese press were coming to a Major League (Baseball) All-Star Game ... and people were just going nuts. When Hideo pitched, I had goosebumps, but you could see how the press was."
Because of the fans' spirited support for Nomo in that electric atmosphere, Nomura said, "It was a great experience that I had watching him pitch and just being at that stadium at that time."
Nomura was at Dodger Stadium on June 2, 1995, when Nomo collected his first MLB victory by beating the New York Mets. Another big thrill: Attending the April 4, 2001, game at Oriole Park at Camden Yards, where Nomo, who was making his Boston Red Sox debut, tossed his second MLB no-hitter. He watched Nomo's first no-hitter on Sept. 17, 1996, against the Colorado Rockies at Coors Field on TV.
In the Spotlight
Because Nomo was a curiosity throughout his rookie campaign with the Dodgers, in part due to his unconventional path to the majors at that time, Nomura was also a frequent target of interview requests.
For instance, the 63-year-old Nomura recalled that he was often asked about NPB rules in regard to player contracts, and "how I got out of it."
His frequent rejoinders included speaking about "everything from the '67 U.S.-Japan agreement, which nobody understood, and I would explain to them how a Japanese player was oppressed by the reserve clause, and to this day nobody understands it in Japan. But those were my answers to every press that was asking me about how I got Hideo out."
In the years that followed Nomo's breakthrough season, Nomura became a more prominent sports agent, representing other high-profile ballplayers, including Hideki Irabu and Yu Darvish, among others. But he looks back and views it as a slow process that led to the steady influx of Japanese players in MLB.
"It wasn't like one impact of '95 that changed everything, because it certainly made a different path," Nomura told JAPAN Forward. "But I was into trying to help other players in Japan understand and create something to help them understand what contracts were and how they should be treated, and what their rights were."
Legacy of Nomomania
Before the wide-ranging interview wrapped up, Nomura was asked if the meaning of the 1995 MLB season and/or what Nomo accomplished with his assistance, has become more special as the years passed on.
"Yes, I think so," Nomura declared. "It was 25 years ago, but to this day people still talk about it, so it must've been special."
After all, Hideo Nomo fulfilled his mission as a trailblazer while overcoming the immense pressure and the barrage of criticism from Japan directed at him when he left the Buffaloes.
"He did what he was supposed to do in a sense," Don Nomura concluded. "The whole country was against him, the whole media was against him, the whole baseball fan (establishment) was against him, and he really managed to get out of it. And it's just a miracle.
"But I think (Dodgers manager) Tommy Lasorda, Peter O'Malley, (general manager) Fred Claire, a lot of people, even Michael Okumura, who was his interpreter, a lot of people behind the scenes also should receive credit for what Hideo has done on the field and off the field. And his teammates really surrounded him ... he was really supported by everybody."
It was a winning combination and a defining characteristic of Nomomania and the playoff-bound 1995 Dodgers.

FOLLOW THE SERIES HERE:
Part 1: BASEBALL | Revisiting Nomomania: 25 Years Later, Pitching Great Luis Tiant Discusses Hideo Nomo's Similar Style, Fierce Determination
Part 2: BASEBALL | Remembering Nomomania: Agent Don Nomura Looks Back at Trailblazing Client's Historic Career
Part 3: BASEBALL | Nomomania: An Inside Look at How the Dodgers Handled the Media Demands
Part 4: BASEBALL | Nomomania: Former Dodgers Executive Fred Claire Reminisces About 1995 Joyride
Part 5: BASEBALL | Nomomania: Iconic Announcer Vin Scully Delivered Vivid Descriptions of The Tornado's Historic Season
Part 6: BASEBALL | Nomomania: Former Dodgers Owner Peter O'Malley Reflects on Friendship with Trailblazing Pitcher
Part 7: BASEBALL | Nomomania: Former Teammate Tom Candiotti Recalls Pitcher's Sense of Humor, Humility
Part 8: BASEBALL | Nomomania: National Hero Expresses Pride in Japanese Players' Success in MLB

Author: Ed Odeven
Follow Ed on JAPAN Forward's [Japan Sports Notebook] here on Sundays, in [Odds and Evens] here during the week, and Twitter @itsjapanforward.