[Eternal Hokusai] The Enduring Appeal of the 'Great Wave'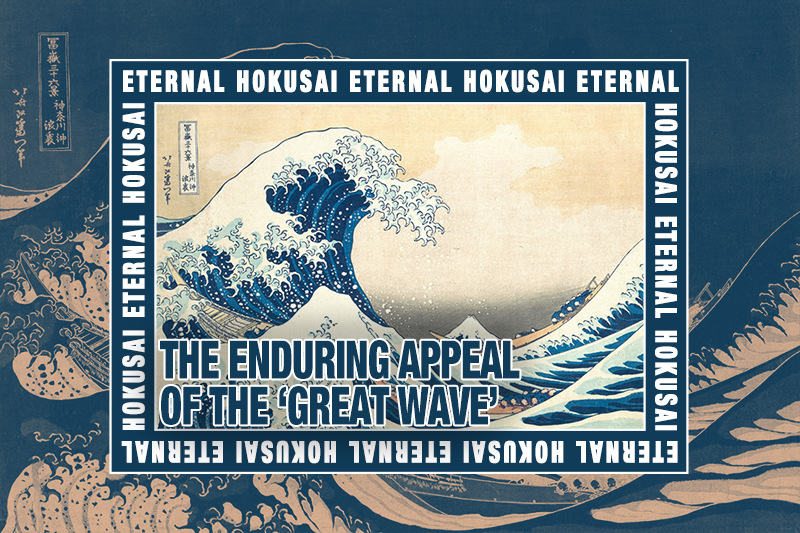 Feature Photo: Katsushika Hokusai, "Under the Wave off Kanagawa" from the series The Thirty-Six Views of Mount Fuji, circa 1830-1832, Metropolitan Museum of Art, New York
Part 1 of a series marking the artist's 260th anniversary
Other parts of the series:
Introduction to a series on one of Japan's artistic icons, Hokusai
Part 2: [Eternal Hokusai] Hokusai's Sense of Design
Part 3: Introducing 'The Great Edo Almanac' Exhibition
A massive wave towers above Mount Fuji and is about to engulf three fishing boats off the coast of Kanagawa. It is a deceptively simple concept, but nearly 200 years after the Great Wave first appeared, the image is more celebrated and recognized than ever.
This is true not just in Japan, where it adorns the new Japanese passport, but worldwide. From t-shirts and coffee cups to a lego version, the Great Wave is now a global phenomenon.
On the occasion of the 260th birth anniversary of Katsushika Hokusai, JAPAN Forward is dedicating a series of articles to the artist of this spellbinding masterpiece. He lived around two centuries ago, but his designs remain as influential today as they were during his own lifetime.
Ever since my first encounter with Hokusai and the accomplished designs from his Thirty-Six Views of Mount Fuji in a local museum, I have been spellbound by his art. I entered a Japanese studies program to learn more about Hokusai and other Japanese artists. After finishing my degree and acquiring enough proficiency in Japanese, I moved to Japan to continue my studies of Japanese art there.
The more I learned about the history of Japanese prints, the more I realized my fascination with Hokusai was nothing strange at all. In his own time, other print designers copied Hokusai's style and ideas. The technology of woodblock printing made his designs affordable for most urban Japanese. Thousands of copies of Hokusai's Great Wave were printed and sold.
Europeans had been impressed with Hokusai's art from the start as well. The German doctor Philipp Franz von Siebold met with Hokusai and bought some of his works in the early 19th century. Some of the works I first saw in my hometown Leiden originated from his collection.
When Japanese ports opened for trade with various Western countries in the mid-19th century, Hokusai's Great Wave started to sweep through Europe.
The pioneering Dutch artist Vincent van Gogh is among the best-known admirers of the Great Wave in Europe. He described the image to his brother in a letter: "The waves are like claws, and the boat is trapped inside, you can just feel it. Hokusai makes you scream."
The Great Wave was not part of Hokusai's collection, but Van Gogh greatly admired it. The image probably influenced one of his greatest works, The Starry Night. Many other key figures in the emergence of European modernism — such as Paul Cézanne, Paul Gauguin, Edgar Degas, and Pablo Picasso — were also captivated and influenced by Hokusai's work.
The Great Wave not only influenced art, but also music. The French composer Claude Debussy kept a framed picture of the Great Wave on his walls. The dynamic sense of motion and rich colors in the Great Wave were of crucial importance for Debussy when he wrote the acclaimed piece "La Mer (The Sea)."
The French composer was notorious for wanting to decide the cover artwork of his records himself. For his first edition of "La Mer (The Sea)," he chose the image that had inspired him so much, although Mount Fuji does not appear on the cover of "La Mer."
Today, the Great Wave can be found in museums all over the world, from Chicago to Milan. Around 200 copies survive, and every once in a while one of them appears in an auction. In 2017, a good version sold for almost $1 million USD, and lesser impressions have gone for around half a million in recent years. This shows how Hokusai's Great Wave is still rising in value after almost 200 years.
In this series for JAPAN Forward, I will reveal the various components that contributed to the development of Hokusai's monumental design. Hokusai was a creative genius, but there were many factors — some internal, some external — that shaped the design of his masterpiece.
Once every few weeks, this series will uncover one of these components that is believed to have contributed to the development and enduring appeal of Hokusai's Great Wave.
READ THE SERIES: [Eternal Hokusai], here.
Author: Frank Witkam
Frank Witkam is an associate fellow in the department of curatorial planning at the Tokyo National Museum, and part-time lecturer of Japanese art history at Rikkyo University.