HORSE RACING | Daring Tact Becomes First Unbeaten Filly Triple Crown Champion in Japan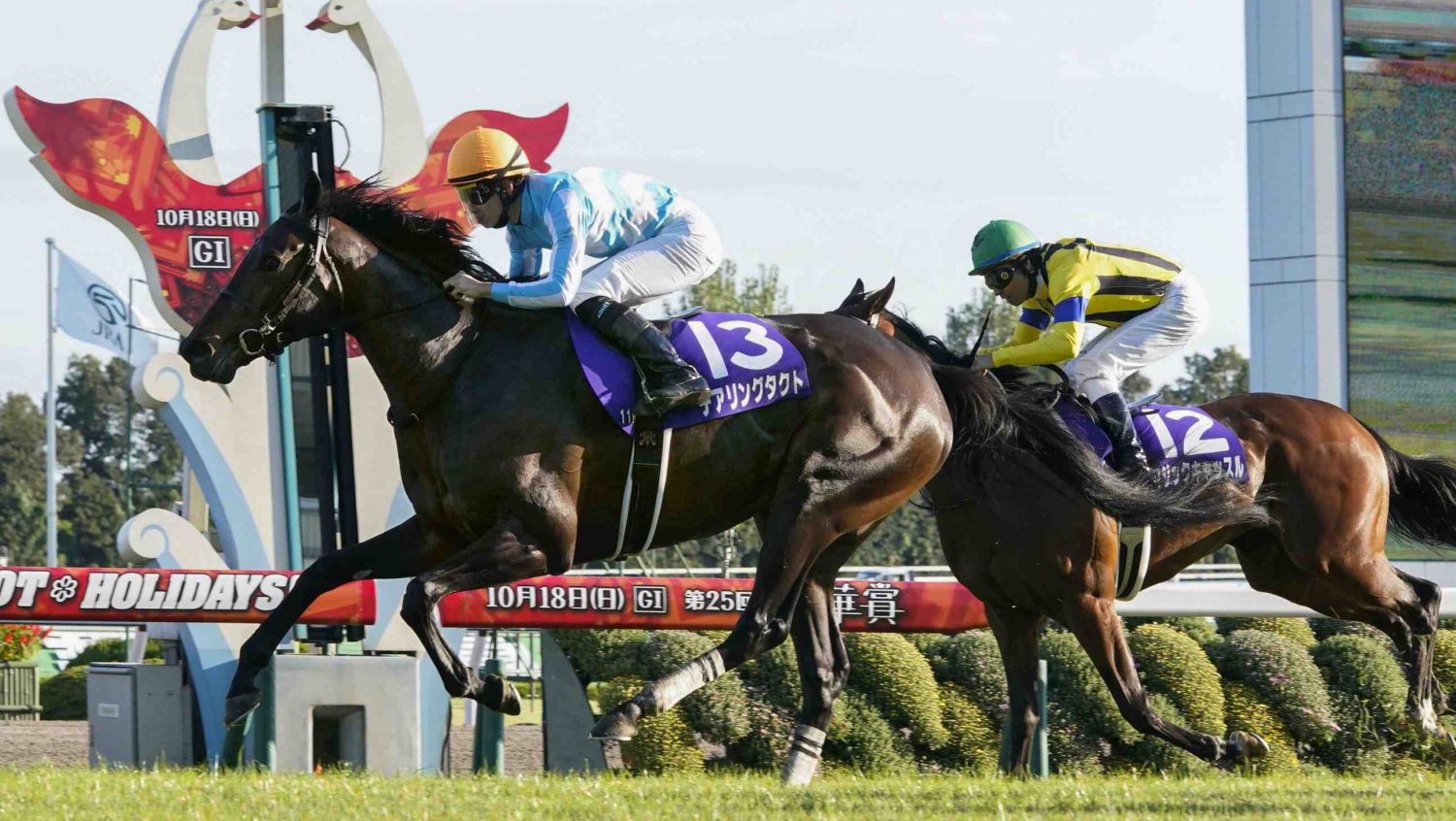 Six horses have won the filly Triple Crown in Japanese racing history, with Daring Tact the latest to accomplish the feat on Sunday, October 18 at Kyoto Racecourse.
Daring Tact's victory in the Shuka Sho, the third leg of the Triple Crown, produced another distinct, too. She became the first unbeaten horse to do so.
In the 2,000-meter Shuka Sho, Kohei Matsuyama rode Daring Tact to a 1¼-length triumph in 2 minutes, 0.6 seconds. Magic Castle was more than a length behind, while Soft Fruit finished third.
It was a methodical victory for the brown filly, who was assigned the 13th stall for the weekend's biggest race. Matsuyama and Daring Tact exhibited patience and impeccable timing.
As the race entered the last stretch, Daring Tact dashed to the outside and finished strong with a burst of speed over the final 200 meters.
"Winning is a relief," Matsuyama was quoted as saying by Kyodo News. "We were able to go with the flow and run a good horse race.
"I approached this race believing my horse was the strongest. Being with this horse has been a blessing."
And what's next for Daring Tact? A likely appearance in the prestigious Japan Cup, a 2,400-meter, Grade 1 race on November 29 at Tokyo Racecourse.
In previous years, Mejiro Ramonu (1986), Still in Love (2003), Apapane (2010), Gentildonna (2012) and Almond Eye (2018) have won the filly Triple Crown.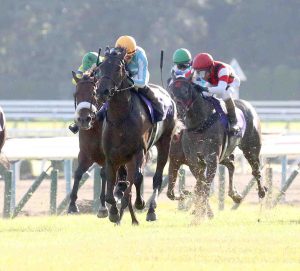 In winning the Shuka Sho, Daring Tact competed in front of a crowd of more than 700 spectators. Due to the COVID-19 pandemic, the Japan Racing Association (JRA) in late February barred spectators from attending races. But on October 10, the JRA announced it would allow smaller crowds at racing venues, making Kyoto Racecourse, which conducted a lottery for the race, not completely empty for the marquee event.
Regardless of who was watching at the venue, Matsuyama had to be aware of his horse's mood before the race.
"The filly seemed a bit nervous at the paddock, but she broke well and we were able to race in good position and in good rhythm," Matsuyama said. "There was some pressure as we were aiming for the first undefeated Triple Crown filly in JRA history, but I'm delighted to be able to accomplish this remarkable feat.
"I want to thank the filly and offer her my congratulations. She has developed into a bold filly and I hope that she will remain undefeated."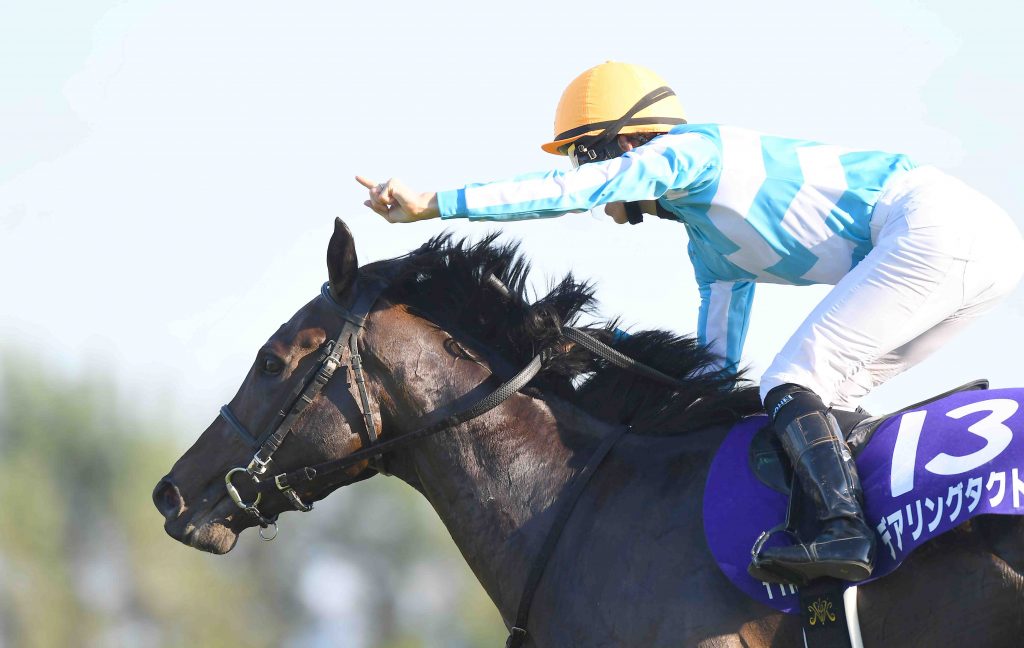 In preparation for Sunday's Triple Crown race, Daring Tact and Matsuyama worked out at Ritto Training Center in Shiga Prefecture on Wednesday, October 14.
Daring Tact, who is trained by Haruki Sugiyama, was clocked at 54.7 seconds over 800 meters in one of her gallops around the track, according to published reports, which pleased Matsuyama.
"She was relaxed. It was an excellent bit of work," Matsuyama stated after the workout. "Her preparation has all gone well and she's ready."
A Look at Daring Tact's Previous Victories
Daring Tact competed for the first time as a 2-year-old on November 16, 2019, and collected her maiden victory in a 1,600-meter (one-mile) race at Kyoto Racecourse.
Then the Normandy Thoroughbred Racing-owned brown filly continued her victory streak in dramatic fashion on February 8 in the 1,600-meter Elfin Stakes at Kyoto Racecourse.
Entering the final stretch of the race, the filly was in 10th place. But a burst of speed carried Daring Tact to the front of the pack. And she won by four lengths.
On April 12, Daring Tact stretched her winning streak to three at the Oka Sho, a 1,600-meter, Grade I race, at Hanshin Racecourse in Takarazuka, Hyogo Prefecture. She outpaced the runner-up, Resistencia, by 1½ lengths.
At the Yushun Himba (also known as the Japanese Oaks) on May 24, Daring Tact impressed again en route to another Grade I triumph, this time at 2,400 meters. Matsuyama guided Daring Tact to victory by half a length over Win Marilyn, and afterward he had this to say:
We were bumped a few times, so I decided to keep her relaxed in a lower position than planned. She instantly kicked into gear once out of traffic in the straight and showed another amazing run down the middle of the lane. Her tremendous burst of speed was extraordinary. It was the first time I rode a favorite [in Grade 1 races] and I admit I felt the pressure, so I'm relieved.
Author: Ed Odeven
Follow Ed on JAPAN Forward's [Japan Sports Notebook] here on Sundays, in [Odds and Evens] here during the week, and Twitter @itsjapanforward.