How Onshore Aquaculture Could Achieve a Reliable Seafood Supply
Onshore aquaculture, where fish are bred in a controlled environment, provides protection from adverse weather, parasites, and other external factors.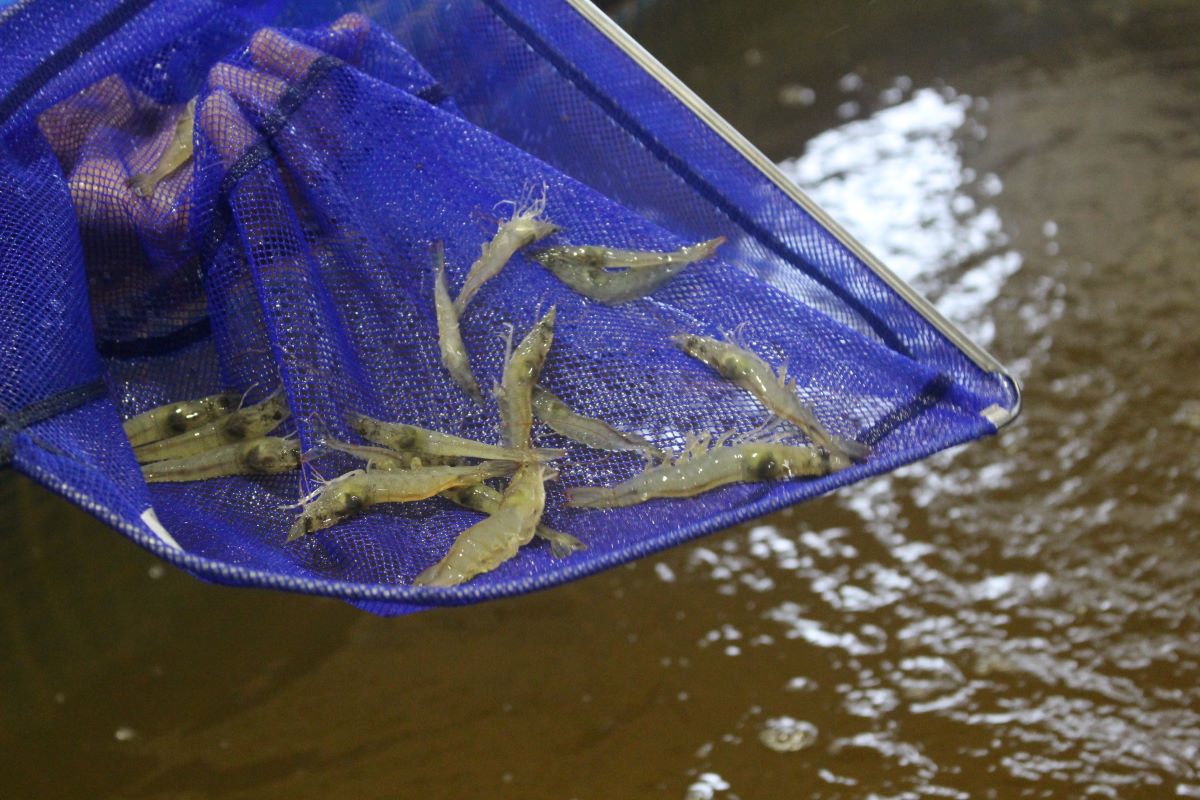 Declining marine resources due to abnormal weather and overfishing is becoming a social issue. As a result, onshore aquaculture, which is less susceptible to external factors such as the natural environment, is attracting attention. An increasing number of businesses across Japan are now involved in this land-based cultivation of aquatic organisms. This state-of-the-art system can ensure a stable supply of fresh fish and also help reduce environmental impact. Therefore, many expect it to be the trump card that will secure seafood supply for Japanese households in the future.
In Koga City in Shiga Prefecture, in the mountains near the Mie Prefecture border, lies the former Municipal Yamauchi Elementary School. The school closed in 2017. Currently, the former school building is being used for onshore aquaculture of various fish and shellfish. These include Biwa trout, an endemic species in Lake Biwa, whiteleg shrimp, and tiger puffer fish. Aquariums have been installed in classrooms and the gymnasium where the fish and shrimp swim.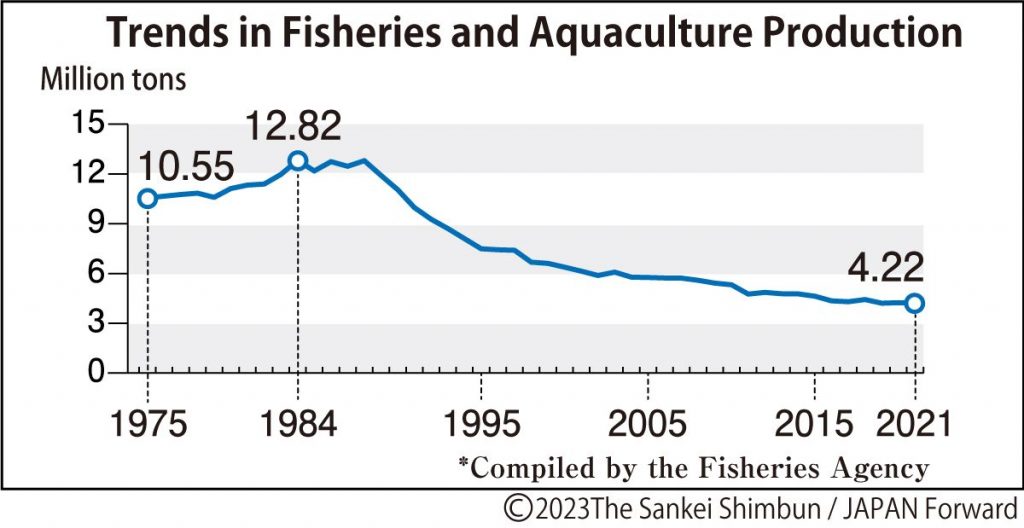 A Secure Environment
Breeding fish in a controlled facility on land has several advantages. Safe within this environment, fish cannot be affected by external factors such as weather, red tide, or parasite infestation. Another factor in the safety of these farms is the absence of chemicals.
Developing this business is Aqua Stage in Kusatsu City, Shiga Prefecture. President Hiroshi Otani spoke about the company's goals: "We hope to market this as a prefectural brand product eventually."
Aqua Stage is focusing its research and development efforts on commercializing whiteleg shrimp. These crustaceans have a short growing period and are in high consumer demand. Restaurant staff who sampled them were positive in their feedback. They approvingly remarked, "There is no odor off them, and they have a good, firm texture."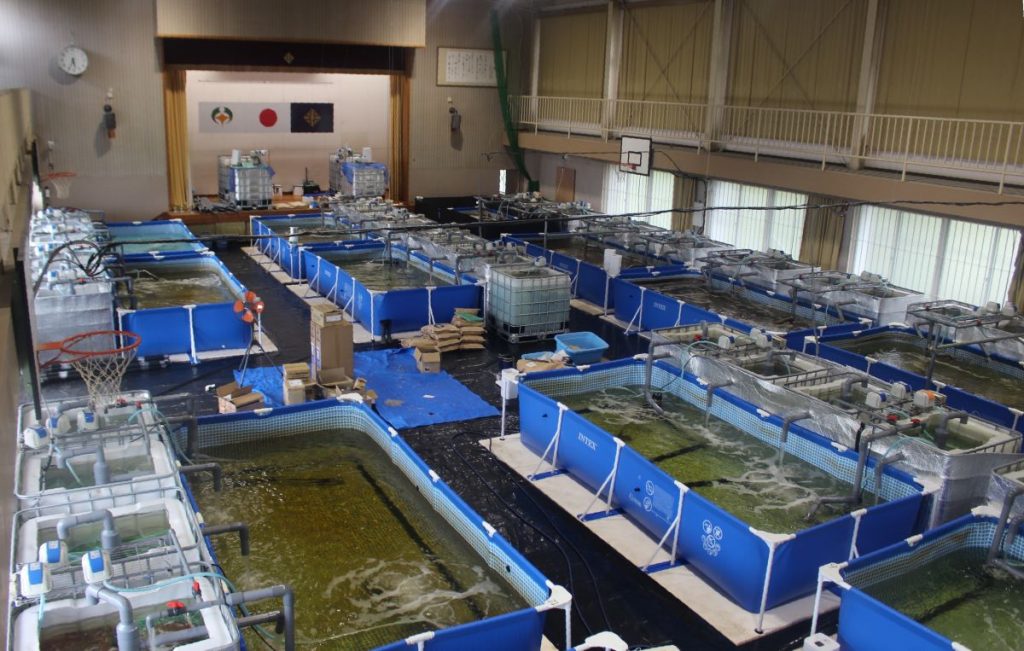 Streamlined with IoT
While the number of onshore aquaculture operators has increased nationwide in recent years, many facilities discharge feed and fish waste directly into rivers. This has given rise to concerns about water pollution.
Aqua Stage has also purified water at such sites as the Aji Pond at World Heritage Byodoin in Uji City, Kyoto Prefecture. Eight years ago, the company began working on onshore aquaculture. Its uniquely developed closed circulation for onshore aquaculture purification system uses bacteria to decompose nitrogen compounds from feed and fish excrement. Water then circulates to flush out these compounds, obviating the need for water changes.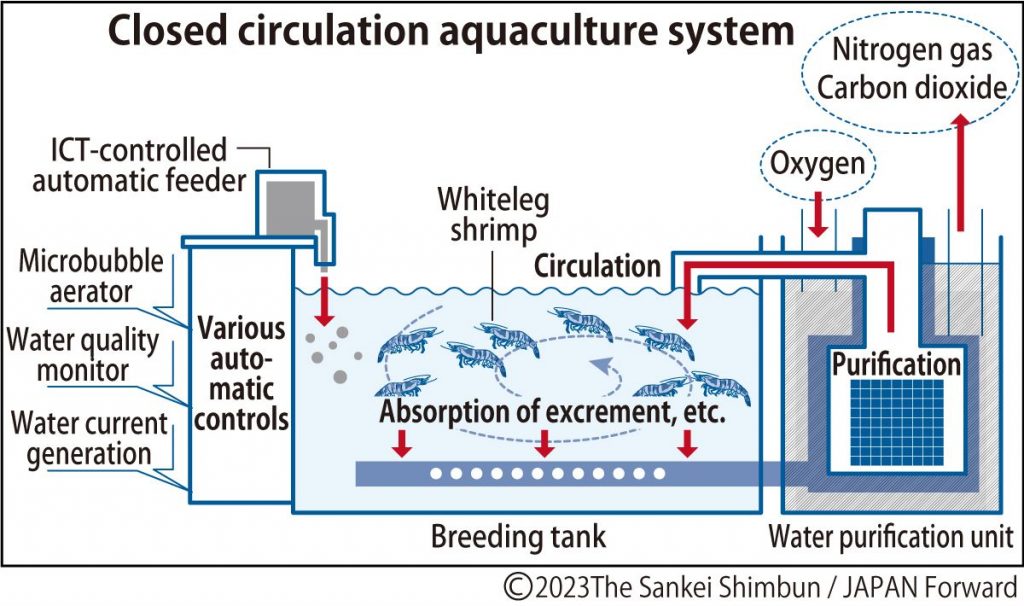 Safe within the confines of this environment, weather conditions, disease, and parasitic infection pose no threat to these fish. This ensures stable, high-quality fish breeding.
Water temperature and oxygen level control in each tank and feeding are electronically controlled 24 hours a day. Through a specially designed application, the aquarium's status and other information can be monitored by phone.
"We streamline production using the Internet of Things (IoT) to the maximum extent possible," President Otani explained. "If we can ask local people to take care of the processing, we can contribute to the local community."
Utilizing Vacant Land
Various companies have recently embarked on onshore aquafarming, each developing its own systems. Aqua Stage has received visits from companies, local government officials, and other interested parties.
In November 2022, Aqua Stage began onshore aquaculture of whiteleg shrimp. The company used a vacant facility in the Urban Renaissance Agency's Shintamon complex in Tarumi Ward, Kobe City. In January 2023, the company also began onshore salmon farming. Aqua Stage selected the former site of Nippon Paper Industries' Kushiro Mill in Kushiro City, Hokkaido, for the project.
In August 2023, Kohnan, a leading home improvement center, began experimentally cultivating whiteleg shrimp using the Aqua Stage system. Kohnan used the parking lot of its vacant Toyonaka Shimae store in Toyonaka City, Osaka Prefecture. Daily tasks are limited to replenishing food and scooping out molted shells. This takes only about 40 minutes, a far cry from conventional aquaculture sites, which were often laborious and dangerous.
A Kohnan representative emphasized that the project "will use vacant land in boosting profitability." Kohnan has already begun negotiations with local restaurants and fishermen and is preparing to develop sales channels. President Otani expressed confidence in his company's ability "to deliver fresh fish while reducing transportation and labor costs." Fish from local facilities may soon be a staple of Japanese dinners all over the country.
30% of Production Volume Peak
Domestic fisheries and aquaculture production has been declining year by year. In 2021, production was approximately 30% of its 1984 peak (12.82 million metric tons).
On the other hand, imported marine product prices are rising across the board. Factors behind this inflation include economic recovery from the pandemic, supply chain disruptions due to the war in Ukraine, and the rapid yen depreciation. As demand for seafood rises globally, Japan must increase its domestic haul in order to compete with other countries.
Aiming to revitalize the fishing industry, the government has established a fish and shellfish resource management system under the 2020 revised Fisheries Law. Its goal is to restore Japan's annual fishing haul to 4.44 million tons by FY2030, the same level as in 2010.
Furthermore, the Cabinet also approved the new Basic Plan for Fisheries in 2022. The three pillars of the plan are:
Steady implementation of resource management
Transformation of fisheries such as aquaculture into a growth industry
Revitalization of fishing communities
A Fisheries Agency official commented on its commitment to these efforts. "We will continue to promote the growth of the fisheries industry and strive for a stable supply of marine products."
Sustainable Development Goal 14: Life Below Water
"Conserve and sustainably use the oceans, seas and marine resources for sustainable development" is the specific language of the goal.
It calls for an end to overfishing, illegal, unreported, and unregulated fishing and destructive fishing practices and implement science-based management plans. As its language suggests, SDG 14 aims for the sustainable use of marine resources, including through sustainable management of fisheries, aquaculture, and tourism.
RELATED:
(Read the article in Japanese.)
Author: Ryosuke Irizawa