Japan's Job Hunting System Poses Challenges to In-Demand Foreign Students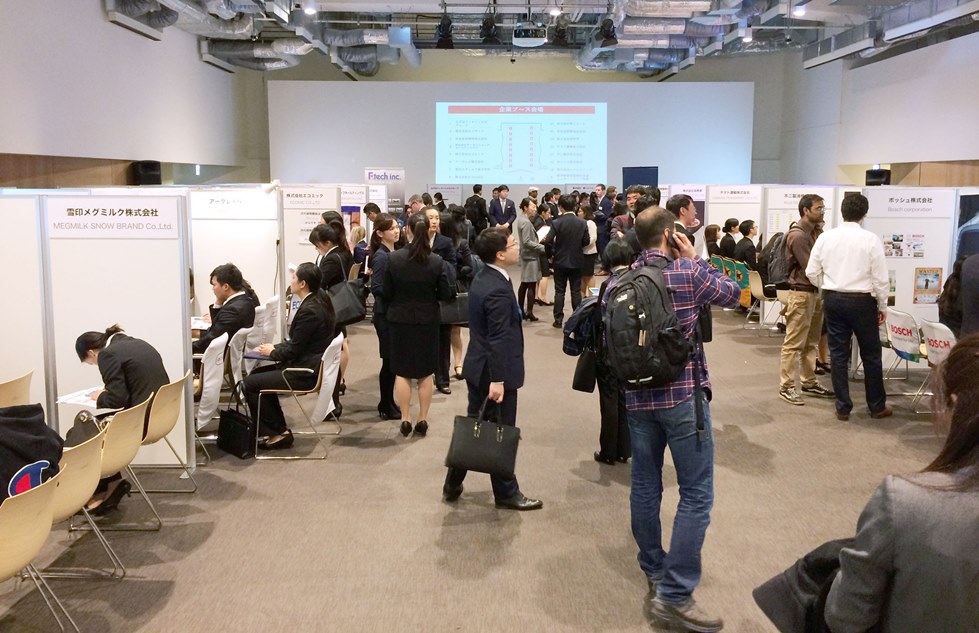 Due to a shortage of workers at home and the need to secure personnel for expansion projects overseas, Japanese corporations are entering into increasingly fierce competition as they recruit outstanding foreign exchange students who have studied at universities in Japan. Looking for new ways to take part in Asian economic growth, corporations scrambling to globalize are reaching out to foreign exchange students in Japan. While there are many foreign students who want to work at technologically-advanced Japanese companies, there are also those who are at a loss as to how to navigate Japan's unique post-college job-hunting regimen.

At a joint corporate information session aimed at foreign exchange students held in downtown Tokyo this month by major staffing corporation Pasona, an HR manager from a large medical device manufacturer said that foreign students are an invaluable asset.
The information session lasted for two days and was attended by representatives from 32 different companies, as well as by approximately 1900 foreign exchange students from throughout the ASEAN (Association of Southeast Asian Nations) region and beyond. It was the first such event for around half of the 32 companies. As the medical device HR manager explained, "Much of our business involves dealing with foreign laws, so we need employees who have a perfect understanding of how to work in a given country's native language." However, as companies now routinely fail to meet their hiring quotas year after year, there are plans to increase the number of job fairs to be held this year targeting foreign exchange students.
Tokyo-based employment-information company Disco carried out a nationwide survey of businesses on the subject of employing foreign exchange students. According to Disco's survey results, the percentage of companies looking to hire foreign students jumped from 48.4 percent in 2014 to 59.8 percent in 2017.
An HR manager for a major financial institution emphasized that it will be impossible to achieve success in the next generation without the diverse values that foreign exchange students bring to the table. Each year, the firm hires several dozen foreign exchange students and sends them to branch offices throughout Japan without making distinctions between the foreign students and Japanese college graduates. After their time at the branch office is done, each employee is assigned a job which fits his or her particular strengths and abilities.
The corporations which stood out at the two-day Pasona-hosted information session were those which appealed to foreign exchange students through generous benefits packages and high retention rates for new hires.
A 21-year-old Chinese student who is now a junior at Bunkyo Gakuin University says that, while her parents want her to come home to find a job in China, she herself feels that Japanese companies provide a greater feeling of stability than Chinese firms, and that she has more trust in Japanese companies. The lifetime employment system is also attractive, she says: "I want to work in Japan."
Most Japanese companies hire new employees in one large cohort as soon as they graduate from college. According to guidelines set forth by the Japan Federation of Economic Organizations ("Keidanren"), corporate information sessions are forbidden before March, and screenings for candidates moving to the interview stage begin in June. Students submit their résumés, take aptitude tests, and then are interviewed. In order to judge whether an applicant is a good fit with the corporate culture and would be suited to take on management roles in the future, Japanese companies put applicants through repeated rounds of interviews and weigh each student's application with extreme care. This is the unique Japanese way of hiring.
However, the Chinese college student undergoing her first job-hunting experience in Japan has doubts. "Is it really necessary to have so many interviews?" she wonders.
Taiwan-born Zhang Hong-yu (28), who graduated in September of 2016 with an MA from Waseda University's graduate school, says, "With overseas companies, one simply registers online and very quickly moves to the interview stage. But Japan is different. The job-hunting season is very long." Even so, Zhang forcefully adds: "I want to rise to the challenge of living and working in a foreign culture. I want to work in the automobile industry in Japan."
(Click here to read the original article in Japanese)