[ICE TIME] Junior Skater Taira Shinohara Poised for Success On and Off the Ice
Inspired by standouts Yuzuru Hanyu, Shoma Uno and others, the teenager strives for greatness in the sport while pursuing ambitious educational goals.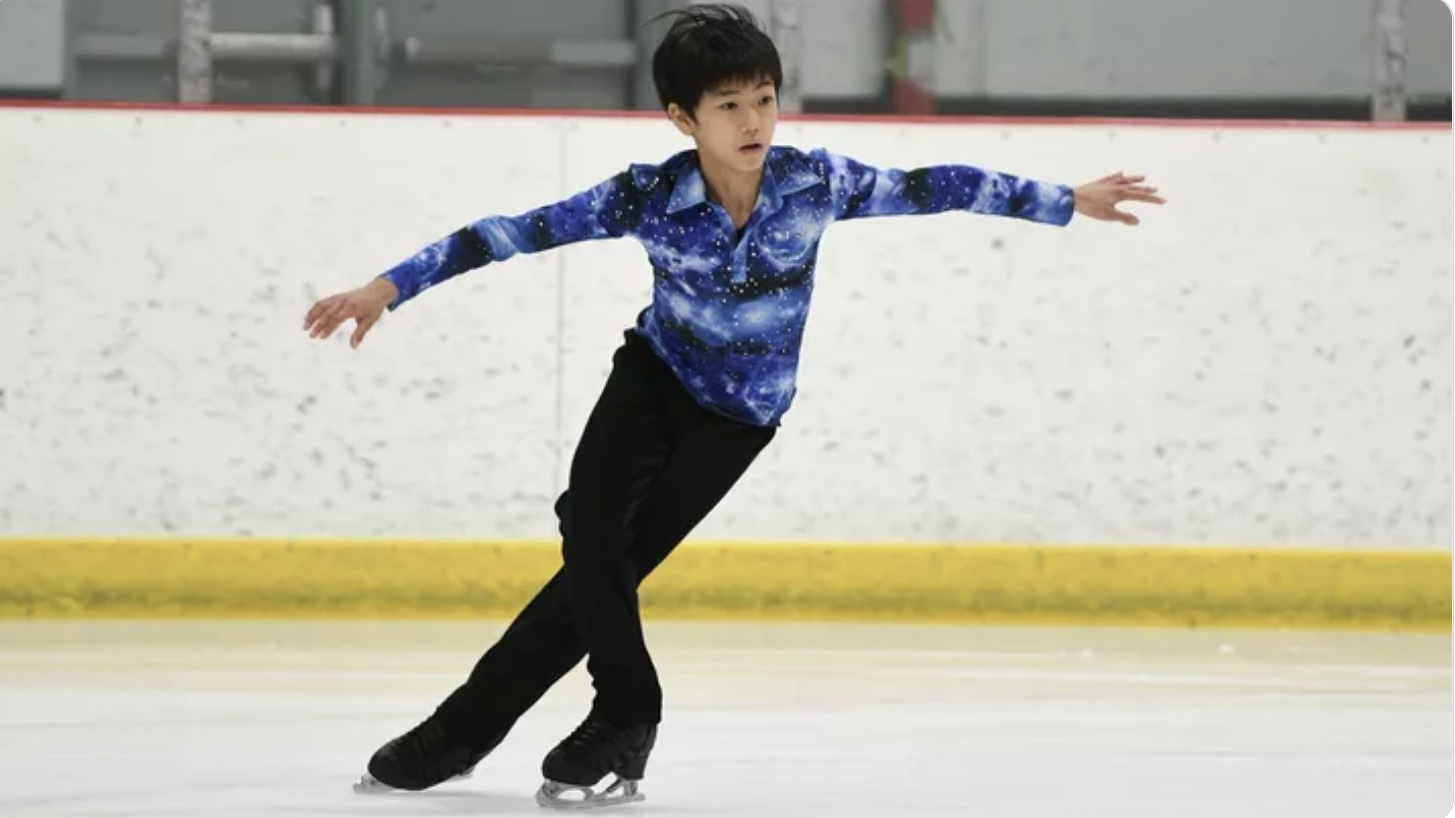 Inspired by a superstar from his ancestral homeland to start skating and hoping to follow the educational path of a pair of legends from the country of his birth, American junior Taira Shinohara has set an ambitious course for himself in the years ahead.
The 16-year-old from Schaumburg, Illinois, talked about his career, his skating goals, and growing up Japanese in the United States in an exclusive interview with Ice Time recently.
Shinohara's parents both attended college in the 'States and have lived there for many years. Their geographic background provides quite a contrast, as his father is from Kitami, Hokkaido, and his mother is from Fukuoka.
Shinohara finished third in the junior men's category at the Challenge Cup in the Netherlands in February in his first international competition behind Japan's Shunsuke Nakamura and Japanese-Italian Naoki Rossi. It was a promising result for the teen after placing seventh at the US junior championships in January.
Shinohara began skating at the age of 6 after being invited by a friend, and began taking lessons shortly thereafter. But it was an epic event years later that motivated him to begin seriously embracing the sport.
"I remember watching the Pyeongchang Olympics and seeing Yuzuru Hanyu skate," Shinohara told Ice Time. "His free skate (to 'Seimei') triggered me to want to skate more and be part of the sport. I used to play soccer and figure skating was more of a side thing."
Shinohara was effusive in his praise of the living legend and two-time Olympic champion, illustrating the profound influence Hanyu has had on skating in his career.
"He has the complete package. He has the jumps, the spins, the artistry," Shinohara commented. "Only a few skaters have mastered all of those aspects in skating. Some people only have jumps.
"I would say Yuzuru is really good at doing all of them," Shinohara continued. "He has good execution in his programs and his jumps are flowy. His step sequence is so powerful, yet also so intricate and precise. So that is what I like about him."

An Affinity for Japanese Skaters
Shinohara made his admiration for Japanese skaters very clear.
"They are very good. They are very consistent in their jumps, especially the top skaters," Shinohara noted. "Japanese skaters work very hard and are very competitive. The ones who work the hardest make it to the top stages."
Shinohara listed what impressed him about both world champion Shoma Uno and Olympic silver medalist Yuma Kagiyama.
"I think he is really good," Shinohara said of Uno. "I have never seen him in person. But through TV he looks very fast and very powerful. His jumps are super big.
"He was inconsistent before, but these past few years he has become more consistent. This year's programs were very fun to watch. I really like him."
Kagiyama, at 18 just two years older than Shinohara, is somebody the American also respects.
"He is very good. His jumps are super consistent," Shinohara remarked about Kagiyama. "They look very effortless. I was impressed how being so consistent can put you in a really good spot. These past couple of years he started to do more quads.
"I'm not too consistent of a skater, regarding jumps, so I look up to him in how consistent he is in all competitions," Shinohara added.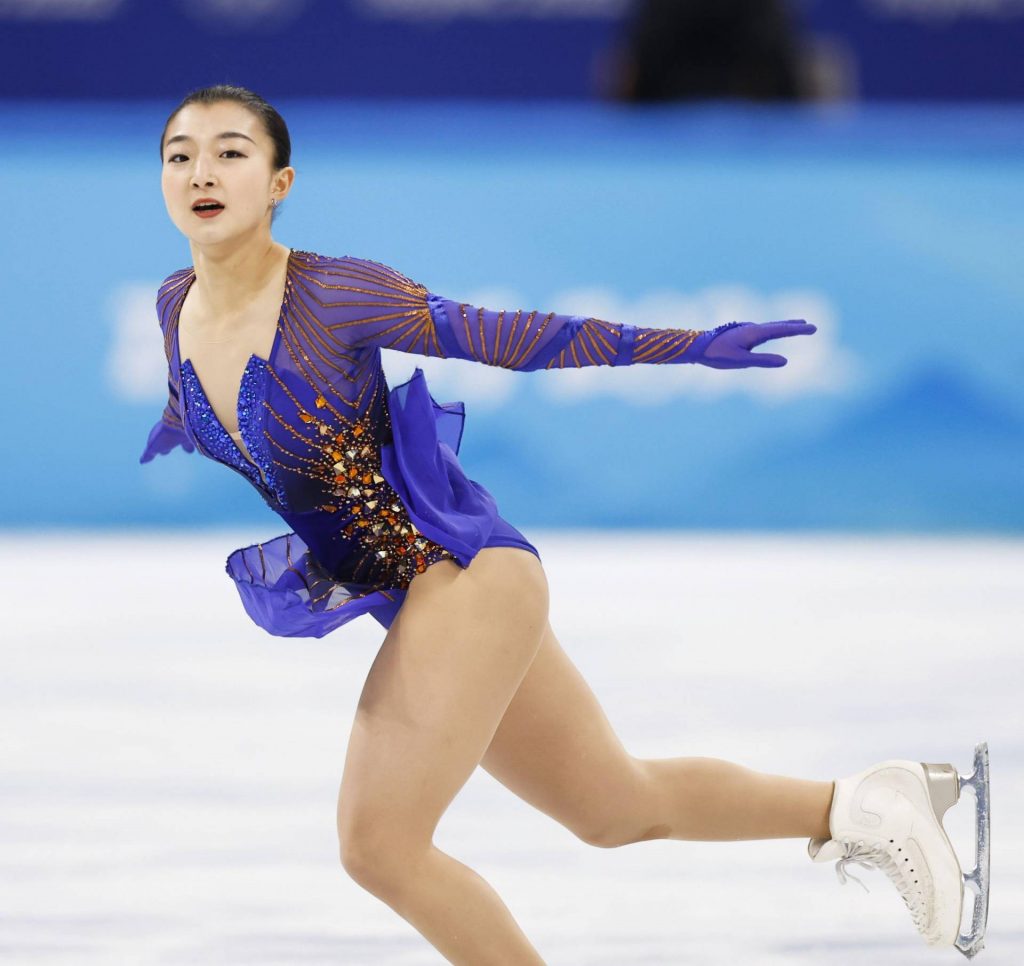 Awed by Sakamoto's Olympic Success
Shinohara said he was also moved by world titlist Kaori Sakamoto's success last season.
"Kaori got third place in the Olympics. It was very impressive to see, even without quadruple jumps you could still win [a medal]," Shinohara commented. "Quadruple jumps are very cool. It is like pushing the boundaries of skating. It is also cool to see that you can push the boundaries other than jumps, like choreography, speed of skating, spins and artistry."
With the Junior Grand Prix set to begin in August, Shinohara discussed his goals for the coming season.
"I want to get Junior Grand Prix assignments this season and place well and potentially go to the JGP Final," Shinohara stated. "I am putting more of my goals toward later in the season.
"While the JGP is an important experience and I really want to go to the events, because going internationally is fun and you get to see skaters from other countries, I want to focus more on the end of the season and try to win junior nationals, so I can get a spot for junior worlds. I want to compete there and see how I can do."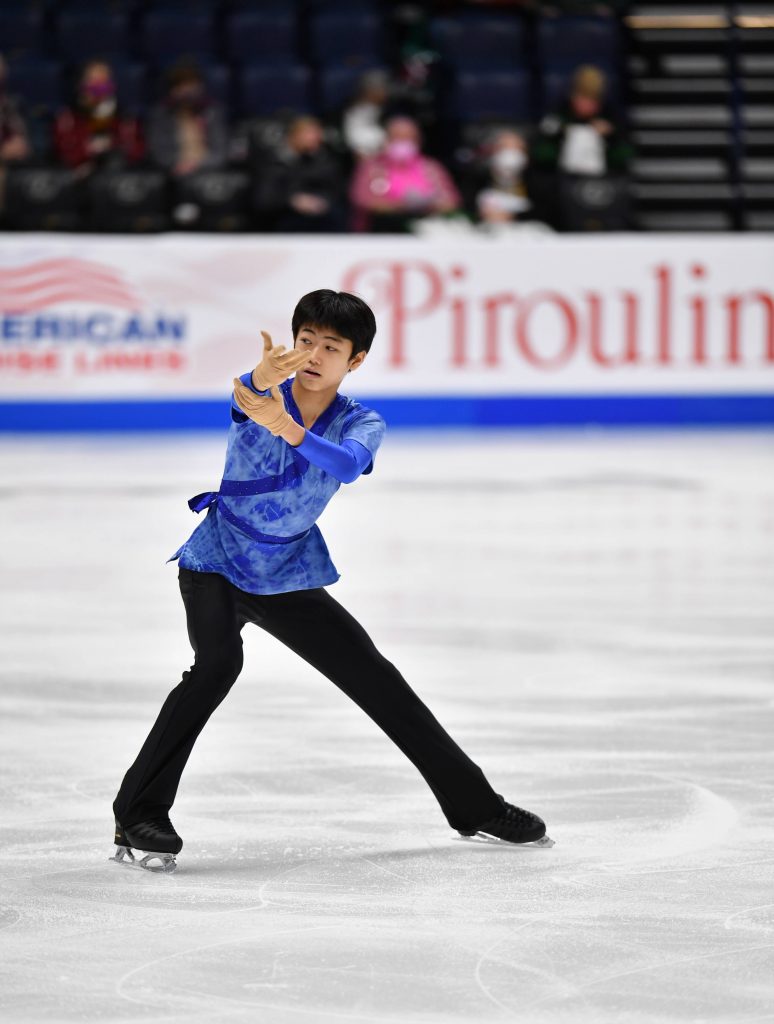 Shinohara's Programs for 2022-23
Shinohara, who trains at the Chicago Figure Skating Club under Jeremy Allen and Denise Myers, revealed the programs he will use for the coming season during the extensive conversation with Ice Time.
"My free skate this season is to Game of Thrones and was choreographed by Benoit Richaud," Shinohara commented. "My short program is Amore by Ryuichi Sakamoto and was arranged by Rohene Ward."
Shinohara indicated that he looked forward to working with the highly successful Richaud, who choreographed for him at the Skating Club of Boston in March.
"It is my first year with him, so I wanted to know his style," Shinohara noted. "I am also a young skater, so I wanted to try different kinds of choreography."
The Challenge of the Triple Axel
Shinohara cited the triple flip as the jump he most likes, while calling the triple axel his most difficult due to the extra half rotation.
"I would say that most of my triples are getting more consistent together," Shinohara said. "All of them are pretty strong. Me and my coach have been doing quads on the pole harness. I have also started doing them off the pole, and doing them by myself, too."
Ice Time asked if Shinohara was pondering a move to a more high-profile coach at some point in the future.
"My family and I have talked about this, but I already have high-level coaches in Jeremy and Denise," Shinohara responded. "They had Bradie [Tennell] go to the Olympics and they are very good coaches. They also have very good connections with other coaches and choreographers and resources with US Figure Skating.
"I am happy with the coaches I have right now and don't think I will be moving to a different place. Moving wouldn't necessarily make me a more advanced skater all of a sudden."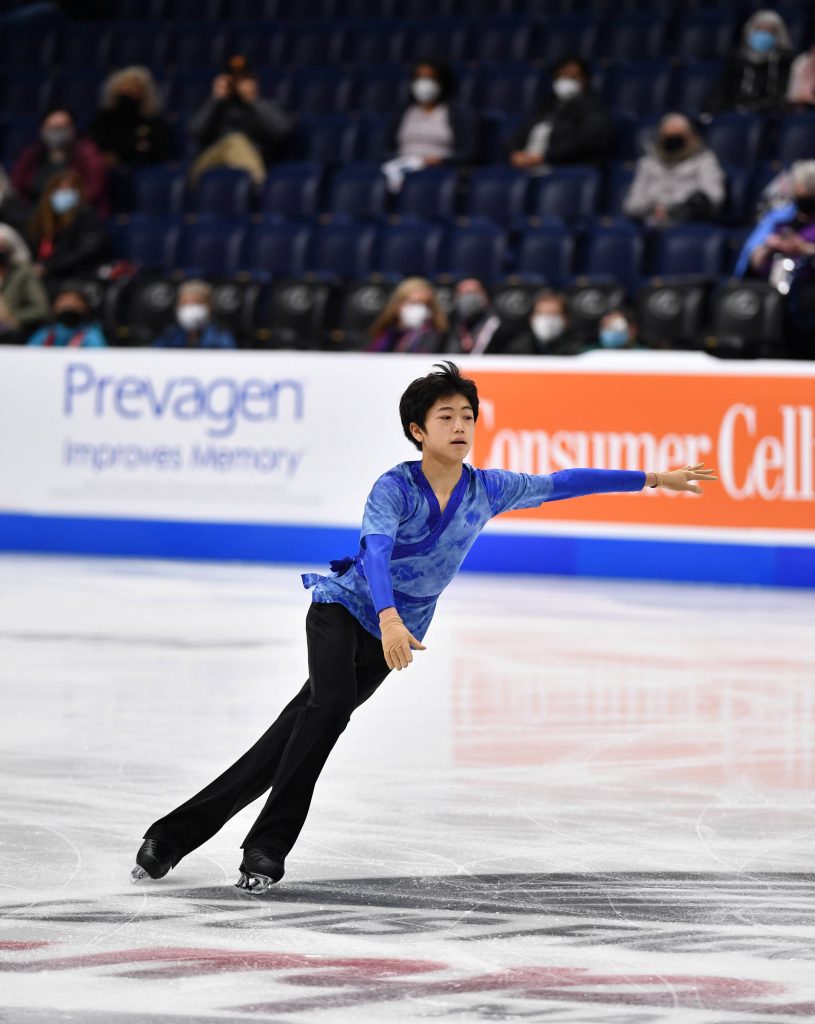 Educational Ambitions
I questioned Shinohara, who is a sophomore in high school now, on where he might go to college in the future.
"I have this abstract dream that I want to go to MIT (Massachusetts Institute of Technology)," Shinohara remarked. "I'm not sure if I have the academics to go there. I bet it is hard. I'm not sure if I am capable of going."
Shinohara, who was likely being modest, is already pondering which field to study.
"Me and my Dad were talking about what majors to take," Shinohara said. "I would probably go into the math field or the engineering field, because I really like to engineer stuff and I am more of a math kind of person."
Going to MIT would place Shinohara along the same prestigious educational route that two of the greatest skaters in the history of the US have taken. Two-time Olympic champion Dick Button graduated from both Harvard and Harvard Law School, while currently Olympic gold medalist Nathan Chen attends Yale.
Shinohara discussed his thoughts about Chen, when Ice Time brought him up.
"I think he did really good. I think he really deserves it," Shinohara said of Chen's success at the Beijing Games.
"Especially from Pyeongchang, where he wasn't able to skate how he wanted. Through the next four years he worked very hard and became a world champion. He was winning most of the competitions.
"He has this professionalism in every competition he skates," Shinohara continued. "It was amazing how he was able to skate under that big pressure and skate his programs with high execution."

Hobbies and Interests
It was quite evident to Ice Time that Shinohara's skills extend far past the rink.
"I like to computer code. I have been working on an Apple app for a while," Shinohara mentioned, when asked about his hobbies. "I code for fun. I also like to do 3D stuff. There is something printing in the 3D printer now that I designed for my friend's birthday. I also make objects and characters for presents and keychains.
"I also like to work on electronics. I really like to make things that are useful in the real world."
The mention of the app got my attention, so Ice Time wanted to know more.
"The app I'm creating calculates the score of a program based on the elements GOE (grade of execution) and program component score you put in using buttons and sliders," Shinohara declared. "I'm trying to make the app so you can save protocols and look at them later, too."
As if that wasn't enough, Shinohara also showed me an invention he has come up with.
"The 'auto-camerman' is a camera stand that rotates based on time," Shinohara noted. "So when you program it correctly, you can make the camera follow you during your program when you skate. Since skaters move in the same ways every program, this was possible. In the future I hope I can use sensors so the camera follows you wherever you move."
Importance of Japanese Education
Despite living his entire life in the United States, Shinohara considers Japanese his first language. This is a byproduct of speaking it at home and going to Japanese school on Saturdays, as so many Japanese kids who grow up overseas do.
"Japanese is my more native language and English is my second language," Shinohara stated. "In my family, we have always spoken Japanese since I was little. Even living in the US, we would talk more Japanese in the house. I think that made me fluent in Japanese."
Shinohara credited his Japanese school with polishing his language skills and helping him understand the culture.
"I do go to Saturday (Japanese) school too. I have been going there since first grade," Shinohara commented. "I think that helped me and developed my Japanese, too. Just talking and getting an education is a little bit different. With education, you know the background of Japanese history and what the society is like in Japan. You also look at literature of Japanese culture."
Shinohara illustrated his adeptness in Japanese when he took second place in a speech contest at the Consulate General of Japan in Chicago a few years ago.
Prior to the pandemic, Shinohara said that he came to Japan once every two years.
"My family and I came every other year before the pandemic," Shinohara mentioned. "The last time I was there was in 2018."
Ice Time asked Shinohara about 2019 world junior champion Tomoki Hiwatashi, who grew up one town over from him in Hoffman Estates, Illinois.
"One time when I first started skating there was an ice show at our rink and Tomoki was invited to be a guest skater," Shinohara recalled. "I really remember him being super good and I was very amazed at how skating can be so fun and so advanced, and you can impress many people."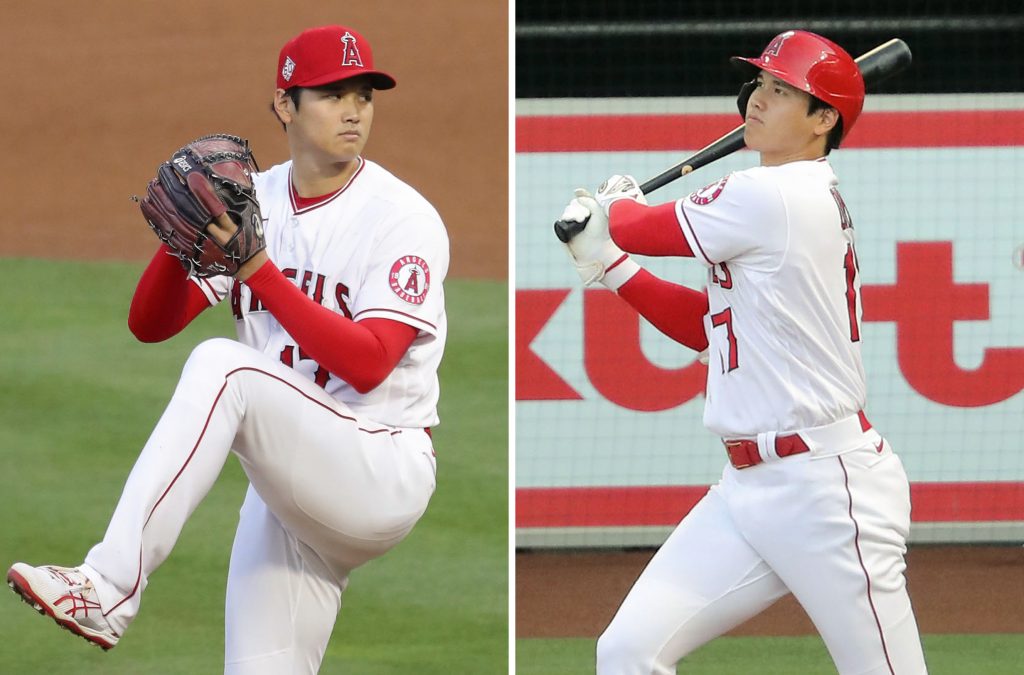 Admiration for Ohtani
Ice Time wondered about what other Japanese athletes, besides skaters, Shinohara looked up to.
"Shohei Ohtani is pretty big," Shinohara remarked. "My Saturday school teacher really likes him, too. We call him 'nitoryu' (two swords) because he pitches and bats really well.
"My teacher talks about how we are also nitoryu because we speak both Japanese and English.
"I try my best in both academics and sports, too," Shinohara added. "So I would say that is also nitoryu. I really like all sports. If I had the time, I would do so many sports. But with my skating, I can't do that."
RELATED: [ICE TIME] Nathan Chen Set for Final Event Before Battle with Yuzuru Hanyu in Beijing

Author: Jack Gallagher
The author is a veteran sports journalist and one of the world's foremost figure skating experts. Find articles and podcasts by Jack on his author page, here, and find him on Twitter @sportsjapan.