In Hokkaido Town of Yoichi, the Best Whisky You Can Never Try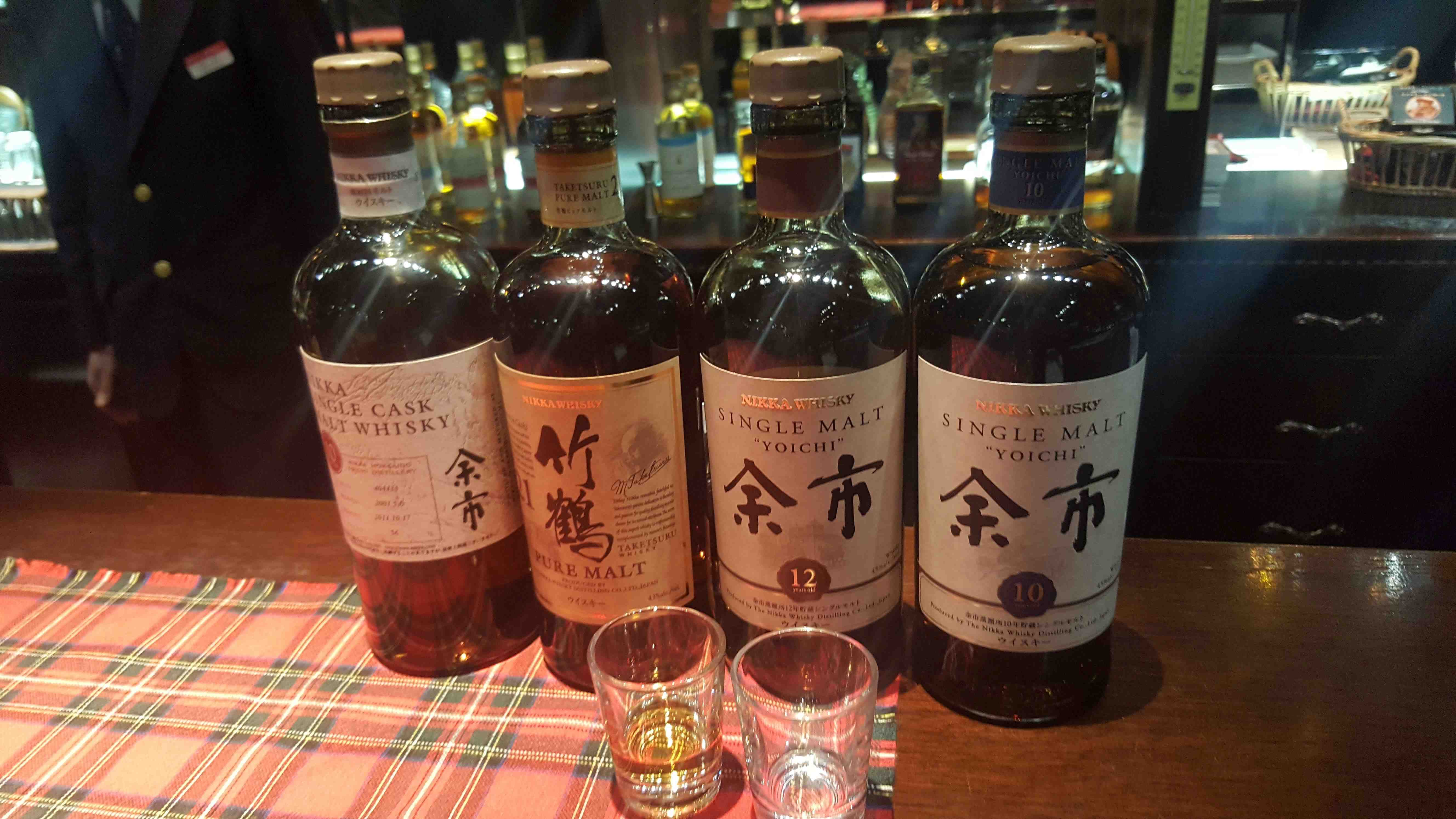 Few trains stop in Yoichi. The small station stands frozen in time. Not many people make it up here, let alone in the middle of winter. It's a pilgrimage of sorts. Of the few arrivals, everyone is here for the same reason: whisky.
The snow-covered town 1,059 kilometres north of Tokyo is home to Nikka's whisky distillery, the oldest one in Japan. Coming here is the only way to taste some of the Japanese whiskies that are not sold any more.
A Love Affair
Yoichi is where Japan's whisky craze started. Back in 1936, Masataka Taketsuru, the founder of Nikka, embarked on his quest to produce whisky for Japan — a country that mainly drank sake and shochu.
Taketsuru was born into a family of sake brewers in Hiroshima who had been producing sake for generations. But instead of following his family tradition, Taketsuru had a more adventurous plan. In 1918, he headed to Scotland to learn everything about whisky making. In his notebooks he meticulously wrote down all the details he would later need to start his own whisky production.
While studying in Glasgow, the young student fell in love with Rita, his future wife. The two married in January 1920 against the will of their families, who viewed the international union with little sympathy. Shortly afterwards, the Japanese-Scottish couple left for Japan. Taketsuru was 25, his bride a year younger.
Yoichi was an unconventional choice. Determined to produce Japanese whisky, Taketsuru had started extensive research on the best place to set up his distillery. He insisted that Yoichi, a small fishing town on the island of Hokkaido in northern Japan, would be best suited for his whisky ambition.
This did not go down too well with his investors, who viewed his choice as completely insane. Back then, Hokkaido was still a sparsely populated, isolated region, wild and untamed, with hard winters and annual snowfall of up to seven meters.
Taketsuru, however, was solely led by the fact that Yoichi had a similar climate to the Scottish Highlands. And he was convinced that the salty air from the Sea of Japan and the peaty soil of Yoichi would give his whisky the taste he desired.
Coal and Copper Cauldrons
At the Nikka distillery in Yoichi, our small group of travelers is met by young women in tartan-style costumes and transparent umbrellas. Snow has started to fall again. Our first tour stop is the whisky distillery, where six gigantic copper stills are heated directly over a coal fire. A worker in a blue boilersuit shovels coals into the fire under the kettles.
The process is still very much the same as that which Taketsuru learned at Longmorn Distillery in Scotland. Up to this day, Nikka has kept with the tradition. It is now the last whisky distillery in the world that still works with coal fire. Each of the copper cauldrons is adorned with shide, white, cross-folded paper strips to help ward off evil spirits and keep the whisky pure. It was Taketsuru who continued this tradition from his family's sake brewery in Hiroshima.
Next stop on the tour is the former laboratory and the old, wooden house where the Taketsurus lived. Nikka has devoted a small museum to Taketsuru and Rita. A collection of souvenirs, photos, and notebooks gives an insight into the life of the unusual pair, who defied conventions and prejudice. Part of the exhibition is the couple's living room, complete with the original furniture, Christmas tree, and a piano. Rita's dresses and kimonos, her glasses, and her golf clubs are also on display. Old black-and-white photos show Rita skiing and her husband hunting bears or harvesting apples.
In order to bridge the time it took for the whisky to mature, the distillery initially started with the production of apple juice and apple brandy. Nikka's first whisky was not sold until 1940.
The timing was good: Japan was at war and placed under economic sanctions, which meant that the country could no longer import Scottish whisky. At the same time, Japan's Imperial Army had taken a fancy to the gold-colored drink. Taketsuru supplied whisky, and in return Nikka was classified as an essential war production facility and given coal, barley, and wood to keep up supply.
For Rita, however, wartime was far from easy. As a foreigner, she had to endure suspicion and insults. At one stage, the authorities were convinced that Rita was a foreign spy, and put the Scottish-born woman under observation.
Behind the Counter
Not much time is left for historic deliberation. The main attraction at Yoichi closes early in winter. At 4 P.M., visitors will have made their way back to the small station ― where it was high time for our group to assemble at the bar.
There is even a professional among us. Haruo Yamaki, a bartender from Nagoya, has traveled more than 1,500 kilometres to taste some of the whiskies that can never be tasted elsewhere.
The "standing bar" next to the museum serves over 50 types of whiskies. A growing number of bottles behind the sturdy oak counter are no longer commercially available. Nikka, now owned by the Asahi Brewery, ended sales of all age-statement Taketsuru whiskies in January 2020. And Yoichi whiskies with year statements have been off the market since 2015.
Tamaki is trying out the whole range of rare whiskies. A bartender, he says, also needs practical knowledge. This afternoon, his favorite whiskies turn out to be the 21-year-old Taketsuru Pure Malt, a blended whisky, and the 12-year-old Yoichi Single Malt with its deep aroma, salty-spicy notes, and a long finish of roasted grain.
Rising Demand for Japan's Whisky
After years of stagnation, Japan's whisky is seeing a rising demand. Sales are up and stocks are low, making it more difficult to manage inventories.
When, in 2003, American actor Bill Murray made the 17-year-old Hibiki cool in Lost in Translation, it was a turning point for the industry. Murray's performance sparked a worldwide craze for Japanese whisky and fueled an unexpected boom that shows little sign of slowing. As a result, Japanese whisky companies have been caught up in their own success.
In mid-2018, Suntory stopped selling its 12-year-old Hakushu and 17-year-old Hibiki. And in early 2019 came another shock for whisky lovers: the end of production for Suntory Shirokaku, the Nikka 12, the Nikka Coffey Grain, and the Nikka Coffey Malt. Only some remaining stock of these whiskeys is available on the market.
Nikka and Suntory, the two major Japanese whisky producers, are now switching to new products to mitigate the vintage whisky crisis. The "Hibiki Japanese Harmony," a blended whisky without an age statement, was released in 2015 as the barrels of vintage whiskies ran dry. Recently, Nikka started marketing a limited edition of Single Malt Yoichi in three flavors: "Sherry and Sweet," "Woody and Vanillic," and "Peaty and Salty."
Not all is doom and gloom. Kirin has just announced the release of two new whisky brands: Fuji and Riku. And smaller whisky companies have stepped in to fill the void left by bigger players, with "Iwai Tradition" from the Shinsu Mars distillery in Nagano, and Akashi from the White Oak distillery in Hyogo prefecture, just to name two.
But if you want to try old vintages, you have to make your way up to Yoichi.
Author: Agnes Tandler (Sapporo)
Agnes Tandler is a foreign correspondent who has been working in Asia for more than 14 years.