India and Japan Should Reassert Influence As China Makes Inroads Into the Pacific Islands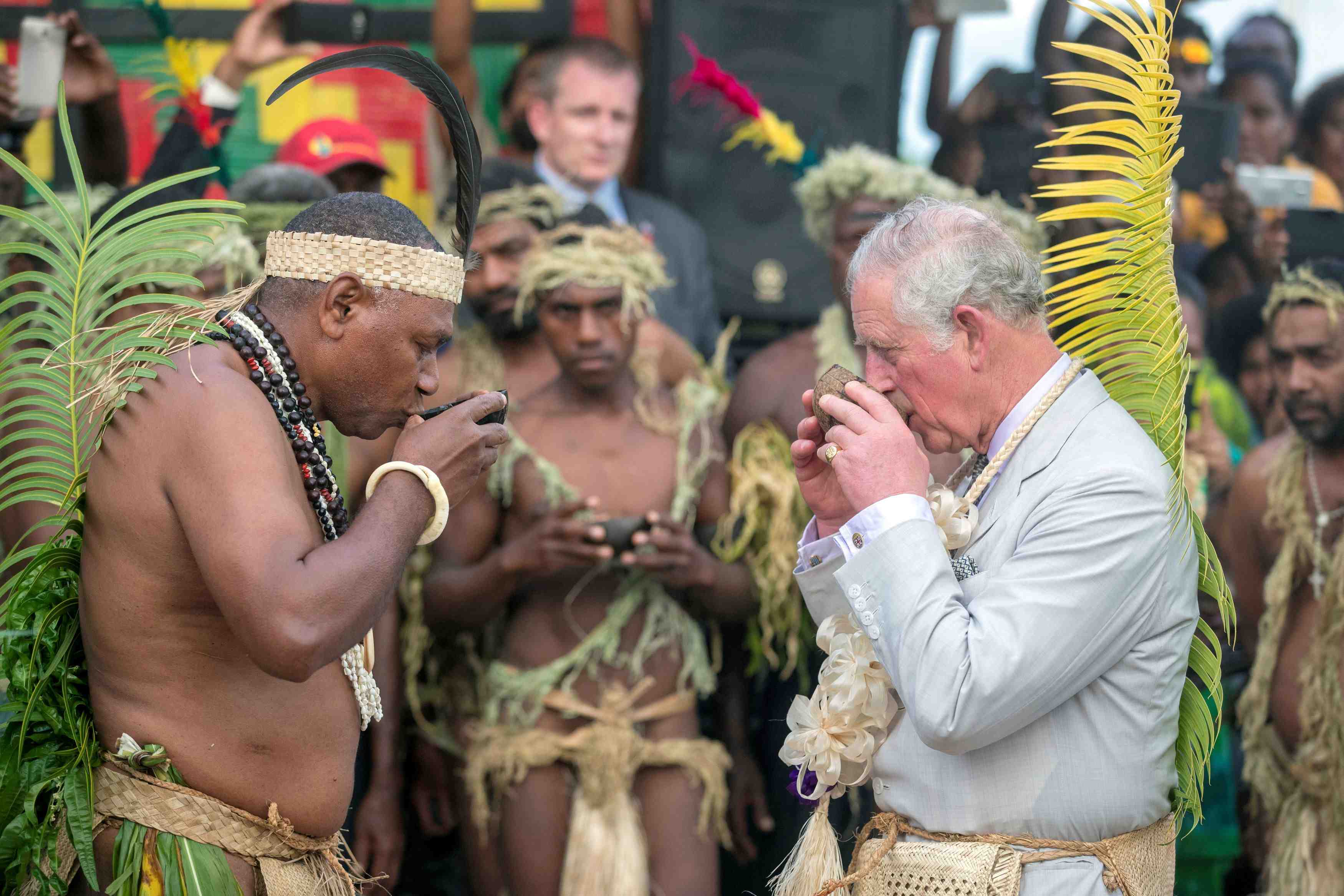 The UN released $2.5 million from a humanitarian fund on April 13, 2020, to help the South Pacific island nation of Vanuatu affected by Cyclone Harold and other hard-hit countries.(World Vision via AP,File)
April 3, 2020, the USS Theodore Roosevelt, docked at Naval Base Guam. Some are nervous as sailors from the coronavirus-stricken Navy ship flood into hotels for quarantine. (Rick Cruz/The Pacific Daily via AP)
It is nearly four months since the entire world was struck by the deadly Wuhan virus. No country, region, or continent has been able to remain insulated from this contagion — including the remote and secluded Pacific Islands containing three major sub-regions of Oceania: Micronesia, Melanesia, and Polynesia.
While China failed in demonstrating any swiftness to warn the world regarding the novel coronavirus, whose epicenter was Wuhan, it is not wasting any time in "coming to the aid" of Pacific Island nations as they fight the spread of the disease. Beijing convened a video conference with Papua New Guinea and the Solomon Islands, and also announced "sending $1.9 million USD and medical supplies to Fiji and other Pacific countries."
The Pacific region is confronting the Wuhan virus, with Guam, French Polynesia, Fiji, and Papua New Guinea registering more than 250 positive cases.
It has been Beijing's time-tested foreign policy strategy to use soft power tools to make inroads into smaller, remotely accessible, underdeveloped, and economically fragile regions.
For that matter, the Pacific Island nations are likely to suffer twin-pronged ramifications emanating out of the Wuhan virus. One is the health and recovery costs itself. The second is the overall economic indemnities, given that the entire region is dependent on aid and foreign tourism in a major way.
China is the third largest fiscal aid donor in the region, and can be expected to provide for the heavy monetary requirement of the Pacific Islands. It will use the same to cement its hard power standing that will reflect across the Pacific.
China's contemporary aid paradigm in the Pacific Islands is seemingly driven by its strategic interests. Beijing's "influence aid" has threatened the sovereign identity of the Pacific Islands, thereby adding pressure to other regional players and stakeholders to balance out its all-pervasive portent.
Japan's Critical Role in the Region
The rise of Chinese influence in the Pacific Islands became noteworthy during the decade of the 2000s. Until then, Japan was the second-highest donor for the region.
Taking note of the growing Chinese footprint across the Pacific Islands, Tokyo, of late, has deepened its commitment to this region by increasing support for these nations' vast development needs as part of Tokyo's Free and Open Indo-Pacific strategy (FOIP). Amid stiff competition and assertiveness regarding territorial claims, the fact that Japan remains among the traditional four major bilateral donors to the Pacific Island nations — along with Australia, New Zealand, and the United States — is critical.
Japan has taken the lead in strengthening maritime law enforcement capacity by collaborating with the Pacific Island nations in personnel training, vessel surveillance and control, and clampdown on illegal fishing. Moreover, in a first-of-its-kind effort in 2019, Japan conducted a long-duration capacity-building course against ship-to-ship transferring of illicit cargo, which brought together the participation of maritime officers from 14 Pacific Island nations.
Support for Islands, Nearby Nations
India, too, has embarked upon a partnership project with partners from the Pacific Islands — including Kiribati, Nauru, Micronesia, Marshall Islands, Tonga, Solomon Islands, and Cook Island — in association with the United Nations Office for South-South Cooperation. This is the first instance of India having entered into a triangular cooperation partnership with the U.N., along with fellow developing countries. The initiative is in tune with its commitment to South-South Cooperation and spirit of global partnership embodied in the SDG17 of the 2030 Agenda for Sustainable Development.
There has been a substantial upward swing in the Indo-Japanese call for greater cooperation to promote entrepreneurship and collaborative infrastructure development in third-party countries, namely Sri Lanka, Myanmar, Bangladesh, and others in Southeast Asia and Africa. In Africa, the Indo-Japanese Asia-Africa Growth Corridor holds immense promise for collaborative progress and benefits.
Asia's present geopolitical and geostrategic settings make it nearly obligatory for two of its most prominent and responsible powers, India and Japan, to step forward. The two are uniquely qualified to help stabilize the balance of power and provide a platform for collaborative and sustainable development for the Pacific Islands.
The Pacific Islands, as important partners in the regional maritime paradigm, provide India and Japan with a "Third Regional Avenue" following South Asia and Africa, for security cooperation and collaboration towards sustainable growth and development. The fields of joint exploration and research for access to deep-sea minerals and renewable energy initiatives should be of congruent interests to both Japan and India.
Building Stronger Ties in the Indo-Pacific
Broad-based diplomacy in Asia is often discussed and debated within Tokyo's policy making circles. The primary premise for Japan-India relations going forward is to find avenues through which the two countries can elevate their ties to newer levels.
In this reference, India and Japan should reassert their involvement and influence in the Pacific Islands region. Combined efforts will likely provide alternative options to the Pacific Island nations for enhancing connectivity via quality infrastructure and capacity-building of critical infrastructure projects in the Pacific Islands.
The highlight of these projects would be conforming to international best practices, such as responsible debt financing practices through foreign aid and investment, in alignment with local economic and development strategies and priorities. Aimed largely at propelling growth and investment, infrastructure projects spearheaded by Tokyo — such as building institutional, industrial, and transport corridors — shall be a boon for better integration of the Pacific Islands' economies in the long term.
Japan's expertise in providing quality infrastructure and state-of-the-art technology, coupled with India's emphasis on infrastructure to further propel Indian economy, will prove to be a win-win combination.
An increasingly globalized and networked cyber world calls for greater reliance on international joint ventures, strategic relationships, and information-sharing partnerships. Investments in hard and tangible infrastructures (such as roads, bridges, ports, monumental buildings, etc.) to investments in soft infrastructures (such as human resource development and information networking) is crucial as well as urgent in achieving the true ends of development.
Instead of a propensity for informing the Pacific Island nations of policies impacting or involving them, there is a need for tangible initiatives to co-create such policies. The increasingly observed scenario that many Pacific Island nations have reached a point of endangering their strategic autonomy, owing to heavy debts incurred from China, should not go unchecked by major global democracies, including Japan and India.
Author: Monika Chansoria