Inside Starbucks Japan's Newly-Opened High-End Roastery in Tokyo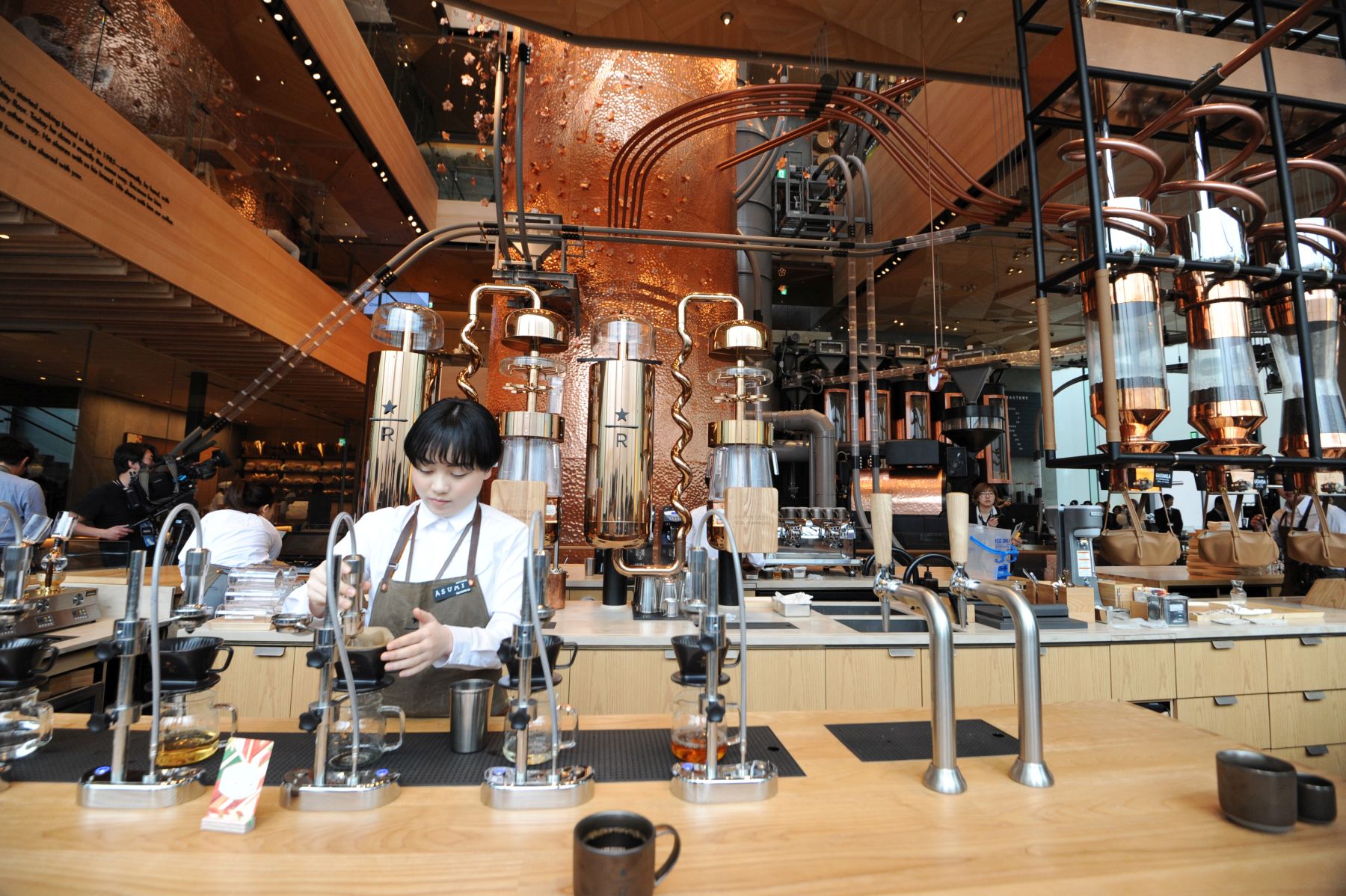 Starbucks Coffee Japan, the Seattle-based franchise, announced the opening of the world's fifth high-end coffee shop in Nakameguro (Meguro Ward) on February 27. Called the Starbucks Reserve Roastery Tokyo, it follows branches in Seattle, Shanghai, Milan, and New York.
Reserve Roastery is a concept whereby the branch focuses more on the quality of the coffee and the service, making for a much more luxurious experience.
The store was open for business the day after the announcement. Due to its unique characteristics, it is already garnering attention from the customers.
Spanning four floors, the elegant, meticulously-designed space features minimalist wood-defined rooms and origami wooden ceilings, with an immense 17-meter high roasting machine in the middle.
Kengo Kuma, the renowned architect who has designed buildings all over the world, participated in the design. His work can be found throughout his home country Japan, as well as in China, Taiwan and the United Kingdom, among other places. At home he is famous for designing the New National Stadium in preparation for the 2020 Tokyo Olympics and Paralympics.
The new Starbucks Reserve Roastery overlooks the Nakameguro River — an enviable position, especially in the cherry blossom season, as visitors sitting on the balcony will be able to admire the long rows of cherry trees lining the riverbank just below.
Shop customers will be able to witness firsthand the roasting of coffee beans from all over the world while enjoying the aroma. However, this Starbucks also includes other new features as well.
There is a space focused on tea, called TEAVANA™ , found on the second floor. Then on the third floor there is a space called Arriviamo™ where customers can enjoy a classy cocktail with coffee inspired drinks. Finally, punctuating the international flavor of the Reserve Roastery concept, there is a bakery under the name of Rocco Princi — a famous bread shop from Milan in Italy — set up in the coffee shop on the first floor.
On the fourth floor is AMU INSPIRATION LOUNGE, which will host lectures and seminars.
Local Starbucks gifts are popular everywhere, and this branch will not disappoint with its original mugs. However, it also offers unusual items for sale, such as bicycles and lamps from partner businesses, among others, adding to the experience.
Whether you love coffee, tea, and bakery goods or just want to experience the luxurious new space, make sure you check out the new Starbucks branch here.

(Click here for the related article in Japanese)