INTERVIEW | PI Laureate Wynton Marsalis on Believing in the Music
Jazz great Wynton Marsalis talks about his music, healing the divides and maintaining integrity in an interview upon receiving the PI music category award.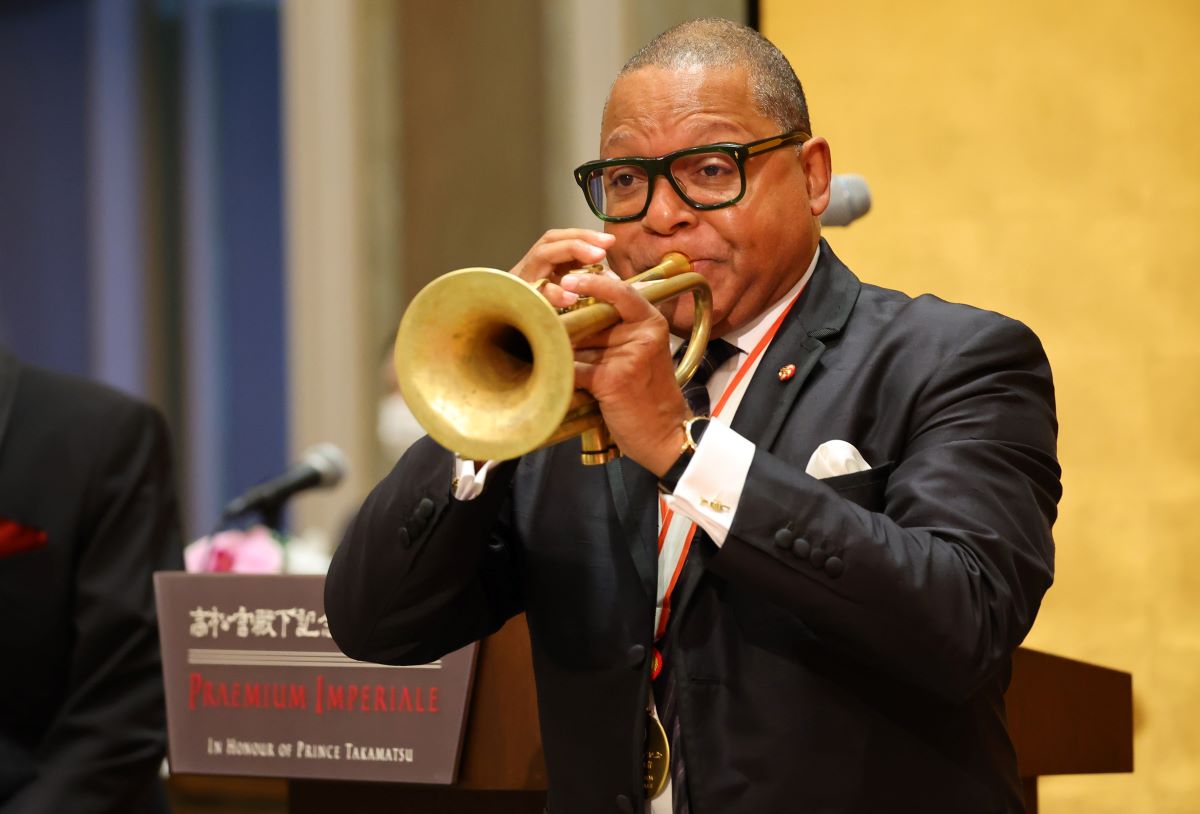 American trumpeter, bandleader, and composer Wynton Marsalis is the 2023 Praemium Imperiale laureate in the category of Music. Considered to be one of the highest honors in the world of international arts, the award has been presented annually since 1989 by the Japan Art Association.
Five fields of excellence are honored annually by the association. They are painting, sculpture, architecture, music, and theatre/film. Marsalis is the third recipient from the jazz world, following Oscar Peterson (1999) and Ornette Coleman (2001).
Passionate about music of all genres, Marsalis is possibly best known for his commitment to jazz. It is a genre recognized as America's greatest original art form, on par with Western classical music.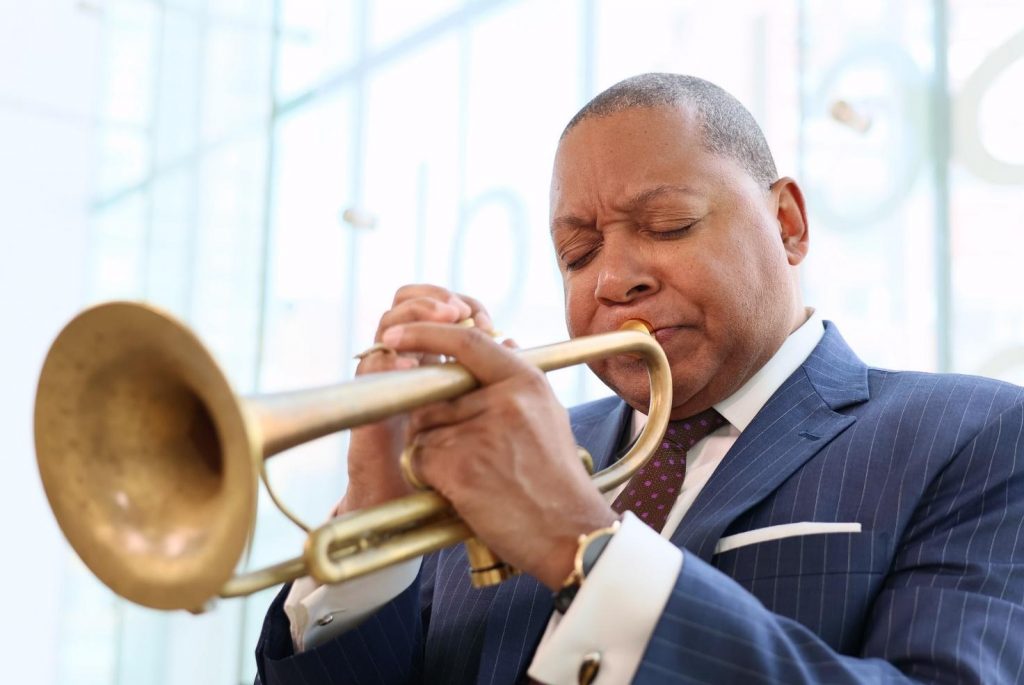 How Marsalis Grew Into a World-Renowned Talent
Marsalis was born in New Orleans, Louisiana, USA on October 18, 1961. (He turned 62 on the day of the Praemium Imperiale Awards Ceremony in Tokyo.) There, he grew up in a talented musical family.
Marsalis's father Ellis was a jazz pianist and director of the jazz program at the New Orleans Center for the Creative Arts (NOCCA). His older brother Branford is a celebrated saxophonist. Meanwhile, his two younger brothers Delfeayo and Jason are respectively well-known as a trombonist and a drummer.
Wynton Marsalis was six years old when he received his first trumpet. It was a gift from Al Hirt (1922-1999), the American trumpeter, bandleader, and Louisiana Music Hall of Fame inductee who was also from New Orleans. Later, Marsalis attended the New Orleans Center for Creative Arts while in high school, where he studied jazz and classical music. He performed regularly with numerous jazz bands in New Orleans, as well as with classical music orchestras and ensembles.
In 1980, just after moving to New York to attend The Juilliard School, he toured with the legendary Art Blakey and the Jazz Messengers.
Marsalis has previously won nine Grammy awards. In 1983, he became the first artist to win in both jazz and classical categories in the same year. His winning jazz piece was Think of One. He won in the classical category with Haydn, Hummel, L. Mozart: Trumpet Concertos. The busy artist presently serves as Managing and Artistic Director of Jazz at Lincoln Center, Musical Director of the Jazz at Lincoln Center Orchestra, Director of Jazz Studies at The Juilliard School, and President of the Louis Armstrong Educational Foundation.
He has also excelled as a composer, writing jazz and classical works that have established him as a musician of exceptional range.
A 2023 Praemium Imperiale Laureate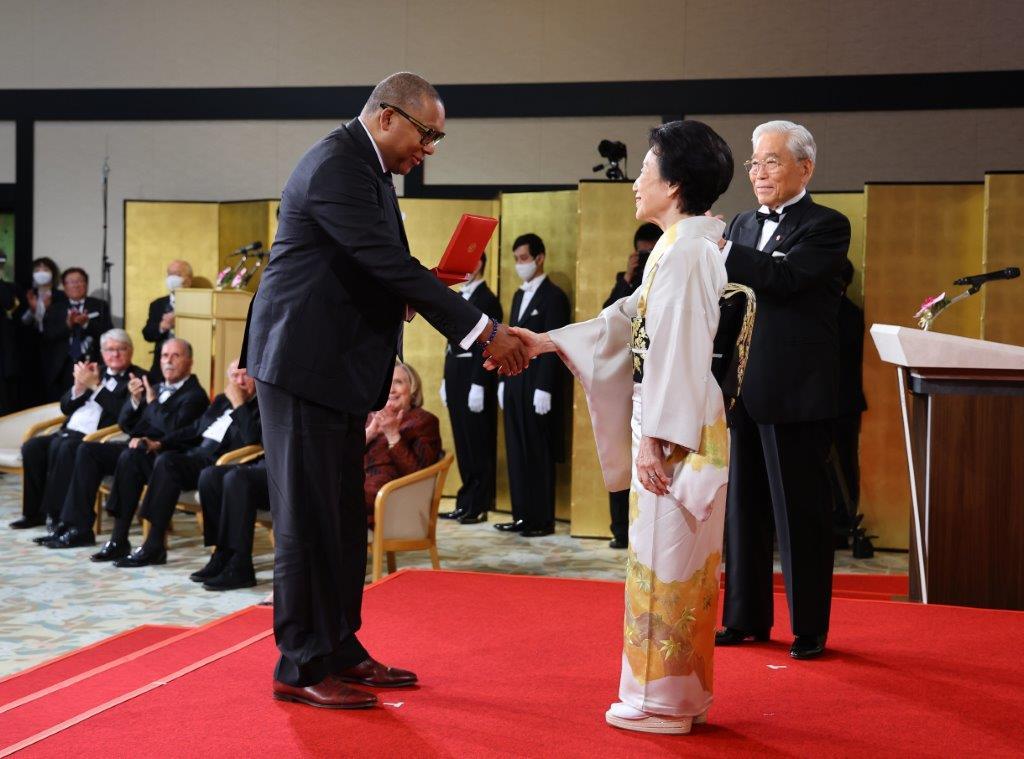 "Receiving this award is great. Meaning first, because it is my 62nd birthday, but also because I have a very long and deep respect for Japanese people and customs and tradition in art and many connections throughout the years," Marsalis said at the Japan Art Association celebration.
Highlights of our conversations with Wynton Marsalis in New York and Tokyo follow.
When an 'Award' is Within Close Reach
What is your sense of being so celebrated with awards?
It's fun to get awards. Any hospitality, someone invites you to their house, it's an award. Someone brings their kid, and says, "This is my daughter, plays trumpet." That's an award.
Somebody asks to sign or picture. That's an award. And there's a bigger award with a jury and people look at it, and they go through your work and look at scores and you get dressed up. That's also an award. So there are many awards. I am happy when people get awards. It doesn't have to be me.
How has your childhood environment with your musician Father Ellis influenced you?
My father was everything in terms of my consciousness. Because I saw him struggle trying to play music people didn't want to hear and he could play. He practiced a lot, but he was largely playing in clubs with very few people.
Also, it was interesting because he believed in the music. After my brother and I came out and we became more known, his celebrity increased. But he was always serious about playing. He taught me the value of integrity because he truly was playing for no one. And he believed in it.
I think it came to me because I would always ask him, "Why do you play this? Nobody wants to hear it. Why don't you just stop playing that?" He would say, "Shut up and listen to the music." So I learned many things from my father.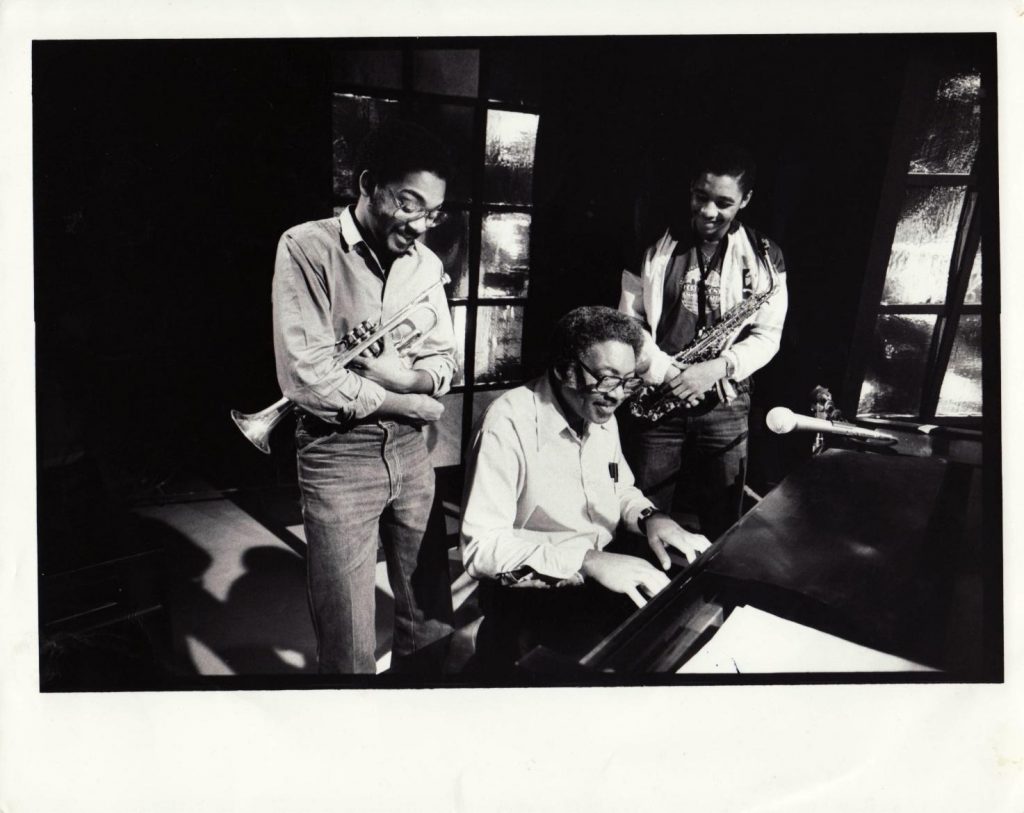 Can you share one of the lessons you learned from your father?
One of the greatest lessons that he taught in our high school class was, on the first day of his class, he would put the four chairs in the middle of the room. Each facing a different direction. And he would say, "What do you see?" Each person would say what they saw. "I see this, I see a blackboard, I see a fan, I see a window." Everyone saw something totally different.
We thought the test was how much you can see. So we would keep naming the stuff we saw. And then when we finished, we thought he would say, "You are very observant. You observed more." But he said, "Does anybody doubt that they are in the same room?" That was his lesson.
This is the thing we struggle with on earth to this moment. We struggle with it. We think if someone sees something different, they are wrong. They see something different. So I can play classical music and jazz because he [Ellis] listened to all kinds of music. He liked it. But he is a jazz musician. Naturally I looked up to my father, I wanted to be like him.
Two-way Player Wynton Marsalis
What have you gained from playing both classical music and jazz?
I just think classical traditions are those that are safeguarded for the future. They represent the most refined form of a way of expression. And I think I was fortunate to have a father who was a music teacher. He liked a lot of different music and always encouraged me to study music past the prejudice in the way they were presented. So I was able to listen to Haydn's music and Beethoven's music, Shostakovich's music, Bartok's music, and not equate it with a form of repression.
I love the music. As I've grown older, I've been able to meet classical musicians in all of the traditions and study with them and learn what they're trying to do. But it's been many hours of enjoyment and all these things are connected. The more you know, the more you see how connected everything is.
In actuality, everything in life is connected. The same way that a cell is connected to the cosmos. When you look at your brain and neurons, it's like looking at the universe. These things are all connected. So too are the music and the classical traditions.
And I also love the folk traditions, the primitive art traditions, the popular art traditions, and the fine art traditions. They all have different functions and purposes.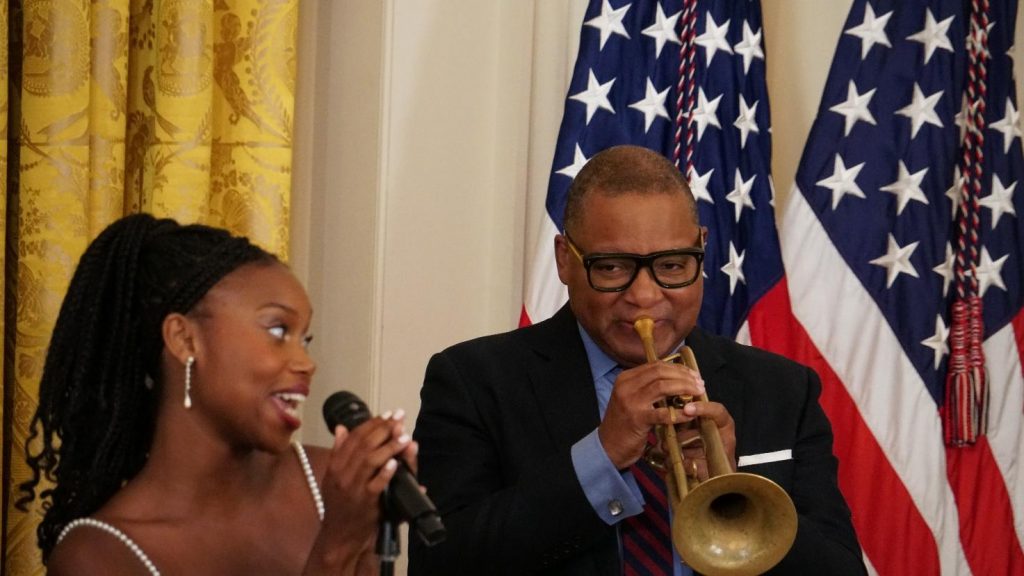 A Powerful Advocate for the Importance of Music
Would you describe jazz as the classical music of the United States or an American national art form?
I think it is the music at this point of the American consciousness, of the conscience of the country. The country did not embrace the art form because it's difficult for us to embrace things on that high level that come from black people. So because of that difficulty, it was replaced by rock and roll.
In America, things had to be segregated by race once they hit the commercial marketplace. In blues, black musicians were given the guitars, and white musicians played fiddles. But when they started playing, they were all playing fiddles and guitars. So we have to try to divorce ourselves from that segregation because we don't want to teach that to our future generations.
The world's racial relationship needs to improve. Because the kind of color line that I see in the world in the North versus South does not serve humanity. And indeed it puts us in very difficult equations. So still in our country we have to work that equation out and we're a long way from it.
But in other places in the world, there are other equations that they have to work out. But those equations are almost always rooted in their inhumanity to some other group of people for some ridiculous reasons. And jazz is a music that can heal those divides.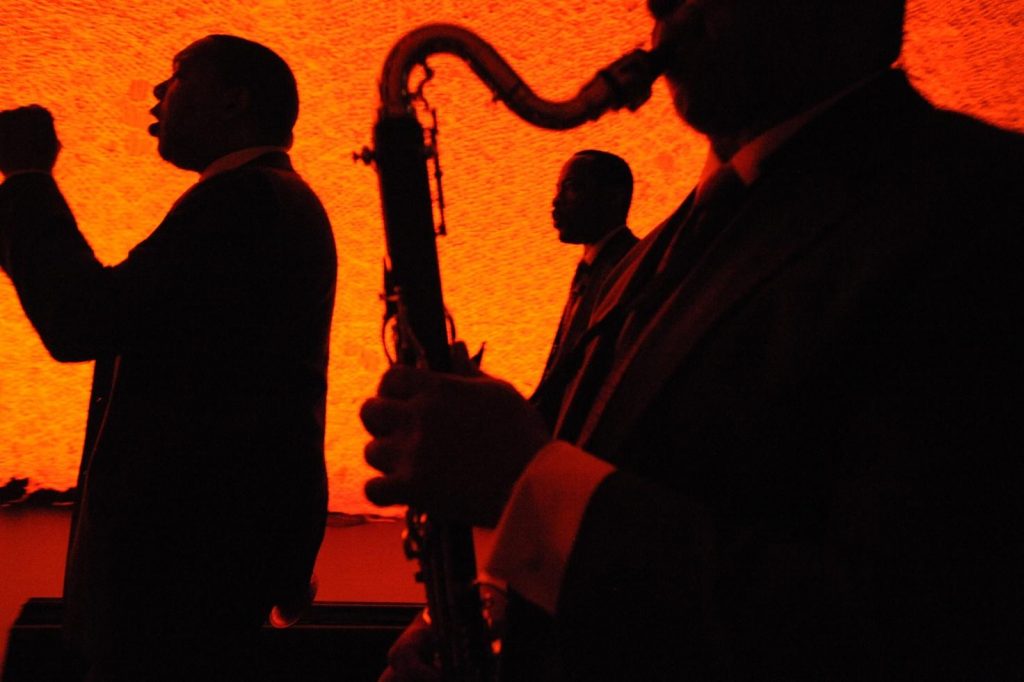 Blood on the Fields deals with slavery and freedom. Please describe what motivated you to create this great work.
My entire life I was interested in slavery because I grew up in segregation in the south of the United States during the civil rights movement. When I was young, I went to a museum called The Cabildo that had all of the slave chains and all of the trappings of it. We received a comic book about Frederick Douglass. I read about the great Frederick Douglass, who was a large part of the movement away from slavery in America.
Growing up in segregation, the hundred-year segregation that came about after the South lost the Civil War. It was always the subject of my term papers when I was in elementary school and high school. I read a lot of the literature, a lot of slave narratives. So it was natural for me to talk about it.
In my time, it was the time of Martin Luther King Jr, Lyndon Johnson, John F Kennedy, and the Vietnam War. And these were things that you heard about all the time, in the tribulations of integration I went through. It was very difficult. And so it is a very natural subject.
I can write something that is integrated. And eventually, the younger people will come up, and the people who will listen to the different forms of music, and they'll be able to play it.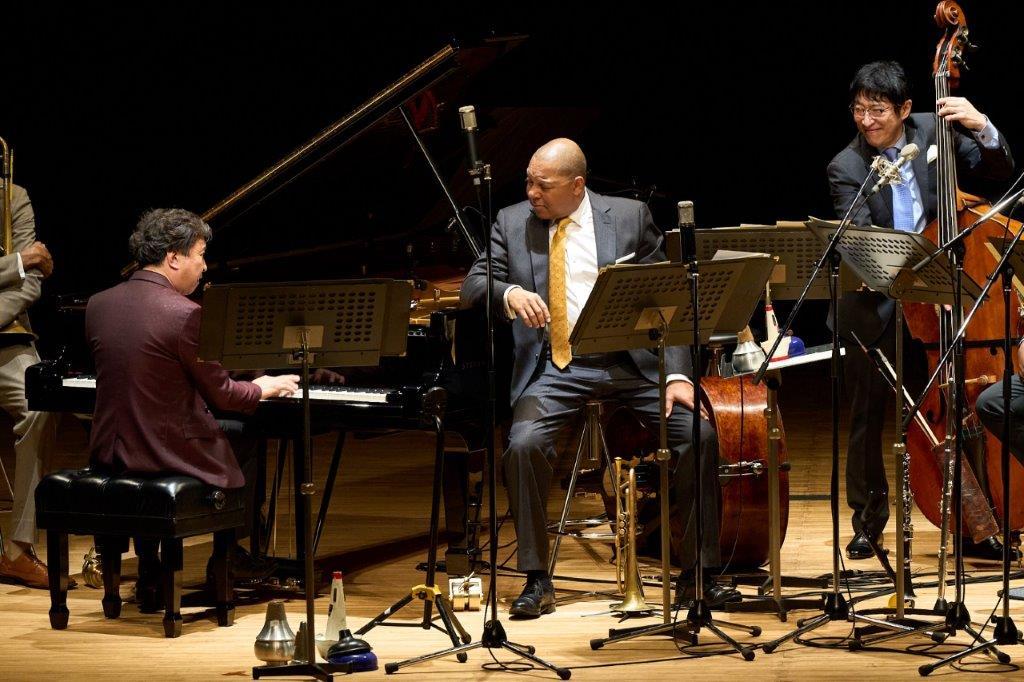 How do you hear the jazz performed by Japanese people who are not Westerners or Americans?
What do you think about Shohei Ohtani? [Laughs.] It's a part of the sectarian nature of human beings. The DNA has told us all we've got to do is look at it. These differences are very small. Cultural, racial differences from a DNA standpoint are non-existent. What do I think about all the great Japanese jazz musicians who I have played with?
Music is universal. I always love Japanese music like "Gagaku" and "Noh." Music maybe, for many people it's not popular music, but I listen to "Noh" over and over again. It sounds like blues. I listen to "Gagaku." [mimicking the sound of Gagaku's instrument Shō] The way they play it, the melody, it almost sounds like blues.
Musicians anywhere can play anything if they can figure out how to play it. The history of music has proved that. We don't have to keep proving it.
What directions do you want jazz to go?
Jazz wants to bring people together. It is a hybrid music, but it wants to bring people together through quality, not so much through commercialism. Commercialism tends to exacerbate differences. For many commercial products, people have to look a certain way, they have to live in a certain area.
Jazz is a more collective creativity. Music is oral. You look to listen to music, you don't hear a color. Some people see colors when they hear music, but it is never white or black.
When we are children, we fight for toys. We don't want to see another brother, we don't want to see another sister, we want everything for ourselves. As we grow older, we provide for other people. It's complicated, but very simple. The older we get, generally, the more people we provide for. And the younger we are, the more we take.
So if we look at the world as a person, we think they are very "young." They are in another phase. And after this phase they will be more mature. Jazz music is always about challenging people to come together over meaningful things. So it remains a struggle.
What would you say to a teenager asking for advice on how to be like you?
Education in school is very important. So when people come to me for advice, I tell the musicians, 'develop a love for the music because that's what's going to carry you through, is going to make you want to know about it. And when you love something, you sacrifice for it.
'If you're not really sure that you love the music itself, but you want to be known or you want some fame, adjust your priorities. Like, don't waste your time with something difficult. Just set your sights lower and figure out how to be successful at what you really want to be a part of. Because this is going to be difficult.' And only the people who really love it will stay engaged with it.
As we grow older, it becomes harder to maintain integrity. So we have to become more humble. There are challenges of playing with younger people, doing things that they do that you can't do. And different tests you can lay out for yourself.
I could do better, but I try to stay engaged. Also listening to people, especially as you become older. Listening to younger people's music before you make a judgment on it to make sure you are well informed. Because they do serious things too.
But many times the elders are not listening to it closely enough to benefit from it. So I think sometimes if our students have a recital or if I go to hear them play, I always try to keep notes and write down stuff or ask them what a song was about. You know, it's important to stay engaged.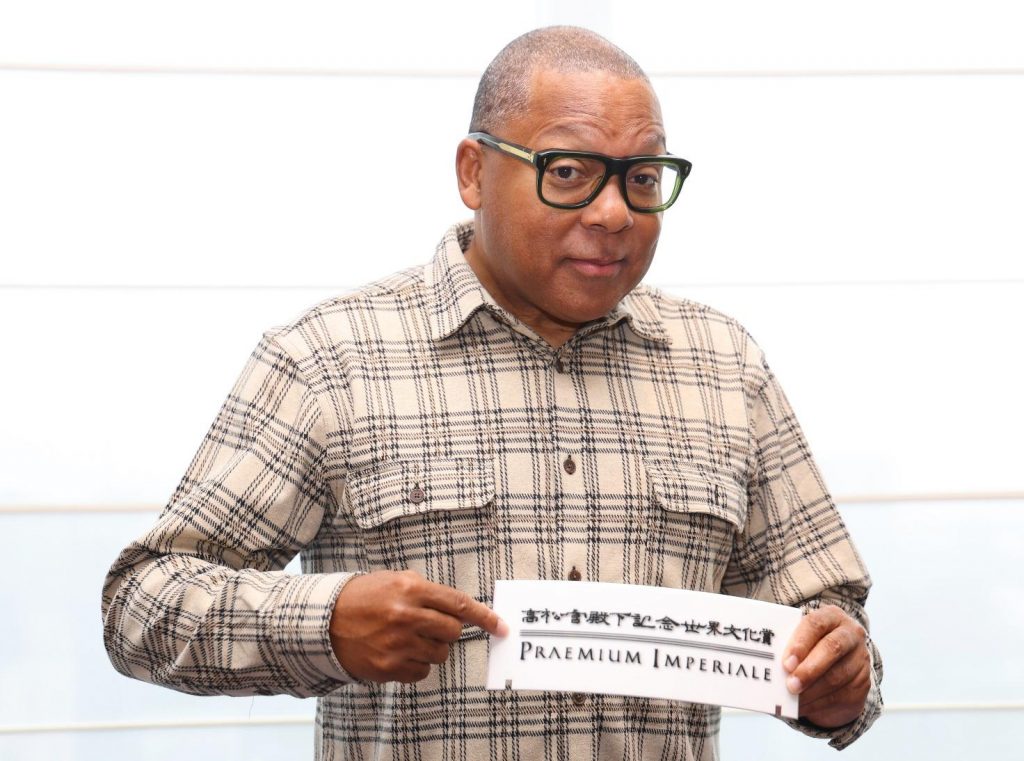 How do you engage with young people?
For me, every night we play I see kids come. Now it's been forty years. So the highlight for me is always some nine or ten-year-olds. They come up. I always tell them the same thing, and I try to embody it, which is I try to tease them, make fun, hug them, and make them feel there is warmth or beauty to playing.
I also encourage them to be curious and listen to different things. And to be consistent about practicing. Be consistent, not fifty hours, just every day. Listen to new things, study things, talk to people, and write things down.
I also try to embolden them because I ask them what they listen to. What do they like? For my young musicians, just to know how much fun it is. To be curious about something. It is a lot of fun to go deep with music.
You can go deeper and deeper into it, it never stops. And you won't live long enough to know everything about it, there is just so much to know. But it's always fun for the young ones.
I love to play with the elementary school bands, little kids [mimicking the sound of trumpet] I go play with them. "Hey, you play pretty good! How long have you been playing?" "Oh, forty-two years." [Laughs.] It's fun, you know.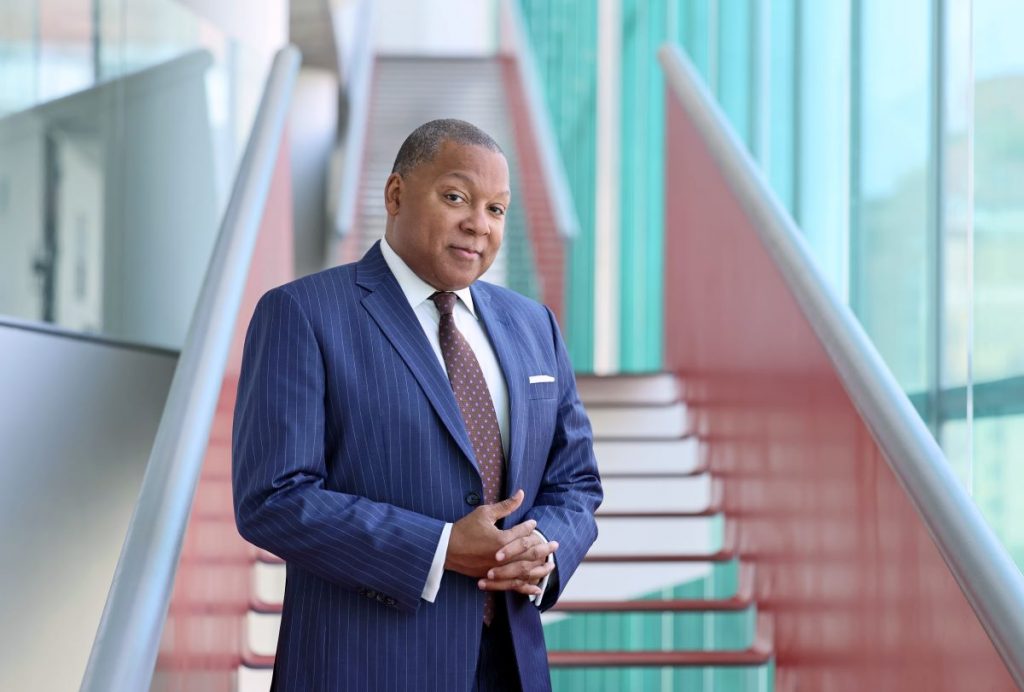 Conclusion
A dedicated aficionado of music and a passionate educator, Marsalis is a true visionary. He is perpetually steering his life towards the future. His unwavering commitment to the world of music harmoniously resonates with the timeless wisdom encapsulated in the Hippocratic aphorism, "Art is long, life is short."
The pursuit of art and the creation of enduring masterpieces require an extensive investment of time and effort. It is a stark contrast to the brevity of human existence. Marsalis serves as a profound exemplar of this philosophical truth, reminding us of the profound endurance demanded by artistic endeavors.
Moreover, the arts, like the realms of sports and science, are intrinsically linked to the development of human potential. While their fruition may be a gradual process, they stand as an essential cornerstone for nurturing the aspirations of tomorrow.
This interview has been edited and condensed for clarity from two conversations.
RELATED:
Author: Takashi "Tak" Nakamoto
Takashi "Tak" Nakamoto is a Senior Communications Strategist in charge of International Relations at Fuji Television Network, Inc with extensive experience in the arts.