INTERVIEW| The King's Singers During COVID-19: Looking Forward to their Japan Tour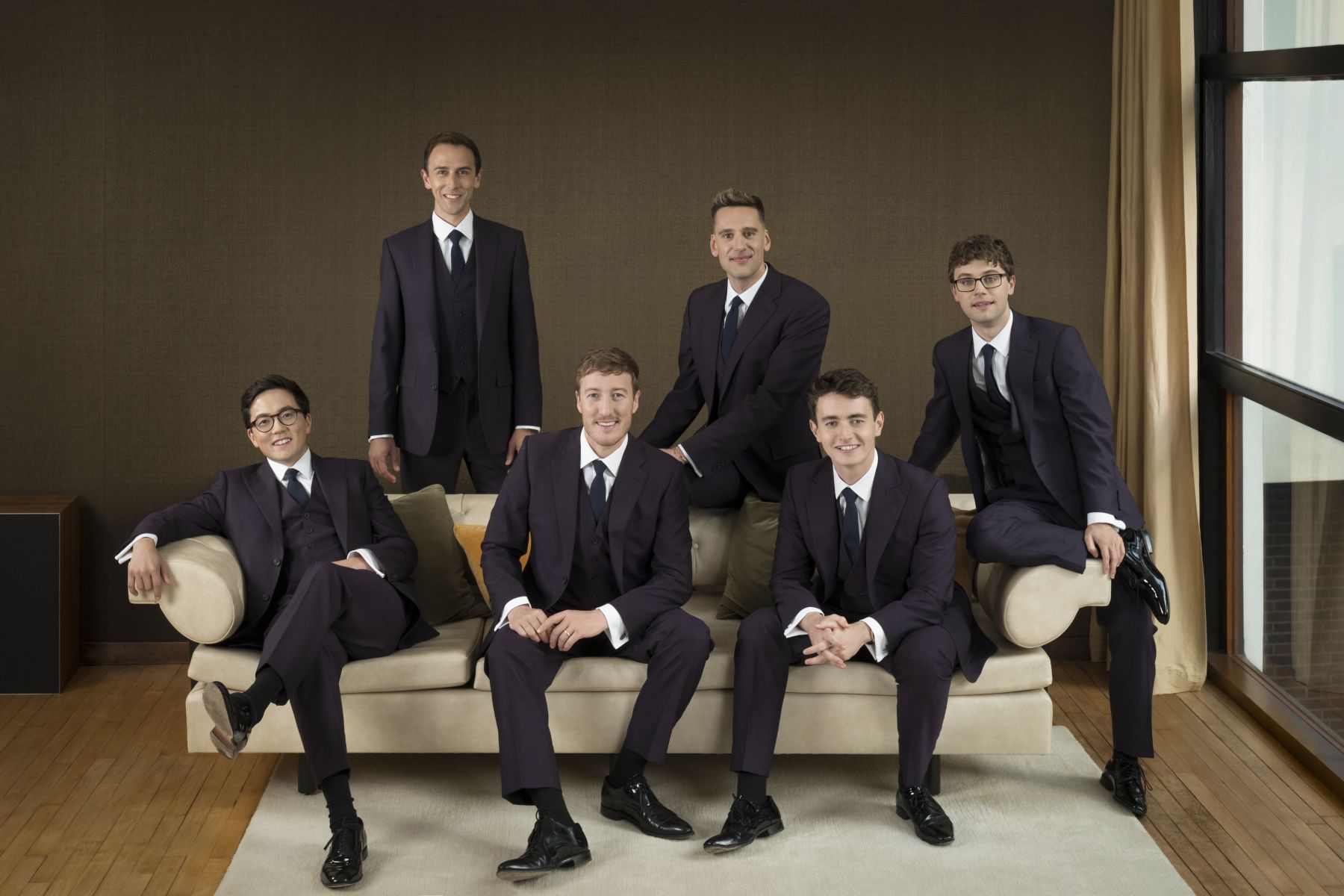 (Part 2 of two articles, Part 1 can be read here.)
COVID-19 has affected the lives of everyone in the world, including of course the lives of performers who are normally so used to travelling and hopping around the world.
We caught up on April 28 with two of the six-member worldwide known British Acapella group "The King's Singers" and talked about life in the time of the novel coronavirus. The group has a personal and professional link to Japan, and toured Japan during the first year of Reiwa.
Band members Julian Gregory and Patrick Dunachie in this second instalment discuss more broadly the music industry during this time, the challenges as a performer, and their future plans once life goes back to normality.
[The MUSICAL INDUSTRY]
So many people are performing online. Was there anything that you followed?
Julian Gregory: I saw "Chris Martin's At Home" Facebook Live by chance. I've been a massive Coldplay fan ever since I was a kid, but had never seen him up close like that.
He did sound a little bit rusty, he kept apologizing, "I haven't sung this song in eight years" and then laughing it off.
That really struck a chord with me. Both in terms of what we've been trying to do this year with "Finding Harmony" which will hopefully bring us to Japan in October. But also the fact that one of the most famous musicians in the world didn't really mind that he was slipping up here and there.
Patrick Dunachie: I saw an online set by the artist James Blake from his home.
He records all of his music from home, so his house is already a recording studio in all but name, so I think his set was a bit more professional.
I really enjoyed that and also we recently recorded one of his songs on our latest album, The Library Vol. 2, which is coming out in October.
What do you think the role of performers should be during this time?
I think probably to make people laugh a bit.
I manage social media content on the group's behalf, and I'm increasingly naturally drawn towards the funny or silly or the comedy in the content. I think that is something that arts and culture can provide when everything else is serious and sad.
J: I would agree with that. I also imagine there are lots of people out there either amateur or professional musicians because of this situation now they've stopped having music in their life.
I wonder if our role is also partly to inspire these people a little bit, to encourage and reassure them that music is still not just out there for the celebrities but very much doable at home. I guess the stay-at-home choir project in this sense very much hits that on the nail.
How has the world of performing music changed during COVID-19?
J: It seems that generally in the music industry - and particularly the classical music industry- the smaller individual singers, perhaps at the beginning of their careers, or the festivals promoters, theaters, perhaps are going to see the biggest damage certainly in the short run.
We are particularly lucky that we as a group are quite versatile with the kind of performance we do. We perform sometimes for the big concert halls, but we've got an offer for this August singing at a wedding in a Chateau in France.
We are just six guys, we don't need a piano accompaniment, as long as the six of us are there we can sing. I think we're going to hopefully be okay through this.
P: I agree with that. I think it'll be really sad if a whole generation of potential artists decides that "I'm going to go into something a bit safer where my salary will come in every month."
For example, my brother is a jazz piano player, and I'm worried about him. He has a different employer every night, so really for him there's no protection. All of those different people have cancelled their work and he's left with nothing really.
I really hate the thought that someone like my brother ten years ago might decide to go into something else and the world is deprived of a potential artist.
I think people who are doing well and flourishing are people who already use technology in their music making, because they're able to carry on creating their art.
It's people who need human contact like us [who find it difficult]. We stand absurdly close to each other when we sing, not social distancing in the slightest. I think I have a degree of envy for those artists who are just totally well equipped for remote music-making like we're using at the moment. I think they'll be the first battalion forward in this new world.
J: There's been a lot of media around choirs actually being sources of contagion.
I'm just worried that in the next year or two before we start getting the wristband saying that we are being vaccinated or apps [for contact tracing], all these amazing choirs might not want to get together and that could be some pretty bad damage.
In Japan as well, they've got the Japan Chorus Association which does so much work bringing people together and through music, and it's one of the largest kind of outfits for musicians.
[ FUTURE MEASURES and PLANS]
Are social distancing measures to perform in the future?
P: We haven't discussed it yet. I hope that we will go back to normal. I don't appreciate it often enough in normal life, but there's no feeling quite like being part of this tiny little two-meter-squared-unit.
I hope we don't have to stand far apart, I think it's not who we are and not how we make our best music, but we will stick to any official guidance recommended practice.
J: We just have to practice not spitting during our singing!
What are you looking forward to in the foreseeable future?
J: "Finding Harmony" [the album] was released in January this year [2020].
Our work these months was supposed to be "Finding Harmony"-related, with the UK the launch events taking place next month.
Luckily the "Finding Harmony" season lasts until well into 2021. I think we might be missing out on it now, but hopefully we'll be able to salvage it and still shout about it in the months and year ahead.
At the moment, October is the first month in our diary that looks promising. In Japan we're listening to our promoters and our agents Tempo Primo in charge of everything, and they seem pretty positive.
Our concert program that we're touring in Japan in October is called "Heiwa", which means "Peace" in Japanese. We wanted to title it "Finding Harmony" but through a Japanese perspective. Our stakeholders thought that "Finding Harmony" ultimately in a nutshell was encapsulated by this sense of "Peace"in the face of adversity or natural disasters, which in Japan are very prevalent.
This beacon of light in October of the Japan tour is actually even more powerful by the fact that it could be the first time we truly can perform "Finding Harmony" since this whole crisis took off. And what better country to be doing that in Japan?
How will COVID-19 change your future artistic output?
P: I don't think you can ignore what's occurring now, if you're creating art, particularly art about the state of the world and how music relates to it [like "Finding Harmony"].
There's a million different ways in which you can reflect on this present situation as a great episode of music bringing comfort to people.
We're creating a brand new concert program which is all about art that's created in isolation or exile or imprisonment, how that art comes to be. There will be some poetry, some music, some prose and we're going to construct this program around the effect of isolation on people and how they write music.
Then, I think "Finding Harmony" will have to shift a little bit. The music we've chosen already for it is really interesting. But at the end of every concert we leave a little slot for some unprogrammed music. I think with the amount of interesting stuff that's occurred we could make some arrangements.
J: We are just trying to as always keep versatile and adapt and trying to be pioneers!
P: In recent times we've been having our recordings in a live setting, meaning we stand in one room and record as if it were a live concert.
[During this isolation] I have been wondering if recording separately, called multitrack recording, is actually a viable way to capture our sound. If you get the right editor, someone who can really find your distinctive group sound there's something beautiful in that type of recording as well.
Do you have a message to your fans in Japan?
J: Dozo yoroshiku onegai shimasu!
On behalf of the King's Singers we really treasure our relationship with Japan. We are all really passionate about visiting Japan and we find the country fascinating, with an inspirational music scene.
It's so special going there, the group has got a great history of going there. Obviously, there's a bit of a personal connection there as well to me. We hope that our audiences and fans in Japan are managing to keep music a part of their lives through these times and through this crisis, keeping safe and healthy in lockdown, keeping their minds alive and active. We just can't wait to see them in October!
Interview by: Arielle Busetto