INTERVIEW | Artist Soko Izumi on His Love for Hong Kong and Tour of Japan's Outlying Islands
Soko Izumi recently toured Japan's outlying islands for a Hong Kong TV program. He describes Hong Kong and Japan as puzzle pieces that "fit together perfectly."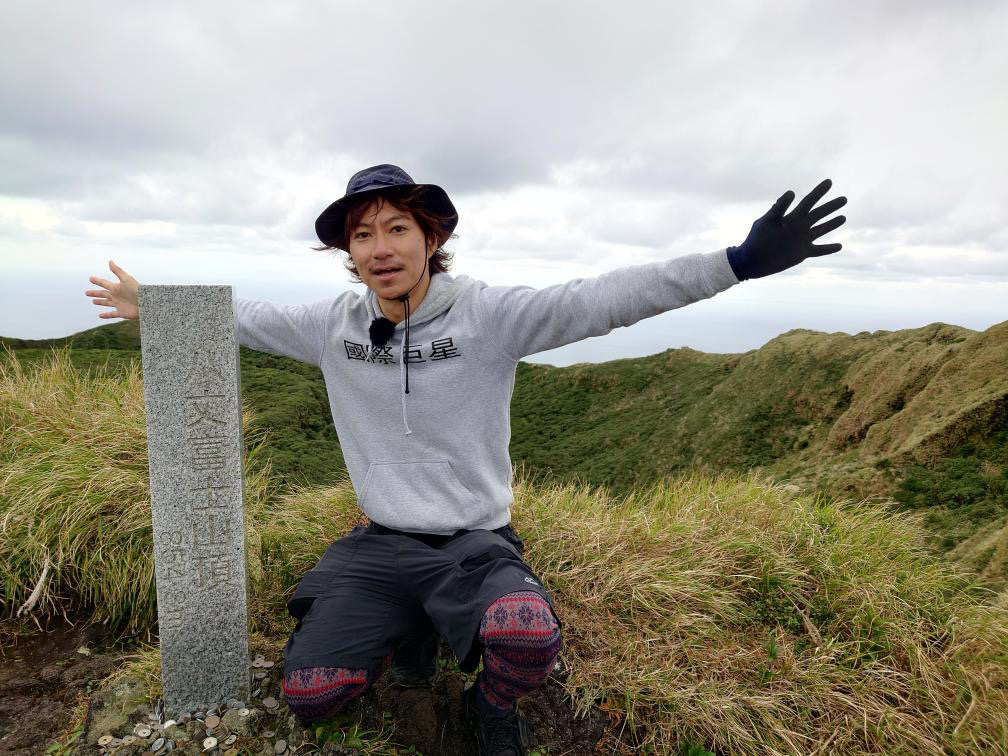 Soko Izumi is a Japanese actor, TV personality, and YouTuber working in Hong Kong. His in-depth understanding of Hong Kong and Japanese cultures gives him a unique perspective from which he shares the best of both worlds.
His bilingual YouTube channel "Why Did I Come to Hong Kong?" has a strong following with travel content geared towards Japanese and Cantonese speakers.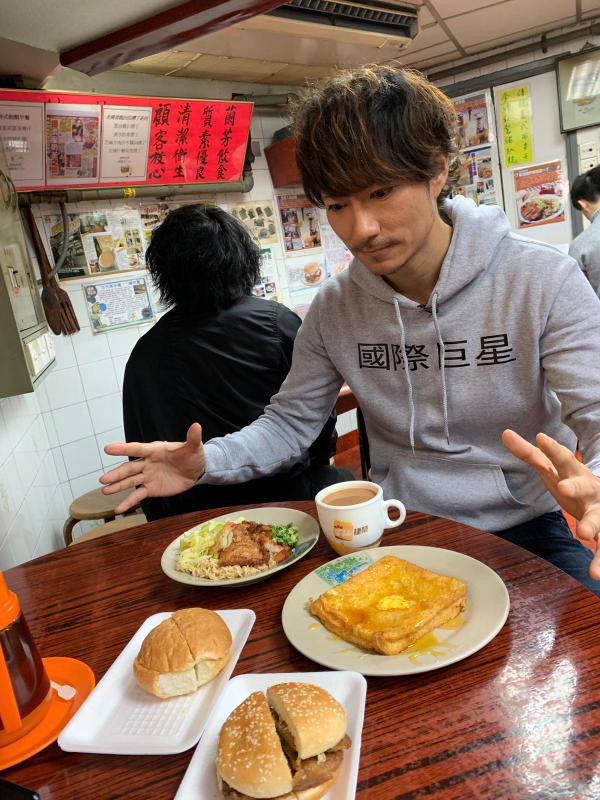 During the pandemic, his videos of Japanese restaurants, shops, and food fairs in Hong Kong provided vital information to Japanophiles who couldn't travel. For example, this video features the izakaya Sugidama, run by belt-conveyor sushi chain Sushiro, which opened in Hong Kong on August 3.
For his Japanese viewers, he's a reliable tour guide to the innermost layers of Hong Kong's local culture. He offers a delicious peak of the menu of Hong Kong's "greasy-spoon" diners, which is especially helpful to first-timers who feel reluctant to go in blind.
With COVID-19 travel restrictions lifted, he recently returned to Japan for a tour around Japan's outlying islands to film for a Hong Kong TV program.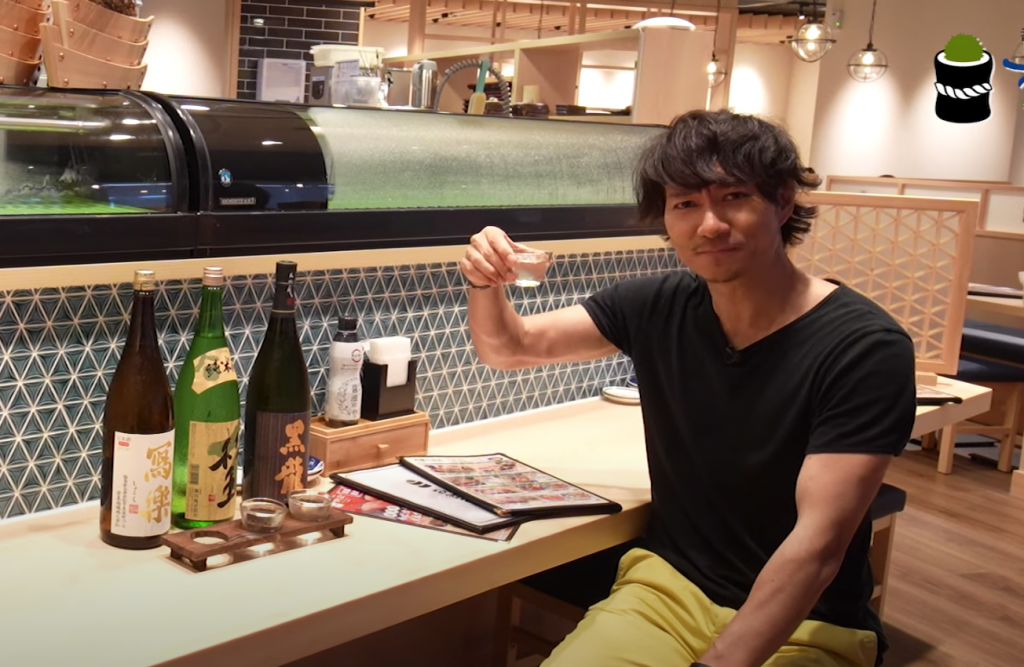 Why Hong Kong?
Entirely by chance, at first. I happened to excel at Mandarin as a second language in college, so I studied abroad at a sister school in Guangdong Province. That's when I visited Hong Kong for the first time and fell in love.
Hong Kong's diversity made me feel right at home. Growing up, my parents loved being a host family for international students, so we always had foreigners living with us. We had people from Australia, New Zealand, Tunisia, and Sweden. The word "international" always had a hold on me.
Why Show Biz?
I always had a knack for creative expression. When I was young, I would draw manga and make short movies using 8mm films. Fortunately, I was recruited by a Hong Kong TV studio to be a bilingual MC for its Japanese channel. Although I eventually moved to a different channel, I worked for the studio for more than 7 years. Then, a friend recommended I start a YouTube channel because there weren't many Japanese YouTubers who spoke Cantonese fluently.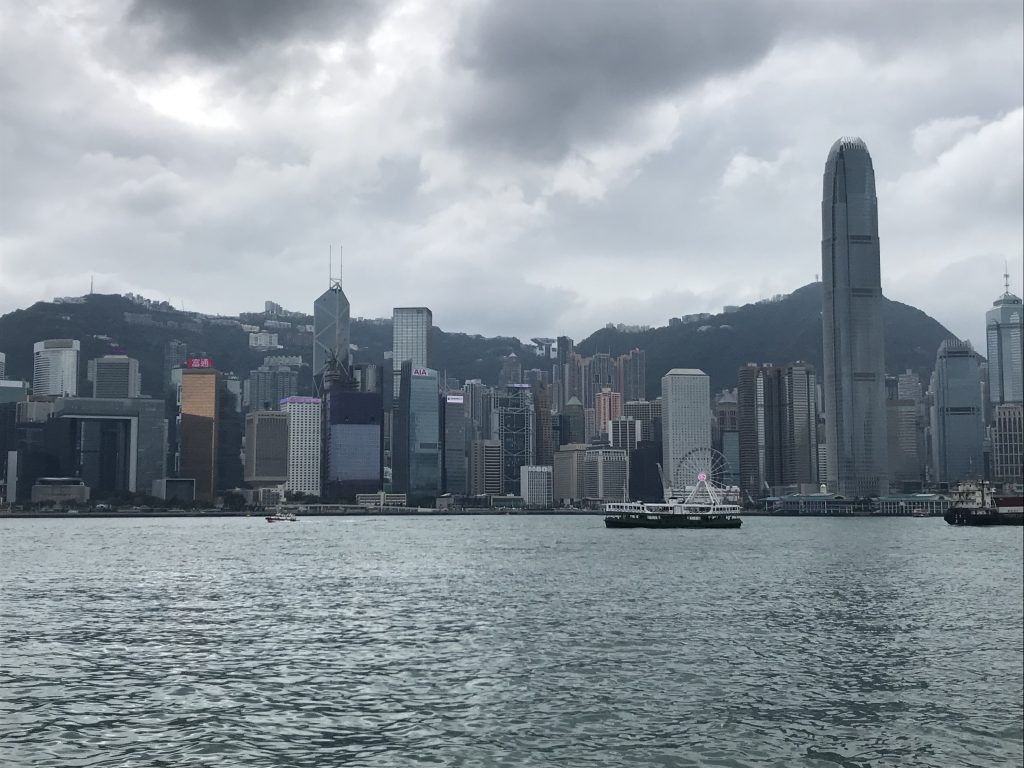 Hong Kong's Love for All Things Japanese
I often think about why Hongkongers like Japan so much. I feel like Japan and Hong Kong are like pieces of a puzzle that fit together perfectly. What Japan has, Hong Kong doesn't have, and vice versa.
This is a generalization, but Hongkongers tend to be more individualistic, while Japanese people tend to be more concerned about what others are thinking. Hongkongers remind me that everyone has the right to express their opinion, regardless of age, experience, nationality, or status.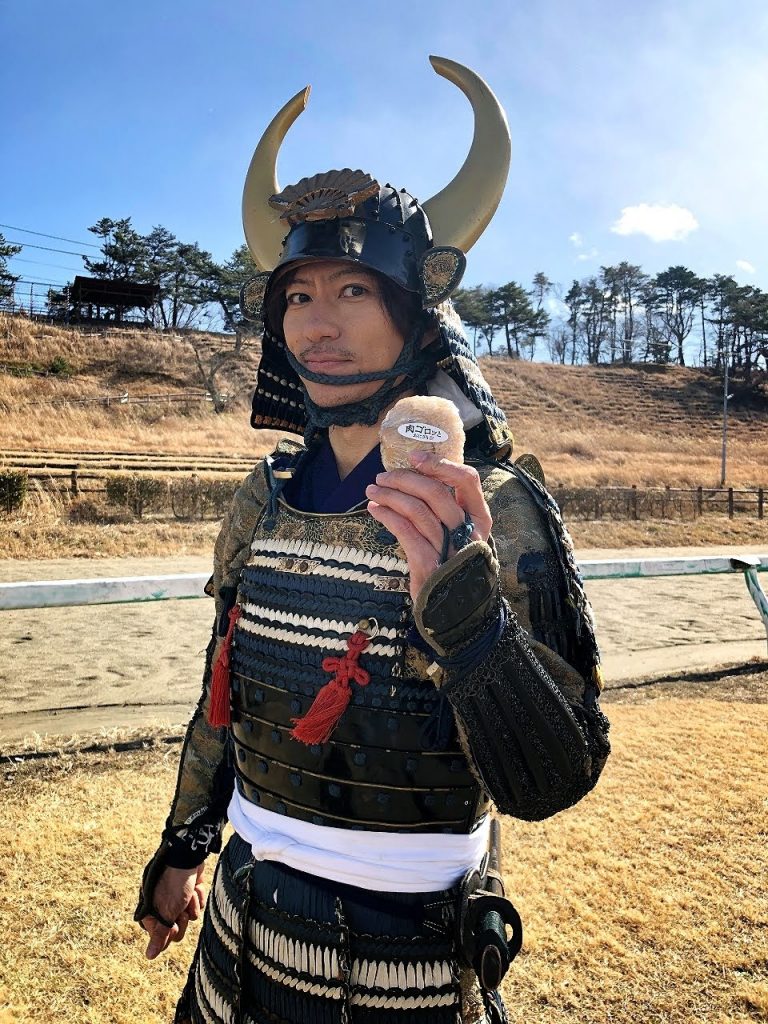 In terms of what Hongkongers like about Japan, I think it's the culture and history, like anime and samurai. Many people in Hong Kong, or their relatives, have had to flee from some form of persecution. So I think the rootedness of Japan's culture offers a sense of stability and tranquility that is attractive to them.
In terms of what Hongkongers do in Japan, I think they like to shop and eat, primarily. My friends like anime so they always go to Akihabara. Slam Dunk is out in theaters in Japan, right? The anime is really popular here, too. Some people also like skiing. I hear that ramen, tonkatsu, yakiniku, and sushi are some of their favorite Japanese foods.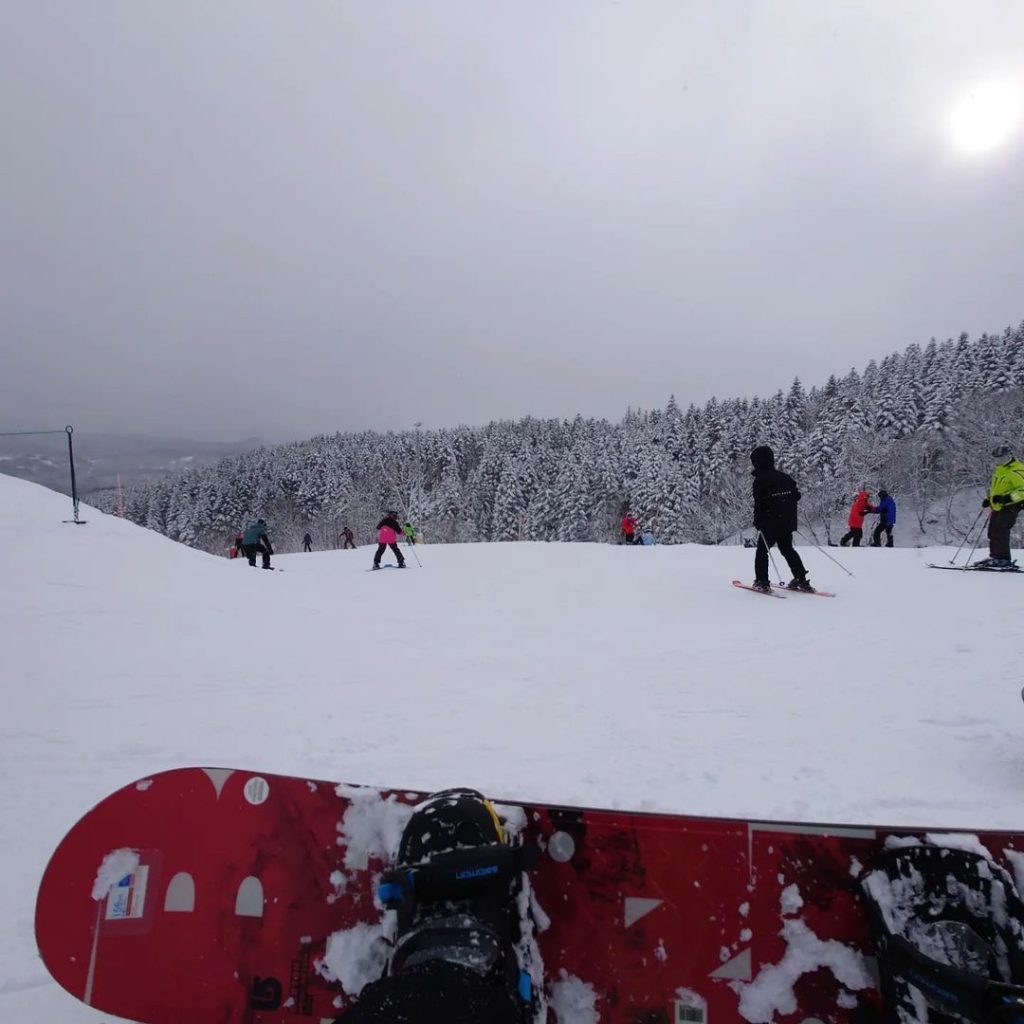 Why the Focus on Islands?
The filming tour was for the Cantonese TV channel ViuTV. Apparently, the producer had planned this project two years ago, but it was delayed because of COVID-19. They decided to focus on islands because a lot of Hongkongers have already been to the well-known areas of Japan. But the outlying islands are not known. The program is scheduled to air next March, and we think it'll be a hit.
I enjoyed the local cuisine, diving, seeing dolphins in the wild, and other activities that only the ocean can offer. It was beautiful. We didn't just observe the dolphins from the boat. We actually went into the water and swam along beside them with the instructor's help. I think it was on the way to another island from Miyakejima. And the nature was wonderful, of course. We climbed mountains and went to outdoor hot springs.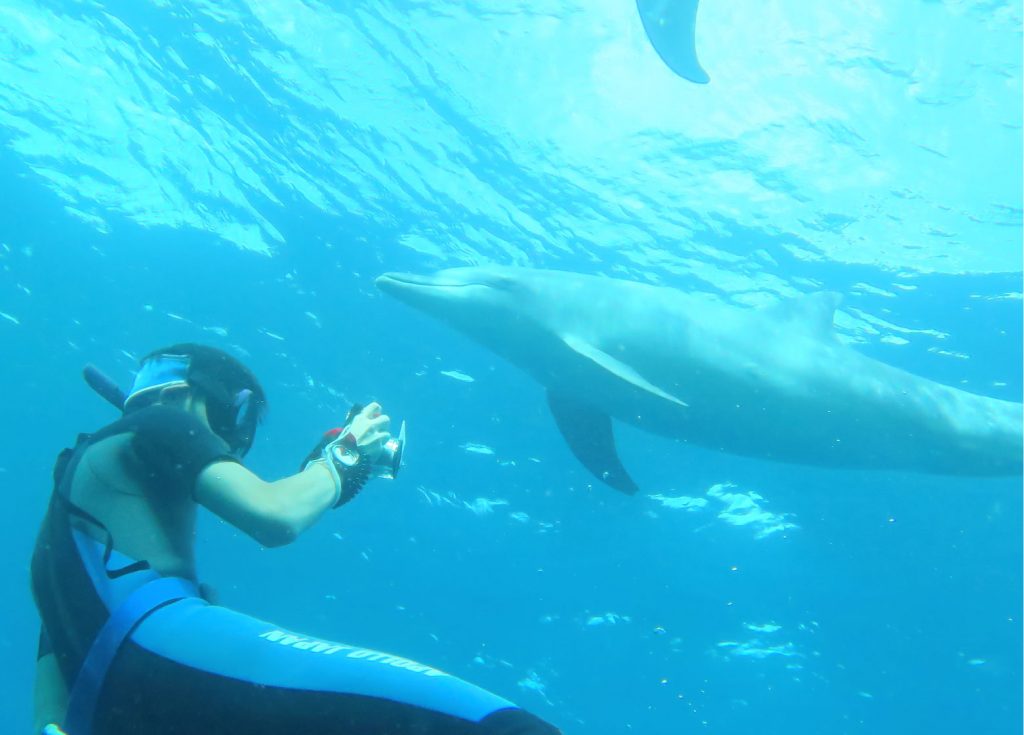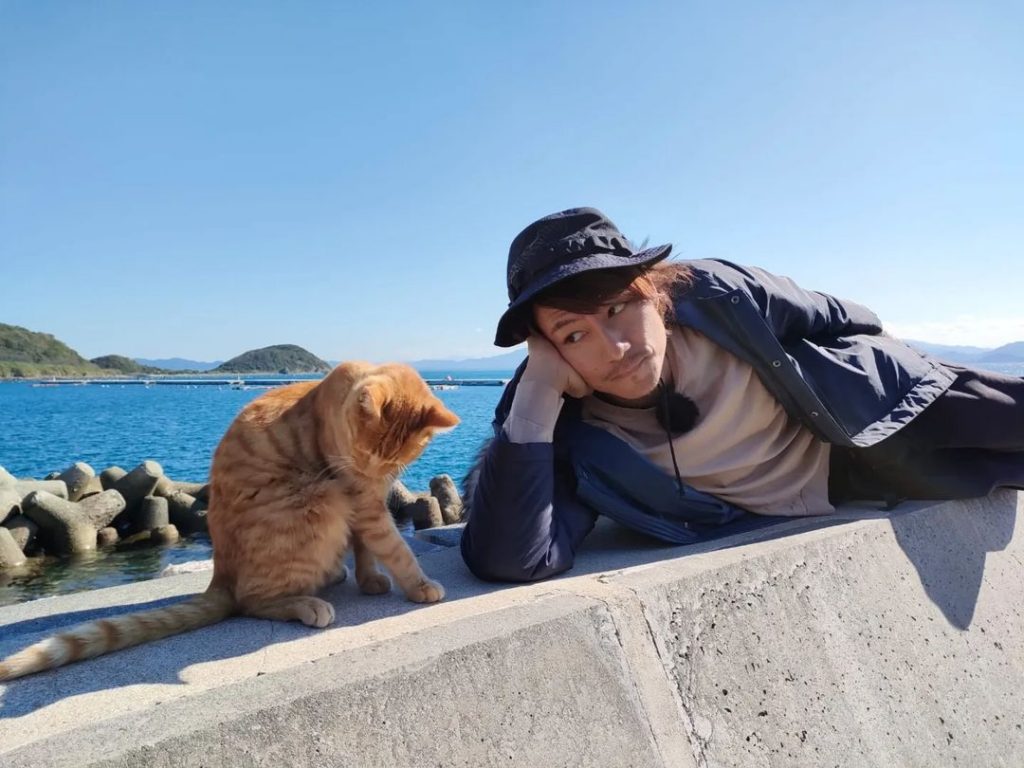 Most Memorable Island?
I also went to Aogashima. It's very difficult to get there, even for Japanese people. The service rate is only about 50% for ships and 70% for helicopters. You have to go from Hachijojima, so you can't go directly from Tokyo. The producer said that this was probably the first time a Hong Kong TV crew filmed Aogashima.
On the island, you can drink a brand of shochu called Aochu. It's only made on the island, so people call it the "phantom shochu." They make it the old-fashioned way using preserved koji. I think many places buy koji to make sake nowadays, but they use natural koji. It was really delicious.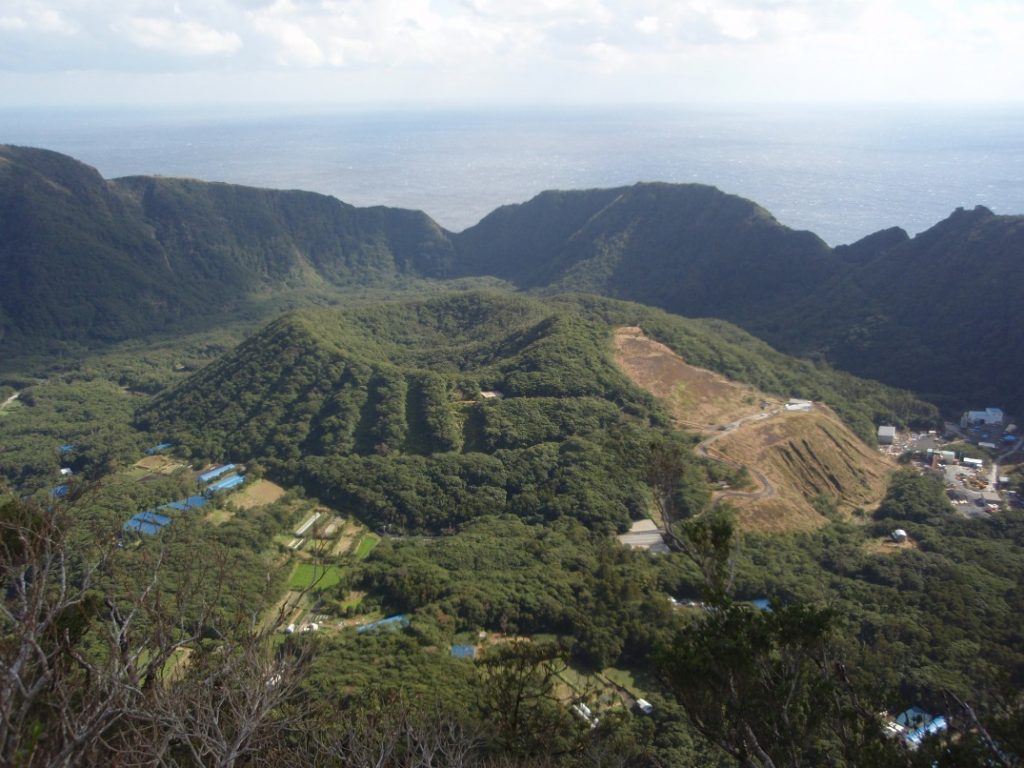 It was also interesting to listen to the locals' stories. Since Aogashima is a volcanic island, it can erupt again. But the islanders are used to it. They calmly told me that if it erupts, they will run in the opposite direction of the wind and see how things go.
The islanders I met had a very clear idea of what they wanted in life. They love the ocean, nature, fishing, and being with their families. In Hong Kong, you can get information overload, so perhaps tourists will find the island atmosphere very relaxing.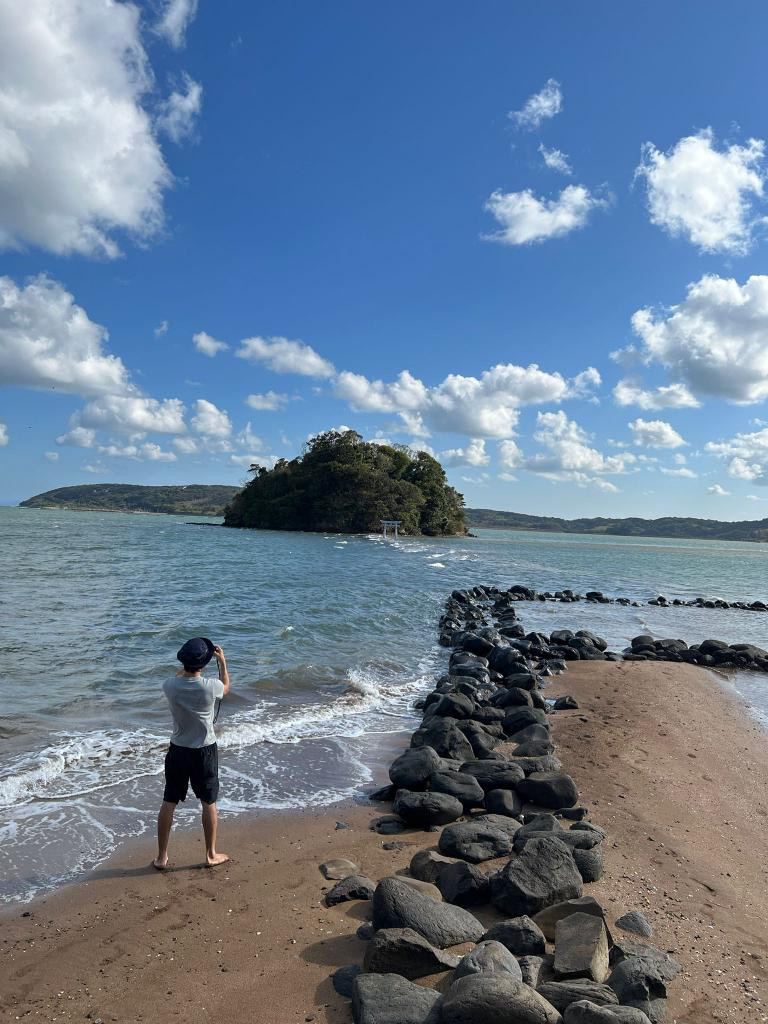 Tips for Pursuing a Dream?
I can't make a sweeping statement, since life is difficult for different people in different ways. But life is short, isn't it? I think it's important to know that your life is a big deal but also not a big deal at the same time. What I mean by "not a big deal" is that in the grand scheme of things, our lives are very small. It's good not to take yourself too seriously. Also, I think it's always a win if you choose the more exciting path, no matter how insignificant it might feel.
Anything Else?
Japanese people, please be nice to any Hongkongers lost in the streets of Japan.


RELATED:

Author: Miruka Adachi