Japan and Bangladesh, Leadership Matters: Beginning of a New Journey Together as 'Strategic Partners'
PM Sheikh Hasina's visit promoted the historically close relations of Bangladesh and Japan along with new infrastructure and economic development agreements.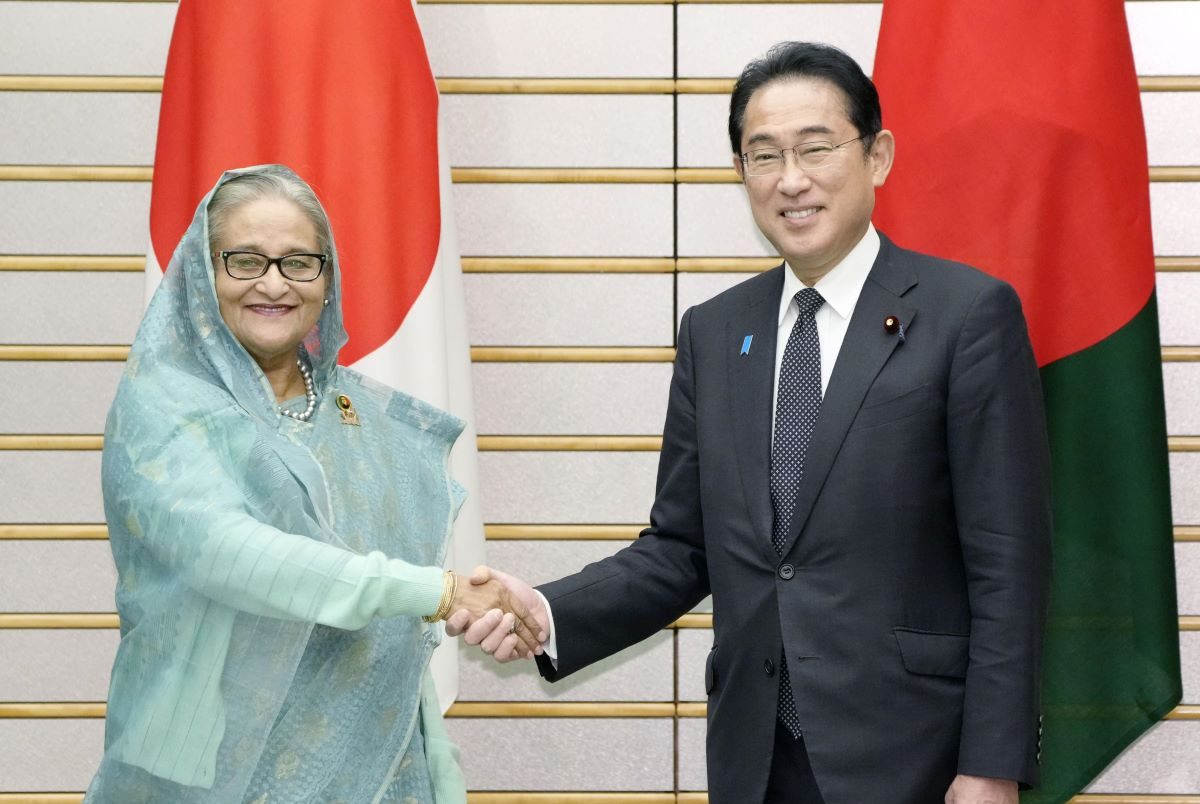 HE the Prime Minister of Bangladesh, Sheikh Hasina has just concluded a very successful official visit to Japan. Since 2009, Prime Minister Sheikh Hasina has continued to form the government in Bangladesh through a people's mandate.
She is one of the few leaders in this part of the world who has continued her pursuit to elevate the overall condition of the people through people-centric development at home and friendly and pragmatic bilateral relations with the neighbors and all countries in the world. Her official visit to Japan from April 25-28 also embodied this approach.
The foreign policy dictum of the Father of the Nation Bangabandhu Sheikh Mujibur Rahman, "friendship to all and malice towards none," continues to guide her government's foreign policy. I would like to do justice to the words in the headline of the article, 'how leadership matters.'
Sheikh Hasina and Shinzo Abe
Prime Minister Sheikh Hasina also worked closely with then-Prime Minister Shinzo Abe to elevate our traditional friendly relations to a "Comprehensive partnership" in 2014. Immediately after forming her second successive government in 2014, the back-to-back visits of the two prime ministers were symbolic and added substance to our bilateral relations.
Over the past eight years, the Honorable Prime Minister kept the momentum going. Although there was a change in the leadership in Japan, our two countries forged a closer partnership under the aegis of the above framework.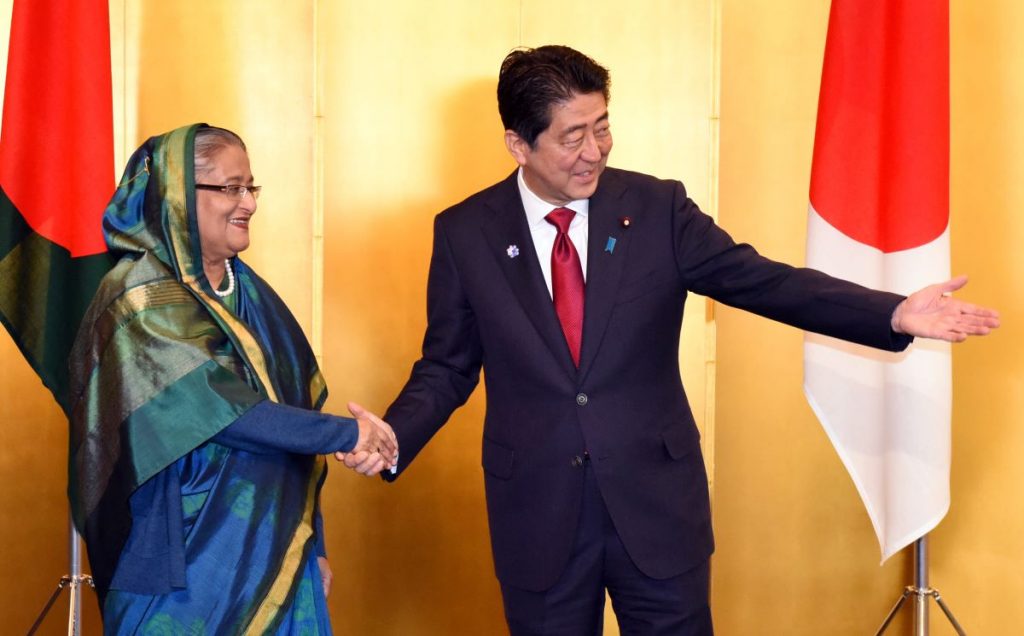 Japan has continued on the pledge made in 2014 and committed substantial financial and technical assistance under the Big-B initiative. This commitment focuses on the development of energy, infrastructure, and connectivity projects in Bangladesh and especially in the Southern Chattogram.
The presence of Japanese companies and investment in Bangladesh has also seen a significant increase. Looking at the future potential of our bilateral relations, during her official visit to Japan at the invitation of Prime Minister Fumio Kishida, the Honorable Prime Minister has endeavored to further strengthen and deepen the relations by concluding the "Strategic Partnership." Leadership matters.
Close Bilateral Relations From Independence
Going back in history, leadership also mattered. For example, when the then-Prime Minister and the Father of the Nation Bangabandhu Sheikh Mujibur Rahman undertook an official visit to Japan from 18-24, 1973 at the invitation of the Government of Japan. I recall that the late Takashi Hayakawa, a Diet member and founder of the Japan-Bangladesh Association, among others, visited Bangladesh in March 1972, to meet Bangabandhu.
The late Mr Hayakawa visited Bangladesh as a Goodwill Envoy of the Government of Japan. He played a special role in promoting friendship between Bangladesh and Japan. While observing Bangladesh being devastated due to the War of Independence, he felt the enthusiasm of the people who had just won their independence and talked thoroughly with Bangabandhu about future nation-building aiming for "Golden Bengal."
Following her father's legacy, our leader and Prime Minister Sheikh Hasina has visited Japan seven times. She has been the architect of the present warm bilateral relations. Now, we look forward to engaging with Japan in a new set of areas widening our horizon of cooperation.
Our friends in the Japan-Bangladesh Society have a big role to play. And we seek more collaboration with you in the coming days.
Warm Relations on a State Visit
Bangladesh is positioned in a geographically strategic location. However, due to pragmatic policies and far-sighted vision, our leadership has been able to place Bangladesh in a manner that the regional and global players are giving us significant attention and valuable consideration.
During the visit, the Honorable Prime Minister was warmly welcomed by the Government of Japan. She was accorded the highest honor and elaborate courtesies which were not seen in an official visit in recent times.
HE Sheikh Hasina was hosted in the Akasaka Palace State Guest House. On her arrival at Haneda International Airport by a special chartered flight of Bangladesh Biman, a smartly turned-out contingent of Japan's Self-Defense Force presented the ceremonial Guard of Honor. A red carpet reception was laid down on the tarmac of the VIP area at Haneda International Airport.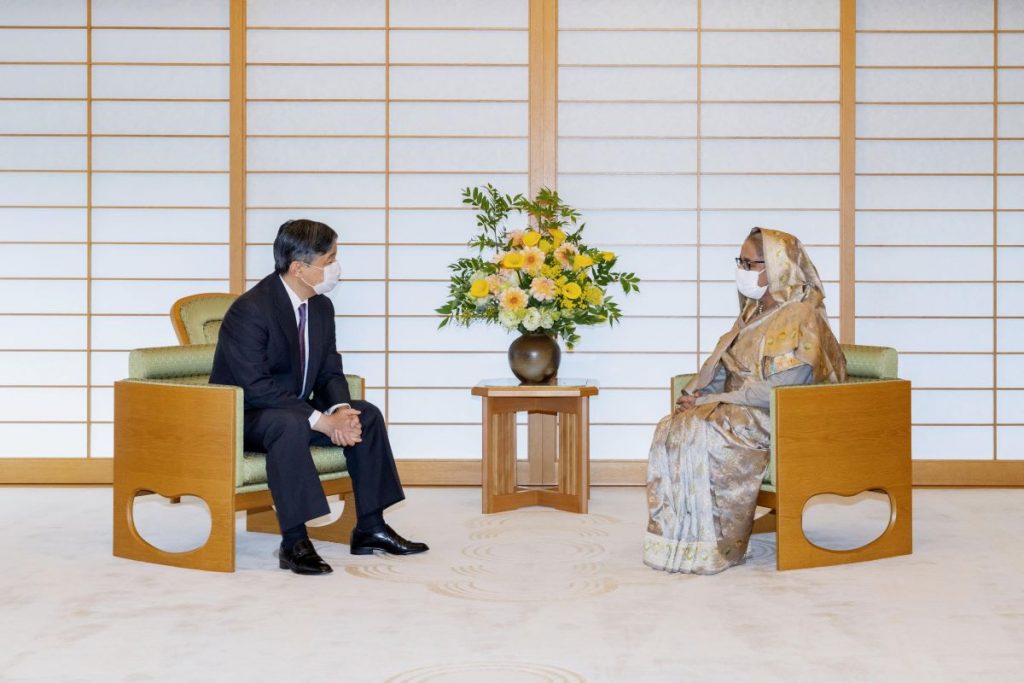 State Minister for Foreign Affairs HE Mr Kenji Yamada, along with the Chief of Protocol of Japan, received her at the ceremonial lounge. I along with my spouse was also at the ceremonial presentation line.
Our humble respect is also paid to His Majesty Emperor Naruhito. The Emperor gave a private audience to the Honorable Prime Minister on April 26. After the pandemic, she was the first head of government that His Majesty received. Leadership matters.
His Majesty the Emperor recognized the role played by the Father of the Nation Bangabandhu. And he sympathized with the way the Father of the Nation and his entire family were brutally assassinated in 1975.
Two Prime Ministers Forge a Guiding Principle
Leadership matters. Prime Minister Sheikh Hasina was warmly received by Prime Minister Kishida on her arrival at the Prime Minister's Office in Tokyo. The summit was held in a free and candid manner to discuss all issues of mutual interest.
They concluded the Joint Statement on Strategic Partnership. It encompasses the guiding principle that will lead the two countries' journey into the next 50 years and beyond. During the visit, as many as eight instruments were signed and exchanged. These institutionalize cooperation in the areas of customs, ICT and cybersecurity, industrial upgradation, agriculture, metro rail, ship recycling, intellectual property, and defense.
The visit came at a time when our two countries had just celebrated the 50th anniversary of the establishment of bilateral relations (1972-2022). Moreover, the outcome lucidly manifests the commitment and determination of our leadership to enhance the bilateral relationship based on common values and mutual interests. Our friendly relations have matured over the years through sustained engagement at the highest level.
Recognizing Friends of Bangladesh's Independence
Leadership matters. Bangladesh never forgets the invaluable support and contribution of the friendly people of Japan. Especially that of school children who saved their lunch money to support the children and people of Bangladesh during our liberation war in 1971. Bangabandhu met a selection of those children when he visited Japan in 1973. His daughter, Sheikh Hasina, always remembers those days when we struggled for our freedom and rights.
Japan and the Japanese people stood by us and provided support in our trying times. With this in mind, in our humble way, Bangladesh has honored four distinguished Japanese nationals during the April visit. They were honored as the "Friends of Liberation War" in the presence of the Honorable Prime Minister, her sister Honorable Sheikh Rehana, and dignitaries from both Bangladesh and Japan on April 27, 2023.
The 2023 honorees are:
Mr. Tadateru Konoe, President Emeritus, Japan Red Cross Society
Mr Pema Gyalpo, Professor
Late Mr Hideo Takano, Political Activist (posthumous)
Late Mr Taizo Ichinose, Journalist/Photographer (posthumous)
I may recall that earlier in 2012 and 2013, Bangladesh honored eight more distinguished Japanese nationals with a similar honor.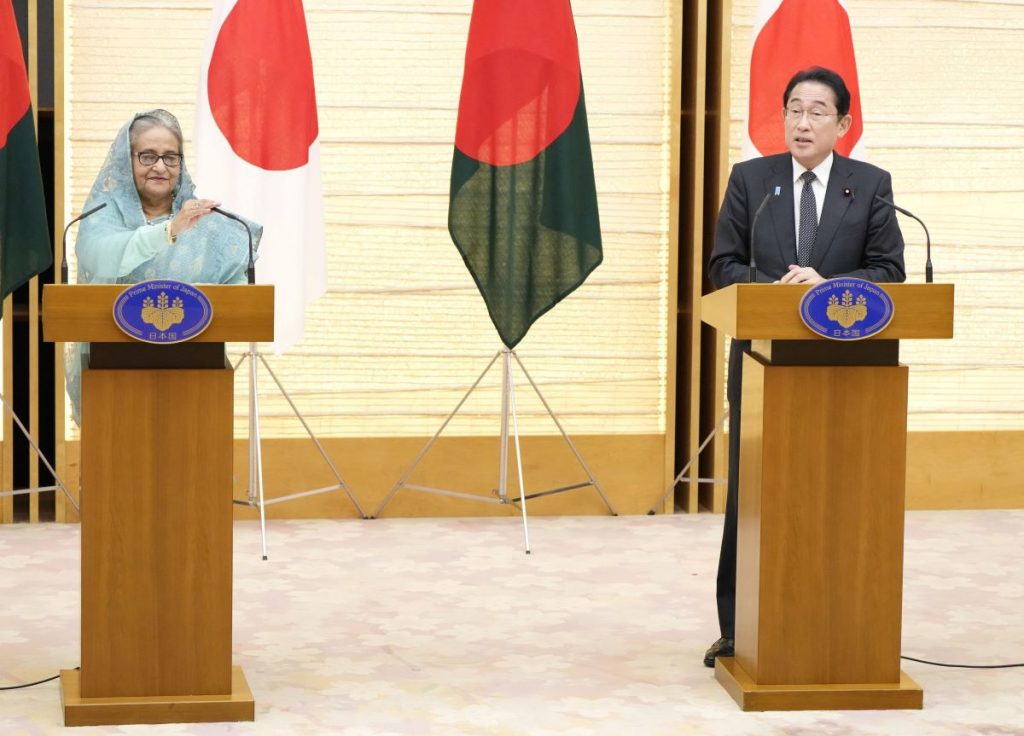 Opening the Door to Japanese Businesses
Leadership matters. Apart from her official engagements, the Honorable Prime Minister's program was studded with a series of courtesy calls. Most of the prominent trade and chairmen and presidents of entities like the Japan-Bangladesh Committee for Commercial and Economic Cooperation (JBCCEC), Japan External Trade Organization (JETRO), Japan International Cooperation Agency (JICA), and Japan Bank for International Cooperation (JBIC), met her during her visit.
In turn, she encouraged them to do more business and investment in Bangladesh. In a meeting with the President, CEOs, and business leaders of Japan, she assured them of the sustained efforts put in by her government to make Bangladesh an environment conducive to business. The country hopes to attract Japanese businessmen and investors.
The Bangladesh Securities and Exchange Commission (BSEC) and Bangladesh Investment Development Authority (BIDA), in collaboration with JETRO and JBCCEC, jointly organized a summit on "Trade & Investment Opportunities between Bangladesh and Japan" on 27 April 2023. A total of nine memorandums of understanding were signed between Bangladesh and Japanese companies. Notable among them are the agreements with Marubeni, Lion, Itochu, and Sumitomo.
Agreements were also reached with JERA, MEDINA, and Pipeline in diverse fields of manufacturing consumer goods, power and energy, IT, healthcare, etc. Moreover, there is progress in the Joint Study Group on the possibility of a Japan-Bangladesh Economic Partnership Agreement (EPA). The first meeting toward this was held in April in Tokyo.
The Honorable Prime Minister of Bangladesh is providing the leadership. We are encouraged that through her official visit to Japan and related activities, ample momentum has been generated. The gate for business and investment has been opened up for Japanese companies doing business with Bangladesh. And now it is up to Japanese businesses and investors to take full advantage of it.
Economic Development and Regional Security
Leadership matters. On regional matters, the prime ministers discussed issues of regional interest. Both leaders recognized the importance of Bangladesh, which holds great economic potential and can be a bridge between huge economic markets. Namely, markets in South Asia and Southeast Asia.
They shared their views that developing quality infrastructure would enhance regional connectivity and contribute to the development of Bangladesh and the region. Furthermore, they reaffirmed that the development of Bangladesh through regional connectivity would contribute to the overall stability of the Indo-Pacific region.
Both sides also recognized the issue of forcibly displaced Myanmar nationals from Rakhine to Bangladesh. Prime Minister Kishida expressed his respect for Bangladesh's efforts to shelter displaced persons and his continued support for such efforts. Prime Minister Sheikh Hasina expressed her gratitude for Japan's support and explained the importance of their early repatriation to Myanmar.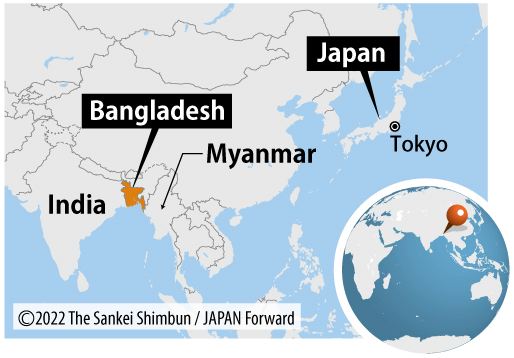 Vision 2041
Japan is committed to assisting Bangladesh to attain the desired goals under Vision 2041. That is the country's plan to become a modern, developed, and knowledge-based "Smart Bangladesh."
More importantly, both countries recognized the importance and mutual benefits of human resources. Bangladesh has a demographic dividend over Japan and seeks a comparative advantage by providing trained and skilled human resources to Japan.
The two sides expressed appreciation for the specialized test and other initiatives already underway. In addition, they noted the resumption of the Bangladesh Biman flight by Bangladesh on the Dhaka-Narita route. This is expected to bring new life into the people-to-people exchange as more people from Bangladesh are able to visit beautiful Japan for trade, tourism, and job opportunities.
Japan also assured to commence the Japan Overseas Cooperation Volunteers (JOCV) program in Bangladesh as soon as possible.
An Opportunity to Reach the Japanese People
Leadership matters. The Honorable Prime Minister was interviewed by NHK News (television) and Nikkei- CNBC during her visit. There was a special visit supplement issued by the Japan Times. Nikkei, NHK, and Ashahi newspapers also carried articles on the visit. The visit, therefore, generated enough interest and enthusiasm among the Japanese news media that they wanted to convey the message of the Honorable Prime Minister of Bangladesh to their readership and audience.
I am totally convinced that leadership matters. After this very engaging and fruitful visit, we look with hope and optimism for a much more engaging and fruitful partnership with Japan in the coming years. I recall what our Honorable Prime Minister said: "[O]ur last fifty years of enviable cooperation would remain an inspiration for the coming fifty years. Bangladesh is firm to engage with time-tested friend Japan for mutually beneficial gains."
RELATED:
Author: HE Mr Shahabuddin Ahmed, Ambassador of Bangladesh to Japan