JAPAN BLUE – Bringing Tradition Closer to Everyday Life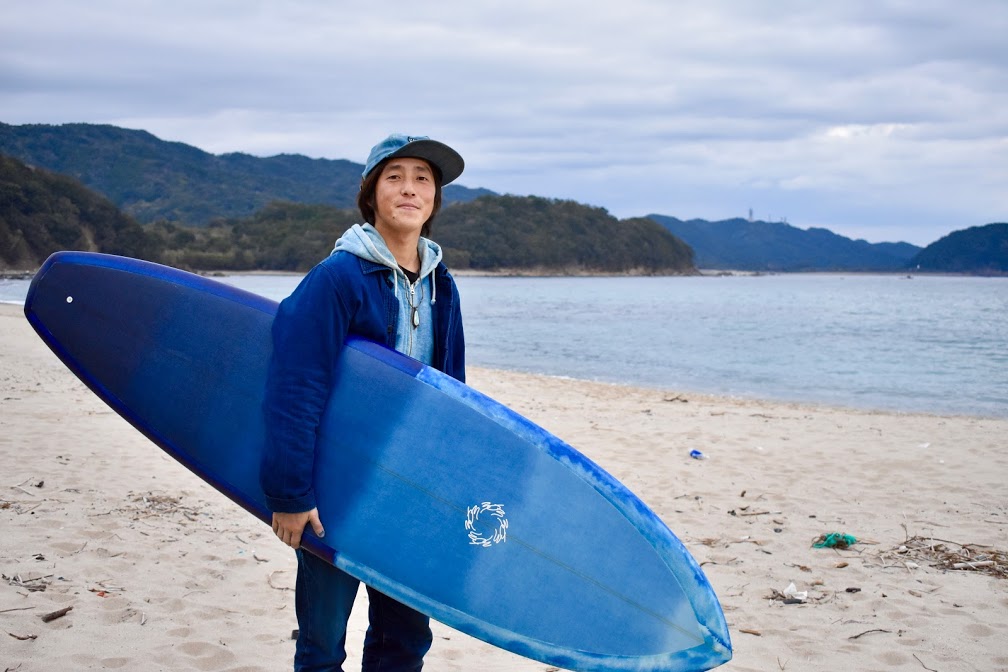 "Japan blue" is the color of the emblem for the Olympic and Paralympic Games Tokyo 2020, as well as the uniform for the Japan National Football Team. Its color is produced by a natural dye called "Ai," which has been treasured by Japanese people for hundreds of years.
Ai was the most popular dye for clothing in Japan, until easily-produced, low-priced synthetic dye overtook in terms of market share in the late 19th century. When Japan finally opened up after its isolationist foreign policy, a British scholar who visited Japan was impressed by the color of Ai, commonly seen around the country, and called it "Japan blue."
Ever since, Japan has been protecting this traditional Japanese color of indigo blue as something very special.
On the other hand, though, award-winning Ai product producer Leki Nagahara would rather bring this tradition closer to our daily lives.
Mr. Nagahara was born in Kaiyo, Tokushima - a place well-known as the mecca for surfing in the western part of Japan. He was originally a surfer, and a four-times winner of the Japan Student Surfing Championships, before becoming an Ai product producer.
"I was a surfer ever since I can remember, partly because I was born in a town surrounded by the sea and many surfers," he recalled. "Probably because I was so close to the sea, I came to realize the importance of protecting nature. I encountered numerous surfers who deeply cared about environmental issues and inspired by them, I started thinking of how I could protect the sea. And I eventually reached the conclusion that Ai was a key to doing so."
Unlike chemically manufactured synthetic dye, Ai is 100% natural. It is extracted from indigo plants and thus won't hurt environment, and it is considered sustainable.
Yet, Ai is also considered an expensive dye because it takes a lot of time and effort to extract the concentrate from its plants.
Despite the price, Mr. Nagahara thinks Ai is attractive enough – even at the present time – and wants people to use its in their products more regularly. To do so, he needs to change perception that Ai is an old traditional dye.
The first thing he did was to dye a surfboard with Ai - for which he won the award at Lexus New Takumi Project. Until then, Ai was thought to be a dye only for clothes.
What he did was praised as incredibly innovative. "I just combined two things I love - surfing and Ai. Though, at the same time, I knew people would love it when tradition is combined with trend," Mr. Nagahara said.
Also, in the same year, he opened his own Ai studio, called "in Between Blues" meaning between the blue of the sea, sky and Ai. In his studio, people can experience Ai dying themselves and buy products such as clothes, soaps, earrings, skateboards - all made using Ai.
Inside the studio, there is also a cafe where people can have tea and desserts made with Ai. According to Mr. Nagahara, Ai is edible and actually considered a superfood.
"I would like to convey the attractiveness of Ai in many different ways. One thing is that Ai is a natural dye - kind to nature and gentle on the skin. Another thing is it is a nutrient-rich food. My hope is that people realize its value and adopt it in their daily lives."
His next goal is to deliver this traditional Japanese color to the world, and he is already discussing his plan to appeal Ai-made products to the Tokyo Organising Committee of the Olympic and Paralympic Games (TOCOG) for the biggest, most exciting event coming up in Japan.
TOCOG communications senior director Sumihiko Kobayashi seems to agree. He said "we strongly hope Tokyo 2020 to be a great opportunity for people all over the world to know more about Japan, its traditions and values, and Ai is definitely one thing that we would like to promote to the world."
Author: Shiho Starla Kay