Japan Draws Sharp Contrast with China and the West in Myanmar Diplomacy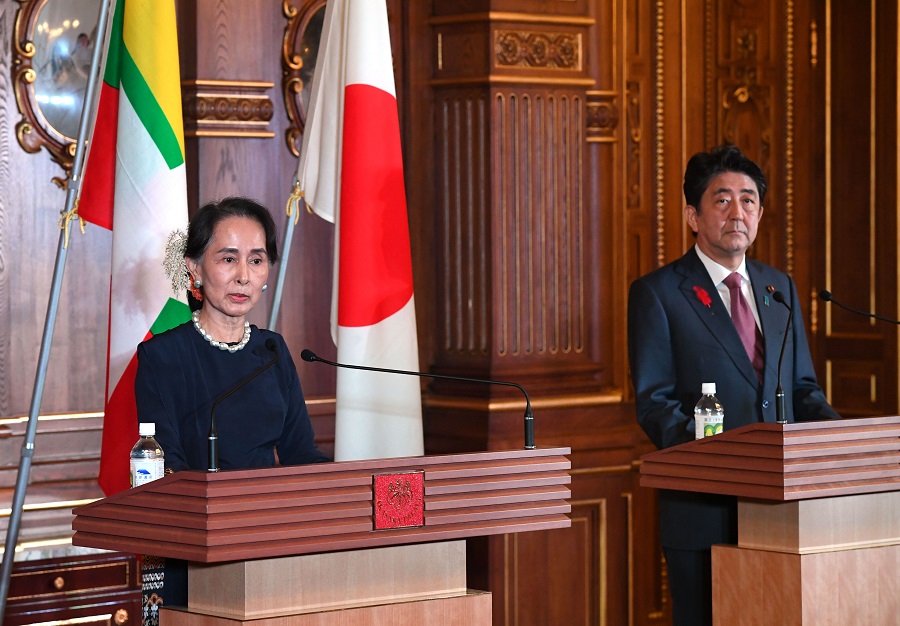 By Mizuki Okada
The diplomatic contest over Myanmar is heating up, with Japan, Western countries, and China all vying for a role in influencing the future course of this geographically important country.
In this context, Myanmar State Counsellor Aung San Suu Kyi's visit to Tokyo earlier in October took on added significance.
The distinctly different diplomatic stances toward Myanmar reflect the political perspectives of each of these regions.
Western powers, including Europe and the United States, have continued to use their diplomacy to criticize Myanmar for its alleged human rights violations against Rohingya Muslims.
Japan has drawn a sharp line from the West regarding the Rohingya issue while continuing to support Myanmar's development.
China's strategy has been to seek to preempt the West by hastening the advancement of its own economic interests through debt-laden development projects in Myanmar.
Aung San Suu Kyi and Japanese Prime Minister Shinzo Abe met Tuesday, October 9, in Tokyo. The two leaders exchanged ideas, including how to speed up the return of Rohingya, who fled Myanmar to neighboring Bangladesh.
At a joint press conference following their talks, Prime Minister Abe told Myanmar's leader, "Japan is now and will continue supporting the Myanmar government's efforts for solving its problems," including the Rohingya issue.
Ms. Suu Kyi responded, "I appreciate the stance of Japan and also welcome it."
In contrast, European countries and the U.S. have stepped up their criticism of the Myanmar government over the Rohingya issue, imposing sanctions on Myanmar's top military officials due to their involvement in the persecution of the Myanmar Islamic minority. Moreover, it appears the sanctions are likely to be expanded in the future.
Japan's Possible Role as Mediator
According to Reuters, the European Union is considering trade sanctions on Myanmar over the Rohingya crisis, potentially stripping the country of tariff-free access to the E.U. trading bloc, except weapons.
Myanmar's leader has expressed her gratitude for Japan's diplomatic stance at a time when the country is being hit with sanctions from the West. Japan has kept its distance from the West in this case and continued to hold out a hand to Myanmar as the fledgling democracy struggles to find its way forward.
In November 2017, Japan announced development assistance to Myanmar, including upgrade of its railway line between Yangon and Mandalay, in the amount of USD1.039 billion (JPY117 billion).
Furthermore, Japan provided support for the development of Myanmar's Yangon Stock Exchange, its economic and capital market which opened almost three years ago. YSX was established by the Myanmar Economic Bank, Japan Exchange Group, and Daiwa Institute of Research.
Japan-Mekong Summit
The heads of state of Japan, Cambodia, Laos, Myanmar, Thailand, and Vietnam met in Tokyo for the Japan-Mekong Summit on October 9, and reached an agreement on the "Tokyo Strategy 2018." The strategy includes cooperation for nation-state development, such as human resources, infrastructure, and others.
It means Myanmar has made a clear choice, as have other countries around the Mekong region, to prioritize cooperation with Japan.
Zin Mar Aung, a member of Myanmar's Lower House from Ms. Suu Kyi's National League for Democracy party, brought this point into focus recently. In comments quoted in an article on The Irrawaddy on Friday, October 13, she noted that she shares the expectation voiced by Suu Kyi recently regarding Japan's role. "Japan has good ties with Europe and the U.S., so it can serve as a mediator in the diplomatic crisis."
Japan's handling of Myanmar's Rohingya problem also has been the subject of some criticism. Lisa Tassi, Amnesty International's deputy East Asia director, wrote in the Diplomat in September, "Japan should unequivocally condemn the Myanmar military's crimes against the Rohingya and other ethnic minorities."
China Accelerates Economic Advancement
As the West heightens pressure on Myanmar for human rights violations against Rohingya Muslims through economic sanctions, it weakens other aspects of its relations by withholding investment support for the country.
Myanmar politician Zin Mar Aung said that European countries and the U.S. should not approach Myanmar from only the human rights perspective. She said, "They can criticize us, but if they criticize us excessively, this puts all the blame on the government while other factors are neglected."
The lawmaker said China, meanwhile, "has taken one jump ahead of others in Myanmar's market and investment environment…. But without Western investment, the market can't attain a balance."
Myanmar increasingly finds itself diplomatically isolated from the West, while China is single-minded on about providing aid that entangles Myanmar into Xi Jinping's Belt and Road Initiative.
In September, China and Myanmar signed a memorandum of understanding to establish the China-Myanmar Economic Corridor, including a construction plan for highways connecting both countries. The framework for the project was introduced by China.
At the same time, there is strong concern inside Myanmar about Chinese investment. Zin Mar Aung points out "there is the suspended Myitsone Dam project, and the Letpadaung copper mine, and there are many other projects…. Chinese investments have little support from locals."
She added, "They (Chinese) don't pay attention to their environmental and social impacts."
Analyzing the options, Ms. Aung said, "Considering an investment's probability of acceptance from locals, and corporate practices, Japanese companies are more acceptable."
There are vast differences between the three diplomatic styles at play in Myanmar. The Western style of "sanctions diplomacy" uses the penalties based on citations for human rights violations. China's model goes under the name of the Belt and Road Initiative, soaking Asian and African countries with debt under the guise of support.
Finally, there is Japan's "cuddle diplomacy, which aims to solve problems through continued support.
Which diplomatic style will the people in Myanmar choose?